Every item on this page was chosen by The Fed & Fit team. The site may earn a commission on some products (read more here).
This 4-ingredient marinade is coming to the rescue when you can't take one more bite of bland, boring chicken. Before that chicken goes on the skillet, the grill, or in the oven, douse it in this mega flavor (and still really healthy) marinade and your taste buds will be so happy.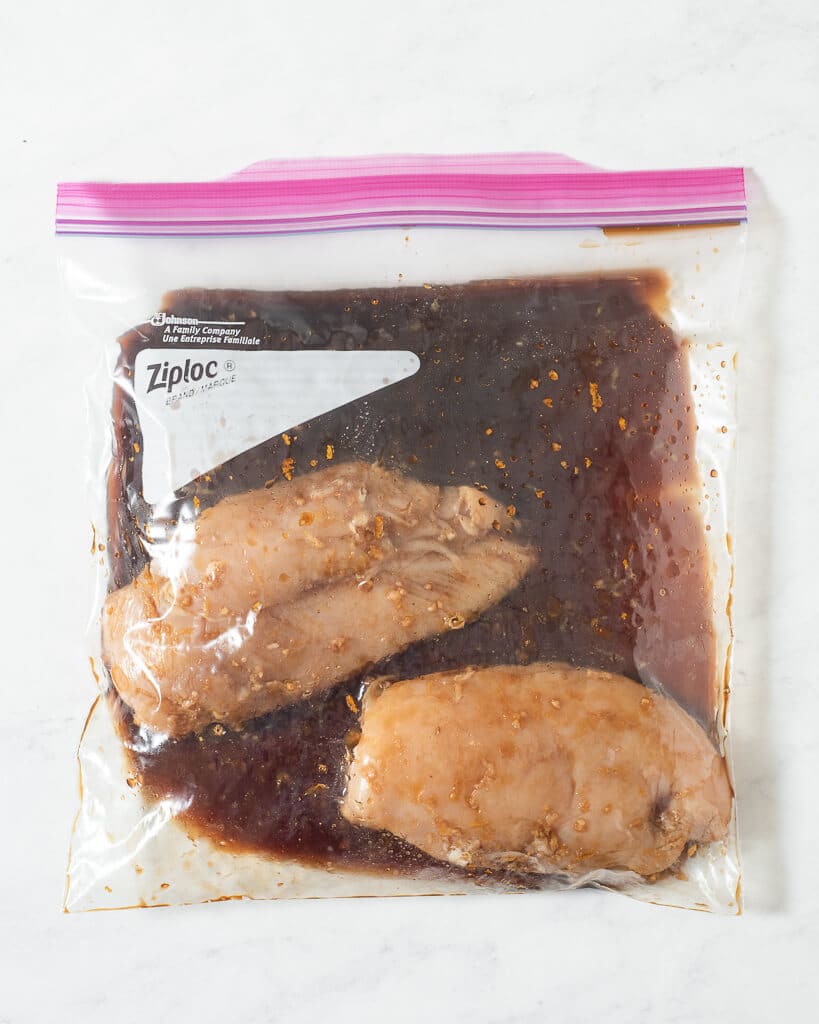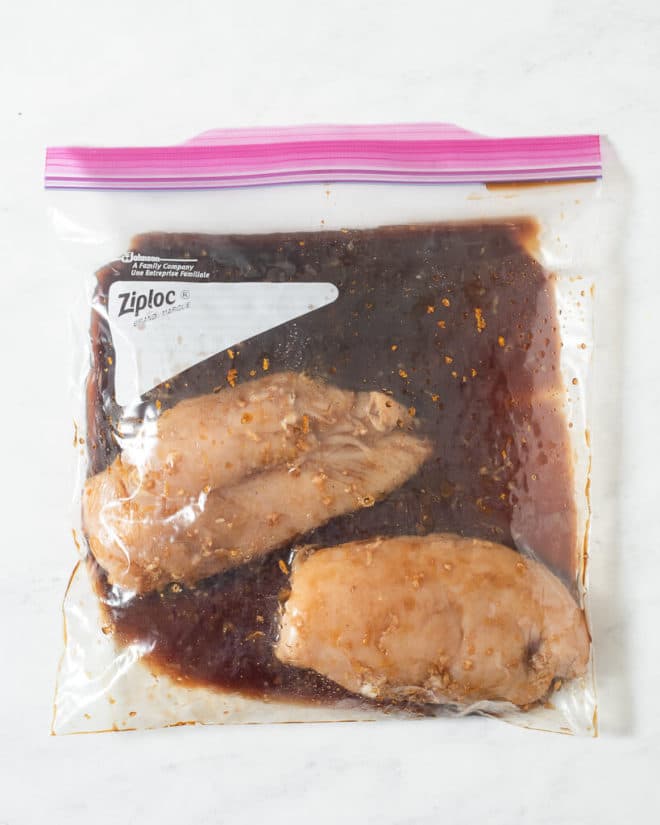 Chicken Marinade for Grilling
I love this grilled chicken marinade so much. I've made it dozens of times and it always makes me so happy. What I love most is the flavor and also the accessibility! Unlike some marinades, this one calls for ingredients I always have on hand: soy sauce, lemon juice, lemon zest, and garlic. That's it, my friends!
Pan-sear, bake, grill, or even air-fryer that chicken to perfect doneness and use it to top your next zesty salad, stuffed potato, sandwich, or eat it with crackers. Enjoy!
Why Use a Marinade for Chicken?
Chicken is an incredibly versatile protein, but to make it really shine, you'll want to either marinate it, season it with a simple dry seasoning blend (sometimes called a dry rub), or enjoy it in some sort of a sauce-heavy meal. Marinating your chicken is a really simple way to both infuse flavor and tenderize your chicken without a ton of effort on your part.
Grilled Chicken Marinade Recipe Ingredients
The ingredient list is super simple, but the flavor infused into the chicken is BIG and delicious. Here's everything you'll need: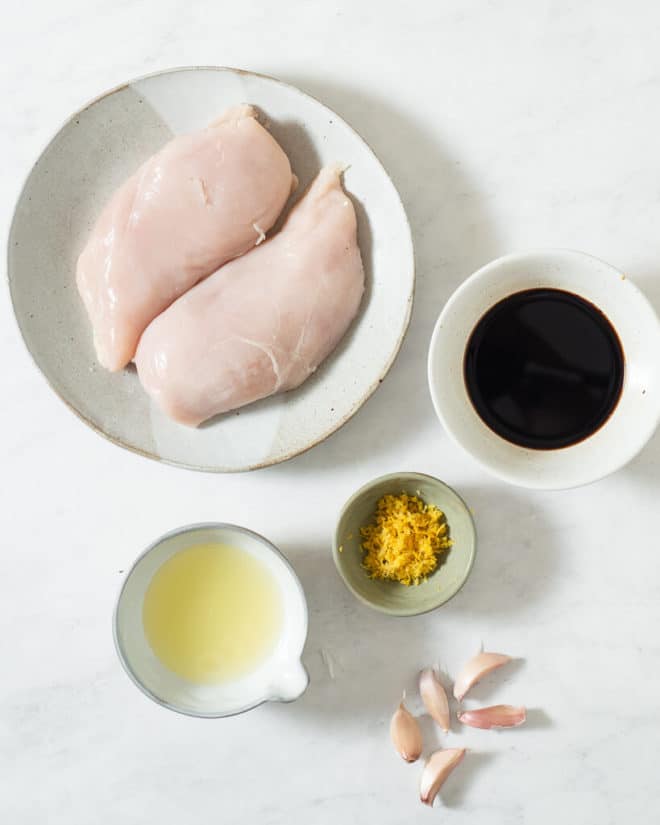 ½ cup of soy sauce (or tamari for gluten-free)
½ cup of fresh lemon juice (the juice from about 4 lemons)
4 cloves of garlic, grated
Zest from 1 lemon
How to Make a Marinade
Making a marinade is SO SIMPLE! All you'll need to do is add all of the ingredients into a bag or bowl and stir (or shake/massage if you're using a bag) until well-mixed. That's it – your marinade is ready to do its thing!
How to Marinate Chicken
Once your marinade is made, you'll simply add the chicken to the bowl or bag with it (make sure the chicken is fully submerged), place the bowl or bag in the fridge, and then let the marinade work its tenderizing, flavor-infusing magic for the next hour or so. So easy, right?!
How long to Marinate Chicken
For best results, you'll want to marinate your chicken for anywhere between 1 and 2 hours.
Can you marinate chicken too long?
Because this marinade includes ½ of a cup of fresh lemon juice, you'll only want to keep your chicken in the marinade for 2 hours tops. Marinating in citrus past 2 hours will up the risk of a mushy end product (the citrus will actually break down the fibers of the chicken TOO much).
More of our Favorite
Marinade Recipes
How do you grill chicken?
How do you grill chicken? You have some options! Here are our tried and true ways to cook perfect chicken every time:
Preheat the grill to medium-high heat, about 450°F.
Place the chicken on the grill, then cook for 5-6 minutes per side, until a thermometer inserted into the thickest part of the chicken breast registers 165°F.
Let the chicken rest for at least 10 minutes, then slice and serve.
THIS is my favorite grill-safe meat thermometer! Learn more about how to grill chicken in my unabridged article HERE.
Can grilled chicken marinade be used in other ways?
You can absolutely use grilled chicken marinade in other ways! This particular marinade would be delicious as a steak or pork tenderloin marinade, and, if you add a little bit of olive oil to it, it would also make a really delicious salad dressing!
Complimentary Sides for the Best Marinated Grilled Chicken
The options for sides to go along with your marinaded grilled chicken are endless! Here's a full list:
Starchy Sides
Veggie Sides
Salad Sides
Storing the Marinade for Grilled Chicken
If you want to make your marinade ahead of time and then store it until you're ready to use it, you can simply pour it (or just make it) into a jar that has a matching lid and store in the refrigerator until you're ready to use. Stored this way, your marinade will last for about a week.
Because raw chicken was submerged in the marinade, you'll want to make sure that any leftover you have get thrown away!
FAQs for Best Grilled Chicken Marinade
Q
What kind of chicken can I marinate?
A
You can marinate ANY cut of chicken in this marinade. I am personally a big fan of chicken thighs, so that would be my pick, but chicken breasts would also be really delicious.
Q
How much chicken can I put in this marinade?
A
This marinade is perfect for up to 3 pounds of chicken.
Q
Should I poke holes in the chicken to help the marinade process?
A
No, you don't need to poke holes in the chicken to help with the marinade process. Submerging the chicken in the marinade will do the trick just fine!
Q
Can you freeze chicken in marinade?
A
You can definitely freeze chicken in a marinade – this is actually a really incredible make ahead trick! The only caveat here is that you'll want to make sure that your chicken hasn't been submerged in the marinade for more than 2 hours before heading into the freezer.
To freeze your chicken in the marinade, simply make the marinade in a freezer safe bag (silicone or plastic), place the chicken in the bag, and seal the bag, getting out as much air as possible. Stick it in the freezer for up to 3 months, and when you're ready to enjoy, simply place the bag in the fridge overnight to slowly thaw.
Q
Does marinating chicken make it better?
A
I think that marinating chicken makes it better! Marinades (especially ones that include citrus) break down the fibers in the chicken, making it super tender, while also adding a huge boost of really delicious flavor.
Just for You
Chicken Recipes
Want more recipe ideas like this?
Ingredients
½

cup

soy sauce

tamari for gluten-free

½

cup

fresh lemon juice

the juice from about 4 lemons

4

cloves

garlic

grated

Zest from 1 lemon

3

pounds

chicken breasts
Instructions
Add all of the ingredients to a large bag or bowl (big enough to fit your chicken in).

Stir (or shake, if you're using a bag) the marinade until it's well mixed.

Submerge the chicken in the marinade and let it sit for 1-2 hours.