Asian-Style Cabbage Rolls with Almond Sauce
jump to recipe
Bursting with fresh, healthy flavor, these Paleo Asian-Style Cabbage Rolls with Savory Almond Sauce will quickly become a family favorite!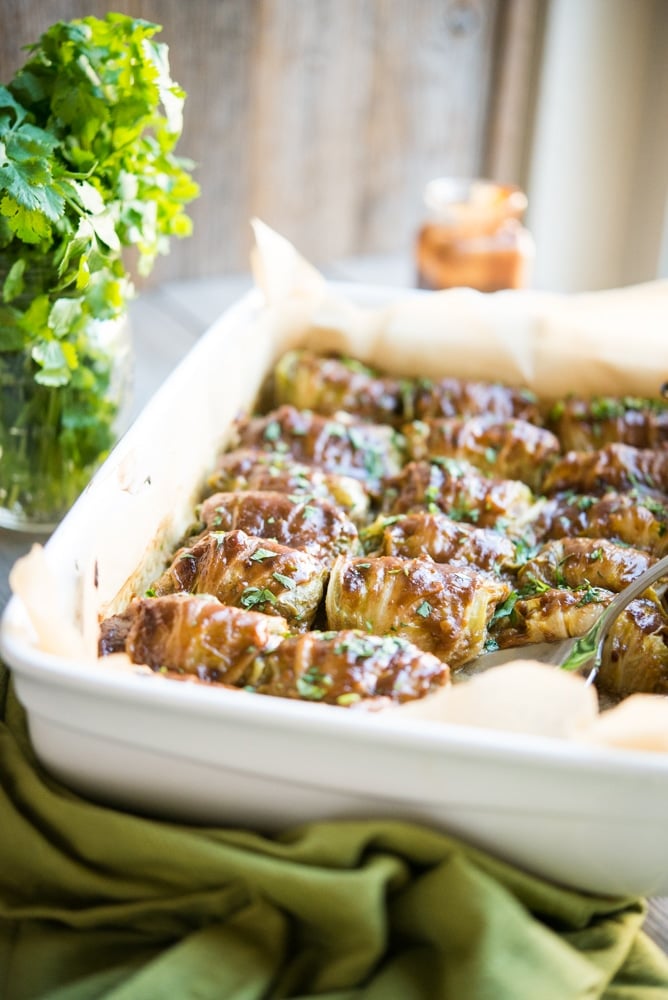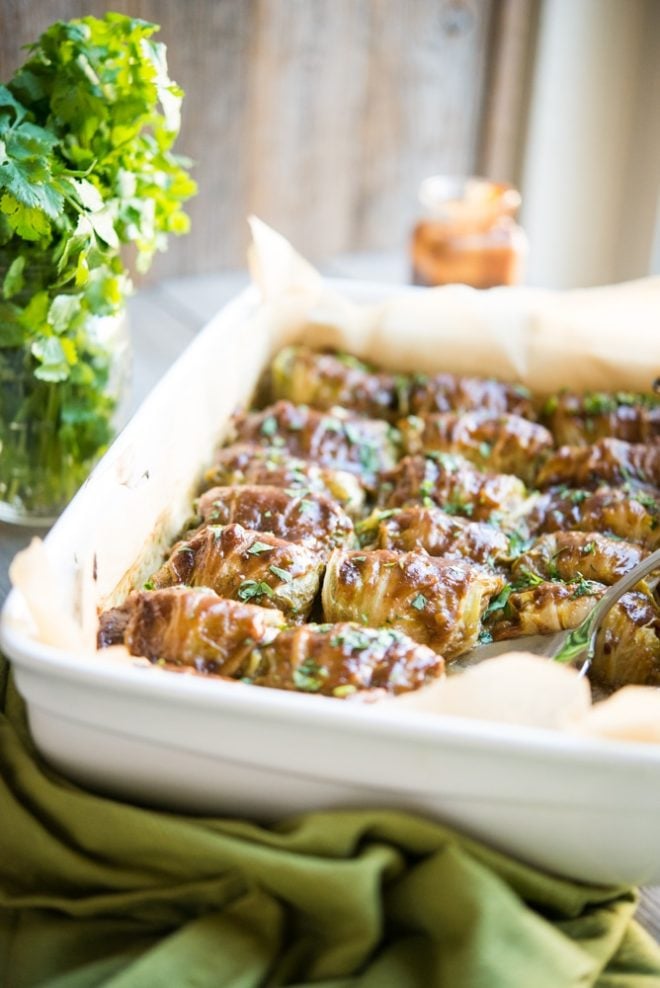 Holy moly, I'm excited to share these cabbage rolls with you today! This is another sneak-peek recipe from my 'Fed & Fit' book and I've already received TONS of rave reviews from folks who've made this dish. Like I say in the book, don't be intimidated by the length of the ingredient list – these rolls are easier than they look!
If you're new to cabbage rolls, I'll outline the concept in a nutshell: you stuff cooked cabbage leaves with a ground meat mixture, roll them up, place in a baking dish, and then top with a sauce of your choice. After a spell in the oven, they're done! If you google "cabbage rolls," you'll likely find an abundance of cabbage rolls with Italian flavors – often covered in red sauce.Instead of an Italian spin, THESE cabbage rolls are bursting Asian-inspired flavors. The ground pork is generously flavored with freshly sauteed garlic, shiitake mushrooms, carrots, and ginger. The meat mixture is fantastic on its own …and then the sauce takes it to an entirely new and amazing level. This savory almond sauce is a breeze to whip up (don't skip the step with the garlic at the beginning) and truly makes the dish.
Note: don't be intimidated by cooking and then rolling the cabbage leaves and please don't be discouraged if/when they break. They will likly tear, and that's okay! Just roll them to the best of your ability and wedge them in a casserole dish. Once they're cooked, you won't notice the breakage. If you find that you have leftover stuffing after your cabbage is used up, flatten them into patties and pan-fry some Asian-style burgers! Any leftover savory almond sauce is EXCELLENT over grilled chicken (just a suggestion).
I like to enjoy them next to cilantro lime cauliflower rice (recipe in my book) or next to polished white rice (if I'm looking for a dose of starch).  If you love stuffed things like as much as we do, you can find TONS of them on the blog (like these BBQ Ranch Meatloaf Stuffed Tomatoes and MORE!).
Enjoy and remember to check out my book for 189 other healthy Paleo-friendly recipes!
Print
Asian-Style Cabbage Rolls with Savory Almond Sauce
These cabbage rolls are bursting with Asian-inspired flavors. The ground pork is generously flavored with freshly sauteed garlic, shiitake mushrooms, carrots, and ginger, then wrapped in cabbage and finished with a fantastic almond sauce that makes the dish!
Author:
Prep Time:

15 minutes

Cook Time:

1 hour

Total Time:

1 hour 15 minutes

Yield:

6

to

8

servings

1

x
Scale
Ingredients
1

large head Napa cabbage
For the filling:
2 tablespoons

salted butter (sub EVOO for Whole 30)

1

(2-inch) piece fresh ginger, peeled and grated

5

cloves garlic, minced

2

carrots, peeled and shredded

2 1/2 cups

thinly sliced shiitake mushroom caps (about

8 ounces

whole shiitakes)

2

pounds ground pork

3

green onions, sliced

1/2 cup

fresh cilantro leaves and stems, chopped

1/2

to

1

teaspoon red pepper flakes

1 tablespoon

coconut aminos

2 teaspoons

fish sauce

1 teaspoon

apple cider vinegar

1 teaspoon

fine sea salt
For the sauce:
1 tablespoon

plus 1 teaspoon sesame oil (untoasted)

2

cloves garlic, minced

1 cup

coconut aminos

1/2 cup

smooth unsweetened almond butter

2 tablespoons

apple cider vinegar

2 teaspoons

fish sauce

1 teaspoon

red pepper flakes
For garnish:
2 tablespoons

chopped fresh cilantro
Instructions
Bring a large pot of water (ideally, with a strainer insert) to a simmer. Submerge the head of cabbage into the water, stem-side down. Turn the heat to medium-low and let the cabbage poach for 10 minutes. Pull the cabbage from the water, let drain, and set aside until it's cool enough to handle.
While the cabbage is cooling, prepare the filling: Melt the butter in a sauté pan over medium heat. Add the ginger, garlic, and carrots and sauté for about 10 minutes, or until fragrant and the carrots are slightly wilted. Add the mushrooms and sauté for an additional 5 minutes, or until they're reduced in size and slightly brown.
Put the sautéed vegetables, along with the rest of filling ingredients, in a large mixing bowl. Using your hands, mix the ingredients together until they're evenly incorporated.
Cut the root end off the cabbage head. Working very carefully, because the leaves are delicate, gently separate the leaves from one another and lay them out on paper towel-lined plates.
To fill the rolls, spoon about ¼ cup of the filling onto a cabbage leaf, over the stem, nearest the cut end. Carefully roll the cabbage towards the thinner uncut end, folding the sides over the center as you work. Place the stuffed roll seam side down in a 9 by 13-inch, or similar sized, baking dish. Repeat this process for the rest of the meat mixture and cabbage leaves. Preheat the oven to 350ºF.
For the almond sauce, heat the sesame oil in a small saucepan over medium heat. Add the garlic and stir for about 5 minutes, or until fragrant. Add the coconut aminos, almond butter, vinegar, fish sauce, and red pepper flakes. Whisk to combine and bring to a simmer. Note that the sauce will thicken after simmering for a few minutes – this is when it's done. Remove from the heat and set aside.
Spoon about half of the almond sauce over the rolls.
Place a sheet of aluminum foil over the baking dish. Bake for 30 minutes, then remove the foil and bake for an additional 15 minutes, or until the almond sauce on top starts to darken.
Plate with additional almond sauce spooned over the top and garnish with a sprinkle of chopped cilantro.
Notes
Approximate Calories & Macro Breakdown (based on 3 rolls with 2 extra tablespoon sauce per serving)
For the rolls: Calories: 333; Protein: 24 g; Fat: 21 g; Carbohydrates: 12 g
For the sauce: Calories: 159; Protein: 4 g; Fat: 11 g; Carbohydrates: 9 g