If you're searching for a way to use up some of this season's onions AND on the hunt for a creative way to prep a delicious protein, these Paleo BBQ Bacon Onion Bombs are to the rescue! They're a breeze to whip up, burst with delicious flavor, and are so much fun to make. Serve alongside some leafy greens and a baked potato for a complete meal!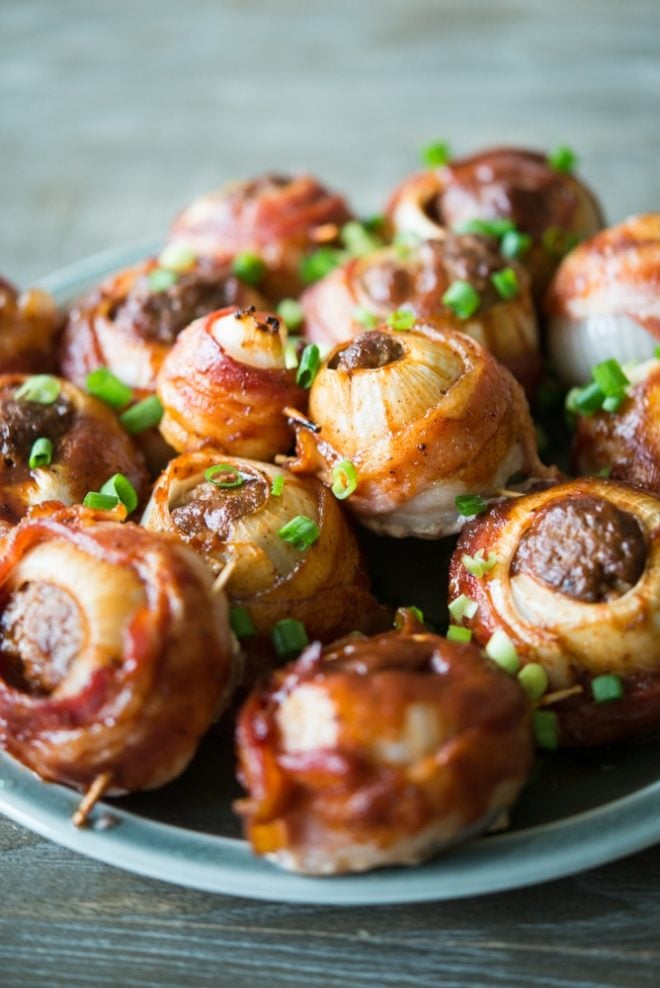 I'm a BIG fan of BIG batch recipes. Sometimes it's because I'm hosting some friends and family for dinner and I actually need a lot of food to serve up at once and sometimes it's just because I'm needing a dish that I can whip up with minimal kitchen time commitment, but maximum meals for the week ahead. These BBQ Bacon Onion Bombs fit the big batch recipe bill …but they also satisfy the need for something delicious, budget-friendly, family-approved, and fun (to make/eat). These onions bombs are pretty much winning at life.
The "bomb" is made possible by slicing through a fresh onion on *one* side so that you can peel away the layers one at a time – creating a sort of hollow shell. I filled that shell with a simple ground beef mixture that I seasoned with some BBQ sauce (this version is my favorite store-bought and this homemade Paleo BBQ sauce is my favorite homemade), sea salt, and pepper. From there, the stuffed onion bombs are wrapped in a slice of bacon, baked until cooked through, basted with more BBQ sauce, and then returned to the oven so that the sauce can (essentially) caramelize around the onion bomb. Can you say YUM?
I garnished with fresh green onion and served it alongside some sauteed greens (several recipes for tasty greens in my 'Fed & Fit' book) and small baked potato. Delicious!
This recipe is my 8th contribution to the Summer CSA Recipe Series embarked upon by myself, Juli of PaleOMG, and Lexi of Lexi's Clean Kitchen! See below for the other recipes I've posted in this series so far and scroll to the bottom of this post to check out what Juli and Lexi cooked up for you this week!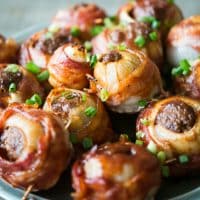 Ground beef is stuffed in an onion, wrapped in bacon, basted in BBQ sauce, and baked until caramelized for an unexpectedly delicious dinner.
Ingredients
3

medium-sized onions

2

pounds

ground beef

3/4

cup

BBQ Sauce

store-bought or homemade

1

teaspoon

fine sea salt

1/2

teaspoon

ground black pepper

1

pound

bacon

1/4

cup

green onion

chopped, for garnish
Instructions
To prepare the onions, cut both the stem and pointed end off and then peel away the outer-most layer and discard. Slide your knife from one rounded end into the core of the onion, creating one cut in each layer. Use your finger tip to loosen each layer of the onion and then peel them away so that you're left with onion shells. Continue until you get to the center of the onion that's about 1-inch in diameter. Repeat for the remaining 2 onions.

To prepare the ground beef, mix in 1/4 cup of the BBQ sauce, sea salt, and pepper until it's evenly combined. Spoon and press the filling into each of your onion skins, until all are filled.

Wrap each onion bomb with one piece of bacon (or 1/2 piece of bacon for the smaller bombs) and secure with a toothpick. Place the prepared bombs on a rimmed baking sheet. Note: for extra crisp, place the bombs on a wire rack that's elevated off the baking sheet.

Bake at 350 F for 35 minutes.

Remove from oven to baste and turn the temperature up to 400 F.

Baste the now cooked onion bombs with the rest of the BBQ sauce and then return to the oven when it reaches 400 F for 10 more minutes. Keep an eye on the bombs for the last few minutes – we're looking for the color to darken, but not to burn.

Let cool for 5 minutes before serving, garnish with the green onion, and enjoy!

Note: leftovers will keep refrigerated for up to 5 days and frozen for up to 5 months.
Nutrition
Calories:
785
kcal
|
Carbohydrates:
21
g
|
Protein:
36
g
|
Fat:
61
g
|
Saturated Fat:
22
g
|
Polyunsaturated Fat:
6
g
|
Monounsaturated Fat:
26
g
|
Trans Fat:
2
g
|
Cholesterol:
157
mg
|
Sodium:
1360
mg
|
Potassium:
735
mg
|
Fiber:
1
g
|
Sugar:
14
g
|
Vitamin A:
152
IU
|
Vitamin C:
5
mg
|
Calcium:
59
mg
|
Iron:
4
mg
From Juli this week: Lemon Herb and Dill Potatoes
From Lexi this week: Roasted Tomatillo Salsa Verde & Salsa Verde Guacamole
Whip up this delicious Roasted Tomatillo Salsa Verde and make some killer guacamole too. Tomatillos and cilantro are bursting out of my CSA, along with carrots, cucumbers, tomatoes, and celery! You'll get two recipes in one this week because what is salsa without guacamole? Serve it with all those farm fresh veggies for the ultimate appetizer!