One theme that we constantly weave throughout the holiday season is focusing on gifts that are good for people and our planet. In this intense consumer-driven season, it's so easy to slip into a craze over the fun, bright, shiny new items available …BUT, I'm challenging myself to only gift products that are: sustainable, fair-trade, ethically-sourced, and backed by mission-driven companies doing true good in the world. I can't wait to show you these expansive sustainable gift guides, but in the meantime, know that Beautycounter checks all of these boxes. In this article, I'm reviewing the 2022 Beautycounter Holiday Gift Sets in their entirety.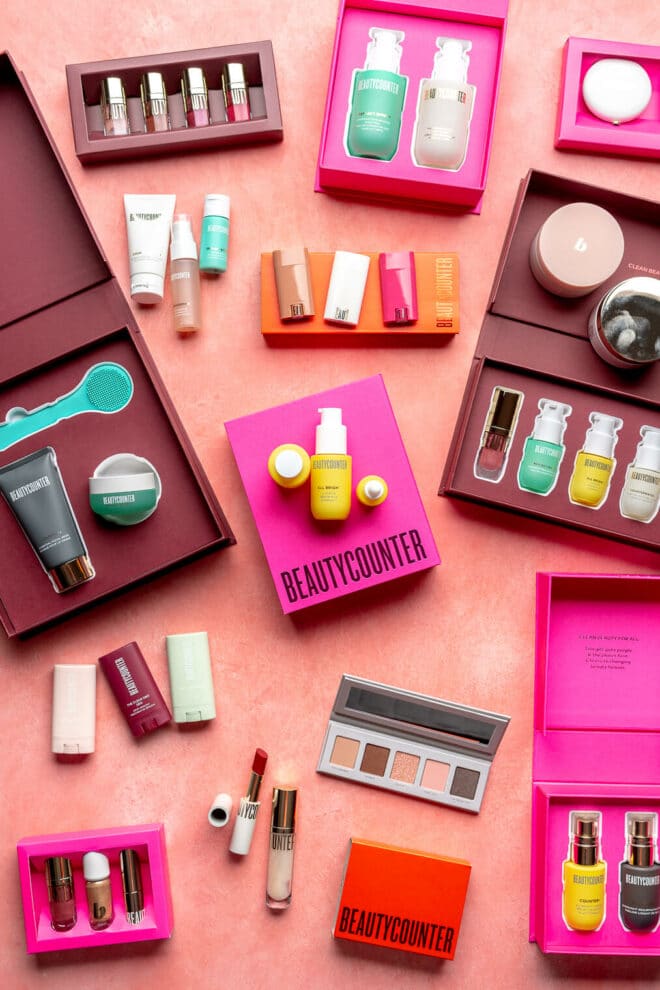 Why gift Beautycounter this holiday season?
Beautycounter is actually a B-corporation (Benefit corporation, just like my Stonyfield Organics friends!), which means it's held to a higher standard in how they treat people and the planet. Being on the inside (as a Managing Director with Beautycounter), I also got to hear about their bold work to reduce the number of plastic parts used in their products. As they grow, they're moving their supply chains as close as possible in an effort to greatly reduce each product's carbon footprint. Last, but most definitely not least, Beautycounter's efforts to actually put safer skincare products into the hands of its consumers WHILE ALSO advocating for more health proactive laws (learn more here) so that ALL BRANDS are required to start creating safer products, really sets them apart.
I'm immensely proud to associate with this company and equally as proud to gift their safer, ethically produced, profits-go-to-good products to those I love.
Here's some quick fun facts about the 2022 collections:
2 sets are $39 and under
6 sets are $49 and under
All 16 sets are under $100
13 sets are GREAT for breaking up into smaller gifts. (Think: hostess gifts for this party season!)
14 sets are brand-spanking-new
Scroll down for a full overview and note that the gift sets with the ** mark are my personal favorites!
What Beautycounter holiday gift sets are $39 and under?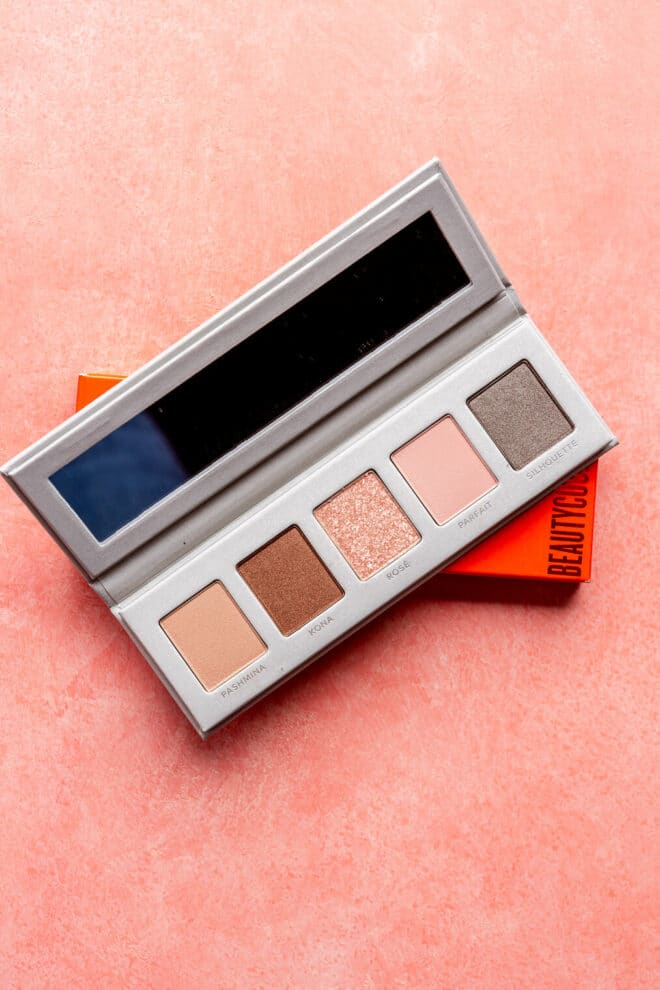 Essentials Eye Palette– $39. With 5 stunning colors, this will be my go-to palette this Fall and Winter. I love the slim size, making it really easy to pack for holiday travel.
**Good Scents Hand Cream Trio– $34. I am OBSESSED with these hand creams! The limited-edition scents are calming Coriander & Cucumber, uplifting Jasmine & Citrus, and balancing Bergamot & Cedarwood. This hand cream isn't watery (like so many) – it's thick, velvety, and exactly what my hands need in dry winter weather. I also love the size – it's perfect for my purse. These make great break-apart gifts, see my ideas on that below!
What Beautycounter holiday sets are $49 and under?
In addition to the sets above, these are the incredible sets priced below $49!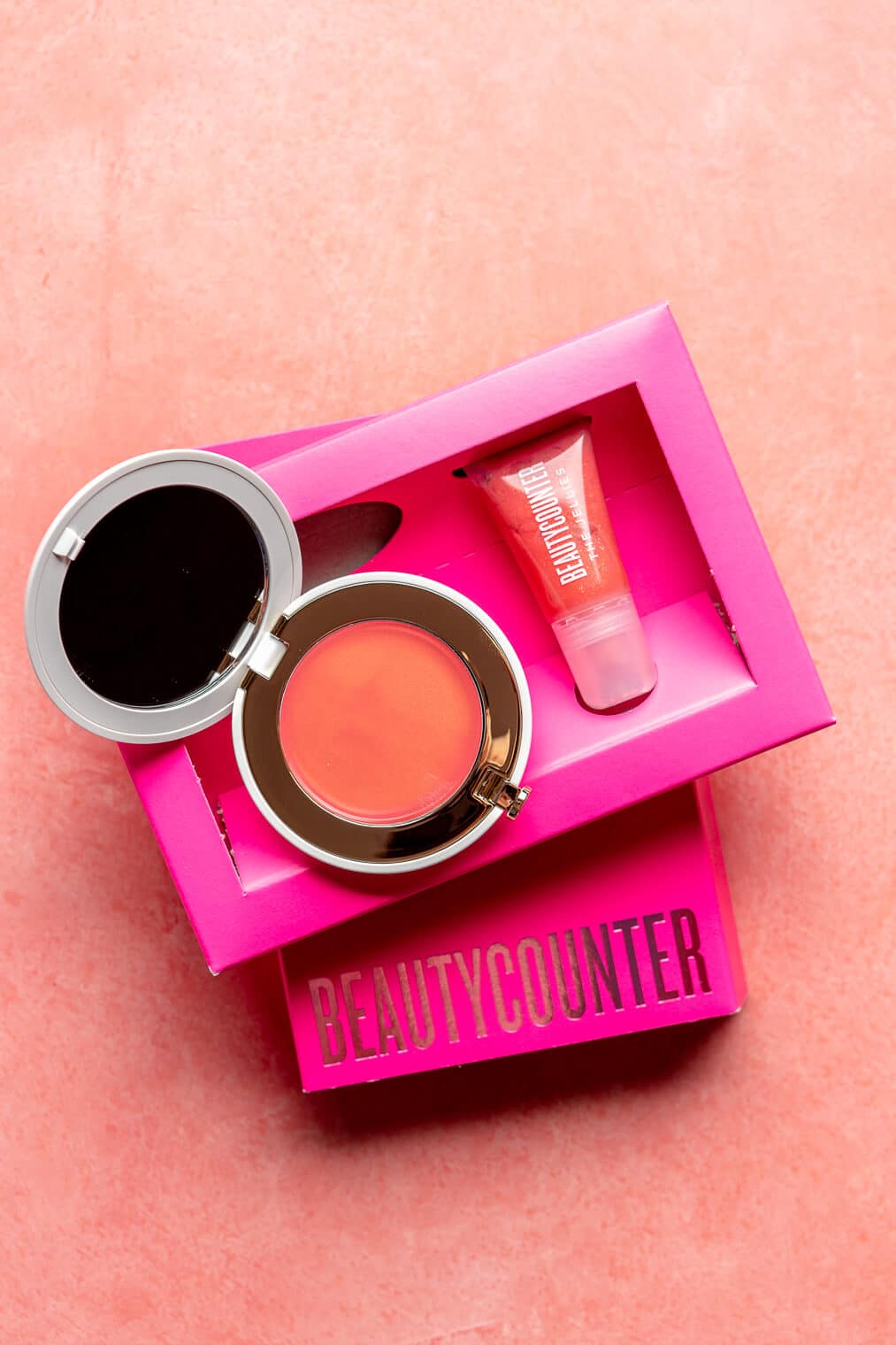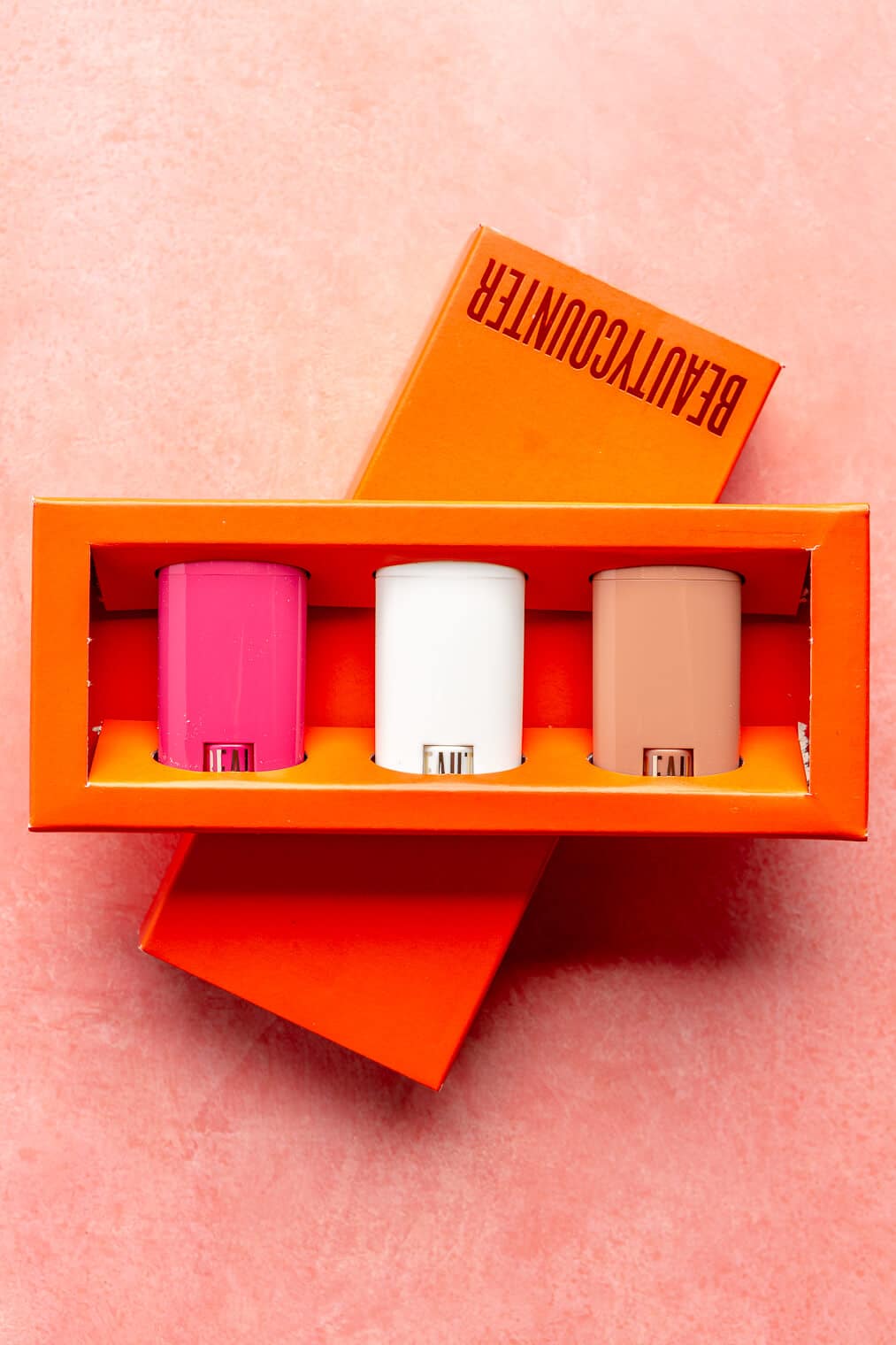 Gloss and Glow Duo– $49. This new shade of the lovely Cheeky Clean Cream Blush, Nectar, is the only cream blush with (responsibly sourced) mica, which means it has a beautiful shimmer that serves as both a blush AND highlighter. I can't wait to rock this cream blush at my holiday parties. It's the perfect blush to take your nighttime look to the next level. I LOVE the cream blushes because you can use them as a blush OR lipstick! They are just lovely. The kit also includes a beautiful, new shade of a jellie in Pomegranate.
**Mini Beyond Gloss Vault– $49. The beyond gloss might be my all-time favorite makeup item Beautycounter offers. When my lips are dry or cracking, I turn to these glosses and they never let me down. They give me that deep hydration without being sticky. This holiday set includes 4 limited-edition shades, three of which are new: Cosmic Shimmer, Cranberry Shimmer, Cappuccino, and Wild Berry. I am most excited about using the shade Cappuccino this fall and Cranberry Shimmer for the holiday season!
Mini Clean Deo Trio– $42. It's hard to find an aluminum-free deodorant that actually works! I love gifting these mini deos to my friends who are skeptical about natural deodorant. Scents include Crisp Sequoia, Fresh Coconut, and the new, limited-edition scent, Cool Aloe.
Clean Sweep Hyaluronic Lip Balm Trio– $44. These lip balms include murumuru seed butter, mango butter, and hyaluronic acid. All three of these ingredients nourish and hydrate the skin, making them the PERFECT addition to your winter skincare routine. The shades (and scents) include a clear balm in peppermint called Nada, Crush, which has a slight berry-tinted shade and smells like citrus, and Daze, a neutral-beige color that smells like coconut!
**Clean and Polished Minis– $44. I am SO excited about this kit! It includes two mini cleansers (the Countermatch Refresh Foaming Cleanser and the Countertime Lipid Defense Cleansing Oil) AND drum roll…a brand new product, the Reflect Effect Bamboobuff Exfoliating Polish. This polish is composed of just two ingredients, bamboo and alumina, that turns a regular cleanser into an exfoliating cleanser. The more polish you use, the more exfoliation you get!
Going Places Makeup Kit– $42. The holidays typically include traveling for me so I love the idea of grabbing these items for a quick, fresh look while I'm away from home. The kit includes my FAVORITE Think Big All-in-One Mascara in a mini, a mini beyond gloss (in a new warm berry shade- Lotus Shimmer), and a brand new limited-edition Lid Glow Cream Shadow in Solar (a shimmery beige). This kit is stunning!
What Beautycounter sets are worth splurging on for yourself?
At the Red-y Lip Duo– $55. Run, don't walk, to go get this set! It includes a holiday shade of the Sheer Genius Lipstick called Cherry, which is so lovely to wear during the day for a fun pop of color or in the evenings at a holiday party. I love the Sheer Genius Lipsticks because they are incredibly conditioning. The kit also includes a full-sized Beyond Gloss in Quartz Shimmer, which you can wear solo or on top of the red lip!
Beyond Bright Minis– $65. This sets includes all three of the amazing All Bright products in minis, the All Bright Triple Acid AHA Toner, the All Bright C Serum, and the All Bright Brightening Facial Oil. I LOVE the performance of these products. I use the Vitamin C serum every day and the AHA toner and Brightening Facial Oil a few times a week. The toner reduces the size of pores (and exfoliates) while the facial oil deeply nourishes and provides extra hydration during the dry season!
**Renew Your Body Duo– $59. I can't contain my excitement for this set. Beautycounter founder, Gregg Renfrew, has joked that she wants to put the Overnight Resurfacing Peel all over her body and this set does just that, a BODY Reflect Effect Overnight Resurfacing Peel. This means you can exfoliate your entire body! This kit also includes Tightening Boost Body Serum, which tightens and boosts elasticity. The peel is meant to be used at night, while the tightening serum in the morning!
Goodbye Dry Body Duo– $59. Both in the yummiest tropical scent, Monoi, this body scrub and body butter is such a fun way to treat yourself to the softest skin. The body butter is a new formula that includes shea butter, mango butter, and peptide-rich acacia seed extract.
Bright Side Duo– $75. This set includes two powerhouse products. The All Bright C Serum (which I use every day) and the Overnight Resurfacing Peel (which I use 2 x a week). Both of these products give you results SO fast, the ABC serum instantly and the Overnight Peel by morning. I love using the Countertime Supreme Cream on top of the Overnight Resurfacing Peel for extra hydration.
**Multi-Masker Set– $75. This set contains two of my favorite products, the Charcoal Facial Mask and the Reflect Effect AHA Facial Smoothing Mask. It also comes with a mask applicator so you can easily apply the masks without making a mess! If you have never tried either of these masks, this set is a great way to dip your toe into the world of safer skincare masks.
8 Days of Jellies– $75. These mini glosses are not only hydrating but also smell amazing! This set includes 8 fun and playful scents, including the new Brown Sugar scent.
A quick Beautycounter holiday set gift guide:
For Mom and/or Mother-in-Law:
For Him:
Good Scents Hand Cream Trio
For Teens/Preteens:
Clean Sweep Hyaluronic Lip Balm Trio
Mini Beyond Gloss Vault
8 Days of Jellies
Stocking Stuffers: all of these sets can be broken up so that you have several stocking stuffers!
Clean Sweep Hyaluronic Lip Balm Trio
Mini Beyond Gloss Vault
Best in Clean Heroes Set
Good Scents Hand Cream Trio
8 Days of Jellies
What Beautycounter holiday sets are best to gift for people who are brand new to safer skincare?
Though the sponsoring thought behind most of the gift sets are to make them "new to safer" friendly, but here are a few of my favorites for gifting to those who don't know (or maybe don't yet care) about safer.
8 Days of Jellies
Clean Sweep Hyaluronic Lip Balm Trio
Good Scents Hand Cream Trio
Mini Beyond Gloss Vault
Best in Clean Heroes Set
They'll love these because, though (yes) they're made with much safer ingredients, they're also superbly high-performing. Your gift recipients will fall in love with the performance alone!
Mix & match gift ideas from Beautycounter holiday:
1 hyaluronic lip balm + 1 hand cream = $26/gift (yields 3 gifts). Just grab one set of each for 3 universally-pleasing gifts. This is a great little gift for holiday party hosts. In that case, I'd pair it with a cute mug or bottle of wine.
1 mini lip gloss + 1 jellies set = $22/gift (yields 8 gifts). Because the mini lip gloss vault comes with 4 colors and the lip jellies come with 8, you'll need to grab 1 set of the jellies and 2 sets of the glosses. I'll be gifting these sets to a number of the teens and pre-teens in my life!
1 Beyond Bright Mini + 1 hand cream = $33/gift (yields 3 gifts). Grab one of each set for this fun gift!
1 item from the Best in Clean Heroes Set + 1 item from the Going Places Makeup Kit = $30.50 /gift (yields 6 gifts). Grab one set of the Best in Clean Heroes Set and two sets of the Going Places Makeup Kit. This will give you four gifts that have a mini skincare item and two gifts that have two mini makeup items.
1 mini lip gloss + 1 jellie+ 1 hand cream + 1 hyaluronic lip balm + and 1 item from the Best in Clean Heroes Set = $64/gift (yields 6 gifts). This more generous gift set is the exact formula I'll be using to gift most people on my list! It offers a great variety, I'll probably tie a ribbon around each item and display them in a really cute insulated glass (like this one for $24 on Amazon, bringing the total gift cost to right at $88). You'll need to grab 2 sets of the Hand Cream Trio, 1 jellies set (keep 2 jellies for yourself!), 2 Mini Beyond Gloss Vault Sets (keep 2 glosses for yourself!), 2 Hyaluronic Lip Balm Trio, and 1 Best in Clean Heroes Set.