I am really thrilled to bring you this new collection of savory Greek yogurt dips featuring my favorite Greek Yogurt in the world, the Whole Milk Greek Yogurt by Stonyfield Organic!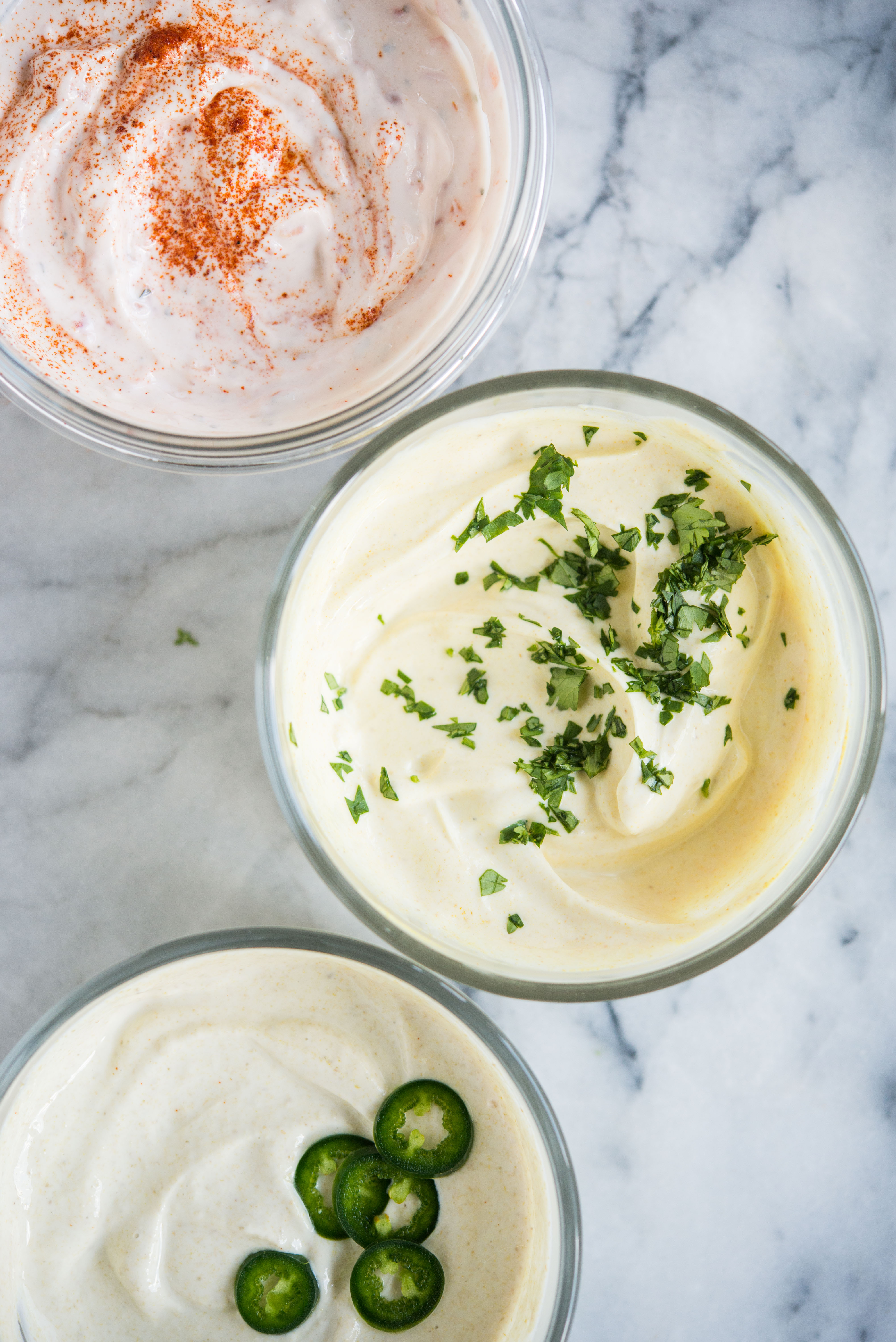 What is the healthiest Greek yogurt brand?
It's my personal belief that if you're looking for healthy Greek Yogurt, Stonyfield Organic is the best option. Here at Fed & Fit, we are ALL about food quality, wanting to make sure that we get the most nutritional bang for our buck. I am a BIG fan of the Stonyfield (Full-Fat) Greek Yogurt for four reasons:
It's made from organic dairy. Organic dairy is VERY different from its conventional counterpart. It has more micronutrients and doesn't include the growth hormones and antibiotics you'll find in other options. In fact, when cows are actively grazing on organic pasture, their milk contains 62% higher levels of omega-3 fatty acids than conventional milk. After touring some actual dairy farms in Vermont who supply Stonyfield with organic dairy, I will ONLY bring organic dairy into our house from here-on-out.
It's not just organic, but also grass-fed. Holding themselves to even higher standards, the dairy farms Stonyfield sources their milk from abide by grass-fed practices. The organic standard requires all organic dairy cows to get 30% of their Dry Matter Intake from pasture, and actively graze at least 120 days per year. These are well-fed, happy cows!
It's one of the few full-fat options I've found! As a holistic nutritionist, I'm a big believer in the power of real foods in their most natural form. I don't like the idea of removing healthy fats (especially if it's sourced from organic, grass-fed dairy cows) from yogurt. I love that the Stonyfield Organic Full-Fat Greek Yogurt is a complete food with a great balance of protein and fat.
It's DANG DELICIOUS. You can truly taste a difference, and I dare you to take me up on a test. It's thick, creamy, and so smooth. It's the only Greek Yogurt I'll ever buy.
How is Stonyfield Organic different?
In early September, I hopped on a plane headed to the North East so that I could learn more about Stonyfield Organic and organic farming practices. I was cautiously optimistic. With years under my belt educating our readers on how to sniff out the difference between label marketing and true quality food sourcing marks, I arrived as somewhat of a cynic. I remember thinking, "is organic dairy really that different?" After a few days learning about how Stonyfield Organic is moving mountains that revolve around their core values of healthy food, healthy people, healthy planet, I walked away a true believer. Y'all, these are the good guys doing the real, good work.
I got to meet the farmers who (with Stonyfield's guidance) transitioned from conventional dairy practices to organic/grass-fed. They LOVE their cows and love their work. Organic farming makes it possible for these families to run their own healthy small businesses, but also help their cows be healthier than ever. In addition to the healthy dairy products they produce, these farms are truly changing the world by healing the soil these cows graze upon. In their organic transition, they had to heal the soil so that the pastures produced enough quality food for their girls to enjoy. As such, the soil can now "digest" and store more CO2 than ever before – helping to pull the warming gas out of the air and into the ground, where it can be used to produce healthy vegetation.
Stonyfield Organic takes its mission even further than working with and supporting these small dairy farms by endeavoring to innovate next-level R&D organic farming practices. As a Certified B-Corp ("Benefit Corporation"), their company is one that gives back, supports the highest standard of employee care, and closely monitors efforts to reduce carbon footprints.
I couldn't be more proud of their work and am thrilled to support all they're up to by simply buying their high-quality dairy products for my family.
So, the next time you're strolling through the dairy aisle and have a hard time seeing through all the confusing labels, know that Stonyfield Organic is the good guy. I believe it's a nutritionally superior product, made by great people, who are doing great things for our planet.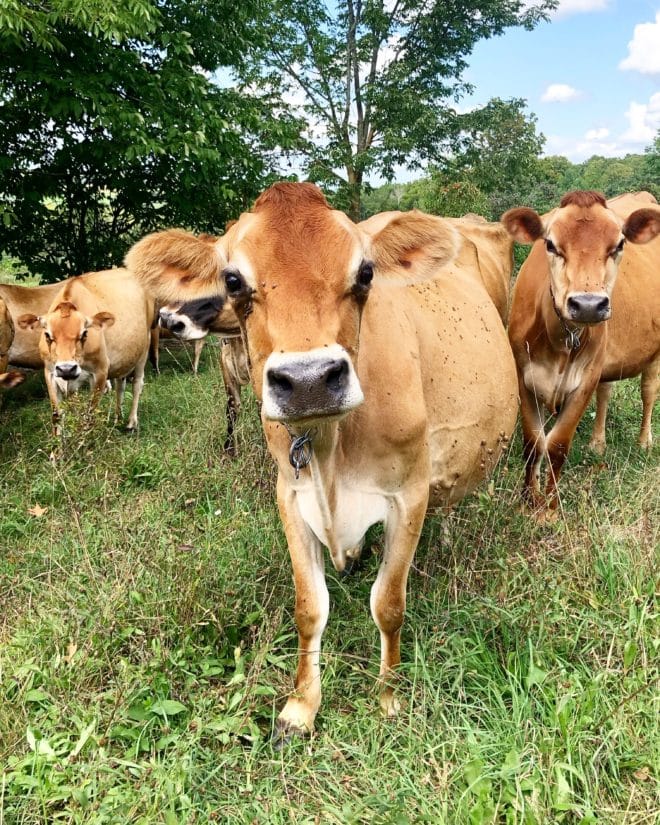 Is Greek yogurt a good source of protein?
Greek yogurt is a GREAT source of protein! In order to have the finished product of that thick, creamy Greek yogurt texture we all love, a good amount of the water is drained out. This leaves behind a concentrated source of protein. When I would follow a macro-nutrient plan, I always made sure to have a tub of this Stonyfield Organic Greek Yogurt in my fridge. It made for an easy and delicious way to make sure I hit my protein gram goal by the end of the day.
Can Greek yogurt be used as a dip?
You bet Greek Yogurt can be used as a dip! It's actually my favorite dip base and always makes the crowd happy. If you start with really high-quality Greek Yogurt, you don't need to add too much. I recommend a mix of some flavor (think: dried spice blend) and maybe a little liquid (think: lemon or lime). In addition to the three recipes in this article, here are some Greek Yogurt dip ideas:
Creamy Salsa Greek Yogurt Dip: 1 cup Stonyfield Greek Yogurt + 3 tablespoons fresh salsa + paprika to top.
Green Curry Greek Yogurt Dip: 1 cup Stonyfield Greek Yogurt + 2 tablespoons green curry paste + 2 tablespoons lime juice.
Lemon Turmeric Greek Yogurt Dip: 1 cup Stonyfield Greek Yogurt + 1 tablespoon curry powder + 2 tablespoons lemon juice.
Bacon Ranch Greek Yogurt Dip: 1 cup Stonyfield Greek Yogurt + 3 pieces finely chopped bacon + 1 tablespoon Ranch blend (like this one) + 1 tablespoon lemon juice.
French Onion Greek Yogurt Dip: 1 cup Stonyfield Greek Yogurt + 2 tablespoons Onion blend (like this one) + 1 tablespoon lemon juice.
Chipotle Greek Yogurt Dip: 1 cup Stonyfield Greek Yogurt + 2 tablespoons Smokey chipotle blend (like this one) + 1 tablespoon lime juice.
Cilantro Lime Greek Yogurt Dip: 1 cup Stonyfield Greek Yogurt + 2 tablespoons chopped fresh cilantro + 1 tablespoon lime juice.
What are other ways to use a Greek yogurt sauce?
I love Greek Yogurt sauces so much because they're incredibly versatile in the kitchen! Here are a few of the ways I use them:
As a dip (see above!) served with chips, crackers, or even fresh veggies.
As a marinade for chicken, beef, or even pork. Just coat on all sides and let sit for 4 hours (or overnight). The yogurt will flavor and tenderize your protein! It's great for grilling, pan-searing, or roasting.
As a flavorful protein-boost for folks following a macro plan. Just toss shredded chicken, pork, or beef in a few spoonfuls of a Greek Yogurt sauce as a way to keep your meals interesting and balanced.
As a dressing! Either enjoy as a thick/creamy dressing or add a little water until it reaches the thinness you want.
What are some sweet ways to enjoy Greek yogurt?
My go-to ways to enjoy Greek Yogurt that aren't savory are for breakfast or as an easy dessert:
In a bowl with berries, a scoop of Stonyfield Organic Greek Yogurt, and a drizzle of honey.
Mixed in with some overnight oats for a boost of protein.
Topped with chopped pecans, dark chocolate chips, and dried coconut for a healthy after-dinner treat.
More Favorite Dip Recipes
These 3 easy Greek yogurt dips are perfect for serving with chips, using as a sauce to flavor your meal, or as a marinade!
Ingredients
Creamy Salsa Greek Yogurt Dip
Green Curry Greek Yogurt Dip
Lemon Turmeric Greek Yogurt Dip
Instructions
For each dip, mix all ingredients together until thoroughly combined, then use as a dip, sauce, or marinade.
Recipe Notes
These dips will keep in the refrigerator for up to 5 days.
Nutrition information is for Creamy Salsa variation.
Nutrition
Calories:
35
kcal
|
Carbohydrates:
3
g
|
Protein:
5
g
|
Fat:
0.3
g
|
Saturated Fat:
0.1
g
|
Polyunsaturated Fat:
0.1
g
|
Monounsaturated Fat:
0.03
g
|
Trans Fat:
0.003
g
|
Cholesterol:
3
mg
|
Sodium:
97
mg
|
Potassium:
113
mg
|
Fiber:
0.4
g
|
Sugar:
2
g
|
Vitamin A:
306
IU
|
Vitamin C:
0.2
mg
|
Calcium:
60
mg
|
Iron:
0.2
mg