Exfoliating is a beauty buzzword these days, but why is it so popular? Because it's a game-changer! Let's dive into the benefits of exfoliating our skin and why incorporating an exfoliating mask into your weekly routine might be just what your complexion needs to shine.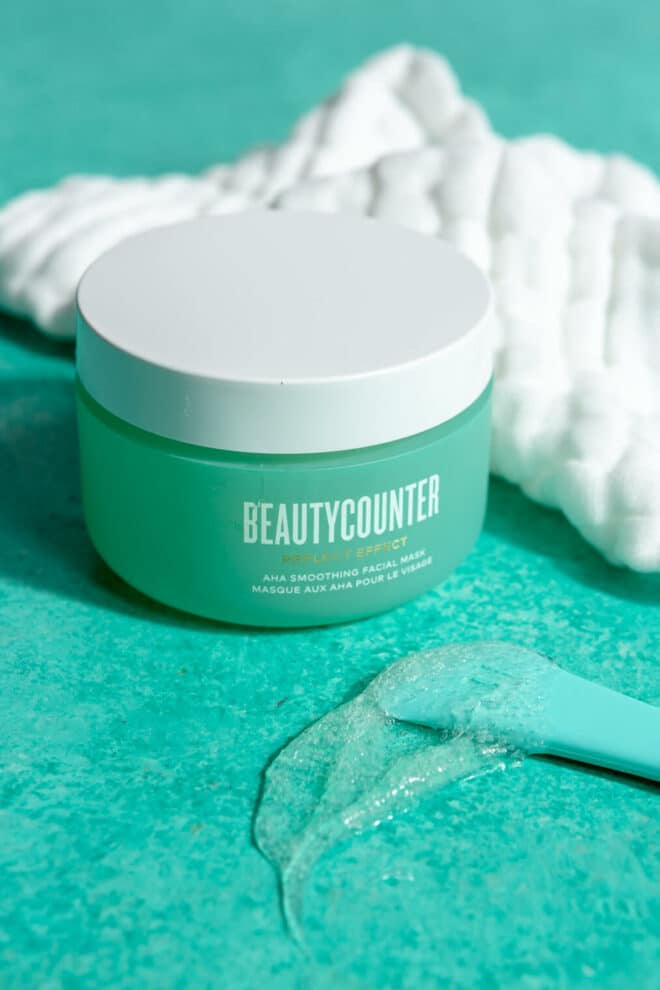 Beautycounter Reflect Effect AHA Mask
I am not a mask girl. If I ever get invited to a "Mask Spa Night," I go purely for socialization (and food). Although I pride myself on a 75-step skincare routine (ok, six but it usually feels like that many), my masks typically sit on my shelf and get dusty. Why the dramatic opposition? It's too much work! You get out the mask, let it sit, and then the clean-up and washing-off process are messy and sticky. Masks take extra time and rarely provide immediate results. Two reasons I left them out of my skincare routine until…drumroll, please…I tried an AHA mask. Friends, the Beautycounter Reflect Effect AHA Smoothing Facial Mask has turned me into a mask girl, truly! Read on to find out why!
Skincare Benefits of this AHA Mask
The ingredients in this mask are next-level. Not only does a blend of chemical and physical exfoliators brighten and soften the skin, but the mask also locks in moisture and hydrates the skin. The absolute best part of this mask is that you see results after just one use, which is why I am now a self-proclaimed mask girl! After using the mask in the evening, the next morning my coworker, Lindsay, commented on my skin, "Wow, your skin looks so good!" Here is the breakdown of the ingredients that will give your skin results, even after just one use:
Glycolic Acid: this sugar-based acid can do so many things! Because it absorbs so easily in the skin, think cellular level, this acid works hard to reveal your natural glow. According to dermcollective.com, "glycolic acid revitalizes skin by targeting sun damage, reducing the appearance of lines and wrinkles, accelerating collagen production and moisture retention to support the skin's matrix." Glycolic acid provides moisture, fights wrinkles, and reduces scarring, while also preventing and treating acne. All of these results provide brighter skin over time.
Phytic Acid: taken from plants, this acid removes gunk and build-up, such as flaky skin, that accumulate over time leaving you with a more even skin tone. Phytic acid plays a crucial role in fighting acne and reducing melasma.
Bamboo Particles: the tiny beads in the mask act as the physical exfoliator, and they softly remove dead skin cells. After application, the beads turn white.
Saccharide Isomerate: an ultra-hydrating, sugar-based moisturizer that combats dryness while soothing the skin. According to henrytianus.com, "this plant-based ingredient, boosts hyaluronic acid production in the skin by up to 66%." Hyaluronic acid improves hydration in the skin resulting in younger more full-looking skin. Saccharide Isomerate can also provide hydration to the skin for up to six days. Sign me up!
What are the key ingredients of Beautycounter's Reflect Effect Mask?
The AHAs (Alpha Hydroxy Acids) in this mask are the ultimate skincare superstars. The main AHA used in this mask, glycolic acid, is made from sugar cane. As the smallest acid, it is ideal for exfoliation making it easily absorbable on the skin. When an acid is absorbed, it sticks to the dead skin's cells and sloughs it off the surface of the skin. Another AHA used in this mask is phytic acid, it helps get rid of build-up on the skin. These plant-based acids are considered chemical exfoliators, while the bamboo particles act as physical exfoliators. Both chemical and physical exfoliators get the job done, but when you combine them, they provide even greater exfoliating results!
How to Use the Mask
Thoroughly wash your face before applying the mask. I personally use the mask in the evening, although any time of the day is great. Don't worry about applying any toners or serums after you cleanse, you simply need a dry, clean surface before applying the mask.
Apply enough of the mask to cover the entirety of your face. For me, this is about ½ – 1 tablespoon. This tool is great for easy application.
Set your timer for 10 minutes, and let the magic begin. If you have sensitive skin, like me, you may notice a slight tingling sensation when you first apply the mask. This is normal and should go away within a few minutes. If, however, the tingling doesn't go away and your skin begins itching or burning, wash off the mask immediately. After about five minutes or so, you will notice the bamboo particles (the physical exfoliators) start to turn white!
After the ten minutes is up, wash off with a washcloth or muslin cloth.
Complete the rest of your skincare routine after rinsing and drying your face – prep (toner), treat (serum), protect (moisturizer).
Admire your soft baby skin!
Beautycounter Reflect Effect AHA Mask FAQs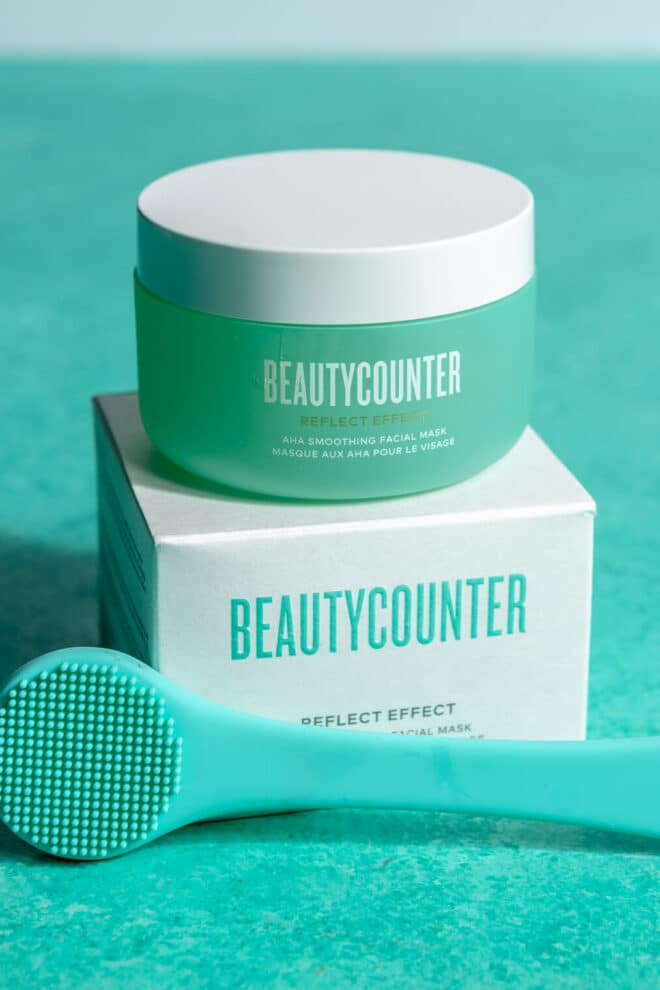 Tips for Using the Mask
Your skin can become more sensitive to the sun from using the AHA mask. Because of this, it is important to wear an SPF daily, even if you are staying inside! Light from windows can penetrate your skin, lather up with sunscreen despite being indoors. This is a good rule of thumb even if you don't use an AHA mask, but especially important if you decide to incorporate it into your weekly routine.
After using the Reflect Effect AHA Smoothing Facial Mask for several months, I have seen my skin go from nice to luminous! It's so soft, the tone is improving, and my makeup applies flawlessly. I can see why exfoliating on a regular basis is all the rage and a total game-changer for any skincare routine.
Just for You
Beauty Articles
Looking for more articles like this?
Sources: