Coconut Mojito Popsicles combine full-fat coconut milk, limes, mint, and rum for the perfect portable slightly-boozy frozen treat!
Wait. Wait. Wait. I woke up this morning and had a sudden shock (my heart actually skipped a beat …I may need to get that checked out) that we have less than three weeks of summer left. Are you kidding me!? Sure I may have gotten a little excited about the upcoming fall season. Sure I made a huge batch of fall-tastic mini apple & maple cupcakes. And sure I started pinning every picture to come across my Pinterest feed that involved a scarf and a cute pair of boots. But no, I just can't accept that summer is almost gone. I want to have my cake (scarf weather) and eat it too (popsicles). That's okay, right?
Well as long as you're on board, let's jump into this I'm-in-denial-that-summer-is-almost-over recipe.
It's still boiling lava hot down here in Texas, so I find myself consistently craving refreshing frozen treats.
Who doesn't like popsicles? I can't think of a single person. Everyone loves a handy-dandy tasty frozen treat on a stick. They're fun!
On that note, who doesn't like mojitos? I (again) can't think of a single person. I like to think that mojitos happened when the mint julep went on vacation to Cuba. Mojitos are a minty, limey, refreshing treat sure to brighten any blazing 100-degree afternoon. Which is where these Coconut Mojito Popsicles came from friends – my need for a frosty treat!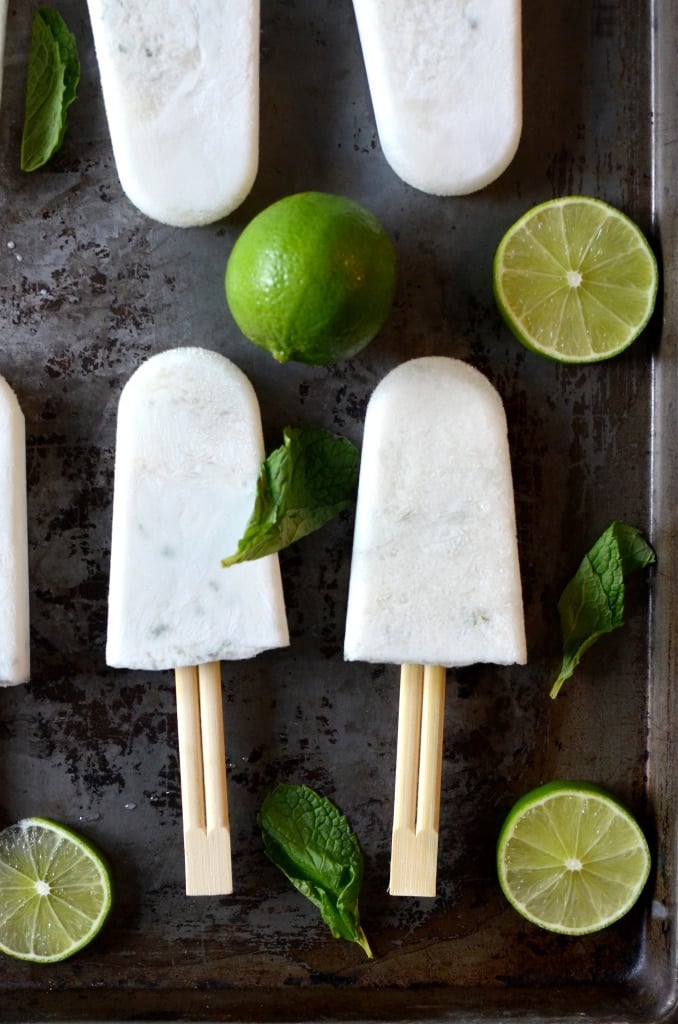 Why not combine the two? Dear Mr. Mojito, please meet Mr. Popsicle. I know you don't think you have anything in common, but trust me. I know a good match when I see one. You're soul mates. Give it a chance.
Send summer off with one last sweaty porch party. I can see it now …you're passing out mini crab cakes, bowls of plantain chips, grilled goodies, and then just when people are starting to feel the heat, you pass out the tastiest, booziest popsicle they've ever had. They'll be praising you, summer, and the mint julep who went to Cuba.
Cheers to you forever summer babies. I hope you enjoy the next 7-8 colder summer months until the heat kicks back in.
PS. Double cheers to Billy of Wit & Vinegar. His popsicle week mania planted a "must make popsicle" seed in my brain. Crossing it off my list now.
Because I wanted a creamier popsicle, I decided to add coconut milk. Paleo rule of thumb: pretty much anything is made better with full-fat coconut milk. So we take mojito popsicles and turn them into coconut mojito popsicles. Bam. Proceed. Remember to give the cans a shake before you open them. Measure out 2 cups of the creamy goodness into a mixing bowl. Add 1 (um, heaping) Tbl of honey. Measure out a double shot of silver rum. I can't decide if that is a proper shot glass. It's probably a kid's cup. I went with it. Add the rum to the coconut milk. Note that these coconut mojito popsicles aren't overly boozy. There's just enough rum to give you a hint of flavor, but not so much that the popsicles won't freeze.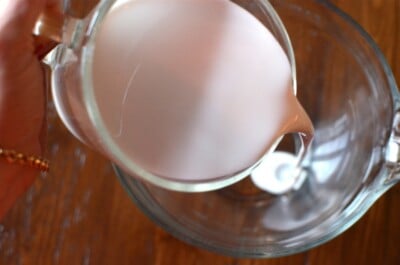 Mint time! Get you a good handful of fresh mint leaves. Gus loves fresh mint, apparently. He's my little canine foodie. Chop up about 4 Tbl of leaves. Add half the leaves to the coconut milk.
Whisk until all the honey is melted into the mixture.
Now, here's a fork in the road. You can proceed in one of two ways:
Option 1: Keep the coconut mixture separate from the lime mixture. This way, you alternate spooning both into the popsicle molds so that you end up with a semi-marbled pop.
Option 2: Combine all the ingredients into one bowl and don't worry about how potentially pretty the marbling will be. It'll taste just as good mixed up.
SO, if you're going with option 1, I recommend you take this coconut milk bowl to the freezer while you prepare the lime mixture. The different consistencies and temperatures help keep the mixtures separate while you're spooning into the molds.
Lime time. You'll need about 1 dozen juicy limes. Chop and squeeze limes until you have 1 cup of juice. Please don't cheat and get the already juiced stuff. It doesn't taste near as good. Add 1 Tbl of honey. Add another double shot of silver rum. Add the other half of the chopped mint.
Grab some sparkling mineral water. Any brand will work. Add 1 cup to the mixture and whisk until all the honey is melted.
Pull your coconut milk from the freezer and start spooning it and the lime juice into the molds. If you're going for the marbling effect, alternate spoonfuls, play with different amounts of each mixture, and be sure not to shake them. If you're going with the safe & easy (already mixed) option, just spoon in the mixture until you're at about a ½ inch from the top.
At some point during the freezing process, you'll need to insert your sticks. I don't have one of those fancy popsicle freezers with a stick stabilizer, so I poked my sticks in after about 2 hours of freezing. They were just solid enough to hold the stick into place.
Freeze for 12 hours or overnight. These take a little longer than other popsicles because of the rum.
Do those sticks look familiar? Um, that's because they're chopsticks. Hey! I'm resourceful. I had too many chopsticks and zero popsicle sticks. Points for creativity?
Ideas for serving? Well, you could lay them out on a pan/plate or pass them out in cups. Why cups? Because if you're serving them at your blazing, sweaty, we're in denial it's the end summer porch party, they might melt before your guests can finish. Solution! All they have to do is plop their popsicle in the glass you thoughtfully passed out, let it melt a little more, and sip it down. Instant cocktail! If you want to add an extra splash of rum at this point, I understand – these coconut mojito popsicles can handle it.
Enjoy!
Coconut Mojito Popsicles combine full-fat coconut milk, limes, mint, and rum for the perfect portable slightly-boozy frozen treat!
Ingredients
2

cups

Full-Fat Coconut Milk

2

tablespoons

Honey

4

ounces

Silver Rum

4

tablespoons

Mint

1

cup

Fresh Lime Juice

takes about 12 limes

1

cup

Sparkling Mineral Water
Instructions
In one bowl, whisk the coconut milk, half the honey, half the rum, and half the mint together. Place this bowl in the freezer while you prepare the other lime mixture.

In a separate bowl, whisk the lime juice, other half of the honey, other half of the rum, other half of the mint, and the mineral water together.

Either alternate spoonfuls of the lime and coconut milk mixture into popsicle molds or combine both bowls and fill molds, leaving ½ inch at the top.

Insert popsicle sticks at some point during the freezing process.

Freeze for 10-12 hours.

Serve and enjoy!
Nutrition
Calories:
85
kcal
|
Carbohydrates:
4
g
|
Protein:
1
g
|
Fat:
6
g
|
Saturated Fat:
5
g
|
Polyunsaturated Fat:
0.1
g
|
Monounsaturated Fat:
0.3
g
|
Sodium:
5
mg
|
Potassium:
88
mg
|
Fiber:
0.2
g
|
Sugar:
2
g
|
Vitamin A:
61
IU
|
Vitamin C:
5
mg
|
Calcium:
12
mg
|
Iron:
1
mg