Every item on this page was chosen by The Fed & Fit team. The site may earn a commission on some products (read more here).
Balsamic glazed mini meatloaf is the perfect solution for rushed weeknight dinners! These meatloaves cook up quickly thanks to their smaller size, are packed with kale, topped with crunchy bacon, and smothered in the best-ever balsamic sauce.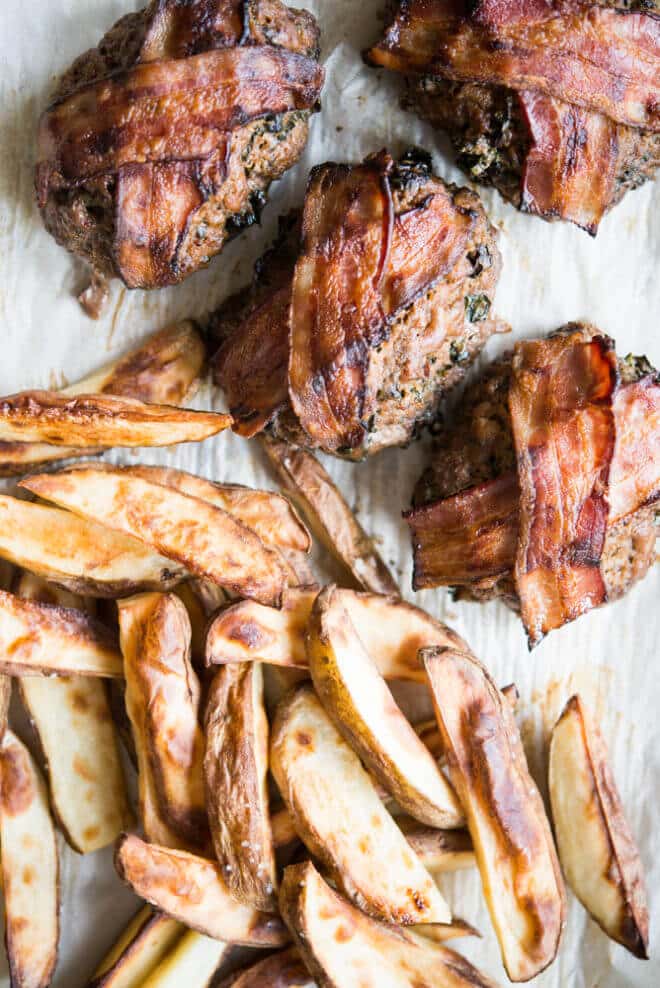 We originally made a version of these mini meatloaves for our Cook Once, Eat All Week bonus eBook (you can grab your copy here) about a year ago, and I loved them so much that I found myself making them for dinner on a regular basis. I couldn't get enough of the combination of tender beef, salty bacon, and sweet and tangy balsamic sauce – which quickly became one of my go-to marinades for everything from chicken to pork tenderloin. They come together quickly and bake in just 30 minutes, plus you can easily roast some fries or veggies alongside them for a nearly hands-off dinner.
Why mini meatloaf?
The main reason I love making mini meatloaves over traditional meatloaves is because of the time savings! Traditional meatloaf can sometimes take over an hour to cook, which meant I used to only make this classic comfort food dish on Sundays. The miniature version bakes up faster, plus they are cute and everyone can have their own!
How to Make Mini Meatloaf
You'll see that a lot of mini meatloaf recipes around the web are made in muffin tins, and while we love that idea, we found that depending on the fat content of the ground beef you use (and the bacon) you could often wind up with a super greasy, messy result. Baking the meatloaves directly on a sheet pan eliminates that problem! Here's what you'll need to do to make these:
Mix the balsamic glaze. This glaze is a combination of dijon mustard, balsamic vinegar, coconut aminos, honey, and garlic powder. Simply whisk it together for the perfect sweet, tangy, and savory topping.
Chop the kale. In this recipe, we call for 2 cups of shredded lacinato kale, though you could also use curly kale or chop up spinach in its place! Wash and de-stem the kale, then finely shred it and set aside.
Mix all of the meatloaf ingredients together. Next, you'll add 1 1/2 pounds of ground beef, the kale, 1/4 cup of the balsamic glaze, breadcrumbs, an egg, and a few simple seasonings to a bowl, then mix it all up with your hands until fully combined.
Shape the meatloaves. Once the meatloaf mixture is ready, simply line a rimmed baking sheet with parchment paper, then divide the mixture into five and shape it into mini meatloaves. Top each meatloaf with a piece of bacon cut in half crosswise, then baste with the balsamic glaze.
Bake. Place the meatloaves in the oven for 40 minutes, or until the internal temperature of the meatloaf reaches 160 F, then remove from the oven and serve!
More of our Favorite
Beef Recipes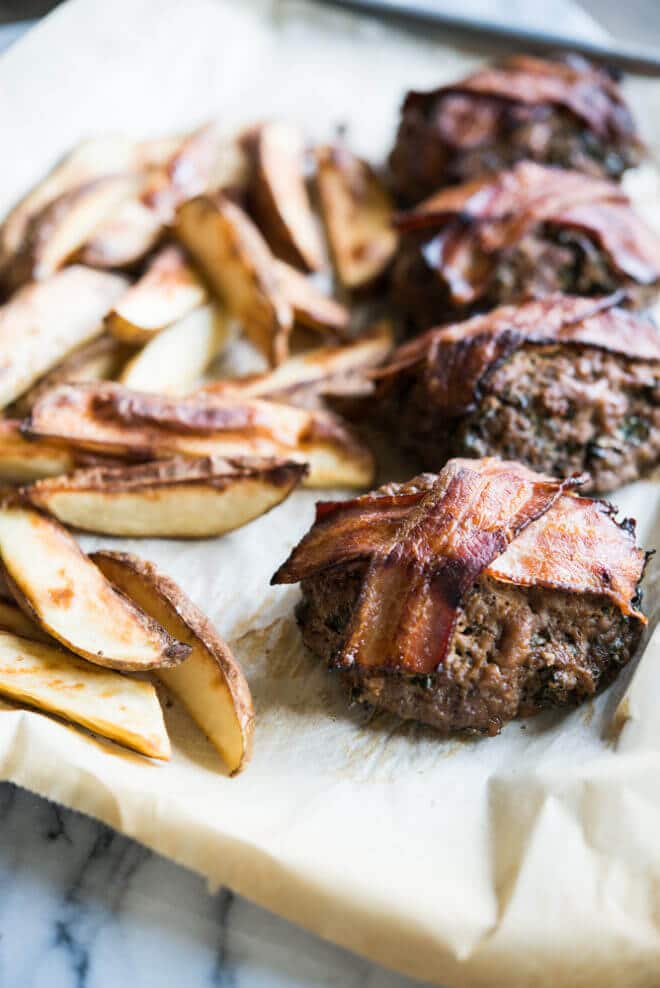 What to Serve With Mini Meatloaf
For this recipe, we decided to bake oven fries alongside our meatloaf. Simply cut about 1 1/2 pounds of russet potatoes into wedges, toss with one tablespoon of avocado or olive oil and 1/2 teaspoon of coarse salt, then spread on a parchment paper-lined baking sheet and cook at 375 F for 40-45 minutes, until browned. You can make these on the lower oven rack while the meatloaf cooks on top! If you're not in the mood for fries, here are a few more side dish ideas:
Free Ground Beef for Life!
Our favorite ground beef to use for these mini meatloaves comes from ButcherBox. I've used ButcherBox's subscription service for years now and love how convenient it is to get grass-fed, pasture-raised, proteins delivered directly to your door! For more information on how the service works, check out our ButcherBox review. One of my favorite items in my monthly ButcherBox is their grass-fed ground beef because it's perfect to have on hand for quick and easy dinners like this one, and it is cost-effective. Right now when you sign up for your first ButcherBox, you can get 2 pounds of grass-fed, grass-finished ground beef for free in each box – FOR LIFE.
Click HERE to get your ground beef!
Just for You
Beef Recipes
Want more recipes like this?
Mini Meatloaf Frequently Asked Questions
Q
What are the best breadcrumbs to use for meatloaf?
A
Breadcrumbs in meatloaf help make it more tender and give it a different texture than what you'd experience with a burger or something similar. For this recipe, you can use whatever breadcrumbs you prefer! We've used these gluten-free ones successfully, and you can also make your own by blending up toasted bread, crackers, or even oats. If you're grain-free, almond flour works as a great swap in place of the bread crumbs.
Q
Can I use a different sauce?
A
Absolutely! If you don't want to make the balsamic glaze, BBQ sauce is a great alternative or you can even use ketchup. You'll need about 3/4 cup total.
A
Absolutely! To freeze these meatloaves, first cook them through all the way, then store in an airtight container (like this one) and place parchment paper between each layer if you are stacking them. To reheat, either microwave for 3-4 minutes, until heated through, or bake at 350 F for about 30 minutes.
Ingredients
For the Balsamic Glaze
1/4

cup

Dijon mustard

3

tablespoons

balsamic vinegar

3

tablespoons

coconut aminos

2

tablespoons

honey

1 1/2

teaspoons

garlic powder
For the Meatloaves
1 1/2

pounds

ground beef

2

cups

shredded kale

– we used lacinato, but curly kale or spinach will work, too

Balsamic glaze

1/2

cup

breadcrumbs or almond flour*

1

egg

1

teaspoon

coarse sea salt

1

teaspoon

onion powder

1

teaspoon

garlic powder

1/4

teaspoon

black pepper

5

strips of bacon

cut in half crosswise
Instructions
Preheat the oven to 375 F.

In a large bowl, mix the ground beef, kale, 1/4 cup of the balsamic glaze, breadcrumbs, almond flour, sea salt, onion powder, garlic powder, and pepper until it's evenly combined, then set aside.

Line a rimmed baking sheet with parchment paper, then shape the meat mixture into 5 small loaves. Top each mini meatloaf with 2 pieces of bacon, then glaze with the balsamic sauce.

Bake for 30-35 minutes, until the tops of the meatloaves are browned and the internal temperature has reached 160 F.
Nutrition Information
Nutrition Facts
Mini Meatloaves with Balsamic Glaze
Amount per Serving
% Daily Value*
* Percent Daily Values are based on a 2000 calorie diet.
Recipe Notes
You can use whatever breadcrumbs you prefer here! We used these for gluten free, but you can also make your own from bread, grind up oats, or use almond flour for a grain-free swap.
If you'd like your bacon to get a little bit more crisp, turn on your broiler and let the meatloaves cook for a few more minutes, but watch them closely to make sure that the meatloaves and the parchment don't burn!