Every item on this page was chosen by The Fed & Fit team. The site may earn a commission on some products (read more here).
These are Paleo-friendly stuffed peppers like you've never had before! Packed with healthy butternut squash and a satisfying curried beef, these are sure to become a staple in any fit kitchen.  If you've never tried stuffed peppers, let these be your gateway recipe, it'll open up a whole new world for you!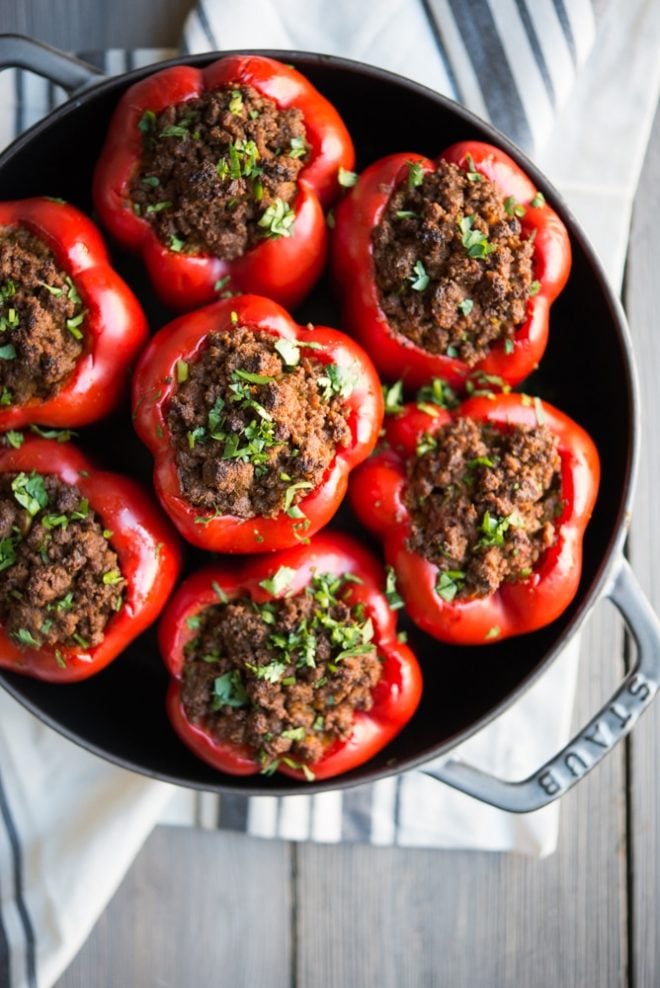 I have been on the EDGE of my seat for months (almost a full year) just ANTSY to share pieces of the Fed & Fit Book with you!! You see, this 400 page resource contains some of my BEST work. It's got some of my BEST recipes (175+ of them), a summary of my approach to healthy living (via the "4 Pillars of Health"), and a copy of my signature 28-Day Fed & Fit Project. It is DENSE and it took me well over a year to write, compile, photograph, and edit. Aside from the year spent directly working on the book, if I mentally rewind the clock and look back on the 6 years of this blog, thinking about every post, comment, client, email, and my personal determination to keep getting better, it's not difficult to see how they all played a part in this singular resource. If we want to take it even further back (and look through our "it all happens for a reason" glasses), my personal health struggles which came to a pinnacle in my early 20's, which finally pushed me to learn about how I could HEAL myself with FOOD, without dieting, determined to be "fed" AND "fit," it also becomes apparent how those difficulties were absolutely necessary. The book hits shelves in a short 3 weeks (on August 16th) and I'm overwhelmed by a feeling of thanks. I'm thankful for you reading this now, for my bad food photography which evolved into better food photography, for each and every nutrition client over the years, for my colleagues, for my publisher, for my family, and for every single one of my struggles.
SO, because nobody likes a completely unfair "Doesn't this look good? Well you only have to wait 9 MONTHS to try it" teaser. I gritted my teeth, kept as quiet as possible, and waited semi-patiently for the right time to share.
The wait is finally over.
In the next two months, I'm going to share teaser recipes from the book (like these stuffed peppers) along with a couple "sample days in the Fed & Fit Project" so you can get a taste for my approach to leading folks down a path designed to help them build THEIR Perfect Plan.
Hang tight, this is going to be a wild ride!
NOW, let's talk about these stuffed peppers. This is one of my favorite dishes in the book because it's a convenient balanced meal in a concise package! Best yet, it's unlike any stuffed pepper you've had before. THIS stuffed pepper sits on a bed of luscious butternut squash (for a healthy dose of veggie-based starch) and is topped off with some of the tastiest curried ground beef to ever pass through my kitchen. I like to make these in one large batch and then individually wrap then freeze the leftovers for a convenient freezer meal ready to enjoy on busy days!
I hope you love these curried beef and butternut squash stuffed peppers as much as I do.  They're hearty, filling, and so much more sturdy than traditional stuffed peppers!
Ingredients
1

small butternut squash

about 2 1/2 pounds

3

tablespoons

salted butter

ghee, or coconut oil, divided

2

teaspoons

fine sea salt

divided

1/2

yellow onion

diced

3

cloves

garlic

minced

2

pounds

ground beef

1

tablespoon

curry powder

1

teaspoon

paprika

1/4

teaspoon

ground black pepper

1/8

teaspoon

cayenne pepper

1/4

cup

canned full-fat coconut milk

1

4-ounce jar red Thai curry paste

1/4

cup

fresh lime juice

about 2 limes

6 to 8

large red bell peppers

1

tablespoon

finely chopped fresh cilantro

for garnish (optional)
Instructions
Preheat the oven to 400°F. Cut the squash in half, long-ways, and scrape out the seeds. Place the halves face-up in a baking dish. Melt 1 tablespoon of the butter and rub it on the cut side of the squash. Sprinkle with ¼ teaspoon of the salt. Tent the baking dish with aluminum foil and bake for 1 hour, or until the flesh is easily pierced with a fork.

While the squash is baking, melt 1 tablespoon of the butter in a large frying pan over high heat. Add the onion and cook until translucent and starting to brown, then add the garlic and cook until fragrant. Next, add the ground beef and cook until it's mostly browned, breaking it up with a spatula as it cooks. Add the curry powder, paprika, black pepper, cayenne pepper, and 1 teaspoon of the salt. Stir and continue to brown until the meat is fully cooked. Add the coconut milk, curry paste, and lime juice, stir, and set aside.

To make the butternut squash mash, scrape all the flesh from the rind into a large bowl or food processor. Add the remaining tablespoon of butter and remaining ¾ teaspoon of salt and blend until well combined and smooth.

To prepare the peppers, cut the tops off and scrape out the seeds and membrane. Spoon about ¼ to ½ cup of the squash into the bottom of each pepper and then top them off with the ground beef.

Stand the peppers upright in a baking dish that is just large enough fit them all, but snugly. If you have trouble making them stay standing, wedge some crinkled aluminum foil between the peppers to help create a more secure fit. Bake at 400°F for 25 minutes. Cover the tops with a sheet of aluminum foil for 20 minutes and then remove it for the last 5 minutes.

Serve warm garnished with the fresh cilantro (if using) or let cool and then individually wrap and freeze. To reheat, place frozen food (no need to defrost) in a preheated 350°F oven for 30 minutes or microwave on high for 3 to 4 minutes, or until heated through.
Recipe Notes
Approximate Calories & Macro Breakdown (based on 1 of 6 servings)
Calories: 569; Protein: 32 g; Fat: 31 g; Carbohydrates: 41 g