Every item on this page was chosen by The Fed & Fit team. The site may earn a commission on some products (read more here).
Dry brining creates the juiciest, most flavorful steak and the full process only takes a short amount of time!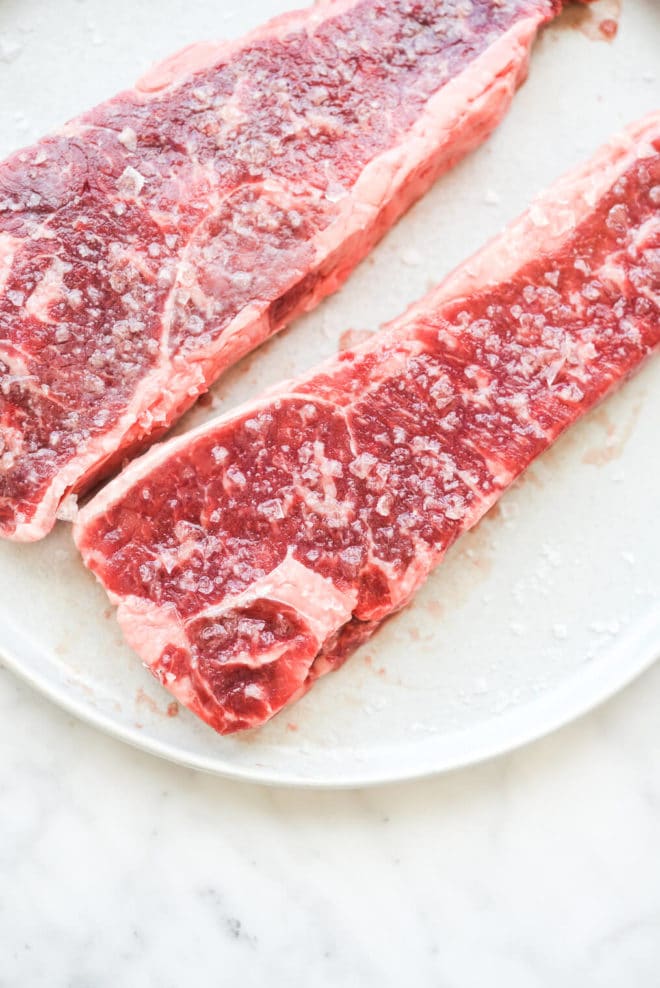 Dry Brine Recipe for Steak
If you're looking to make a juicy, flavorful, tender steak, I highly recommend giving your steaks a quick dry brine before cooking them. Dry brining steak — essentially, heavily salting your steaks and then letting them sit — ahead of time allows for a much cleaner process than wet brining while still bringing out all of the flavors (and keeping in all of the juices). Another plus: the ONLY ingredient you need in order to dry brine is salt. That's it!
What is a Dry Brine?
A dry brine is, very simply, salting your meat before cooking it — that's it! Here's why you might consider a dry brine for your next steak:
It removes excess moisture – don't worry, this *doesn't* mean that your end product will be dry. The inside will stay nice and juicy, but the outside will become slightly drier, making it easier to brown.
It tenderizes – salt breaks down the tendons in meat, so naturally, letting salt sit on your steak will tenderize it!
It seasons all the way through – traditionally, you'll season meat just before cooking it, and while this does create a flavorful crust, it doesn't do much to season the inside of the meat. With dry brining, though, the salt will seep through and really flavor the entire piece of meat.
Dry Brine vs Wet Brine
You've likely heard of a wet brine (especially if you've ever been a part of Thanksgiving turkey cooking!). For a wet brine, you actually boil a mixture of water, salt, sugar, and aromatics, let it cool, place the meat in the mixture, and refrigerate for up to a day. While wet brining does definitely tenderize and add flavor to meat, it can be difficult to pull off sometimes, especially if you're wet brining a whole turkey or another large cut of meat.
Dry brining, on the other hand, does all of the same things as wet brining, but it's a much more practical and easy approach because all you have to do is salt the meat on both sides and then let it sit for half an hour before cooking.
Brine Steak Ingredients
Here's what you'll need for dry brined steak:
Steak – to start, you'll need 2 steaks that are about ½-1 inch thick.
Salt – you'll also need 1 tablespoon of coarse or flaky sea salt per pound of steak. While I don't recommend using fine table salt, if it's your only option, you'll need to cut the amount in half.
What is the best cut of steak for dry brine?
Honestly, ANY cut of steak makes for a really great dry brine candidate. We used a couple grass-fed ribeyes here, but, again, any cut that you particularly love will work great.
More of our Favorite
Steak Recipes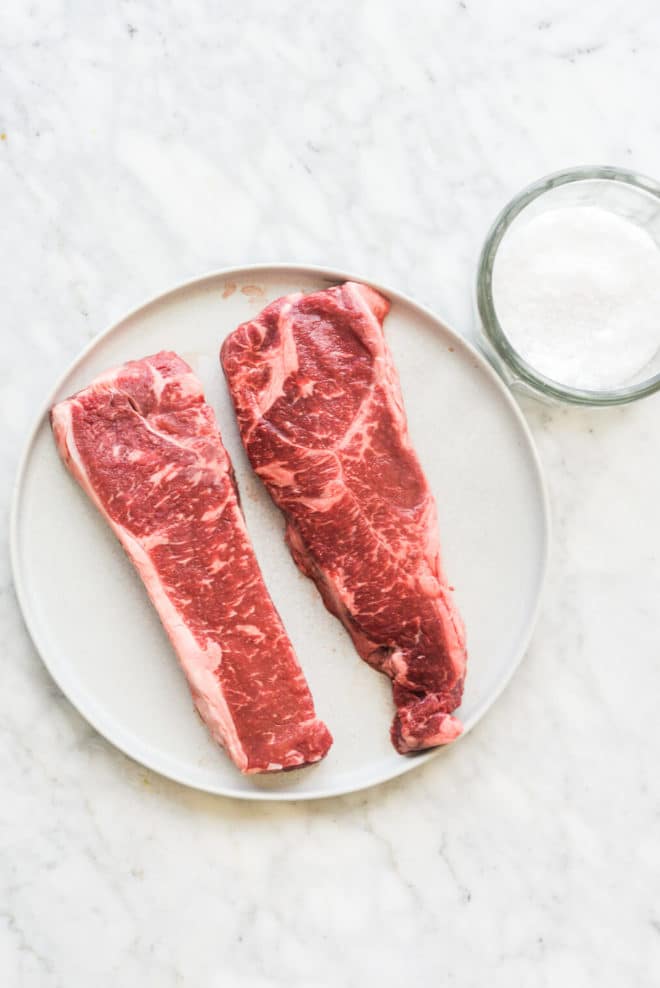 How to Dry Brine Steak
Here's how you'll dry brine steak:
Pat the steak dry – to start, you'll need to pat the steak dry on both sides. This will allow the salt to really stick to the outside of the steak. Then, place your steaks on a plate or in a dish.
Add salt – next, salt on both sides with about a teaspoon (total) of coarse or kosher salt.
Let them sit – let the salted steaks sit out (at room temperature) for 30 minutes before cooking. If you're prepping these well before mealtime, you can salt then refrigerate for up to 4 hours before cooking.
Cook – cook as desired! Pan-searing is a great option, as is grilling.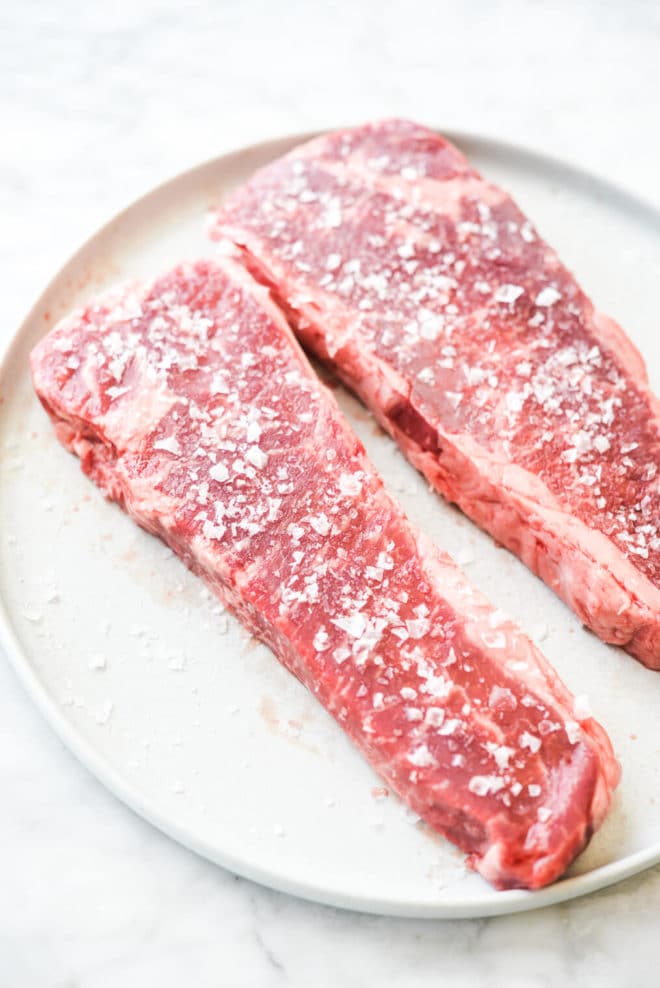 Just for You
Beef Recipes
Want more recipes like this?
Dry Brined Steak Frequently Asked Questions
Q
What salt is best for dry brining steak?
A
The best salt for dry brining is kosher salt because it sticks the best and distributes evenly. Coarse sea salt will also work, though, if you have it handy. Steer clear of fine sea salt or regular table salt — if it's all you have, it'll work, but you'll need to cut the recommended amount in half.
Q
How long do you dry brine a steak?
A
One of the best things about dry brining steaks is that it's a really quick process. Salt your steaks, let them sit for 30 minutes, then get to cooking — quick and easy!
Note: If you're prepping these well before mealtime, you can salt then refrigerate for up to 4 hours before cooking.
Q
Can meat be brined too long?
A
Brining for too long will actually make the finished, cooked steaks taste way too salty (and can even start to dry out the meat, after enough time). Because of this, you'll want to make sure that you don't let your dry brined steaks sit for longer than 4 hours (even refrigerated).
Q
Do you cover meat when dry brining?
A
You don't have to! If it makes you feel more comfortable to cover your steaks, though, feel free to use parchment, aluminum foil, or another covering of choice.
Q
Does dry brining dry out meat?
A
It doesn't! It actually pulls some moisture from the surface of the meat (allowing it to brown really nicely), while still sealing ALL of the delicious juices in.
Q
Does brining meat make it salty?
A
While it's going to feel like you're way *over*salting your steak (especially if you've never dry brined before), rest assured that your meat will not actually be overly salty tasting. It'll be super flavorful and delicious, but not way too salty. Keep in mind that a lot of the salt will get knocked off of the steak when you cook it, so the amount left on the finished product will be less.
Q
Does brine preserve meat?
A
While wet brining meat is often used to preserve it, I don't recommend using a dry brine for this purpose. The dry brine really works to tenderize meat while adding a lot of really delicious flavor.
Q
Do you remove dry brine before cooking?
A
You don't! As stated above, the finished product will *not* be overly salty, so don't worry about wiping the dry brine off of the steak ahead of time.
Q
Should I dry brine steak before sous vide?
A
You totally can! Typically, you'll sear your steak after it's completely cooked via sous vide, so the dry brine will still help to form a nice browned crust. Plus, sous vide steak is typically *perfectly* cooked on the inside, so that cooking method + the dry brine will result in the juiciest, most tender meat possible.
Q
Can you dry brine frozen steak?
A
I don't recommend it. It's best to let your steak thaw completely before salting it — this will allow the salt to actually stick to the meat, and will also allow the salt to seep through into the interior of the steak.
Q
Does brined meat go bad?
A
While brines are sometimes used to preserve meat, I actually don't recommend attempting that with your dry brine. Instead, cook your steak 30 minutes after brining.
Q
For how long can I store unused brine?
A
Because a dry brine is made up of just coarse salt, you'll store any extra salt that you have the same way that you'd typically store salt — in the box it comes in or in a jar or container of your choice.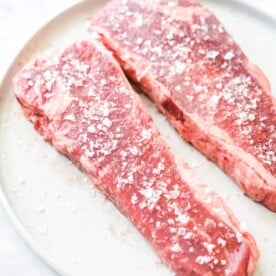 Ingredients
2

ribeye or New York strip steaks

½-1 inch thick

1

tablespoon

coarse or flaky salt per pound of steak
Instructions
Place the steaks on a plate, pat them dry, and salt them on both sides.

Let the salted steaks rest and come to room temperature for 30 minutes.

Cook as desired!
Nutrition Information
Nutrition Facts
Dry Brine Steak Recipe
Amount per Serving
% Daily Value*
* Percent Daily Values are based on a 2000 calorie diet.