Looking for the ultimate comfort food? Get ready to dive into a bowl of creamy mashed potatoes that are so easy to make, you'll wonder why you didn't try this sooner. With just a few simple steps, you'll be whipping up velvety, dreamy spuds that will have your taste buds dancing with delight.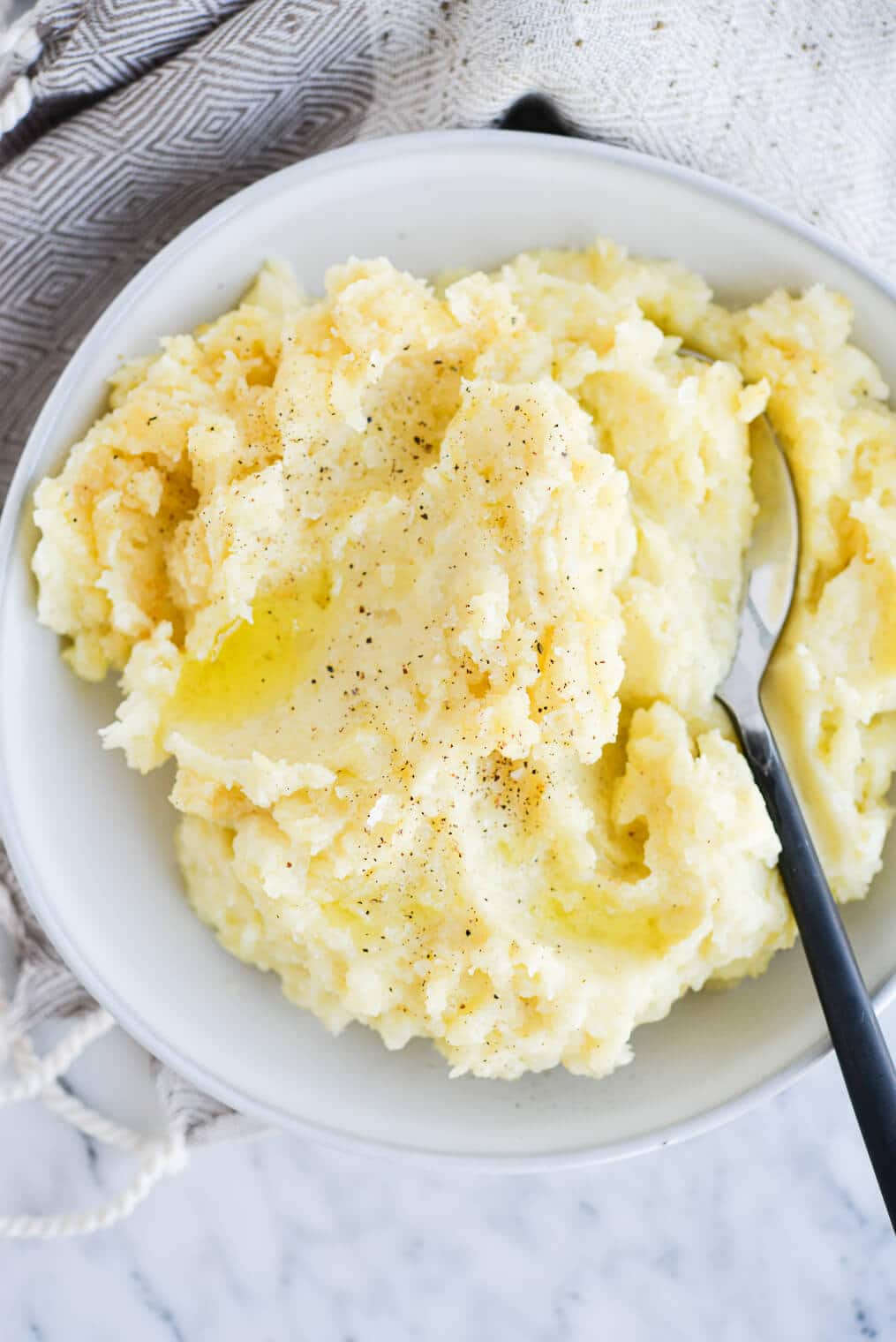 Mashed potatoes. I feel like that's all I need to say…I mean, who doesn't LOVE mashed potatoes?! I need absolutely zero convincing to load up on the mashed taters, and (at least) a third of my typical holiday plate is made up of this fluffy, creamy variation of my long-time favorite starchy veggie!
Mashed potatoes don't have to be reserved for holidays only, though, and this recipe totally proves that. Mashed potatoes are my favorite way to add a healthy starch to ANY meal, and these mashed taters are equal parts easy, creamy, and delicious, and deserve a spot on your table year-round.
Looking for more easy sides? Check out our Cheesy Homemade Garlic Bread, Easy Oven Roasted Potatoes and Carrots, and Instant Pot Mac and Cheese.
Why You'll Love This Recipe
They're a crowd-pleaser – who doesn't love mashed potatoes? Make these for your family for a weeknight dinner or for your next gathering. Everyone will love them – I promise.
They're totally customizable – add chives, garlic, shredded cheese, and/or even bacon to your potatoes to make them exactly how you like them. There is honestly nothing that could mess up this recipe!
Recipe Ingredients
Not much is needed for this family favorite side dish, and I'd be willing to bet that you've got at least 3 of these ingredients on hand already (assuming that we're counting salt and pepper in the ingredients list!). Find ingredient notes (including substitutions and swaps) below.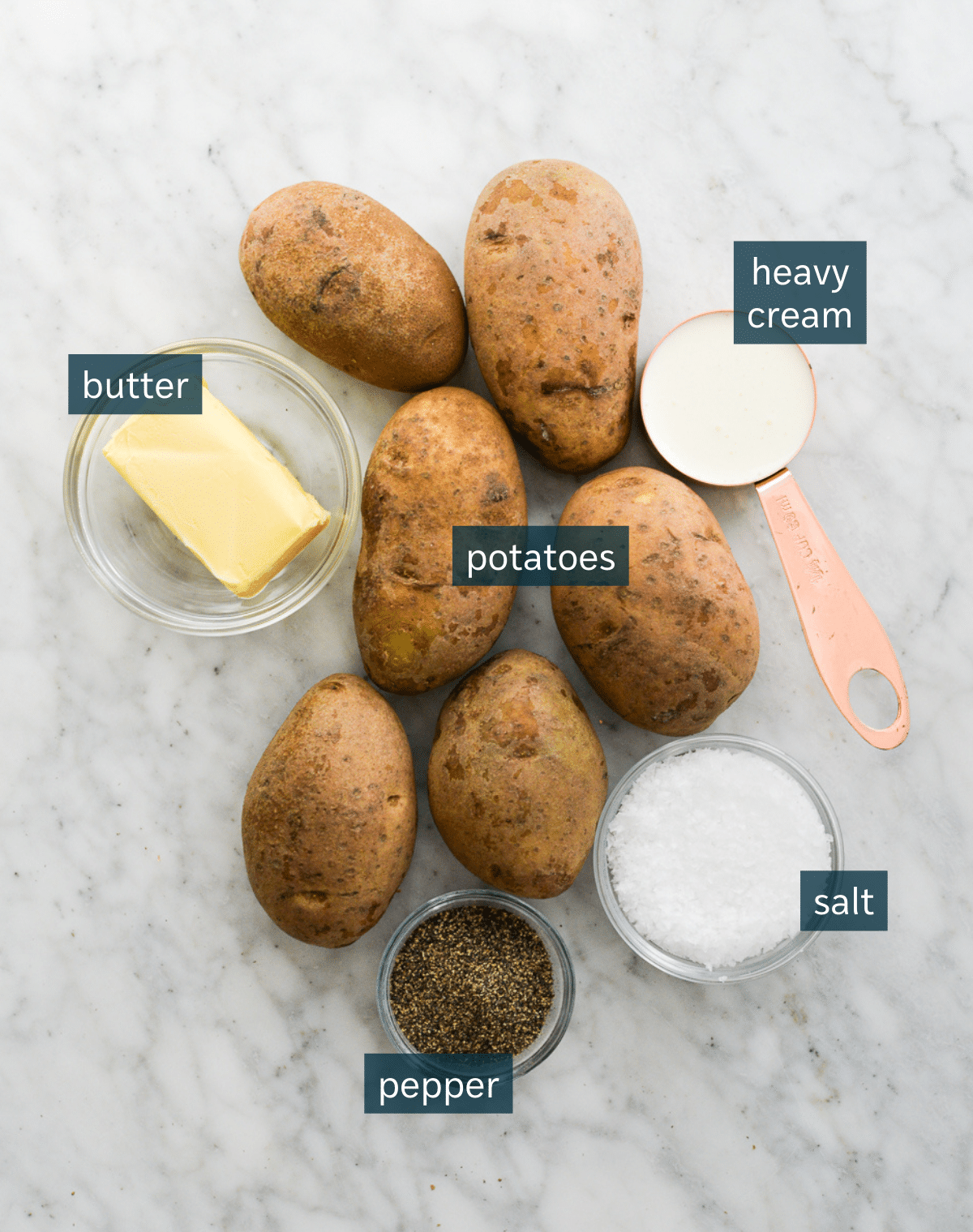 Potatoes – Yukon gold or russet potatoes are the very best potato varieties to use for homemade mashed potatoes.
Milk or Heavy Cream – to up the creaminess factor, we recommend using heavy cream

here. While you can totally use milk, we think that heavy cream is the way to go – it's thicker and makes for thicker (less watery) mashed potatoes!
A full ingredient list with exact amounts can be found in the recipe card below.
Recipe Variations and Modifications
Cheater Garlic Mashed Potatoes – for this yummy variation, you'll just need to add a teaspoon of garlic powder to your mashed potatoes!
Loaded Mashed Potatoes – for this decadent take on the classic, simply replace the heavy cream with sour cream, add a ½ cup of shredded cheddar cheese + 1 tablespoon of chopped chives, and top with 4 strips of crumbled bacon…YUM!
Dairy-Free – to make dairy-free mashed potatoes, just use full-fat coconut milk in place of the heavy cream and your favorite vegan butter substitute (or olive oil) in place of the butter.
How to Make Mashed Potatoes
Y'all…these homemade mashed potatoes are EASY! In fact, they're SO EASY that there's no reason to save these for holiday-only dinner spreads! We say that mashed potatoes are a perfectly acceptable year-round side. Here's how you'll whip these bad boys up.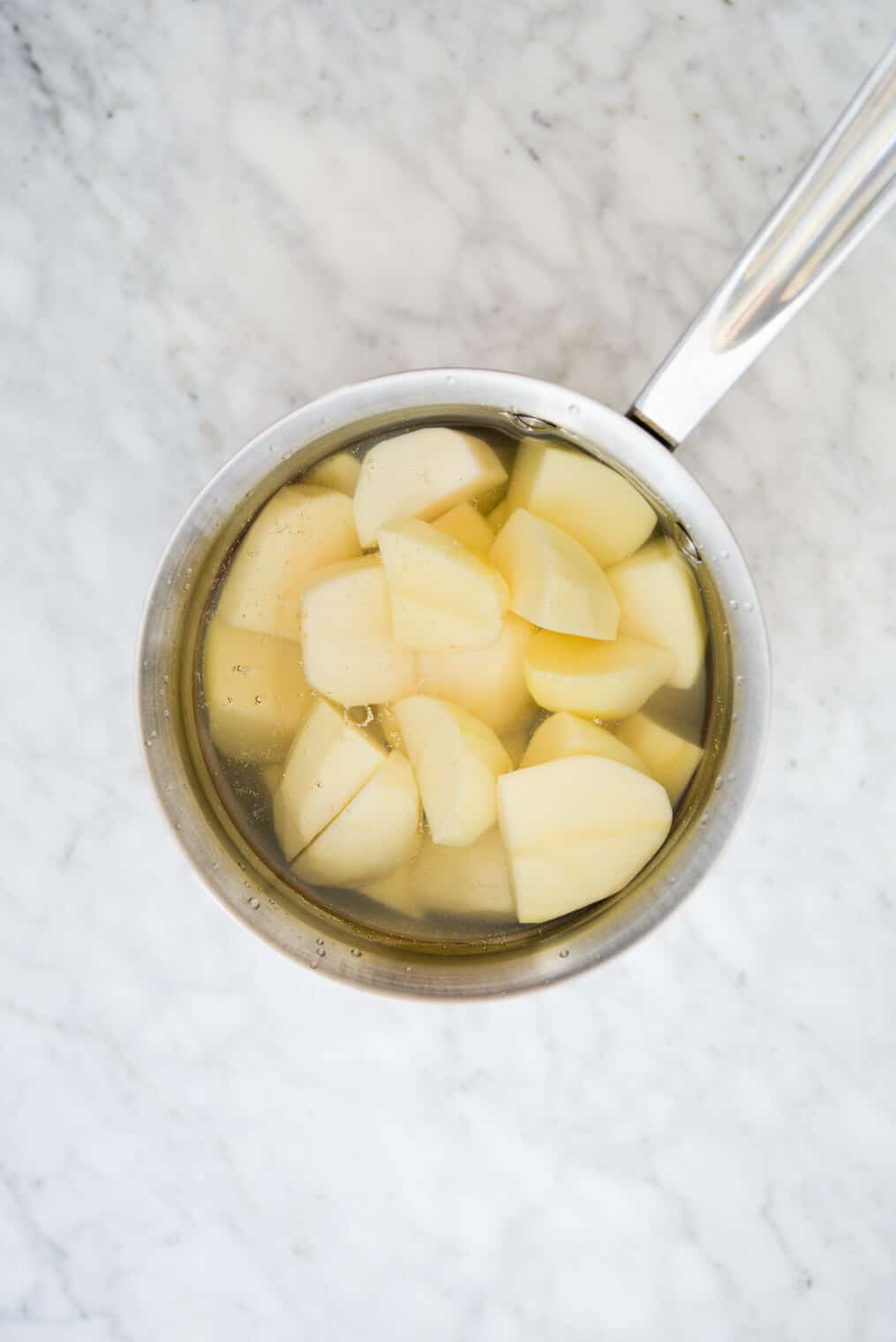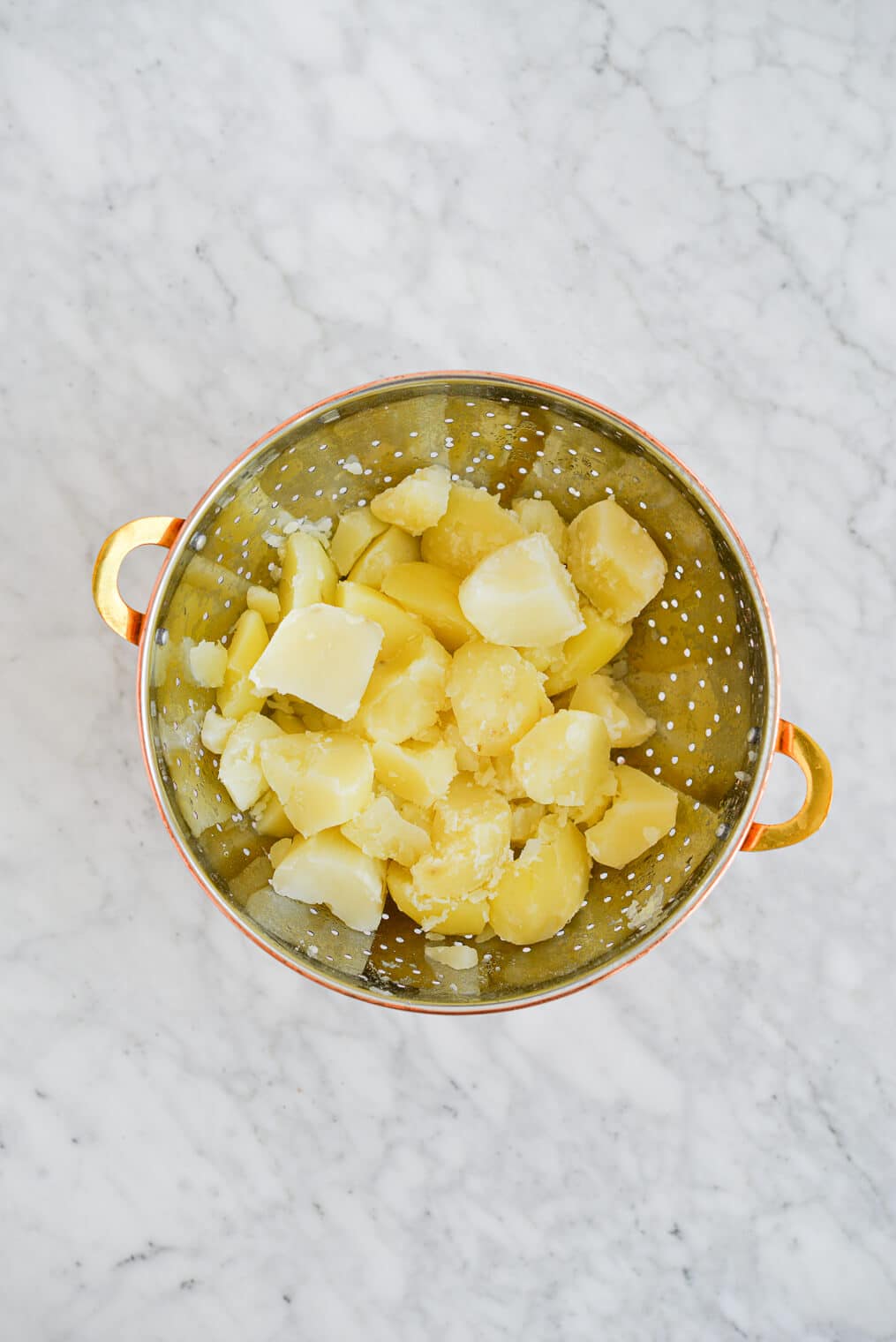 Step 1: Add the potatoes and salt to a large pot, then fill the pot up with water to cover an inch over the potatoes and place it on the stove over medium-high heat. Let the potatoes come to a low boil, then cook for 15 minutes, until the potato chunks can be easily pierced with a fork.
Step 2: Once the potatoes are fork-tender, strain the excess water. To avoid watery potatoes, be sure to get all of the liquid out here.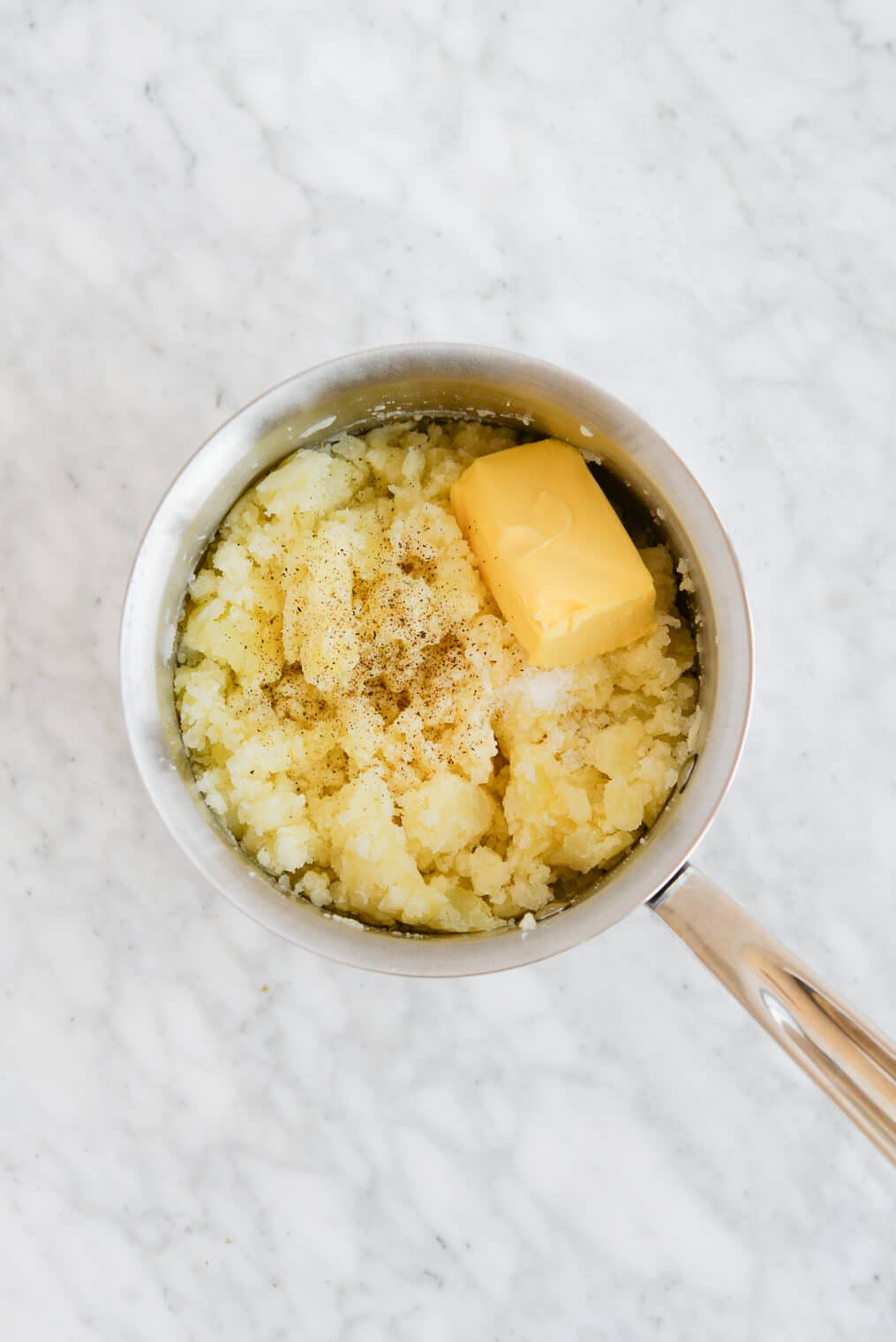 Step 3: Return potatoes to the pot, and mash them with a potato masher or hand mixer.
Step 4: Once mashed, stir in the cream, butter, and pepper. Taste for seasoning and add salt, if needed.
Recipe Tips
Use Yukon gold or russet potatoes – these two potato varieties are starchier than others and will result in fluffier, creamier mashed potatoes.
Add salt to the pot – add a generous amount of salt to the water when boiling the potatoes. This seasons the potatoes from the inside out!
Don't overcook the potatoes – be sure to remove the potatoes from the water when they are just fork-tender. Overcooking them can cause the mashed potatoes to become gummy.
How to Serve
Serve your potatoes alongside your favorite protein (this baked turkey breast tenderloin with a garlic herb marinade would be fantastic. So would homemade salisbury steak!) and veggie of choice (easy oven roasted green beans are the best with mashed potatoes).
How to Store and Reheat
Store any leftover mashed potatoes in an airtight container in the refrigerator for up to 5 days.
To reheat, simply pop the potatoes in the microwave for 1-2 minutes or in a pot on the stovetop for 7-8 minutes until warmed through. Either way, add a bit of water (2-3 tablespoons) in order to remoisten the potatoes during the heating process.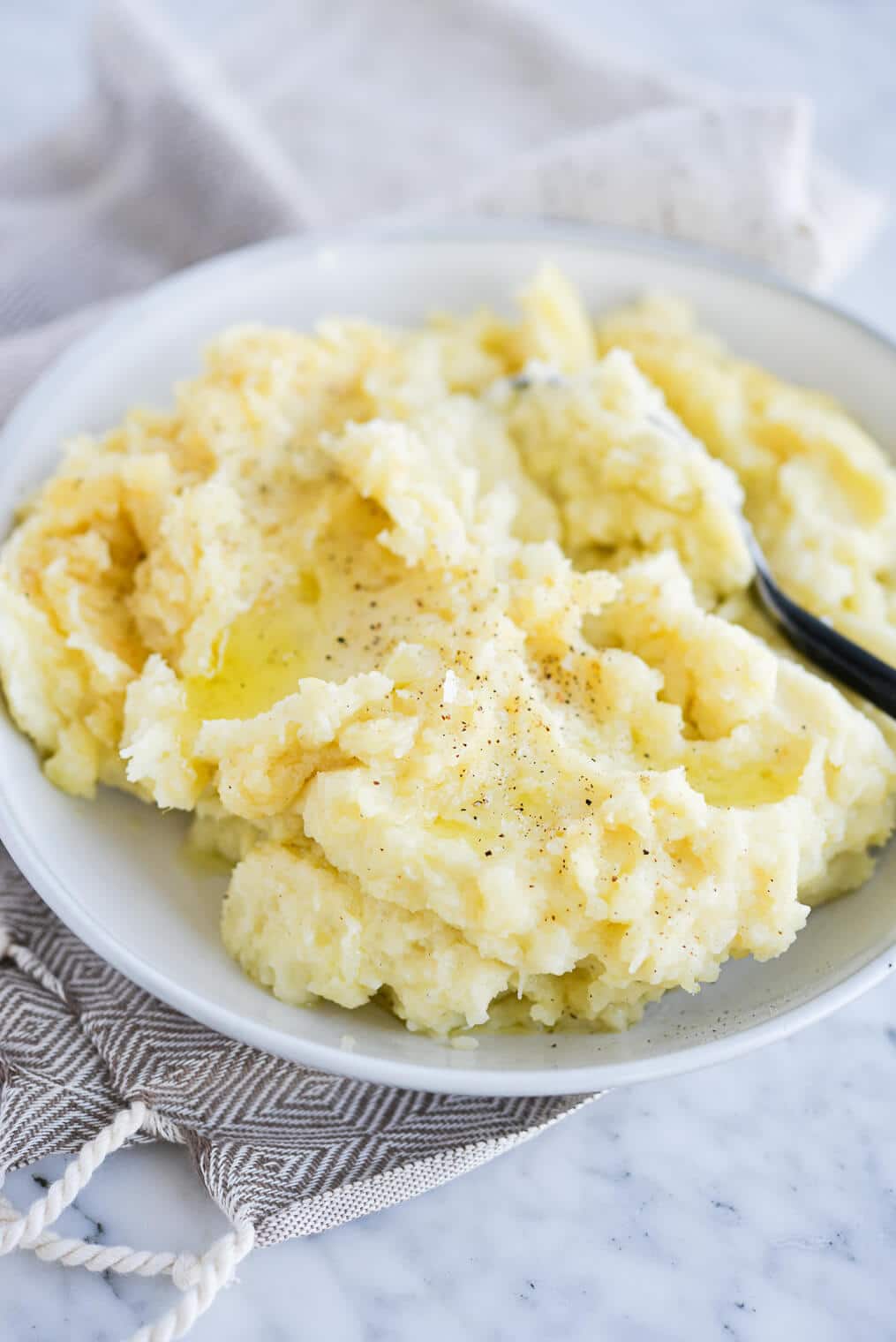 Frequently Asked Questions
What are the best potatoes for mashed potatoes?
When it comes to which type of potatoes to use for mashing, our first preference is Yukon gold potatoes. Yukon gold potatoes make for the best mashed potatoes because they are equal parts waxy and starchy, and when mashed, they have an uber creamy texture and are fluffy and light. Oftentimes, mashed potatoes can turn out grainy or watery, but we've found that these less-than-ideal qualities are easily avoided when Yukon gold potatoes are used.

If you can't find Yukon gold potatoes, don't worry! Russet potatoes will work just fine. Russet potatoes are starchier than Yukon gold potatoes and tend to absorb more water than the gold variety. Because of this, it's super important to get out EVERY bit of water during the straining step (before mashing) – this should help you to avoid a watery mash!
How many pounds of potatoes per person should I estimate?
Great question! The most common answer to this question is that a ⅓ to ½ pound of raw potatoes is enough for one good serving. So, if you're cooking for two people, you'll need ⅔ (about 10.5 ounces) to 1 pound of potatoes, if you're cooking for 4 people, you'll need 1⅓ (about 21 ounces) to 2 pounds of raw potatoes, and if you're cooking for 8 people, you'll need 2⅔ (about 42.5 ounces) to 4 pounds of potatoes.
How many potatoes in a pound?
Yukon gold potatoes don't vary in size a whole lot (besides the ones labeled "baby Yukon gold potatoes"), so it's a pretty safe bet to say that there are about 5 regular sized Yukon gold potatoes in a pound.
How long to boil potatoes for mashed potatoes?
You'll want to let your potatoes boil for about 15 minutes. Once 15 minutes is up, test the potatoes to see if they can easily be pierced with a fork. If they can, they're ready to go!
What is the best way to mash potatoes?
There are a few different ways to mash your potatoes, and the way that you choose to mash will totally depend on your preference and the tools that you have in your kitchen. First, you can mash your potatoes by hand with either a fork or a potato masher (we like THIS masher because it has holes, which creates the perfect texture!). If you'd rather not mash your potatoes by hand, you can use a hand mixer to mash your potatoes for 30 seconds. If you choose to go the electric hand mixer route, though, be careful not to over-mash your potatoes, as over-mashing tends to result in a gluey, gloppy end product!
More Favorite Potato Side Dish Recipes
If you tried these Creamy Mashed Potatoes or any other recipe on my website, please leave a 🌟 star rating and let me know how it went in the 📝 comments below!
Creamy Mashed Potatoes Recipe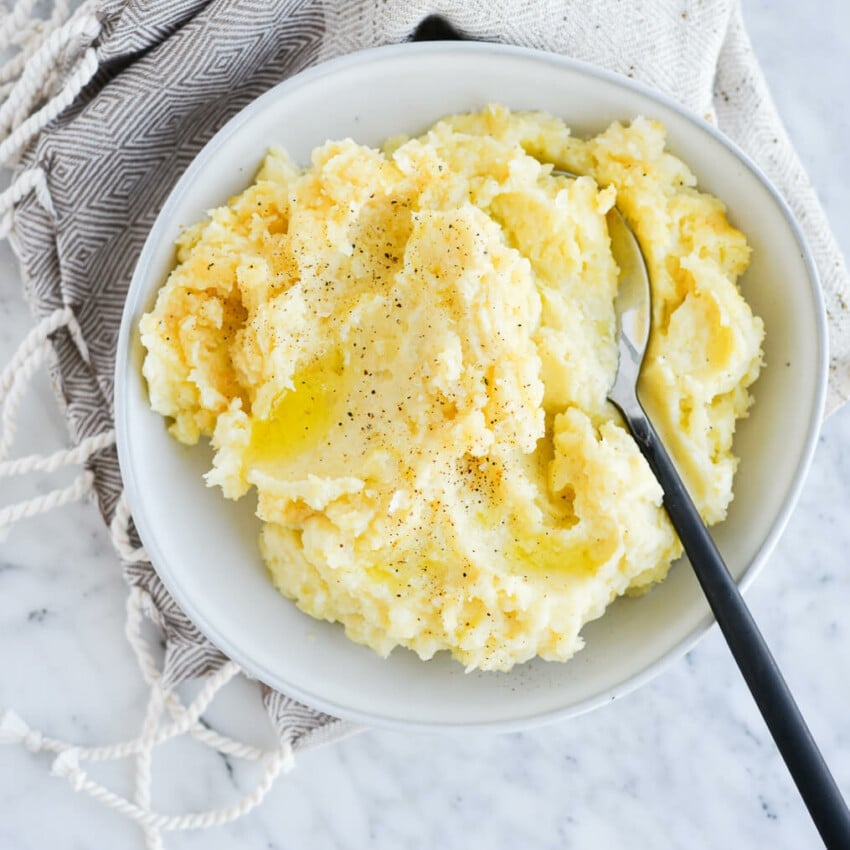 These creamy mashed potatoes are delicious enough to be a part of your holiday spread, but easy enough for a weeknight dinner!
Ingredients
2

pounds

Yukon gold or russet potatoes

peeled and cut into 1-inch cubes

2

teaspoons

coarse sea salt

plus more to taste

1/4

cup

milk or heavy cream

3

tablespoons

butter

1/4

teaspoon

cracked black pepper
Instructions
1. Add the potatoes and salt to a large pot, then fill the pot up with water to cover an inch over the potatoes and place over medium-high heat.

2. Let the potatoes come to a low boil, then cook for 15 minutes, until they can be easily pierced with a fork.

3. Strain the excess water from the potatoes, then return to the pot. Mash with a potato masher, then stir in the cream, butter, and pepper. Taste for seasoning and add salt, if needed, then serve.
Recipe Notes
For dairy-free: substitute full-fat coconut milk for the cream, and your favorite vegan butter or olive oil for the butter.
For Whole30: substitute full-fat coconut milk for the cream, and ghee for the butter.
Nutrition
Calories:
208
kcal
|
Carbohydrates:
32
g
|
Protein:
4
g
|
Fat:
7
g
|
Saturated Fat:
5
g
|
Polyunsaturated Fat:
0.3
g
|
Monounsaturated Fat:
2
g
|
Trans Fat:
0.3
g
|
Cholesterol:
20
mg
|
Sodium:
1000
mg
|
Potassium:
786
mg
|
Fiber:
4
g
|
Sugar:
2
g
|
Vitamin A:
234
IU
|
Vitamin C:
36
mg
|
Calcium:
40
mg
|
Iron:
1
mg