Colder temperatures and crunchy leaves always call for giant pots of hearty food, and our gluten free Chicken and Sausage Gumbo is the perfect meal to cook long and slow on the stove this winter season. We use a gluten-free flour based roux to thicken it, and load up with all the protein, veggies, and spices to create a gumbo just like mom used to make! Served as is, or over a bed of white or cauliflower rice, and you'll have a meal that will absolutely leave you satiated and happy.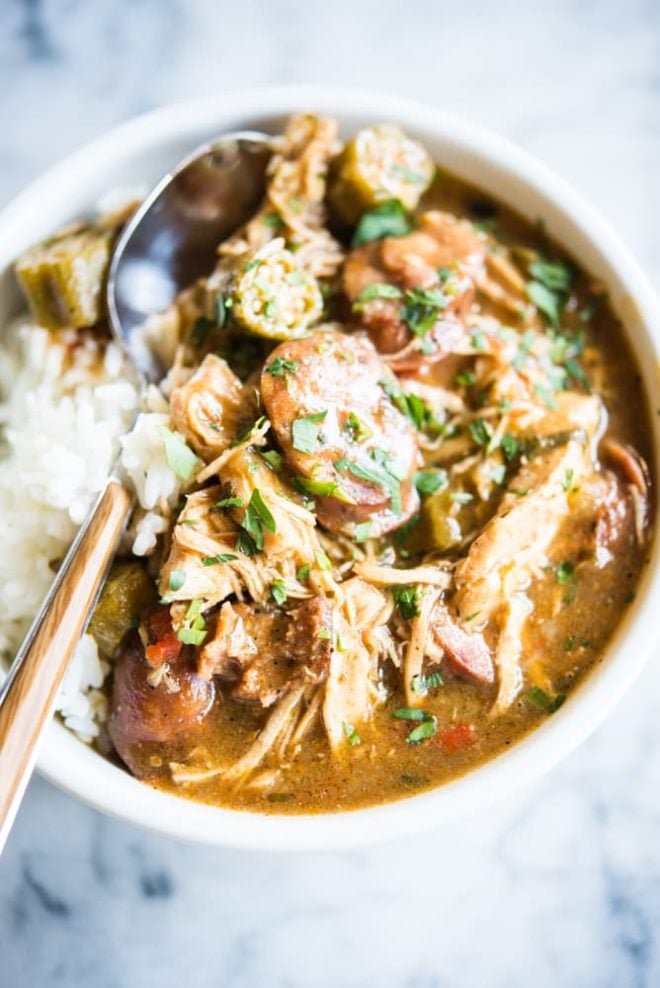 Gumbo is one of those foods that really has a rich history. This dish is actually a fascinating combination of several different types of cuisines ranging from French, Spanish, African, Caribbean, and Native American. It's typically thought of as a Cajun or Creole dish (yes there are differences!), and there are usually three types of traditional gumbos – those thickened with a file' powder, those thickened with okra, and those thickened with a roux. Our gluten free chicken and sausage gumbo happens to be of the third variety, and we are obsessed with it!
How to Thicken Gumbo
For those of you not familiar with a roux, it's a paste/gravy used to thicken soups, sauces, and other dishes that normally starts off with a fat/flour combo. For most soups and sauces, you'll use just a few tablespoons of flour and butter to create a roux, but for gumbo you actually use a much larger amount of roux, and cook it for 15-20 minutes until it turns a deep brown color. This process cooks off some of the starch so you aren't left with a gummy soup, and it deepens the flavor of the gumbo.
How to Make Chicken and Sausage Gumbo
Now, here at Fed + Fit we are all about easy, fast, weeknight meals, but there is also something so valuable in a meal prepared traditionally that allows ALL of the flavors to marinate and come together for a really special dish. Gumbo can be a long, involved process. If you ask for a classic gumbo recipe, the type passed down through multiple generations, you'll probably get a recipe that takes two full days to cook. With that in mind, we really thought long and hard about this recipe, wanting to make it faster and more approachable while still preserving the flavor. We took a few short-cuts to eliminate the need for homemade stock (though if you have some around this is a great use for it), and then we cook it slowly over low heat over time. You can't quite get the same flavors otherwise, and let me tell you this gluten free chicken ad sausage gumbo is WORTH THE WAIT.
The prep process involves pre-cooking your proteins, sauteéing your veggies, and getting that perfect roux going. Once you've got all your elements prepped, you can combine them in a large pot and let the stove do the rest of the work! Don't be intimidated by this dish, it's bursting with flavor and cajun spice, and will be the perfect meal this weekend to simmer away on your stove while you sip homemade hot cocoa, watch Christmas movies, and decorate the tree – I promise you'll love it!
Gluten Free Chicken and Sausage Gumbo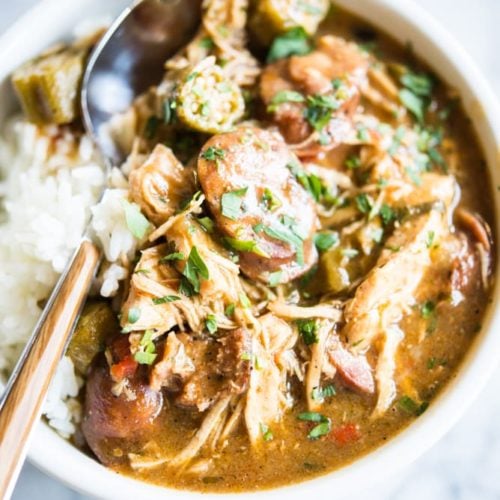 This gluten free chicken and sausage gumbo is the perfect meal for serving a crowd on a cold night!
Instructions
Add two tablespoons avocado oil to a large, heavy-bottomed stock pot over medium-high heat. Pat the chicken thighs dry and add to the pot (you may need to work in two batches) skin side down. Cook for 4-5 minutes, until skin is browned, then flip and cook for an additional 2-3 minutes, until browned, then remove the chicken from the pot.

Add the sliced sausage to the pot and cook for about 2 minutes, until browned, then flip the sausage and cook for an additional 1-2 minutes, then remove the sausage from the pot.

Drain off all but two tablespoons of oil from the pot and reduce the heat to medium. Add the onion, celery, bell pepper, garlic, and salt to the pot. Cook for 5-7 minutes, until the onion is translucent and the celery and bell pepper have started to wilt. Remove the vegetables from the pot and set aside.

Add 1 cup avocado oil or butter to the pot over medium heat. Once warmed through (about 1 minute), add the flour and whisk the two together to combine. Continue to stir the mixture for about 12-15 minutes, until the roux achieves a peanut butter color and nutty fragrance. (Note that the roux may immediately turn brown from picking up the browned bits in the pot, but it will continue to darken in color and become more fragrant as you cook).

Stir the chicken broth into the roux, whisking constantly to ensure there are no lumps. Then, add in the chicken, sausage, vegetables, Cajun spice blend, leaves, black pepper, and bay leaves. Bring the soup to a boil over medium-high heat, then cover and reduce the heat to low. Cook for one hour.

Remove the chicken from the soup and shred with two forks, discarding the bones and skin, then return to the pot.

Add the okra to the pot, then cover and cook an additional 30 minutes, until the okra is softened and no longer stringy.

After 30 minutes, skim any excess fat off the top of the pot and stir in the parsley and lemon juice. Taste for seasoning and add additional salt or Cajun seasoning as needed, then serve alongside white rice!
Recipe Notes
*We recommend starting with 1/2 teaspoon coarse sea salt, the total amount needed will vary depending on which Cajun spice blend and broth you use
The better quality your broth is, the better the gumbo will taste! This is definitely a place to make your own stock (if you have time) or to splurge on one of your favorite brands!
Nutrition
Calories:
671
kcal
|
Carbohydrates:
18
g
|
Protein:
30
g
|
Fat:
54
g
|
Saturated Fat:
12
g
|
Polyunsaturated Fat:
9
g
|
Monounsaturated Fat:
29
g
|
Trans Fat:
0.2
g
|
Cholesterol:
140
mg
|
Sodium:
1791
mg
|
Potassium:
681
mg
|
Fiber:
4
g
|
Sugar:
5
g
|
Vitamin A:
1550
IU
|
Vitamin C:
46
mg
|
Calcium:
82
mg
|
Iron:
3
mg