In this article, we'll walk you through how to make bone broth on the stove, in your Instant Pot, or in your slow cooker, plus explain the benefits of bone broth and give you our best tips and tricks!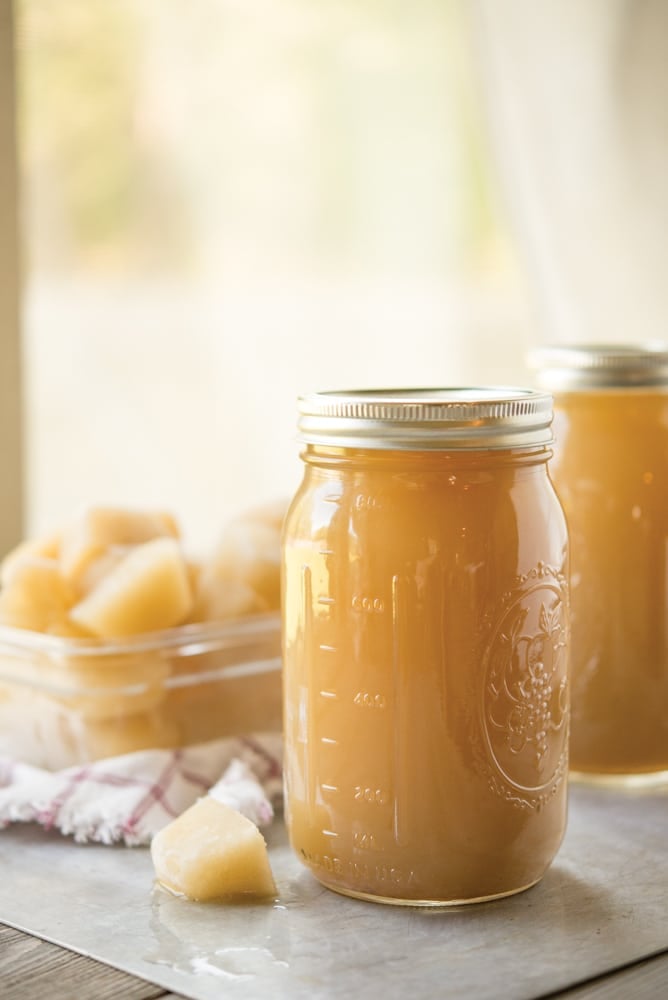 With its seemingly magical healing properties, bone broth is a great staple to have in every healthy kitchen. It is made from bones, vegetables, and herbs that are simmered for an extended period of time to release the nutrients from the bones. Bone broth is a nutrient-dense food with many health benefits and is a great supplement to a healthy diet. It can be used as a base for soups and stews but is also great for just sipping on its own. While making bone broth can seem intimidating, it really just requires time and patience.
Bone Broth Benefits
Bone broth has a wealth of vitamins and minerals which make it great for supporting the health of multiple body systems! Let's break down bone broth's biggest benefits.
What is the difference between stock, broth, and bone broth?
While stock, broth, and bone broth are very similar, they do vary in ingredients and cooking time. Here's a breakdown in the differences:
Broth – broth typically contains meat and vegetables simmered for a short period of time until the meat and veggies are just cooked. It usually isn't made with bone-in meat and is the lightest in flavor of the three.
Stock – stock is also made with similar ingredients to broth, but usually contains bone-in meat, for example, a whole chicken. It is simmered from 2-6 hours and is richer in both flavor and color than broth.
Bone Broth – bone broth can be made with only bones, or bones, meat, vegetables, and aromatics. It is simmered for anywhere from 12 to 24 hours to get all of the nutrients and collagen out of the bones.
Best Bones for Bone Broth
When choosing bones for bone broth, you have a wide range of options. Here are our favorites:
Chicken Bones – chicken feet, wings, and necks contain the most collagen and will give you a nutrient-dense broth. In comparison to beef broth, chicken will have a lighter flavor.
Beef Bones – Beef neck, knuckle, and ox tail bones are all great options for broth because they have a high ratio of connective tissue. When making bone broth, you should also include a few marrow bones, as bone marrow provides a rich flavor and tons of extra nutrients!
Leftover Bones – for a very cost-effective bone broth, you can save leftover bones in the freezer and make a pot of stock whenever you've accumulated enough. A few examples here are the bones from a chicken carcass, bones from pork shoulder, bones from steak, etc. Note that these bones won't be as rich in collagen as the above options, so if you're looking for very rich, gelled bone broth, use these bones to supplement some of the bones from above.
Where can I buy bones?
You can often buy bones right at your local grocery store, especially now that the popularity of bone broth has grown in the last few years! If you don't see them, ask the butcher directly – they will often have bones available. We recommend using grass-fed, pasture-raised sources for bones whenever possible (read more about why we prefer grass-fed beef), so heading to the farmer's market or finding a local farmer is another great option for high-quality bones. If you can't find bones or would rather have them shipped straight to your door, U.S. Wellness Meats is a great option!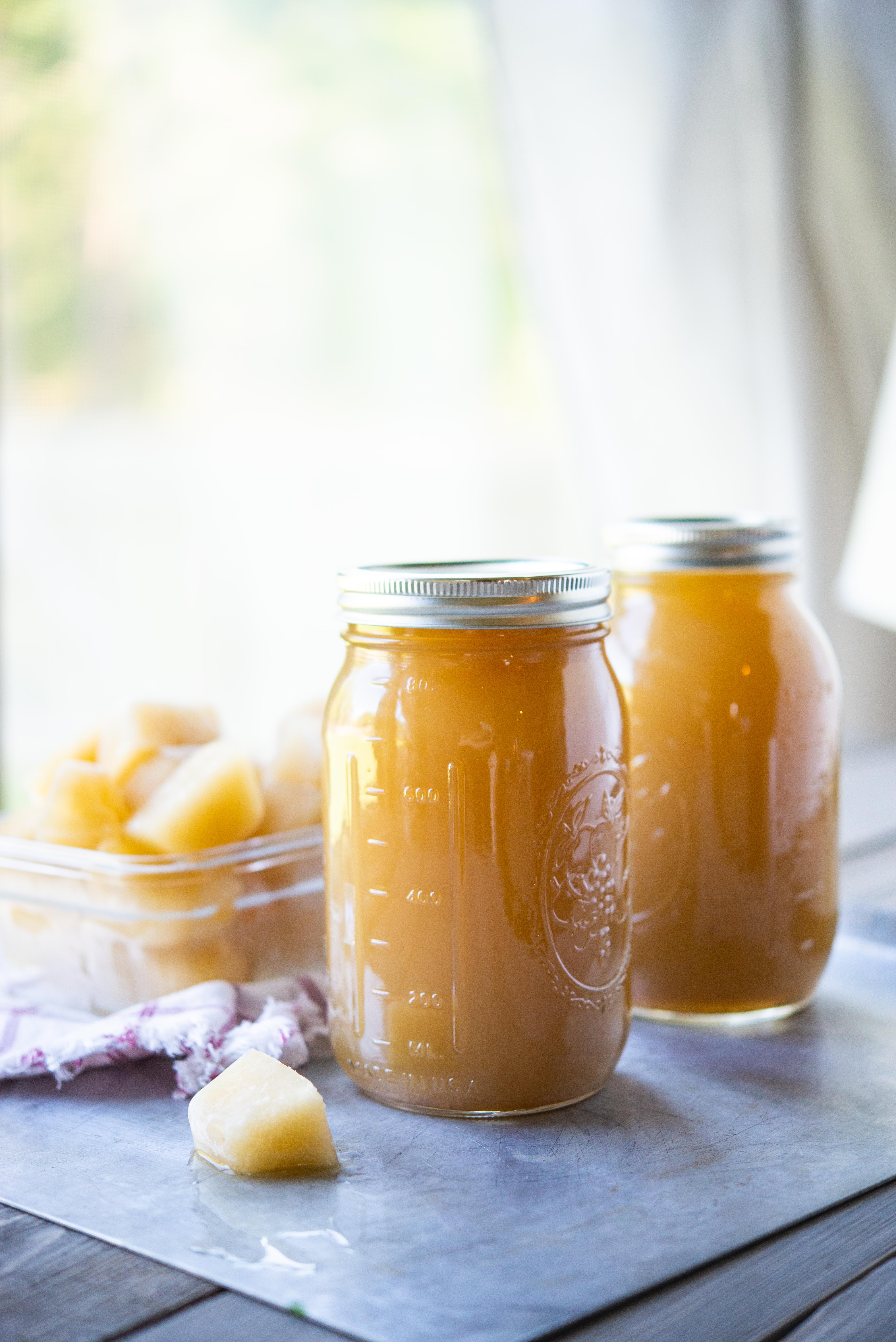 How to Make Homemade Bone Broth
Making bone broth is easy, you just need enough time to really cook down the bones. Here's how to make it:
Roast the bones. If you're making chicken bones, they don't need to be roasted first, but roasting beef bones before adding them to the broth improves their flavor. You'll set them on a rimmed baking sheet, making sure they don't overlap, then bake for 35 minutes at 440 F.
Add the ingredients to a pot. Next, you'll add the bones, veggies, and apple cider vinegar, which helps break down the bones, to a large stockpot, or your slow cooker or pressure cooker.
Cook. Cover the pot and cook on low for 12-24 hours on your stovetop or in your slow cooker, or 2 hours in your Instant Pot. As the broth cooks, you'll notice a gray foam collecting on top, simply skim it off (unless you are using the Instant Pot) and keep cooking.
Strain. After cooking for so long, the bones and veggies will be unusable, so you want to strain them out along with the bits and pieces of meat that are floating around. You can do this using a nut milk bag, a colander lined with cheesecloth, or a fine-mesh strainer.
Store. Finally, it's time to store the bone broth away. I personally like to keep a batch on hand in the freezer at all times, so it is always available when I need it. When freezing, you can either put it in a large, glass container, or you can freeze it into pre-portioned cups or ice cubes that can be easily defrosted on the stovetop.
What to Do with Bone Broth
Bone broth makes for an excellent base in soups and stews or can be sipped on all on its own (trust us, it's really yummy!).
How to Store Bone Broth
If you're planning on enjoying your bone broth in 4-5 days, storing it in airtight containers in the fridge is your best bet. If you know you won't enjoy it all within the week, though, I recommend storing the rest (or even a whole 2nd batch!) in the freezer. If you go this route, you can either store it in a large, glass container, or you can freeze it into pre-portioned cups or ice cubes that can be easily defrosted on the stovetop.
What are the best store-bought bone broths?
If you're not up for making your own bone broth, the good news is that there are a lot of high-quality bone broths on the market these days! Below are some of our favorites:
Bonafide Provisions – this broth has great taste, and we love that it gels when cooled. You can find it in the freezer aisle of many stores, including Whole Foods. Click here for a full list.
Bare Bones – Bare Bones broths are tasty enough to sip on their own, fully organic, and contain minimal ingredients. You can get them shipped directly from Amazon or find them in stores.
Osso Good – Osso Good is another delicious bone broth that comes in multiple flavors, including soups! You can get it shipped frozen from Amazon or find it in stores.
Kettle & Fire – Kettle & Fire makes great bone broth that is also shelf-stable, which can make it a convenient option for many, especially if you don't have freezer space.
Epic – Epic is another great shelf-stable bone broth that comes in a variety of flavors. You can buy it online or in stores.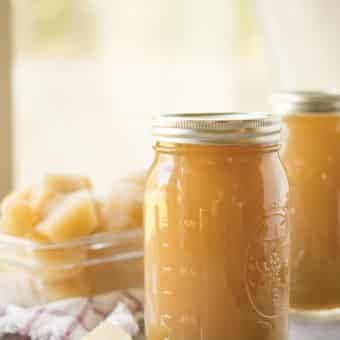 Make perfect bone broth every time in your slow cooker, Instant Pot, or stovetop!
Ingredients
BEEF BONE BROTH
2

tablespoons

extra-virgin olive oil

3

pounds

beef stock bones with marrow

see Tips
CHICKEN BONE BROTH
3

pounds

chicken feet

wings, or necks

2

onions

unpeeled and quartered

2

carrots

unpeeled and cut into large chunks

2

cloves

garlic

peeled and smashed with the side of knife

2

tablespoons

apple cider vinegar

2

bay leaves

6

quarts

water
Instructions
If making chicken bone broth, jump ahead to Step 2. If making beef bone broth, preheat the oven to 400ºF. Rub the olive oil over the beef bones. Spread them out on a rimmed baking sheet and bake for 35 minutes, or until they develop a deep brown color. Remove the bones from the pan and set aside. Pour a small amount of hot water (about ½ cup) into the pan and work to scrape up any remaining bits of meat or fat stuck to the bottom of a pan; set the pan aside.
Cook the broth using one of these two methods:
Instant Pot: Place the chicken or roasted beef bones and the rest of the broth ingredients in the Instant Pot. If making beef bone broth, pour the water and scraped-up meat and fat pieces in the roasting pan into the pressure cooker. Make sure you don't fill the pot past the 'Max' line. Seal the pot and setn to cook for 120 minutes, then slowly release the pressure. Once the timer goes off, let the pressure release naturally.

Slow cooker & Stovetop Method: Place the chicken or roasted beef bones and the rest of the broth ingredients in a 10-quart slow cooker or large stock pot. If making beef bone broth, pour the water and scraped-up meat and fat pieces in the roasting pan into the slow cooker or large stock pot. Cover and cook on low for 12-24 hours.

Skim off and discard any scum that may have collected on the top of the broth. Strain the broth through a nut milk bag, cheesecloth-lined colander, or fine-mesh strainer.
Recipe Notes
Knuckle bones are great for making broth, especially if cut in half. Ask your butcher to do this for you.
Store the broth in the refrigerator for up to 7 days or freeze for up to 5 months.
To freeze small amounts of broth, pour it into a plastic ice cube tray. Freeze the cubes, then transfer them to a large bag for long-term storage.
Nutrition
Serving:
1
cup
|
Calories:
30
kcal
|
Carbohydrates:
2
g
|
Protein:
4
g