These dairy-free, Paleo-friendly Almond Joys taste just like the classic candy bar without the bad-for-you ingredients!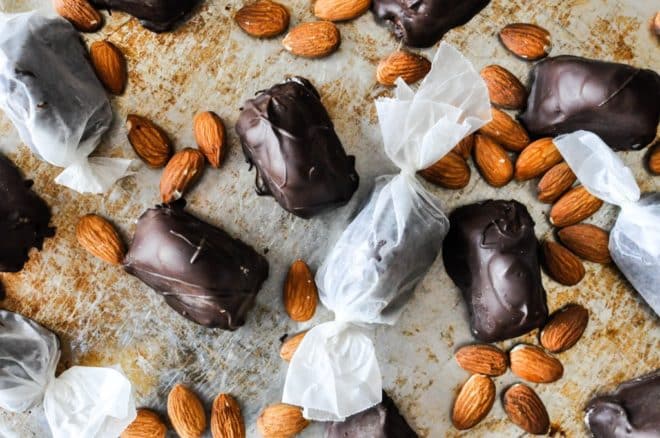 Homemade Almond Joys
Today I'm thankful for tasty tap water, my black glitter purse that I break out every October, the giraffe tights I'm about to buy from American Apparel for Halloween, and that dark chocolate is deemed Paleo-friendly. So when I go on roadtrips …and my sweet tooth speaks up …and a square of extra dark chocolate won't cut it …I grab an Almond Joy from the closest gas station. What? It's just coconut, chocolate, and an almond …right? Sounds Paleo to me!
Here are the ingredients found in an Almond Joy:
CORN SYRUP; MILK CHOCOLATE (SUGAR; COCOA BUTTER; CHOCOLATE; MILK; LACTOSE; MILK FAT; NONFAT MILK; SOY LECITHIN; PGPR, EMULSIFIER) ; COCONUT; SUGAR; ALMONDS (ROASTED IN COCOA BUTTER AND/OR SUNFLOWER OIL) ; CONTAINS 2% OR LESS OF: PARTIALLY HYDROGENATED VEGETABLE OIL (SOYBEAN AND PALM OIL); WHEY (MILK); COCOA; SALT; NATURAL AND ARTIFICIAL FLAVOR ; CHOCOLATE; SOY LECITHIN; HYDROLYZED MILK PROTEIN; SODIUM METABISULFITE, TO MAINTAIN FRESHNESS; SULFUR DIOXIDE, TO MAINTAIN FRESHNESS; CARAMEL COLOR
Whoa. So it's mostly corn syrup, more sugar, some dairy, and trace amounts of scary, really bad for us ingredients. I'm out.
Ingredients
Y'all, these taste JUST like the real thing (if not better) and are so flippin' easy. They freeze well too if you want to make a huge batch and defrost a few at a time. It's the perfect sweet tooth satisfier. Here's what you'll need:
3 cups of unsweetened shredded coconut
6 tablespoons of extra virgin coconut oil
3 tablespoons of maple syrup
1 ½ cups of Enjoy Life chocolate chips
½ cup almonds
How to Make Homemade Almond Joys
These Almond Joy candies are tasty, way healthier than the alternative, and wrap up in wax paper nicely for passing out at your Halloween party. Let's make 'em!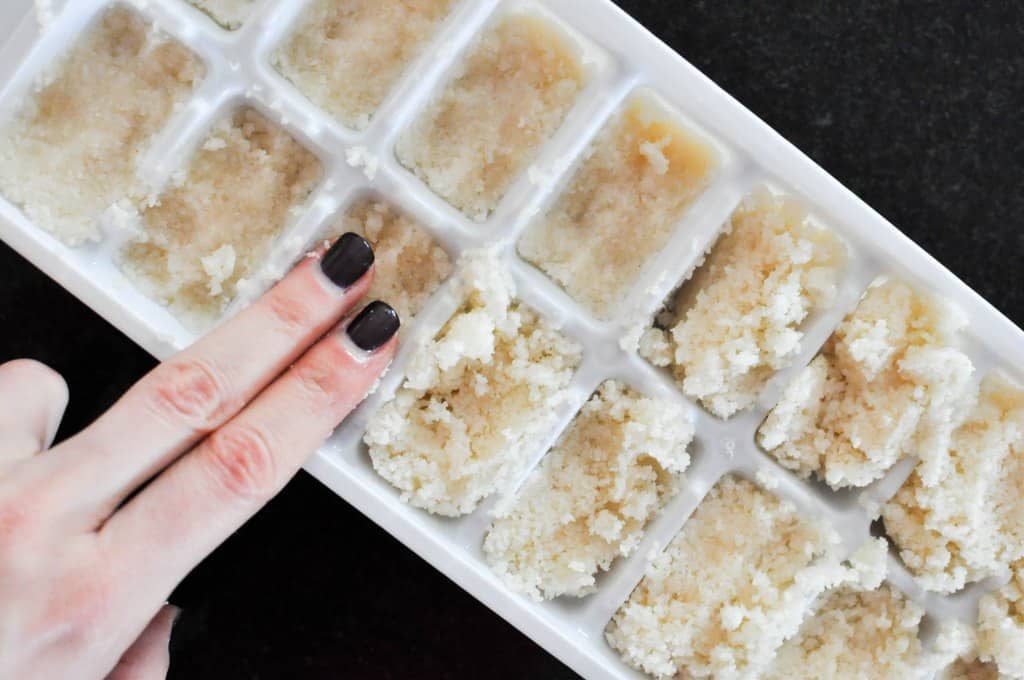 Add the coconut, maple syrup, and coconut oil – add the shredded coconut, maple syrup, and coconut oil to the food processor and let it run for about 2 minutes. You may need to stop it halfway through and scrape down the sides.
Spoon the mixture into molds – spoon the filling mixture into either ice cube trays or a mini cupcake pan (I recommend using parchment paper liners if you go this route). Once filled, pat down the mixture with your fingers.
Freeze – place the now-filled ice cube tray (or mini cupcake pan) into the freezer while you make the chocolate coating.
Make the chocolate coating – fill a small pot ⅓ to ½ way with water, cover, put over medium/high heat, and let it come to a simmer. Once simmering, add 1½ cups of chocolate chips to a glass bowl that is large enough to rest on the pot of water. Place the bowl on the pot of water, and over medium/low heat, stir the chocolate chips with a rubber spatula constantly until it's velvety smooth (or is between 110-115°F). Once it's at temperature, remove it from the heat and set it on a towel. Let the temperature cool down to about 95°F (or just stir it again for another minute), then add in the ½ cup of remaining chocolate chips and stir until smooth.
Dip the candies in the chocolate – pull the candies out of the freezer and flip them onto a cooling rack. Dip the bottom of each candy in the chocolate, let it drip off, and then place it back on the cooling rack.
Secure the almonds – place a small dot of chocolate on the top of each candy (this will act as "glue" for the almonds), then place an almond on top of the chocolate glue and press firmly to secure it. Work your way through the whole batch.
Coat the candies in chocolate – grab a spoonful of chocolate and drizzle it over one of the candies. Let it drip over the sides, and then, using the back of your spoon, make sure the whole candy is covered in chocolate. Repeat for the whole batch.
Transfer to parchment paper – transfer your candies from a cooling rack to parchment paper (this way, you don't have to scrape them off the racks and they'll peel off nicely from the paper).
Refrigerate – place the candies in the fridge for one hour or until set.
Enjoy as is or wrap individually – if you want to individually wrap your homemade Almond Joys, simply cut wax paper into squares, fold a square of wax paper over each candy, and twist the sides to secure the "wrapper."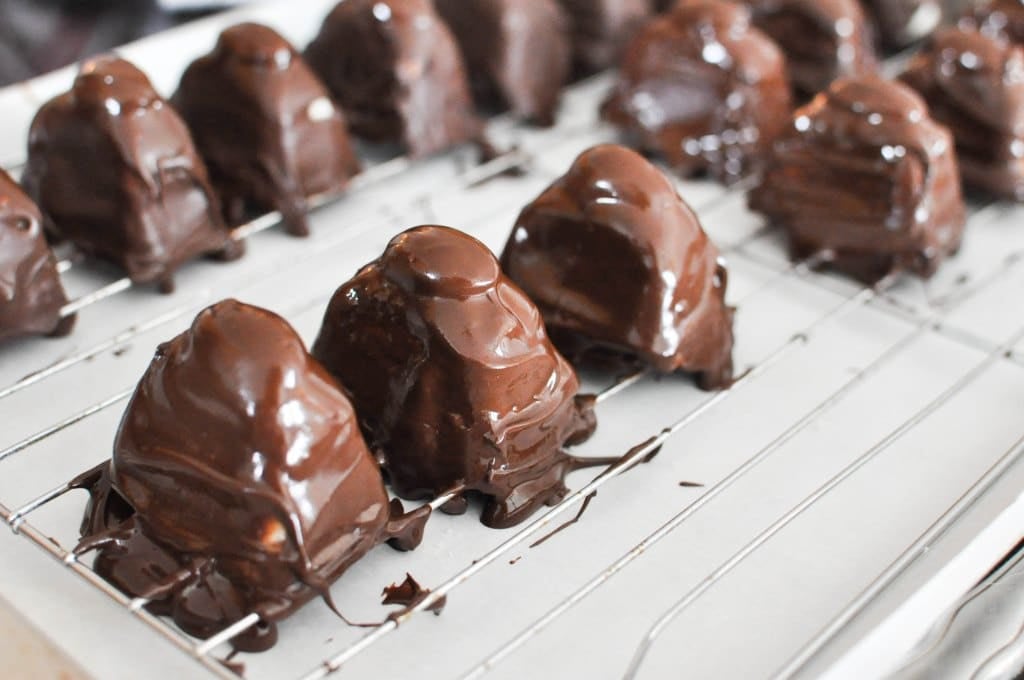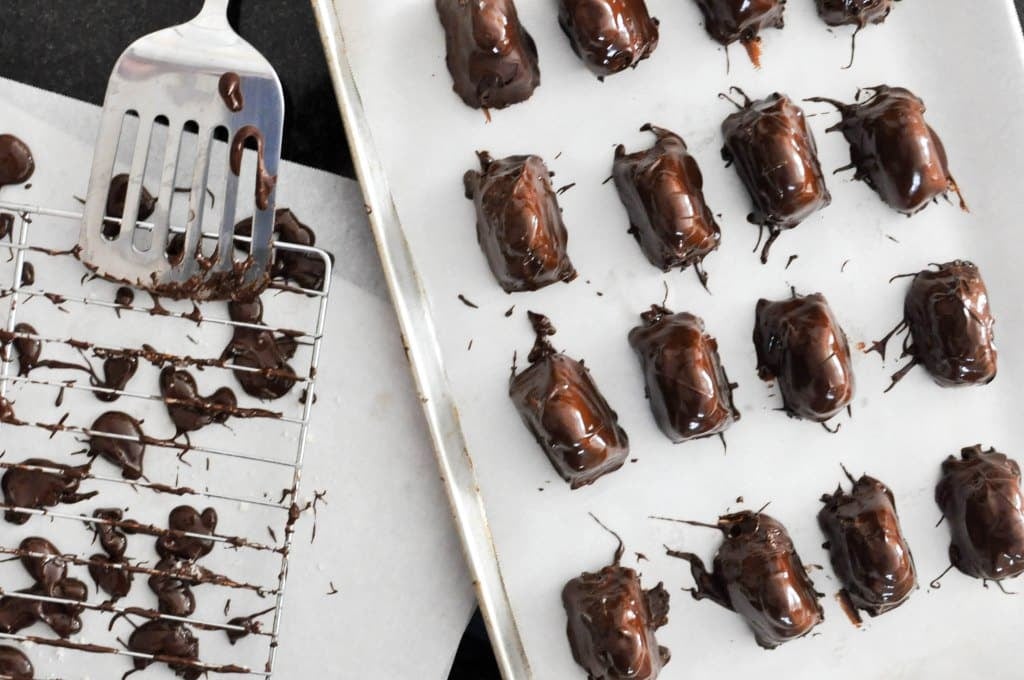 Are Almond Joys gluten free?
Store-bought Almond Joy bars are gluten-free, but Almond Joy Pieces (a variation of the bar) are not. These homemade Almond Joy candies are gluten-free, dairy-free, and Paleo.
How to Store Homemade Almond Joy Candy
Store your homemade Almond Joys in the fridge for up to two weeks (if they last that long!) or in the freezer for 5 months.
Just for You
Dessert Recipes
Want more recipe ideas like this?
Homemade Paleo Almond Joys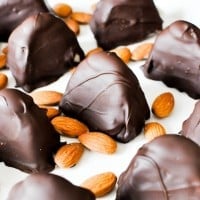 These dairy-free, Paleo-friendly Almond Joys taste just like the classic candy bar without the bad-for-you ingredients!
Ingredients
3

cups

unsweetened shredded coconut

3

tablespoons

maple syrup

6

tablespoons

extra virgin coconut oil

1.5

cups

Enjoy Life chocolate chips

1/2

cup

natural almonds
Instructions
Combine the coconut, maple syrup, and coconut oil in a food processor. Blend for 2 minutes, pausing halfway to scrape down the sides.

Spoon the mixture into a 16-slotted plastic ice tray and press down. Place in the freezer while you prepare the melted chocolate.

To temper the chocolate, place 1 cup of the chocolate chips in a glass bowl over a simmering pot of water. Stir constantly with a rubber spatula until melted or between 110 F and 115 F.

Remove from heat and place on a towel, let the chocolate cool to 95 F and add the remaining ½ cup of chocolate chips. Stir until smooth with the rubber spatula.

Break the coconut candy from the ice trays then dip the bottom of each one in the melted chocolate and place on a wire cooling wrack. Place a dot of the melted chocolate on top of each candy to serve as glue, then place an almond on the dot.

Grab a spoonful of the chocolate and pour it over each candy, smoothing it over each side until totally covered.

Transfer the candies from the wire rack to parchment paper then place in the refrigerator for one hour or until set.

Wrap in squares of wax paper and twist the ends shut for giving away at parties or on Halloween.

Enjoy!
Nutrition
Calories:
280
kcal
|
Carbohydrates:
18
g
|
Protein:
3
g
|
Fat:
24
g
|
Saturated Fat:
18
g
|
Polyunsaturated Fat:
1
g
|
Monounsaturated Fat:
2
g
|
Trans Fat:
0.001
g
|
Sodium:
7
mg
|
Potassium:
136
mg
|
Fiber:
5
g
|
Sugar:
12
g
|
Vitamin A:
0.04
IU
|
Vitamin C:
0.3
mg
|
Calcium:
43
mg
|
Iron:
2
mg