Today we're walking you through how to clean your closet in 4 simple steps, including what to do with everything you don't want, and our favorite organizers!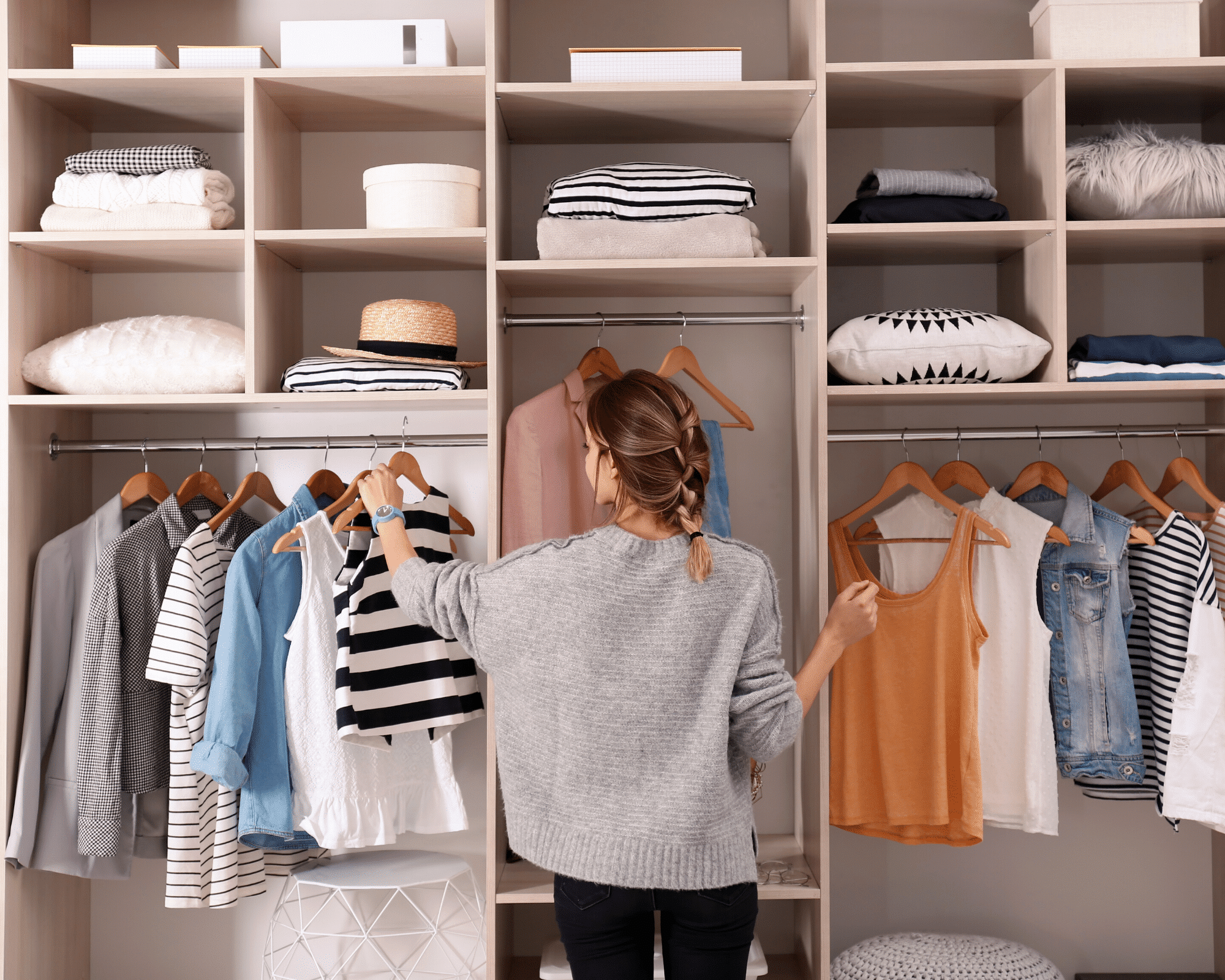 Raise your hand if you are trying to find ways to be productive at home right now (here's a list of 40 activities for adults and kids during quarantine if you need ideas)?! There always seems to be countless projects around the house, no matter the time of year, including the need to clean out your closet. If you are like me, you have an entire closet full of items that you "just can't get rid of," even though you haven't worn them in months, or even years! In the following post, we will walk you through our top tips for getting through your closet cleanout as painlessly as possible.
Step 1: Empty your closet
The first step to clean out your closet is to completely empty it. Now, this can be daunting, especially if you haven't done a closet cleanout in years, but the easiest way to get organized is by pulling everything out and sorting items into categories (dresses in a pile, jeans, tops, etc.) Once you have categorized everything, here are a few helpful questions you can ask yourself as you sort through each item.
"Have I worn this in the last 6 months?"

– If the answer is no, move the item to a new pile. You will now have a separate pile with items you may or may not keep.

"Does this fit?"

– If it doesn't, or if you aren't sure, it will also go in the "may or may not keep pile." Now, "Does it fit?" doesn't necessarily mean "Can I still get into it?" An item can fit but may not be comfortable, so perhaps a better question to ask yourself is "Is this piece of clothing comfortable to wear?" There is nothing wrong with holding onto a pair of inspirational jeans that can motivate you to work out and get back into them, but if you are healthy and happy and the jeans are a little tight and uncomfortable, move them to the "may or may not keep pile."

"Does this fit the season of life I'm in?"

– Last summer, I worked in an office that required me to wear business casual clothes and heels on occasion. I had a lot of work clothes in my closet. I no longer have that job so now the majority of my clothes should reflect my current job, where I can wear boyfriend jeans or yoga pants.

"Could someone get better use out of this item than I currently do?"

– Even though I may have used a top for my office job all the time and may still love it, someone else may be able to use it more frequently than I do if I sell or give it away. Trust me when I say, I do NOT like getting rid of clothes. I get emotionally attached to them. A dress I bought 5 years ago may have a sweet memory attached to it, so I may have a hard time letting it go. If that is the case, it is completely OK to keep a few items that are special to you. This method is not black and white. If you tend to be more sentimental or the idea of giving away anything completely stresses you out, invite a really close friend to help you with the process. My sister-in-law, Lyndsey, knows how to lovingly say, "Yeah, maybe it's time to let that piece go."
Step 2: Try On Everything You Are Unsure About
Once you have created your "keep" pile, which we will organize later, it's time to determine what you will do with the "may or may not keep" pile. If you know for sure that you don't want to keep items because you haven't worn them in 6 months, they don't fit, or they don't fit the season of life you are in, then you can move them to a sell/give away pile! If you are on the fence about any of these questions, then it's time to try them on.
Two helpful questions to ask during the "try on" phase are "How does it fit?" and "How does it make me feel?" As a reminder, how something fits should definitely be determined by how comfortable it is. If you find that you never wear something because it's uncomfortable, even if it's your size and technically fits, then this may be a good opportunity to give it away or sell it. I love the questions "How does this make me feel?" and "How do I feel in it?" because this is what wearing clothes is all about. I'll never forget the time I was getting ready for a first date and I sent my sister-in-law pictures of me in 2-3 outfits. Lyndsey noticed that in one of them I was smiling and said, "You look happy in that one. Wear it!" She could tell that I felt happy and confident in that particular dress, so it was the obvious choice. While trying on all of your "may or may not keep items" see how the clothes make you feel. If something makes you feel confident, cute, or even sassy, keep it!
Step 3: Organize Your Closet
After filtering through your "may or may not keep pile," you are one step closer to organizing a closet that is filled with clothes that you know you will wear on a regular basis and feel great in!
Depending on your personality, you may love or hate this stage of cleaning out your closet. Even if you typically dread organizing, you might find it slightly less stressful now that you have fewer items to sort through. My college roommate would organize her entire closet by items and color, which always impressed me, but if that seems like too much work, a simple "shirts," "dresses," "pants," etc. categorization will work here. If you still have items that you think you may wear but aren't 100% sure about, try this simple strategy: turn all your hangers backward when organizing your clothes. When you do wear an item, turn the hanger back around. After 6 months, you will notice that the clothes you have not worn are still on the hangers hanging backward!
Step 4: Donate or Sell Items
After getting your closet organized and ready to go, we are now ready to figure out what to do with all of the items you are no longer keeping. You may consider selling a few of your items, especially if they have only been worn once or twice or if they are a designer brand. Two great online options for selling used clothes are Poshmark and ThreadUp. There are other stores out there that will purchase your clothes, such as Plato's Closet, but since most of us are required to stay home due to the pandemic, Poshmark and ThreadUp might be the most practical resources to utilize right now!
Selling Your Clothes Through Poshmark
Poshmark is a website, with a convenient app as well, where you can upload pictures of your items and sell them for however much you think they are worth. Once someone has requested to buy your item, Poshmark sends you a prepaid shipping label, which you can then use on a free, priority-mail box found at your local post office.
How to Sell or Donate Your Clothes with ThreadUp
ThreadUp is another easy and convenient way to sell your clothes online. You can order a "Clean Out Kit" from ThreadUp free of charge, which is used to ship your items to them. If any of your items sell on their website, you will receive a percentage of the sale in cash or through store credit. You can get your Clean Out kit here. You can also simply donate your clothes to ThreadUp, also free of charge, by requesting a donation bag here. We love how ThreadUp is currently supporting the organization Feeding America in efforts to help with the COVID-19 pandemic.
More Ways to Donate Your Clothes
Other ways to donate include finding a local women's shelter or Goodwill where you can easily drop off your items. Because most businesses are currently closed, we recommend calling ahead of time. In addition to clothes, if your closet cleanout includes bras and panties, we have found a sustainable way to recycle these items! Since most shelters or donation centers do not accept used undergarments, we are loving what Hanky Panky is up to! You can send your used and washed bras and panties to the company and they will recycle and repurpose the materials, free of charge. Panties and bras are turned into a shredded material for carpet padding and wires from bras are recycled. You can get your free recycling bag from Hanky Panky here.
Our Favorite Closet Storage Containers
If you are having to stay home right now but are still trying to use your time wisely (think: closet clean-out, pantry organization, starting your own garden, etc.), we hope these 4 tips will help you create a closet that is full of items that you wear on a regular basis and feel good about putting on. We also hope that this activity gives you a chance to give back by donating or recycling items you no longer use!