Save yourself time and energy with this kitchen hack that spells out the easiest way to crumble your ground beef!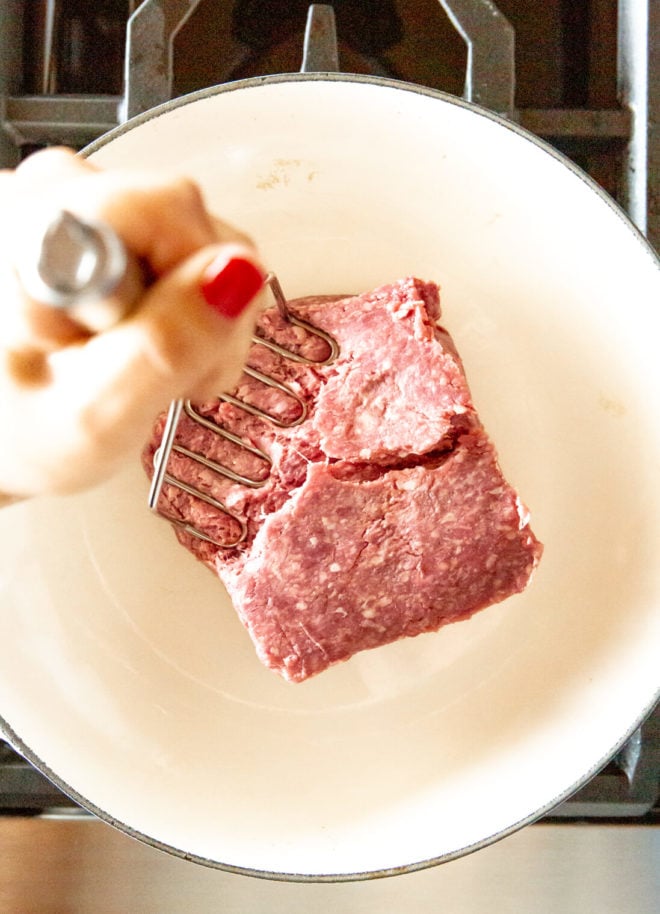 How to Cook Ground Beef
Ground beef checks all of the boxes for versatility and is the perfect protein for meal prep. It holds up well, can take on any flavor profile, and cooks up in a flash. My only gripe would be that I don't love standing over the stove and aimlessly poking at each little block of beef with a spatula trying to break it all up in the pan while cooking. I know all-in-all, this takes mostly minutes, but time is precious in this busy season of life, and I am all for making even the little things in life as easy as possible! This hack is going to change the way you cook your ground beef by repurposing a simple kitchen tool you probably already have in your utensil drawer.
Kitchen Hack: Use a Potato Masher to Break Apart Ground Beef as it Cooks
Now, I know there are tools on the market that are specifically made for breaking apart ground meats, but I am a minimalist in the kitchen and don't love purchasing single-use items. Here's how you'll use a simple potato masher (the s-shaped kind) to break apart your ground beef:
Heat your skillet. Heat your skillet over medium-high heat.
Add your beef. To the pan, add your ground beef and give it a few mashes with your potato masher, rotating your wrist as you mash. Then let your meat sit and cook on that side.
Flip and mash. Once cooked on one side, flip your meat over and mash again with your potato masher. Let the beef continue to brown in the pan.
Serve and enjoy! Use the ground beef in your favorite beef recipe or store it for later use and enjoy!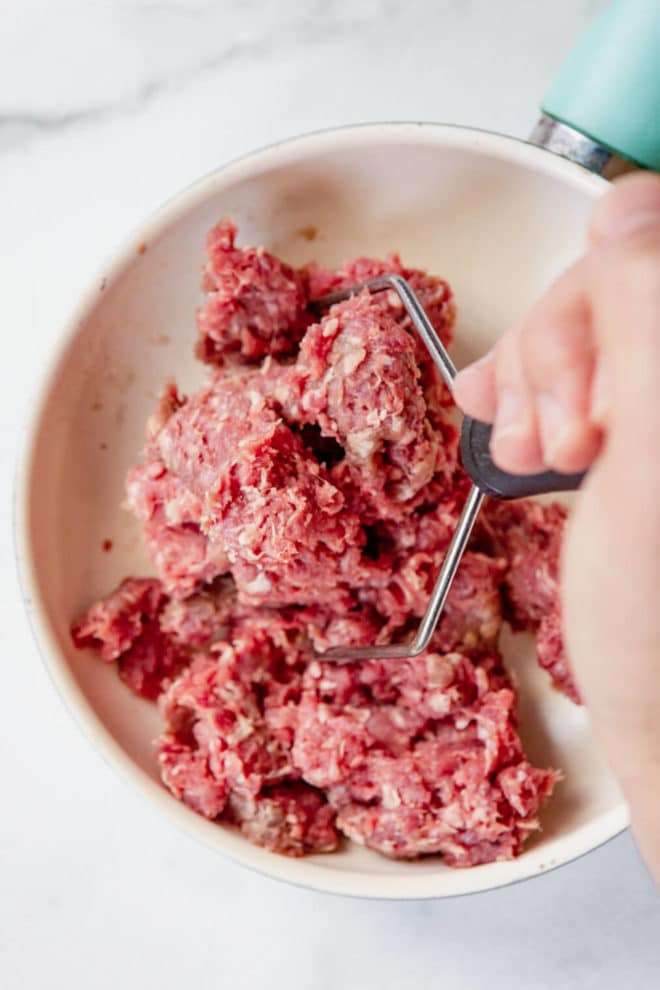 Tips for the Best Ground Beef
Here are some tips for how to brown ground beef:
Get your pan hot. Preheat your pan over medium to medium-high heat to make sure it is nice and hot before adding your ground beef.
Let it cook. Resist the urge to constantly stir and move your ground beef around. Let it cook and develop some color on one side before flipping and continuing to break apart the meat on the other side.
Use a large enough pan. Try not to overcrowd your pan with the meat. This causes the meat to steam versus caramelize and brown.
How to Season Ground Beef
Ground beef can truly take on any flavor profile, so the sky's the limit! You can season simply with salt and pepper, or add your favorite spices to impart a more specific flavor to your beef. When seasoning your ground beef (especially with salt), it's best to do so after the meat has been browned so you don't draw out excess moisture.
Ground Beef Recipes
Here are some of our favorite ground beef recipes:
Video