This easy beef taco bake is the perfect weeknight meal that makes enough for leftovers the next day! Perfectly seasoned beef is combined with veggies and baked on a crispy hash brown crust for a dinner the whole family will love.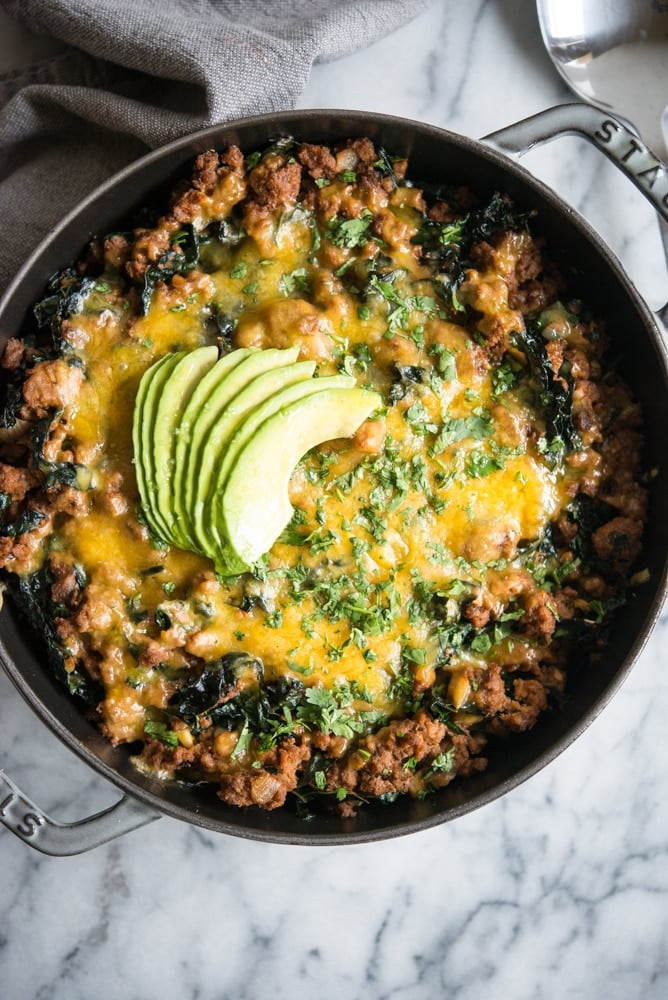 Should You Make A Casserole?
Here at Fed & Fit we LOVE a good casserole. You may think of casseroles as dishes from the 60s and 70s that combine a bunch of random ingredients together with questionable cream-of-something soup, but that's not how we do it around here! In fact, casseroles are an amazing vehicle for getting real food on the table each week. Why?
First, casseroles are easy to make in bulk, meaning you can have enough for dinner one night and still have leftovers for lunch the next day, or you can even freeze any extras.
Second, they are a great way to get your veggies in! We've added kale and bell pepper in this casserole, but you could also easily add some zucchini or even shredded carrots to bulk it up a bit more.
Finally, we love casseroles because they just scream comfort food, and good, comforting food makes the transition to eating healthy SO much easier.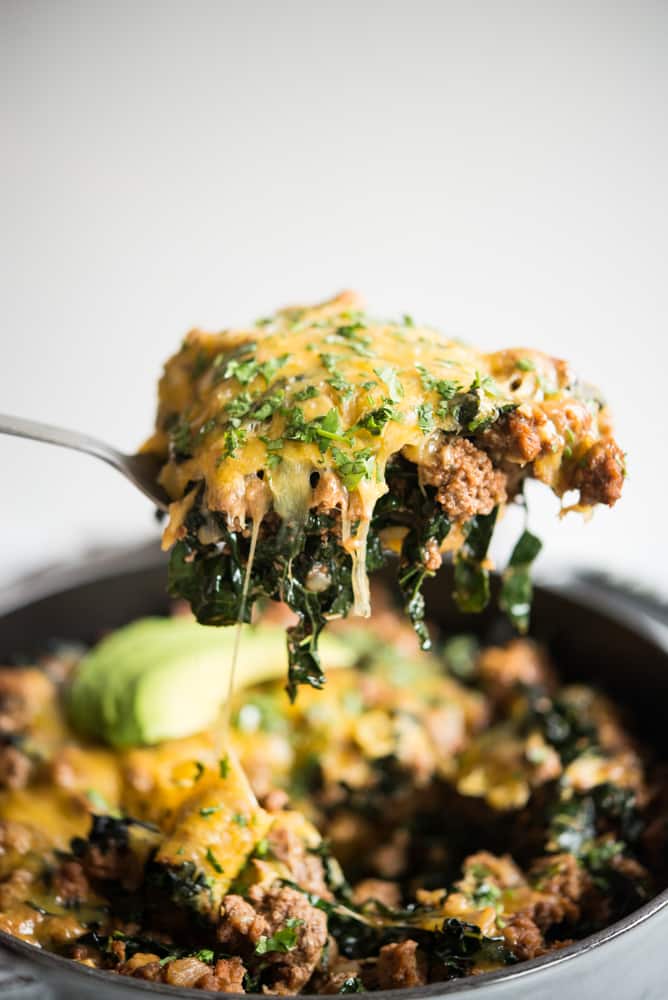 Taco Casserole Ingredients
Okay, so let's talk about this beef taco casserole. This dish is based on one of our most popular casseroles – cheeseburger casserole! Y'all loved that one so much that we wanted to put a new spin on it, and this time we landed on Tex-Mex style. Here's what you'll need to make it:
Frozen Hash Browns. We used frozen hash browns (easy button!) to form the crispy crust on this beef taco casserole and to make it grain-free, but if hash browns aren't your thing, you can easily sub white rice or cauliflower rice for a lower-carb option.you are low-carbing (see the recipe notes for details).
Ground Beef. For this taco casserole, we really wanted to imitate the flavors of a classic crispy taco, so we decided to use ground beef instead of chicken.
Veggies. As mentioned before, casseroles are a great way to sneak in some extra veggies! For this one you'll need onion, garlic, a red bell pepper, and one bunch of lacinato kale.
Tomato Sauce + Seasonings. For this recipe, we wanted to replicate traditional ground beef flavors without relying on a taco seasoning packet, which can have gluten, sugar, and artificial ingredients like maltodextrin. A combination of tomato sauce, paprika, chili powder, cumin, and oregano gets the job done even better than the classic packet.
How to Make
Now that you've got your seasonings all rounded up, it's time to make the casserole! Here's what you'll do:
Make the hash browns. The first step is to cook up your frozen hash browns. We are looking for a crispy layer of potatoes here! You'll add oil to the pan (we like avocado oil the best) and cook the hash browns for about 5 minutes, then flip them and cook an additional 3-4 minutes. After that, you can remove them from the pan and set them aside.
Cook the onions, garlic, and bell pepper. In the same pan you made the hash browns in, add a little bit more oil and cook the diced onions, minced garlic, and red bell pepper for about 4 minutes until the onion is translucent and the bell pepper has started to soften. This will add great flavor to the beef layer of the taco casserole.
Brown the ground beef. Next, add the ground beef to the pan along with a little salt and pepper, and cook for about 6-8 minutes, until the beef is fully cooked through.
Add the sauce ingredients. Once the beef is browned, it's time to bring everything together. Pour the tomato sauce, a little bit of water, and the spices over the beef and stir to combine. Once that is fully mixed, stir in the shredded kale. Let everything cook for about 2-3 minutes until the kale is just wilted and has turned bright green in color, then remove it from heat.
Assemble and bake the casserole. To assemble the casserole, press the hash browns into the bottom of the pan, then pour in the beef mixture, and top everything with cheese. Bake it for 15 minutes at 350 F, then garnish with cilantro and sliced avocado and serve!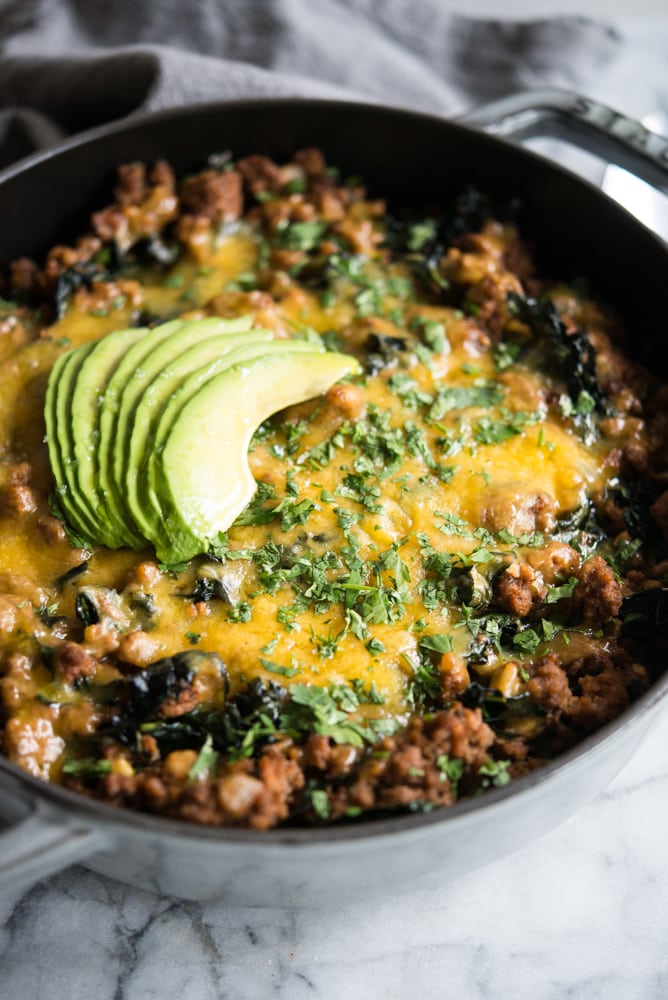 Recipe Tips
There are a few things to keep in mind when it comes to making taco casserole. To ensure the yummiest taco casserole possible, be sure to…
Let your hash browns get crispy – this is KEY and takes some patience. Resist the urge to move your hash browns around in the pan, and instead, let them really crisp up in an even layer for 4-5 minutes per side.
Use fresh onion and garlic – while you always have the option of subbing in garlic or onion powder for the real thing, we really recommend sticking to fresh here as it'll really help to build flavor in the casserole.
Add the kale last – remember that you want the kale to *just* wilt and turn bright green. As soon as you see that happening, remove the casserole from the heat. This will keep it from getting a slimy cooked greens texture.
Taco Casserole Variations
You can swap things out as you desire here! A few yummy swaps would be…
Use ground chicken instead of ground beef – if you're out of ground beef or it just isn't your thing, feel free to use ground chicken (or turkey!) instead.
Use nacho cheese instead of grated cheese – top the casserole with our vegan nacho cheese for a fun spin on the dish!
Use any color pepper – feel free to swap the red bell pepper for a bell pepper color of your choice. You could even add some spice by using a diced jalapeno pepper if you'd like!
Frequently Asked Questions
Can you make this ground beef casserole ahead of time?
Definitely. This is a really great meal to make ahead of time, actually, and can even be prepped and cooked up to 3 days in advance.
Can I freeze this taco casserole?
Yes! This beef taco casserole freezes great. You can either assemble it and freeze it whole, or freeze the individual portions. To reheat, either bake the whole, frozen casserole at 350 F for 50-60 minutes, until fully warmed through or microwave a single portion for 90 seconds or place it in the oven at 350 F for 15-20 minutes.
How long will a ground beef casserole last?
This taco casserole will last up to 5 days in the fridge or even longer in the freezer (see above for freezer instructions!).
Can I make this taco casserole dairy-free?
You can easily leave the cheese off this casserole, but if you're dairy-free and looking for a good cheese option we'd recommend pouring our vegan nacho cheese on top.
What else can I add to this taco casserole?
Corn, black beans, and diced zucchini would all make great additions to this casserole if you'd like to bulk it up a little bit more!
How to store a beef casserole?
If you're storing this casserole whole and cooked, consider just putting the lid on the pot (or using aluminum foil if you don't have a lid) and sticking it in the fridge. If you're saving leftovers, go ahead and pop them in an airtight container in the fridge.
More Favorite Ground Beef Recipes
Ground Beef Taco Casserole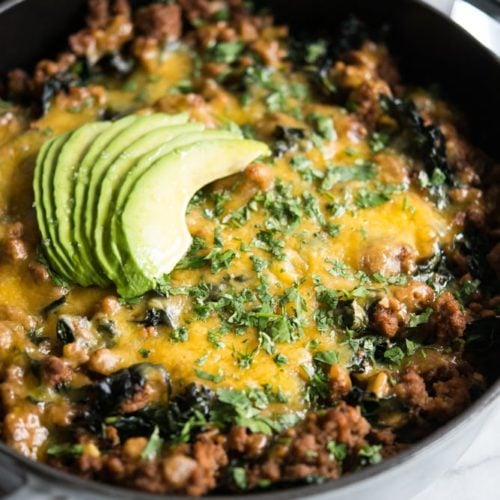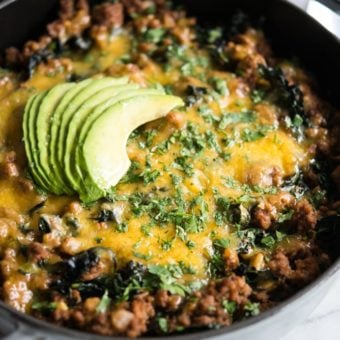 This beef taco casserole features a crispy hash brown crust topped with perfectly-seasoned taco meat and hidden veggies for a perfect weeknight meal!
Ingredients
4

tablespoons

avocado oil

divided

16

ounces

frozen hash browns

or about 5 cups shredded potatoes

1

small yellow onion

diced

1

red bell pepper

diced

3

garlic cloves

minced

2

pounds

ground beef

8

ounces

tomato sauce

1 ½

teaspoons

coarse sea salt

1

teaspoon

ancho chili powder

1

teaspoon

paprika

1

teaspoon

ground cumin

1

teaspoon

dried oregano leaves

¼

teaspoon

black pepper

1

head lacinato kale

shredded

3/4

cup

shredded cheese

Sliced avocado

for garnish

Fresh chopped cilantro

for garnish
Instructions
Preheat the oven to 350 F.

Add 2 tablespoons oil to a 13-inch cast iron pan, or other similarly-sized skillet over medium-high heat, then add hash browns. Cook for 5 to 6 minutes, then flip the hash browns, add an additional tablespoon of oil to the pan, and cook an additional 3-4 minutes, or until the potatoes are crispy and cooked through. Remove from pan and set aside.

Add one additional tablespoon oil to the pan, then reduce the heat to medium and add the diced onions, red bell pepper, and garlic and saute 3 to 4 minutes, until onion is translucent. Add the ground beef, salt, and pepper and cook 6-8 minutes until ground beef is browned and fully cooked through.

Pour the tomato sauce over the ground beef mixture along with 1/2 cup water, then stir in the spices and kale. Cook for 2-3 minutes, until kale is bright green and wilted, then remove from heat.

Place the hash browns in the bottom of a 3-quart casserole dish then pour the beef mixture over top. Sprinkle shredded cheese over beef mixture and Bake at 350 F for 15 minutes.

Remove from the oven and garnish with avocado, and chopped cilantro and serve!
Recipe Notes
For a real cheese layer, use 1 ½ – 2 cups of cheese on top!
To make this dish low-carb: substitute 5 cups cauliflower rice (or 2, 10-ounce packages frozen cauliflower rice) for the potatoes. Cook according to package instructions if using frozen, or follow this recipe if using fresh.
To make this dish dairy-free/Whole 30: either omit the cheese entirely or replace with our Paleo Nacho Cheese recipe.
Nutrition
Calories:
492
kcal
|
Carbohydrates:
23.1
g
|
Protein:
37.5
g
|
Fat:
27.7
g
|
Saturated Fat:
8.8
g
|
Cholesterol:
105.1
mg
|
Sodium:
874.7
mg
|
Fiber:
4.1
g
|
Sugar:
4.9
g