This jalapeno ranch dressing is creamy, tangy, herby, slightly spicy, and a really delicious accompaniment to salads, raw veggies, chicken wings, and even pizza!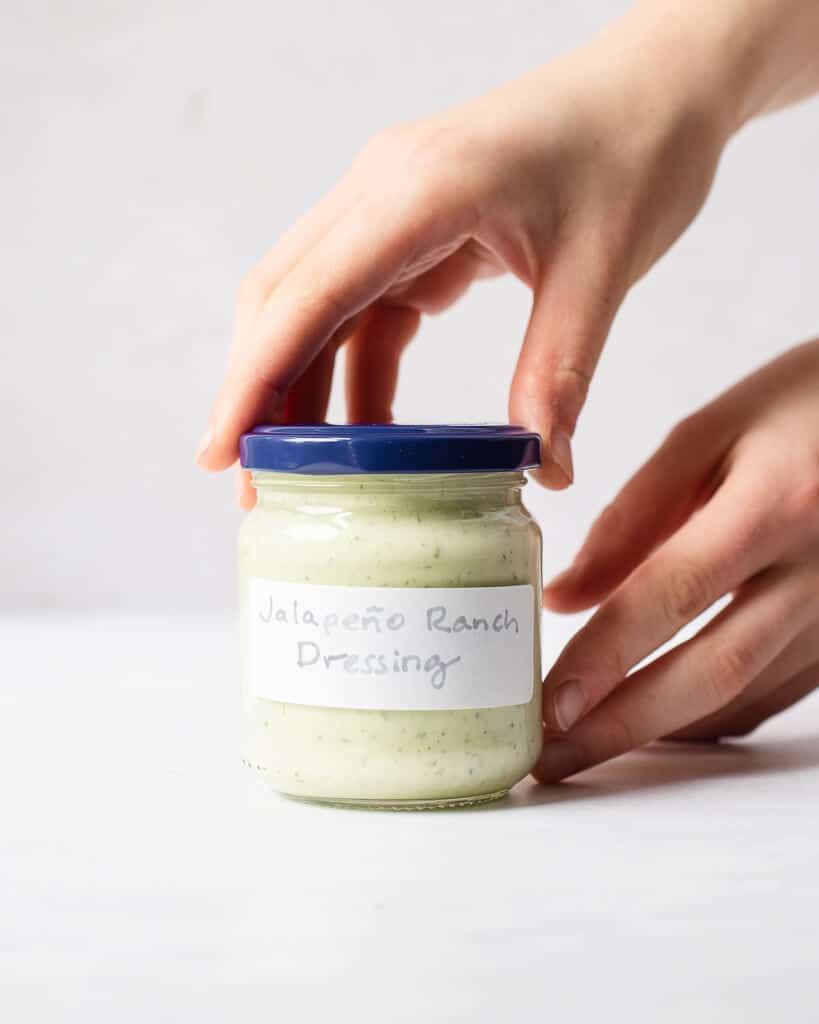 Jalapeno Ranch Recipe
This jalapeno ranch is BEYOND delicious, y'all. If you're a ranch lover, this dressing is ideal on ALL the things you already use ranch dressing for (ya know: pizza, wings, sandwiches, veggies, etc.) and if you aren't a fan of putting ranch on *all* thing things, this dressing makes for the perfect salad dressing! It's creamy, tangy, herby, with a slight kick of spice.
Jalapeno Ranch Dressing Ingredients
The ingredient list for this recipe is really simple. Mayo acts as the base of the dressing, while a handful of other ingredients provide FLAVOR! Here's everything you'll need: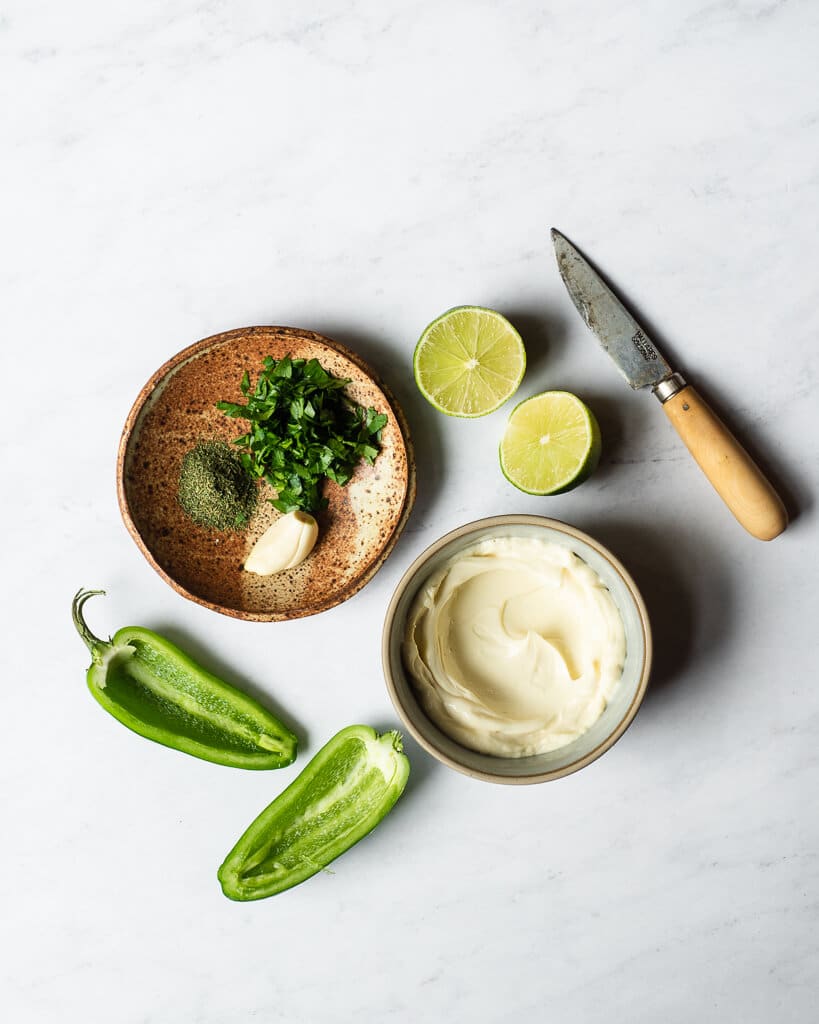 Mayonnaise – the base of our ranch dressing (and what allows it to be dairy-free) is ¾ of a cup of mayo. THIS is our very favorite store-bought mayo.
Lime Juice – a ¼ cup of fresh lime juice (the juice from about 1 large, juicy lime) helps to both brighten and thin the dressing.
Jalapeno Pepper – it wouldn't be jalapeno ranch without the jalapeno, would it?! 1 de-seeded jalapeno gives the dressing the most delicious flavor and a hint (because it's de-seeded) of spice.
Garlic – to deepen the flavor even more, you'll throw 1 clove of garlic into the blender too!
Dried Herbs – herbs are a must for ranch dressing! For this recipe, you'll need 1 teaspoon of dried dill and 1 teaspoon of dried parsley (or 1 tablespoon fresh of each).
Can I use ranch dressing instead of mayo?
We don't recommend using store-bought ranch dressing instead of mayo. Your finished recipe will likely be too herby (because of the herbs already in the dressing + the ones you'll add for this recipe) and runny (mayo is much thicker than ranch dressing). If you have a bottle of ranch, though, and you want to give it a kick of spice, you may try adding it to a blender with a de-seeded jalapeno (just those 2 ingredients!), and blending until smooth.
How to make Jalapeno Ranch from scratch?
All you'll need to do is add each of the ingredients (mayo, lime juice, jalapeno pepper, garlic, and dried herbs) to a blender and blend until completely smooth. So easy + so delicious!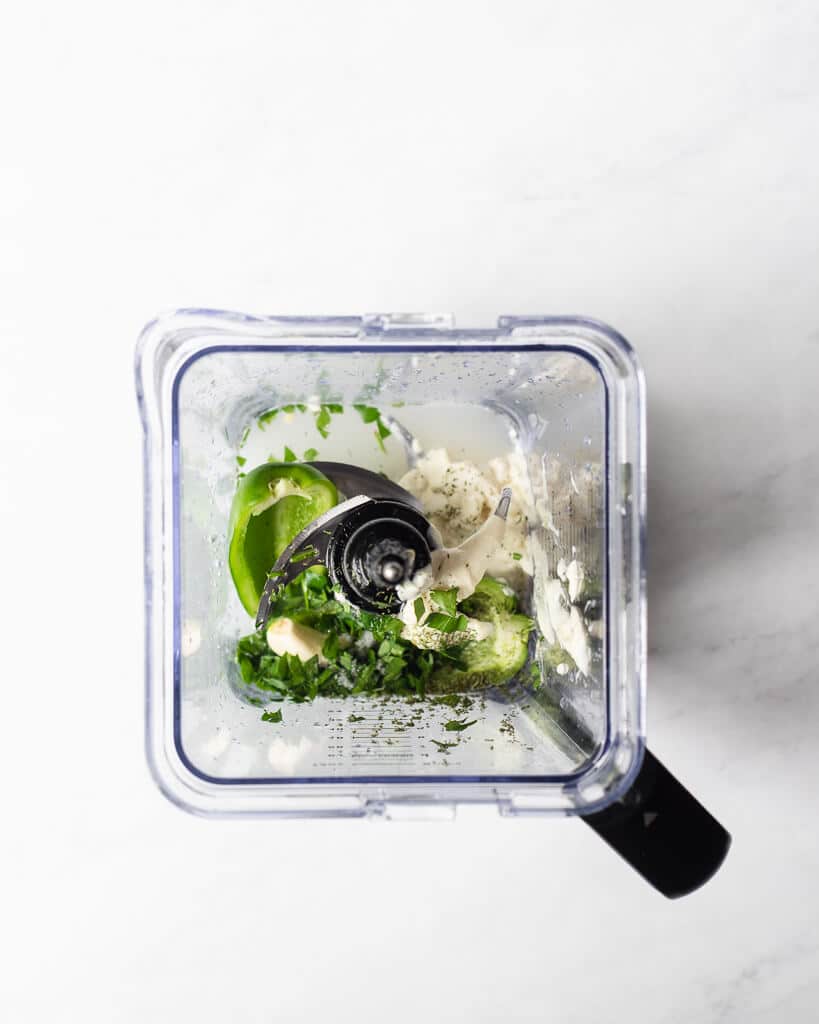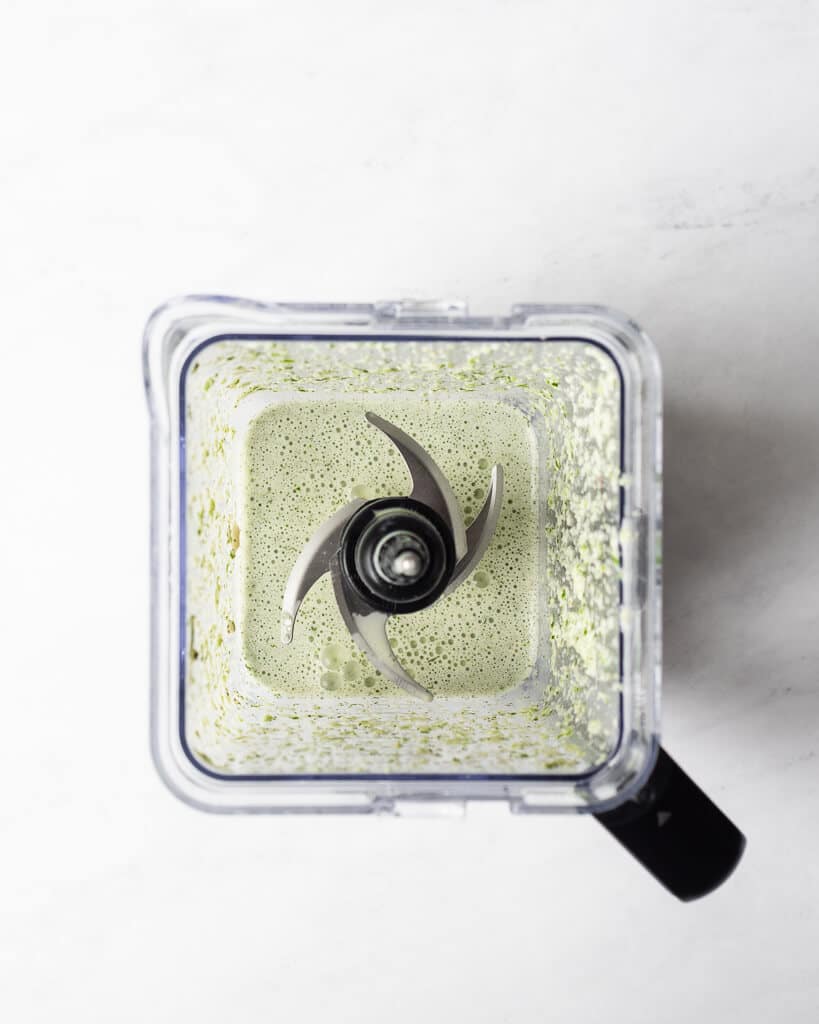 How do you know when the jalapeno is spicy or not?
Standing in the produce section of your local grocery store and just *knowing* which jalapeno pepper is going to be spicy and which isn't, is a really difficult task! Some jalapeno peppers are quite mild and some have a pretty spicy kick. Generally, the more "weathered" the pepper looks, the spicier it'll be, and the smoother it looks, the less spicy it'll be. This isn't a hard and fast rule, though.
How many calories are in Jalapeno Ranch?
This jalapeno ranch dressing makes a little over a cup's worth of dressing and each tablespoon has about 68 calories, 7 grams of fat, and very little (less than a gram each) of carbohydrates or protein.
Dishes to serve with Jalapeno Ranch Dip or Dressing
The most obvious choice (for most dressings)? A salad! This BBQ Cobb Chicken Salad is REALLY yummy with jalapeno ranch. Ranch dressing is one of those dressings that doesn't have to *just* be a dressing, though. Eat it with chicken wings, french fries, as a spread on a sandwich, as a veggie dip, or even dip your favorite pizza into it!
Does Jalapeno Ranch need to be refrigerated?
It does! Because the main ingredient is mayo, you'll definitely want to store this dressing in an airtight container in the refrigerator.
Jalapeno Ranch Dressing Recipe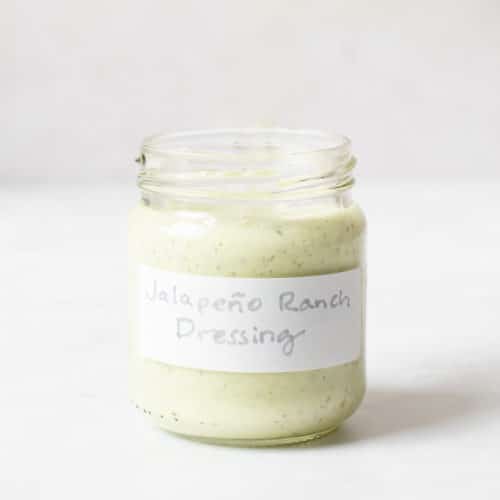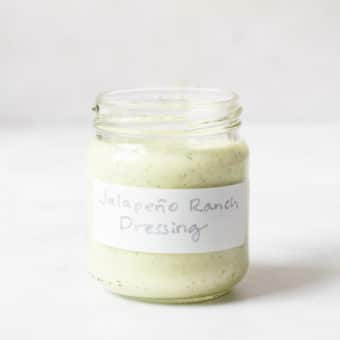 This jalapeno ranch is creamy, slightly spicy, and totally addicting!
Ingredients
3/4

cup

mayo

1/4

cup

fresh lime juice

about 1 lime

1

jalapeno

de-seeded

1

clove

garlic

1

teaspoon

dried dill

or 1 tablespoon fresh

1

teaspoon

dried parsley

or 1 tablespoon fresh
Instructions
Add all ingredients to a blender and blend until smooth.

Serve immediately or store in the refrigerator for up to one week. 
Nutrition
Calories:
144
kcal
|
Carbohydrates:
1.1
g
|
Protein:
0.3
g
|
Fat:
15.5
g
|
Saturated Fat:
2.4
g
|
Cholesterol:
8.7
mg
|
Sodium:
131.8
mg
|
Fiber:
0.1
g
|
Sugar:
0.3
g