I try to keep a batch of kale chips on hand at all times. Their salty crunchy texture always cures my craving for chips and pretzels without being left with a bloated guilty conscious.
The key to nutritional consistency is to think ahead and surround yourself with quality healthy foods throughout the day. I'm a snacker, I always have been. I eat three meals a day but then snack between each one – including a small sweet snack after dinner.
When it comes to leafy greens, kale is king. Here are the top 5 reasons why you should eat more kale:
High in fiber

. It will help lower your cholesterol, prevent overeating by keeping you full longer, and aid in digestion.

Rich in antioxidants and manganese

. Help protect against the formation of cancerous cells by combating cell oxidative free radicals.

High in Vitamin K

. Help build strong bones and protect against cardiovascular disease.

High in Vitamin A

. Help promote healthy skin, immune system, and eyes.

Ideal for detox

. The prevalence of sulfur compounds in kale help fortify the body's cleansing due to toxic exposure from environment and food.
Kale is a member of the cabbage family. It has thick fibrous leaves with a great flavor. Although I love eating kale raw in salads or smoothies, the strength of the leaves makes them a great candidate for dehydration.
Here are a few key tricks to making perfect kale chips every time:
Dehydrate – don't bake

. Cooking the chips in a low-temperature oven ensures that you will not burn them.

Rub very little oil into each leaf

. Ensuring that every inch of each kale leaf is covered with oil helps eliminate unnecessary excess fat and also ensures even crunchy texture and flavor throughout.

Don't over-season

. Lightly dust each leaf with your favorite seasoning. I like mine pretty simple – kosher salt and cracked pepper. If you're feeling adventurous, experiment with other flavorings such as curry, paprika, or garlic. The flavors intensify after dehydration; so don't get too carried away.

Eat quickly or store in an airtight container

. If you're making a large batch, make sure you store your excess chips in a large Ziploc bag. I will blow extra air into the bag to help prevent the delicate chips from being crushed.
There are many different types of kale available at most grocery stores. I made this version of kale chips with dinosaur kale. I like dinosaur kale because once dehydrated, they offer a close resemblance to potato chips. I also make kale chips with curly kale (see below) and baby kale greens from the boxed salad section of the produce aisle.
Making kale chips with baby kale greens is the most simple. If you make the chips with dinosaur or curly kale, I encourage you to cut the stems out before you bake. They are extremely fibrous and you'll find yourself chewing around them. I left mine on for this demonstration because they make for much prettier presentation.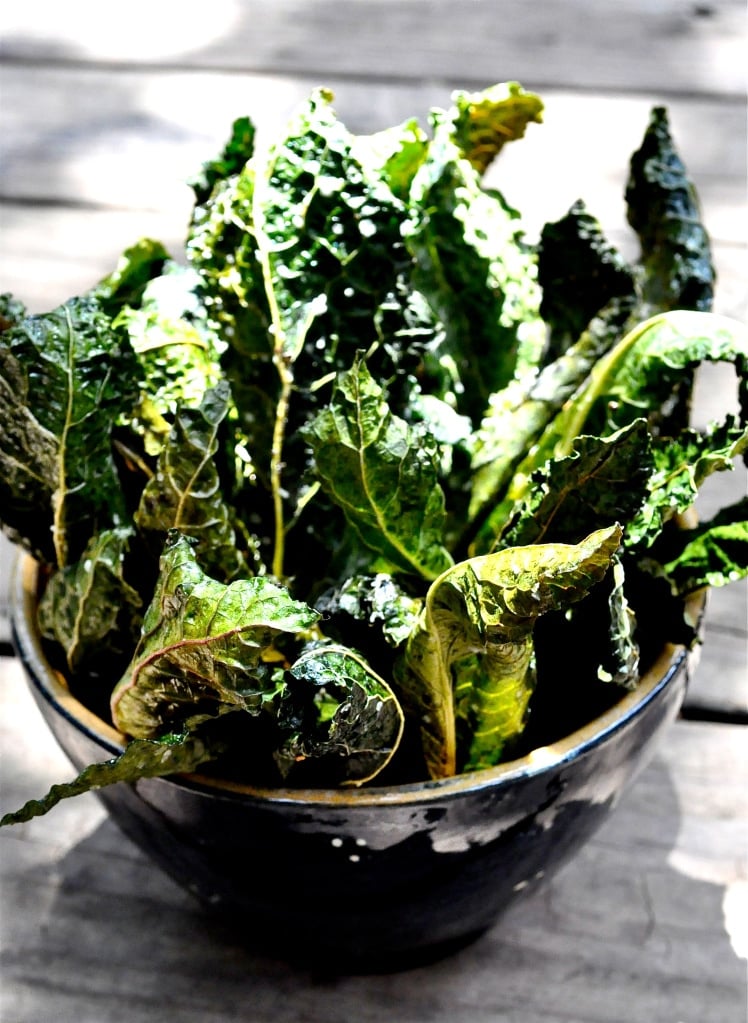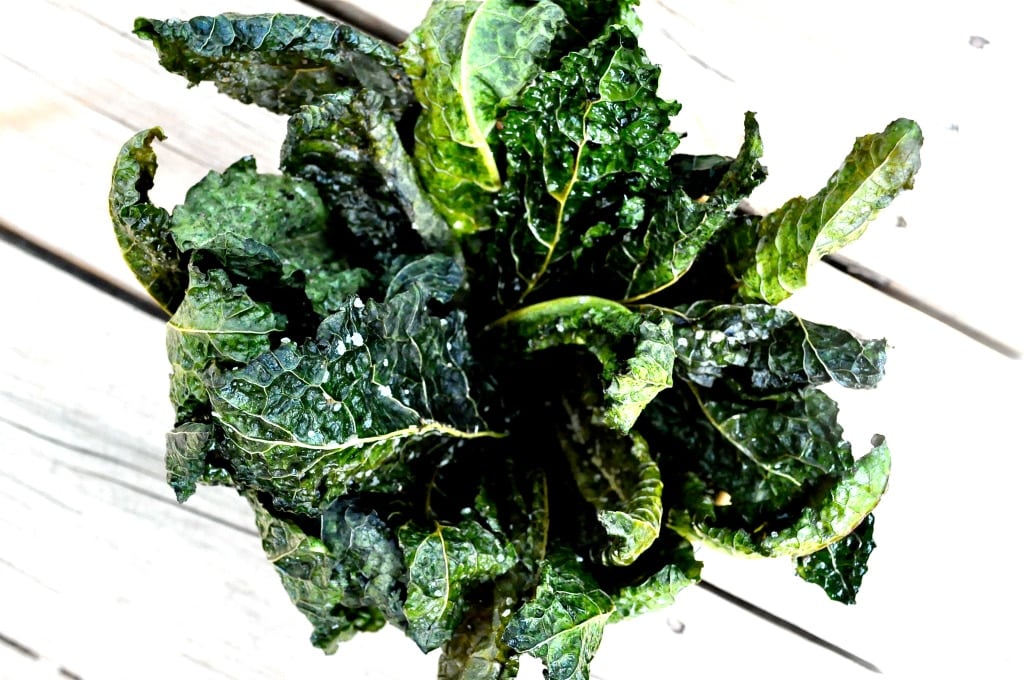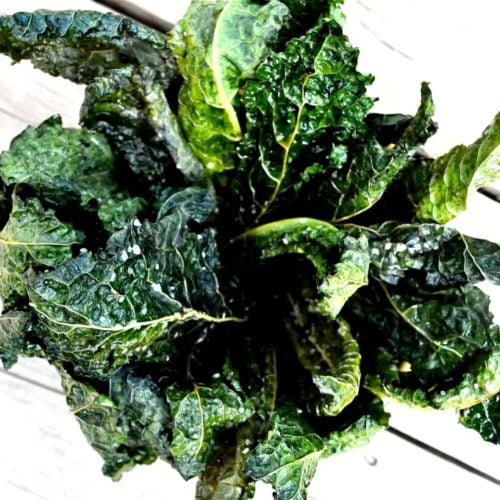 I try to keep a batch of kale chips on hand at all times. Their salty crunchy texture always cures my craving for chips and pretzels without being left with a bloated guilty conscious.
Ingredients
1

head of raw kale

about 4 cups

3

teaspoons

extra virgin olive oil

evoo

2

teaspoons

kosher

or sea salt

2

teaspoons

cracked black pepper
Instructions
Preheat your oven to 210 degrees.

Line one or two baking sheets with aluminum foil.

Wash your kale and pat dry.

Cut the stems off your kale leaves. You can now either leave the leaves whole for large chips or cut them into 2" squares for smaller chips.

Drizzle the leaves with the evoo.

With your fingers, spread and rub the oil onto every section of the kale leaves.

Place the kale leaves on the baking sheet only 1 layer thick.

Dust evenly with the salt and pepper.

Bake for 1 hour.

Let cool then enjoy!
Nutrition
Calories:
34
kcal
|
Carbohydrates:
1
g
|
Protein:
1
g
|
Fat:
3
g
|
Saturated Fat:
0.5
g
|
Polyunsaturated Fat:
0.4
g
|
Monounsaturated Fat:
2
g
|
Sodium:
1171
mg
|
Potassium:
63
mg
|
Fiber:
1
g
|
Sugar:
0.1
g
|
Vitamin A:
1429
IU
|
Vitamin C:
13
mg
|
Calcium:
41
mg
|
Iron:
0.4
mg