Every item on this page was chosen by The Fed & Fit team. The site may earn a commission on some products (read more here).
This Keto Green Smoothie uses zucchini in place of banana for a luscious, creamy take on low-carb smoothies!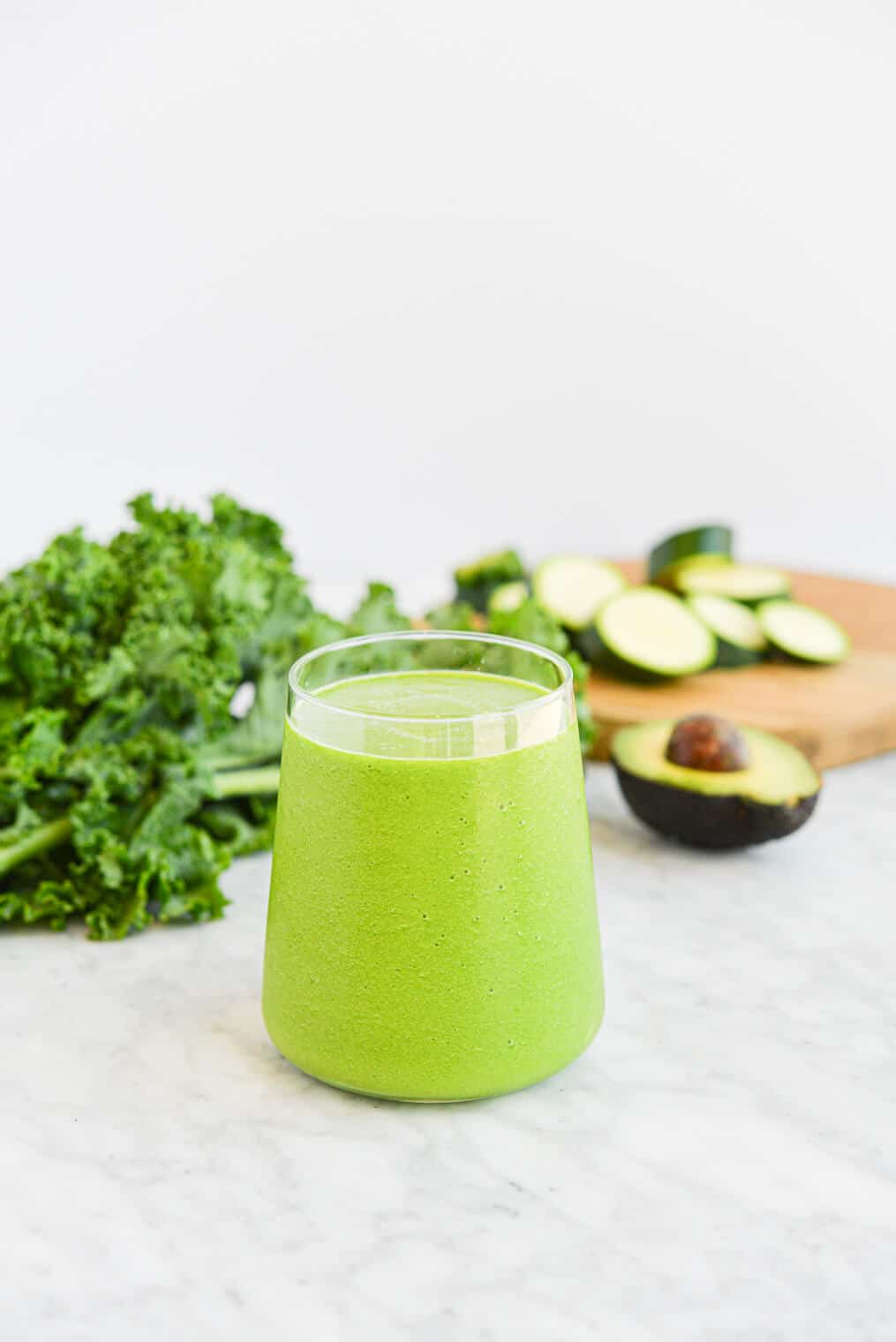 Smoothies are seen as a "food to avoid" by many keto-ers, and understandably so. I mean, typically, the taste and texture of a smoothie declines dramatically when the fruit (banana, in most cases) is left out, so avoiding smoothies altogether feels like a better option than choking down a gritty, green-tasting smoothie, right? Actually, NO! Believe it or not, there *is* a way to low-carb smoothie (and do it WELL, at that) that involves smooth, creamy, luscious smoothies that are sure to surprise even biggest smoothie skeptics among us!  
Are green smoothies good for you?
The answer isn't as clear cut as you may wish. Oftentimes, when you order a "healthy" green smoothie from a smoothie establishment, it's loaded with (yes) spinach, (maybe) kale, (definitely) tons of fruit/fruit juice to mask the "green" taste, and (sometimes) sweeteners to up the sweet factor just a tad bit more. If that's the kind of green smoothie (really, a loaded fruit smoothie) we're talking about, then it may not be the healthiest option and will likely leave you feeling hungry and jittery after about 30 minutes. On the other hand, green smoothies that are truly loaded with greens (spinach, kale, etc.), quality protein powders, no-sugar-added nut milk, a reasonable amount of fruit (or none at all), and healthy fats ARE a healthy option! These kinds of green smoothies (like this tropical one, this mint chocolate one, or this protein one) are well-balanced and sure to keep you full and satisfied for quite some time.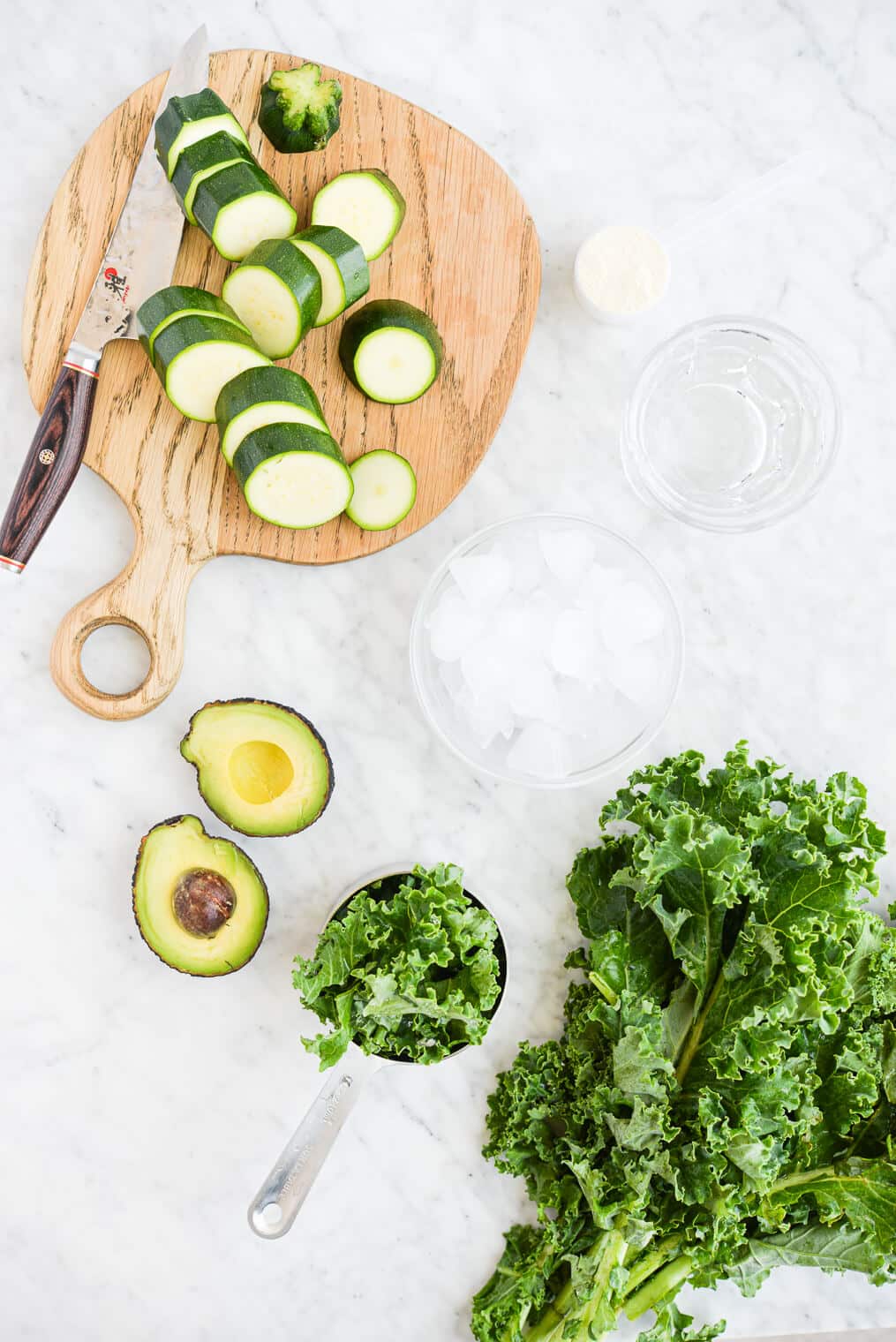 The Secret to a Perfect Keto Green Smoothie
Two words: avocado and zucchini. We know – it sounds CRAZY, but trust us on this one! These two nutritional powerhouses are the dream team when it comes to low-carb smoothies. The zucchini actually makes up the bulk of the smoothie (think of it as the replacement for the traditional smoothie banana) and is virtually tasteless once blended with the other ingredients. The avocado, also tasteless once blended, lends a good dose of healthy fats, fiber, minerals, antioxidants (among so much more). Combine the two, and you've got a CREAMY, silky, luscious, keto smoothie! 
Keto Green Smoothie Ingredients
You know that zucchini and avocado will each make an appearance on this list, as will a few other super simple ingredients. Here's what you'll need to grab for a low-carb green smoothie:
Avocado – you'll use a ½ of a small avocado here. Coming in at around 3 carbohydrates, this is the perfect creamy addition to a keto smoothie.
Zucchini – 1 small zucchini also gets thrown into the blender…skin and all! A small zucchini has (roughly) 4g carbs, with 1g fiber.
Kale – what's a green smoothie without a solid helping of leafy greens?! We used 2 cups of packed fresh kale, though you can totally swap the kale out for spinach if you'd prefer – both are great choices.
Vanilla Protein Powder – 1 scoop of vanilla protein powder will do the trick here! If you prefer chocolate protein powder, feel free to go with that. 
Ice Cubes – because the rest of our smoothie ingredients aren't frozen, we'll also add in a cup of ice to thicken things up + keep our smoothie nice and cold! 
Water or Nut Milk – so that everything blends smoothly, we'll also add about a ½ cup water or nut milk (unsweetened almond milk is perfect here) – either one works just fine!
How to Make a Keto Green Smoothie
It's silly easy, you guys (as most smoothies are). Here's how you'll throw this keto avocado smoothie together:
Prep Your Ingredients – chop your zucchini + halve and peel your avocado.

Add the Ingredients to the Blender – add your chopped zucchini, avocado, kale, protein powder, ice, and water (or nut milk) to a high-speed blender (we like THIS one).

Blend, Pour, and Enjoy – blend everything up until smooth and creamy, then pour into a glass and enjoy!
Best Protein Powders for Green Smoothies
This depends on a few things: your taste preferences, the types of protein your body tolerates well, and the amount of protein you're looking to consume. Here's a quick rundown of our favorite protein powders by type:
For more on each type of protein and what it has to offer, find our guide to picking the healthiest protein powder for YOU right HERE.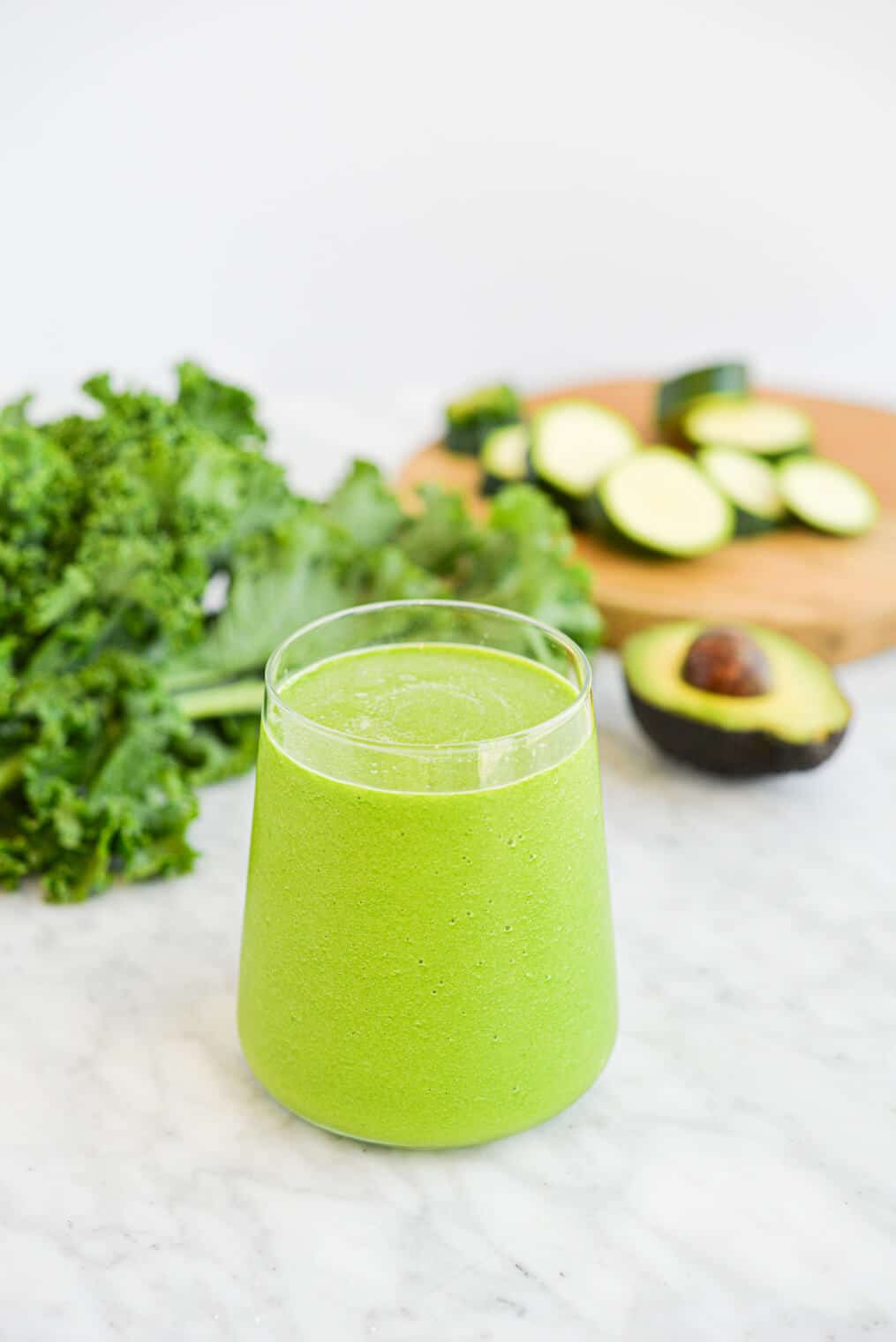 Optional Ingredients for Low-Carb Smoothies
This green smoothie recipe is a go-to around here and makes for the perfect basic green keto smoothie! Feel free to add in nut butter (peanut butter would add another good dose of protein and healthy fat), coconut oil, MCT oil, coconut milk, and/or lower-sugar fruits if you can fit them into your macro plan. Use chocolate (or any other flavor you love!) protein powder instead of vanilla or add a few shakes of cinnamon if you feel like changing things up!
More Low Carb Breakfast Recipes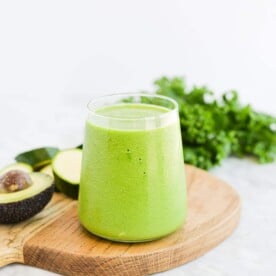 Ingredients
½

small avocado

1

small zucchini

2

cups

packed fresh kale

may also use spinach for a milder option

1

scoop vanilla protein powder

1

cup

ice

½

cup

water or nut milk of choice
Instructions
Place all ingredients in a blender and blend until smooth.
Nutrition Information
Nutrition Facts
Keto Green Smoothie
Amount per Serving
% Daily Value*
* Percent Daily Values are based on a 2000 calorie diet.