These mint chocolate chip green smoothie packs are a perfect breakfast option for days when you need breakfast in just a few minutes! This smoothie is creamy, refreshing, just a bit sweet, and feels indulgent enough that you won't even remember that it is packed with greens.
If you're a mint chocolate chip ice cream lover, then this one is for you! I find mint to be SO refreshing, and I'm especially a sucker for it when it's combined with chocolate. Today, we're taking this classic dessert flavor combo and making it breakfast (or snack) friendly! You have two options for this recipe – you can either make it immediately, or you can assemble it into smoothie freezer packs. I personally love having smoothie freezer packs on hand, it ensures that I'm never short on ingredients for a smoothie and is a fantastic breakfast or snack option when I'm in a pinch.
Ingredients for Mint Chocolate Chip Smoothie Freezer Packs
First things first, let's talk ingredients for this phenomenal smoothie. Here's what you're going to need:
Bananas. I know that banans in smoothies can be a little controversial, but in this recipe, the banana ensures a creamy, slightly sweet texture that just can't be beat. The mint also totally offsets the banana taste!
Spinach. To replicate the trademark green color of mint chocolate chip ice cream, and get a healthy dose of greens, we'll be adding baby spinach to our smoothies.
Mint. You have two options here – fresh mint or mint extract. While we prefer fresh mint because it has a lighter, more refreshing flavor than extract, both will work just fine!
Cacao nibs. Cacao nibs are made from crushed cocoa beans and have a rich chocolate flavor. We add these to the smoothie because they add a wonderful crunch and are packed with antioxidants.
Coconut milk. Coconut milk helps add an extra layer of creaminess to the smoothie, making it even more indulgent. If you aren't a huge coconut fan, we'd recommend trying cashew milk as the next best thing!
Protein powder. We prefer using unflavored whey protein in our smoothies because it is a complete protein and has the simplest ingredients, but feel free to use your favorite protein powder instead! If you can't do dairy, collagen peptides are also a great option.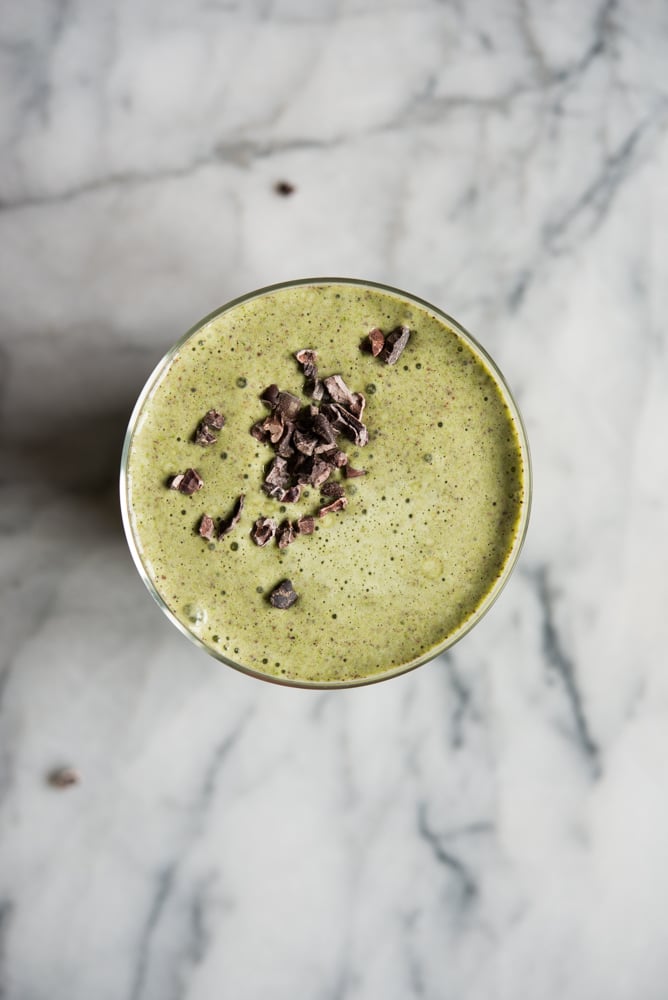 How to Make Mint Chocolate Chip Green Smoothie Packs
Making these smoothie freezer packs could not be simpler! You'll just follow these steps:
Freeze bananas. Slice up 4 bananas and lay them on a sheet pan, making sure they aren't touching, and freeze for 2 hours. This will ensure that the banana slices won't stick together once added to the packs.
Freeze coconut milk ice cubes. At the same time that the bananas are freezing, you'll want to pour a can of full-fat coconut milk into an ice cube tray and freeze it. This way, you can add the coconut milk cubes to your smoothie freezer packs.
Assemble the smoothie packs. Now that you have your main components frozen, it's time for assembly! You'll divide your ingredients equally into Ziplock bags, or another storage container of choice, label them, and freeze for later use.
Use the smoothie packs. Now your smoothie packs are ready to go! Once you're ready to assemble them, you'll simply add all ingredients to a blender, add non-dairy milk or water, and blend until smooth.
More Favorite Smoothie Recipes
Mint Chocolate Chip Smoothie Packs
These mint chocolate chip smoothie packs make for a quick breakfast that will get your day off to a great start!
Ingredients
For a Smoothie:
1

smoothie pack

1 to 1½

cups

non-dairy milk of choice or water

depending on desired thickness

Cacao nibs

for garnish
Instructions
Make 4 smoothie packs with 1 cup baby spinach, 1 banana, 3 coconut milk ice cubes, 1 scoop protein powder, 2 tablespoons cacao nibs, and 2 tablespoons fresh mint leaves each. Then freeze for later use.

To make a smoothie, blend all of the ingredients in the smoothie pack on high with the water or coconut water, starting with 1 cup and adding up to ½ cup more until the smoothie reaches your desired consistency. Top with cacao nibs.
Recipe Notes
*If you don't have fresh mint on hand, you can use 1/4 teaspoon peppermint extract in your smoothie instead. Add it in while blending the smoothie, not making the smoothie packs.
Nutrition
Calories:
538
kcal
|
Carbohydrates:
37
g
|
Protein:
32
g
|
Fat:
33
g
|
Saturated Fat:
24
g
|
Polyunsaturated Fat:
2
g
|
Monounsaturated Fat:
2
g
|
Cholesterol:
50
mg
|
Sodium:
407
mg
|
Potassium:
890
mg
|
Fiber:
6
g
|
Sugar:
17
g
|
Vitamin A:
2969
IU
|
Vitamin C:
20
mg
|
Calcium:
451
mg
|
Iron:
6
mg