These gluten free peanut butter blossoms feature a soft and chewy peanut butter cookie base and your choice of melted dark chocolate or mini peanut butter cups in the middle for a treat the whole family will love!
It's time for our last holiday cookie recipe of 2018 and this time we're sending you off with these gluten free peanut butter blossoms! These cookies are seriously SO good. They're sweet, salty, peanut butter-y, and they melt in your mouth. You also get the choice of filling them with dark chocolate (and maybe a little flake salt if you like) or topping them off with a mini peanut butter cup in lieu of the traditional Hershey's Kiss, which we think makes them just a little bit extra-special.
These gluten free peanut butter blossom cookies start with a mixture of softened butter, gluten free flour, and peanut butter. You'll simply cream all of the ingredients together, then refrigerate the dough. From there, you'll roll out the dough, make a deep dent in each dough ball if you plan on filling them with melted chocolate, then you'll bake them. Once baked, you'll either fill the cookies with melted chocolate or place a mini peanut butter cup on each one. This will melt the peanut butter cup slightly so it sticks to the cookie. These cookies are great for making with your kids, and they'll especially enjoy adding on the final toppings!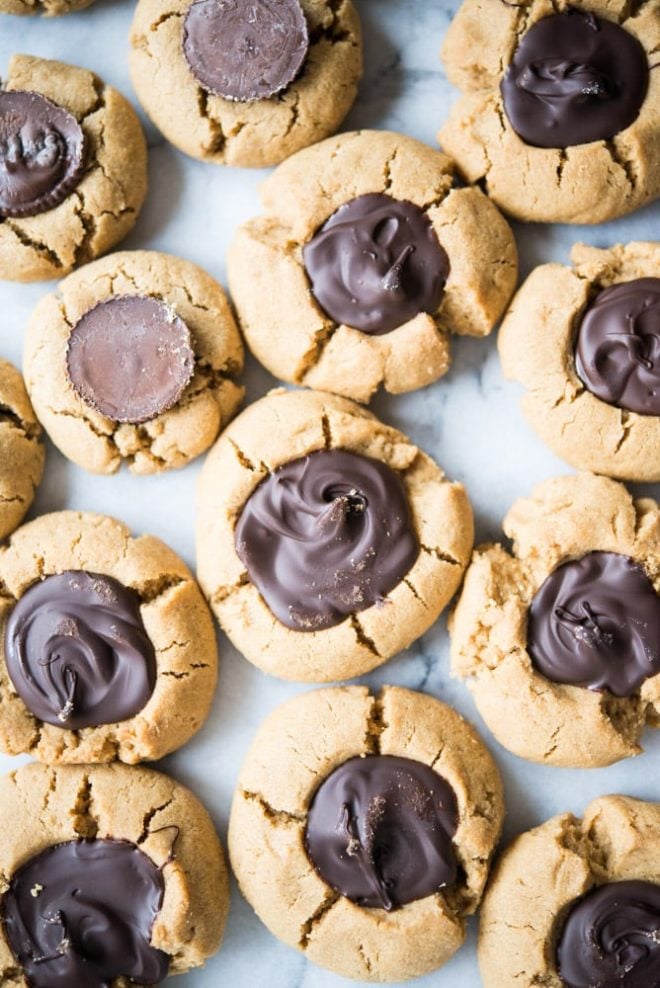 While these gluten free peanut butter blossoms are pretty straightforward, here are a few tips for success:
We tested these using King Arthur Measure for Measure Flour. We've had reader feedback that substituting other gluten free flour blends tends to result in a more spread out cookie, so we recommend sticking to this flour blend!
Take the time to chill the cookies in the refrigerator for at least 2 hours up to overnight. This helps firm the dough, reduces the the amount that the cookies spread, and ultimately leads to that soft-on-the-inside and crispy-on-the-outside texture.
Use natural peanut butter, preferably one that only has peanuts as the ingredients, rather than something like JIF. Just make sure you stir in all of the oils before using it so you don't wind up with oil cookies!
If you can't do peanuts, almond butter works as a great replacement here!
For a more crunchy cookie, you can roll the dough in sugar before baking.
Can this be made egg-free?
It can! In fact, we tested a TON of different egg substitutes in several different baked goods, took all kinds of notes, and then laid it all out for you in this super helpful guide to egg-free baking. For cookies, we recommend using Bob's Red Mill Egg Replacer – this egg substitute resulted in cookies that were chewy (but still with a nice crunch), perfectly crisp on the outside, and had an *almost* candy-like quality.
We hope you and your family enjoy these gluten free peanut butter blossoms, and have a wonderful holiday!
Gluten Free Peanut Butter Blossoms Two Ways
These gluten free peanut butter blossoms are soft and chewy with your choice of melted dark chocolate or mini peanut butter cups in the middle for a treat the whole family will love!
Instructions
Add the flour, baking soda, baking powder, and sea salt to a small bowl and whisk to combine.

Add the butter and sugar to a large bowl and beat on high until fluffy. Then add the peanut butter, eggs, and vanilla and beat until fully combined.

Add the flour to the peanut butter mixture 1/2 cup at a time until fully incorporated, then cover and refrigerate for at least two hours and up to two days.

Preheat the oven to 350 F and line a baking sheet with parchment paper.

Roll the dough into one-inch balls and place on a baking sheet two inches apart. If filling with chocolate, make a deep indent in each ball with your thumb. Bake for 10-12 minutes, until browned and crisp on the outside.

Remove the cookies from the oven and immediately either fill with melted chocolate, or press a miniature peanut butter cup into each cookie. Let cool until chocolate is set, then enjoy!
Nutrition
Calories:
192
kcal
|
Carbohydrates:
20
g
|
Protein:
4
g
|
Fat:
11
g
|
Saturated Fat:
5
g
|
Polyunsaturated Fat:
2
g
|
Monounsaturated Fat:
4
g
|
Trans Fat:
0.1
g
|
Cholesterol:
21
mg
|
Sodium:
119
mg
|
Potassium:
126
mg
|
Fiber:
1
g
|
Sugar:
13
g
|
Vitamin A:
108
IU
|
Vitamin C:
0.04
mg
|
Calcium:
48
mg
|
Iron:
1
mg