Today we're partnering with Happy Egg to celebrate Better Breakfast Month with these make-ahead balanced breakfast jars! With sweet potatoes, kale, and perfect soft-boiled eggs, these jars are the best way to start your day.
This post is sponsored by Happy Egg Co®
Did you know that September is Better Breakfast Month? As kids get back to school and summer winds down, there's no better way to get back into your fall routine than with a healthy breakfast! I have always been a big believer in eating a nutrient-dense breakfast with high-quality ingredients. These balanced breakfast jars deliver on multiple fronts – they have healthy carbs from the sweet potatoes, a serving of energizing greens in the form of lemony kale, and protein from nutrient-dense free-range eggs from Happy Egg. Best of all, you can make these jars on a Sunday, then eat them all week long – so eating a better breakfast all week is a no-brainer!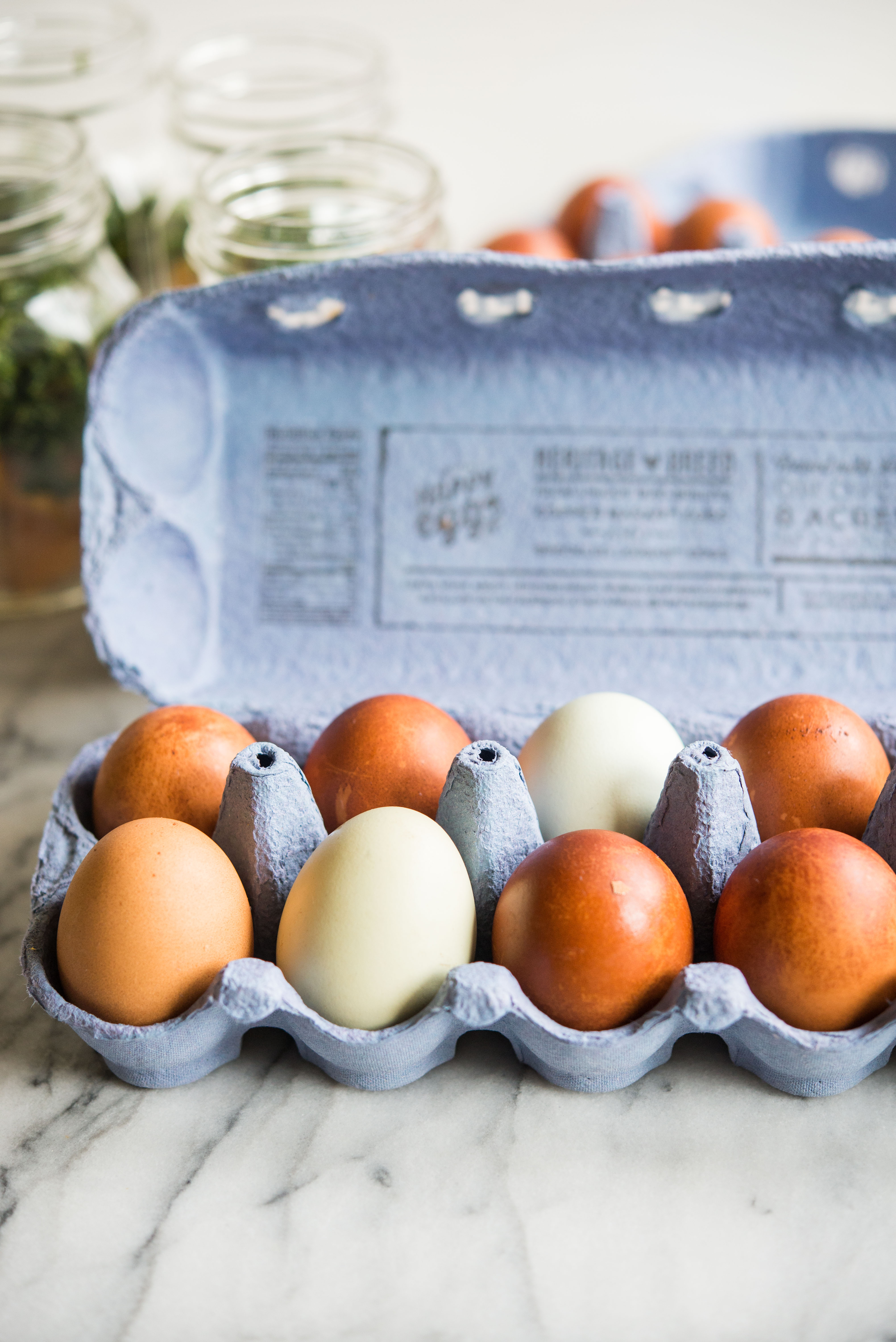 Why Happy Eggs?
The first step to building a better breakfast is to focus on finding high-quality ingredients – that's where Happy Egg comes in! Their Free Range Blue & Brown Heritage Breed Eggs™ are some of the best quality, most beautiful eggs you can find. Here are a few reasons we love this brand:
They're the Free-est of the Free Range™
Happy Egg is committed to raising happy hens. They are the pioneer of free-range egg farming…and their hens are the Free-est of the Free Range, meaning they roam free on over eight acres of pasture, which is ten times the space of standard free-range farms.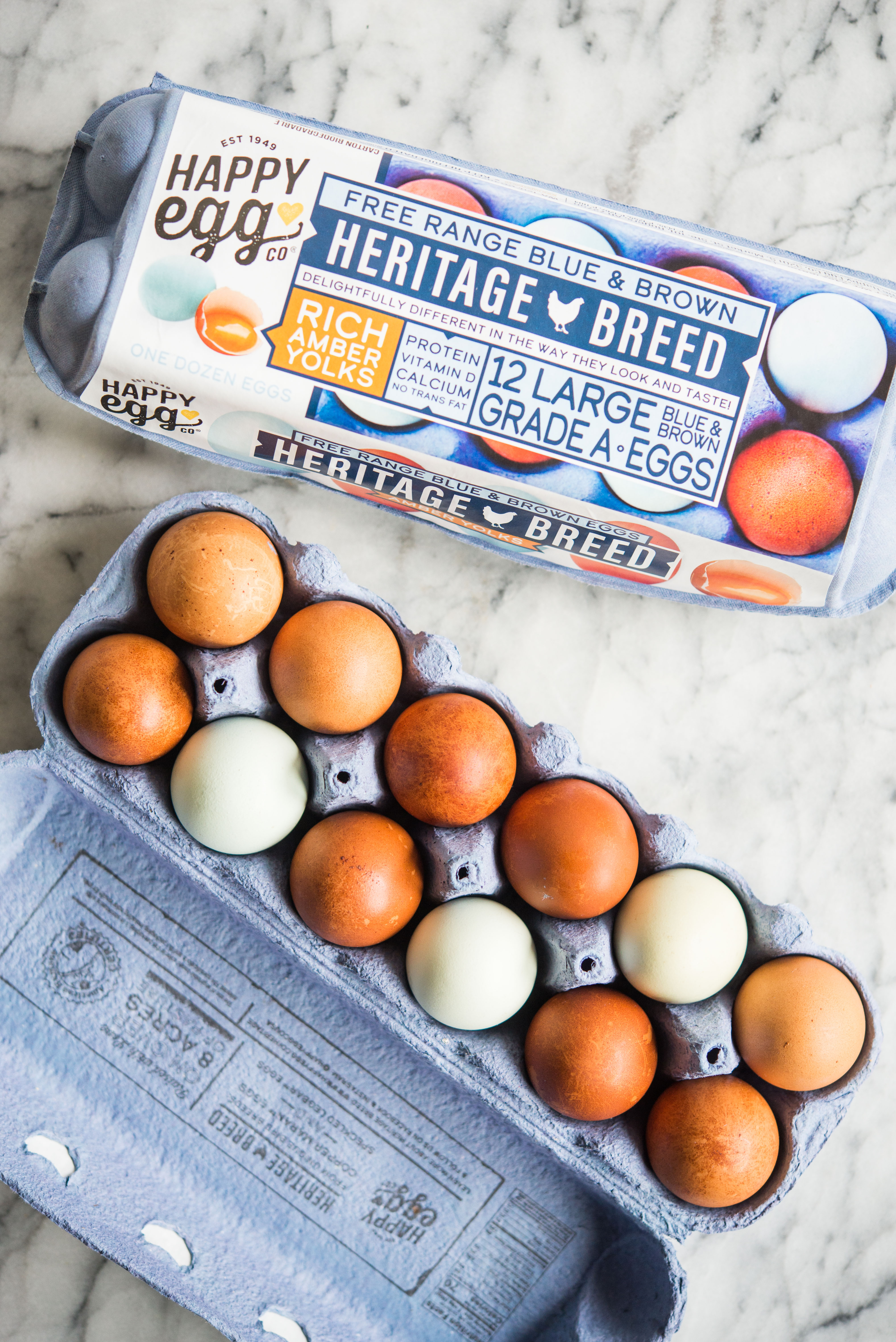 Premium-Quality Eggs
One of the added bonuses to happy, well-fed hens is that it produces the best quality eggs. When you pick up a carton of Happy Egg Free Range Blue & Brown Heritage Breed Eggs, you'll first notice the gorgeous colors of the shells. These eggs come from two distinct breeds of hens and when you crack into them, you'll find that the shells are thicker than normal and that they have rich, plump amber yolks which lead to deliciously beautiful dishes and recipes and some of the best-tasting, creamiest eggs you can buy! I like to think of them as farmer's market quality, but at my supermarket.
Where to Buy Happy Eggs
Happy Eggs Free Range Blue & Brown Heritage Breed Eggs are now available at Walmart in Dallas! If you're outside Dallas, head to their store locator to find a retailer nearest you.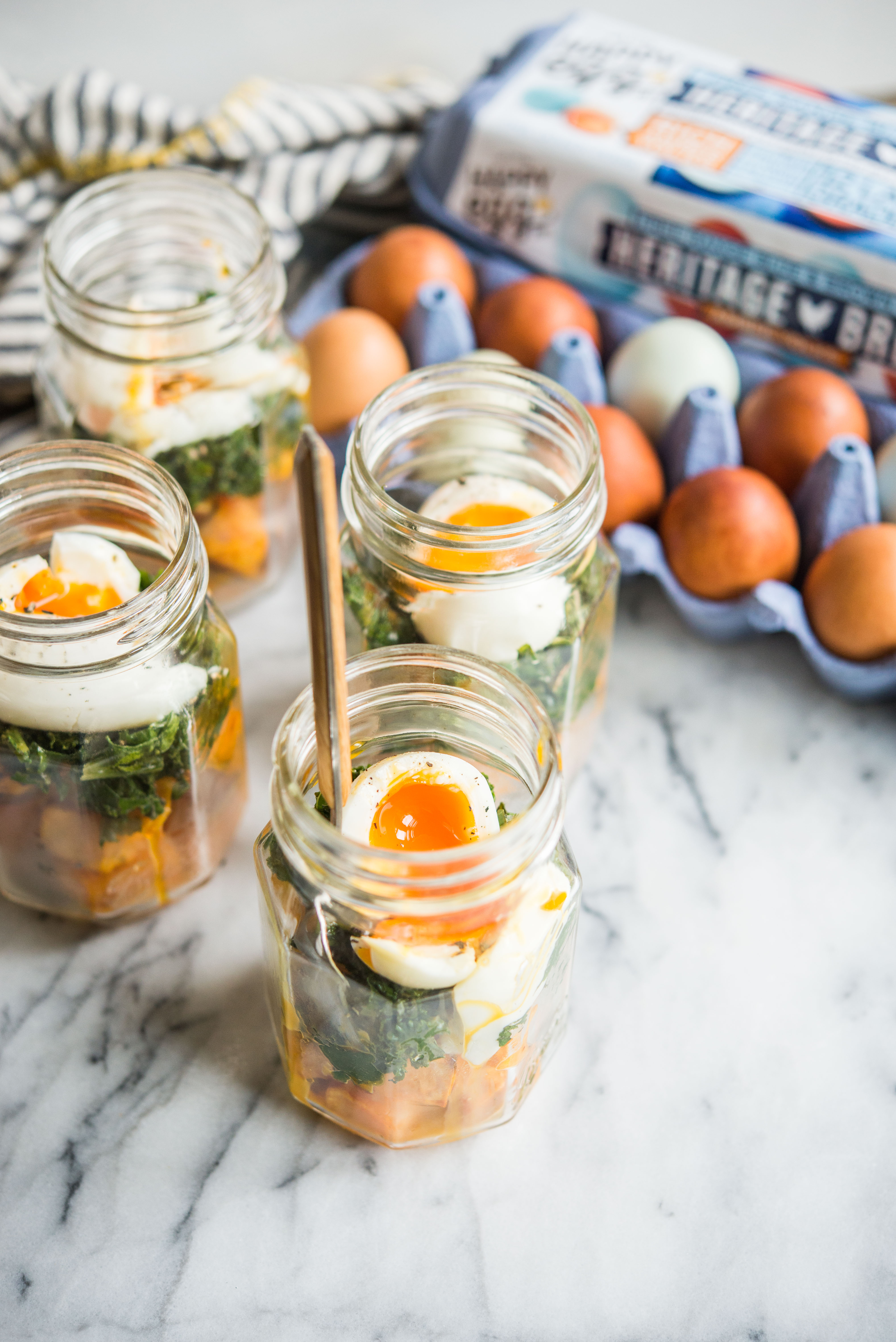 How to Make these Balanced Breakfast Jars
Now that you've got the scoop on Happy Eggs, it's time to make your balanced breakfast jars! In just a few steps, you'll have a healthy breakfast ready to go for the week.
Roast the sweet potatoes. The sweet potatoes take the longest to cook, so you'll want to get them roasting first! Just wash and cube 1 1/2 pounds of sweet potatoes, then place them on a rimmed baking sheet, coat with olive oil and salt, then roast at 400 F for about 40 minutes.
Soft boil the eggs. While the sweet potatoes are roasting, you'll soft boil the eggs. We've tried almost every method for boiling eggs, and this one is our go-to. Adding the eggs to a pot of already-boiling water then transferring to an ice bath shocks the shells twice, resulting in easy-to-peel eggs every time!
Make the lemony kale. The final component for your breakfast is our popular lemony kale recipe! This recipe has converted many kale-haters into kale-lovers. You'll simply sauté the kale until it is just wilted, then add lemon, and set aside.
Assemble the jars. Now that you have all your components, it's time to assemble your jars! Layer the sweet potatoes on the bottom, top with the kale, and finish off with a soft-boiled egg. Then, seal the jars and refrigerate for later.
Once you're ready to eat your balanced breakfast jars, we recommend removing the egg and microwaving the sweet potato and kale for about 45 seconds, then adding the egg back in to cook for an additional 15 seconds. This will warm up the egg just a bit but still leave you with a perfectly runny yolk. We hope that these make-ahead breakfast jars help get you inspired to start making your own better breakfast this month!
Make-Ahead Balanced Breakfast Jars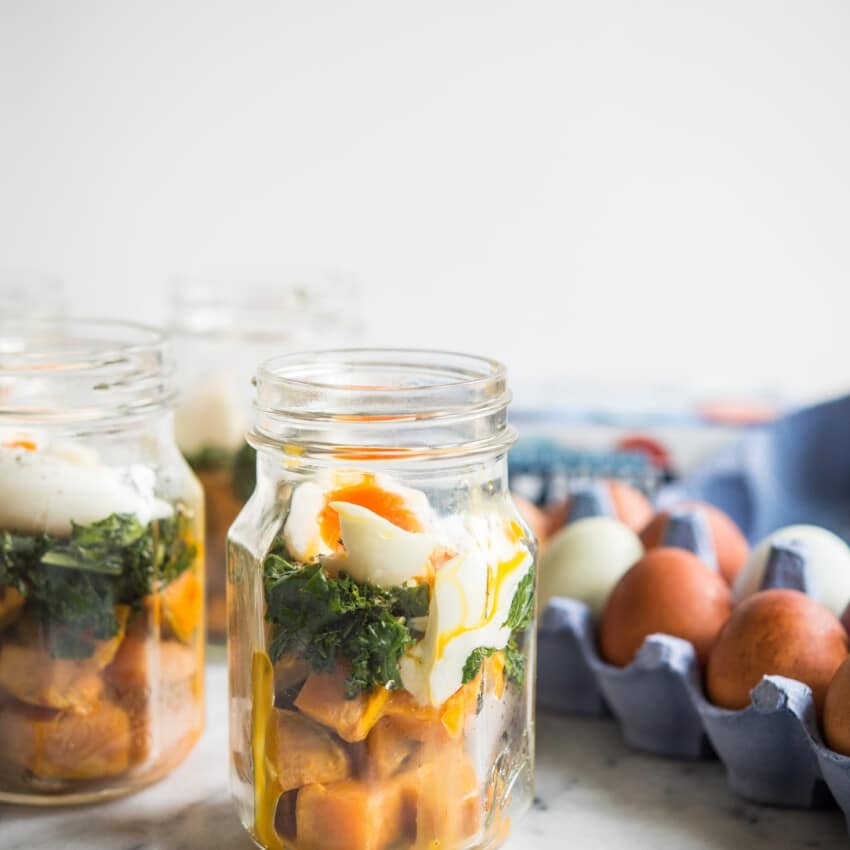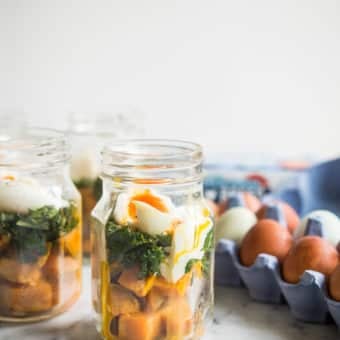 With sweet potatoes, soft-boiled eggs, and kale, you'll look forward to eating these balanced breakfast jars all week long!
Ingredients
For the Lemony Kale
1

tablespoon

salted butter

extra-virgin olive oil, or bacon fat

1

bunch kale

destemmed and chopped

1

tablespoon

fresh lemon juice

about ½ small lemon

½

teaspoon

coarse sea salt
Instructions
Preheat the oven to 400°F.

Toss the sweet potatoes with the olive oil and salt, then spread out on a rimmed baking sheet.

Bake for 40 to 45 minutes, until browned, then remove from the oven and let cool.

While the potatoes are baking, soft-boil the eggs. Bring about 3 inches of water to a boil in a large pot. Once boiling, take the eggs out of the refrigerator. Using a slotted spoon or fitted strainer basket, carefully place or submerge the eggs in the boiling water. Boil the eggs for 6 to 7 minutes, depending on yolk preference.

While the eggs are boiling, prepare an ice bath by filling a large bowl with at least 5 cups of ice cubes. Add enough water to cover the ice cubes.

Use the slotted spoon (or the strainer basket) to pull the eggs from the boiling water. Immediately place them in the ice bath, making sure that each egg is submerged. Let them sit in the bath for at least 15 minutes.

Melt the butter over medium heat in a large skillet that has a matching lid. Add the kale, toss to coat in the butter, and cover to steam the kale until wilted, about 5 minutes.

Add the lemon juice and salt and stir to combine with the wilted kale, then set aside to cool.

Place the roasted sweet potatoes into four 32-ounce mason jars, top with the lemony kale and a peeled soft-boiled egg. Refrigerate for use later in the week.

To reheat the jars, remove the egg and microwave the kale and sweet potatoes for 45 seconds, then add the egg and microwave for an additional 15 seconds. This will warm the egg without cooking the runny yolk.
Nutrition
Calories:
277
kcal
|
Carbohydrates:
36
g
|
Protein:
9
g
|
Fat:
11
g
|
Saturated Fat:
4
g
|
Polyunsaturated Fat:
2
g
|
Monounsaturated Fat:
5
g
|
Trans Fat:
0.1
g
|
Cholesterol:
171
mg
|
Sodium:
777
mg
|
Potassium:
752
mg
|
Fiber:
6
g
|
Sugar:
8
g
|
Vitamin A:
27704
IU
|
Vitamin C:
36
mg
|
Calcium:
160
mg
|
Iron:
2
mg