This Mexican Cottage Pie is made with a creamy sweet potato top and flavorful chorizo + ground beef and pepper filling. It's an easy meal to whip up and makes great leftovers for the week!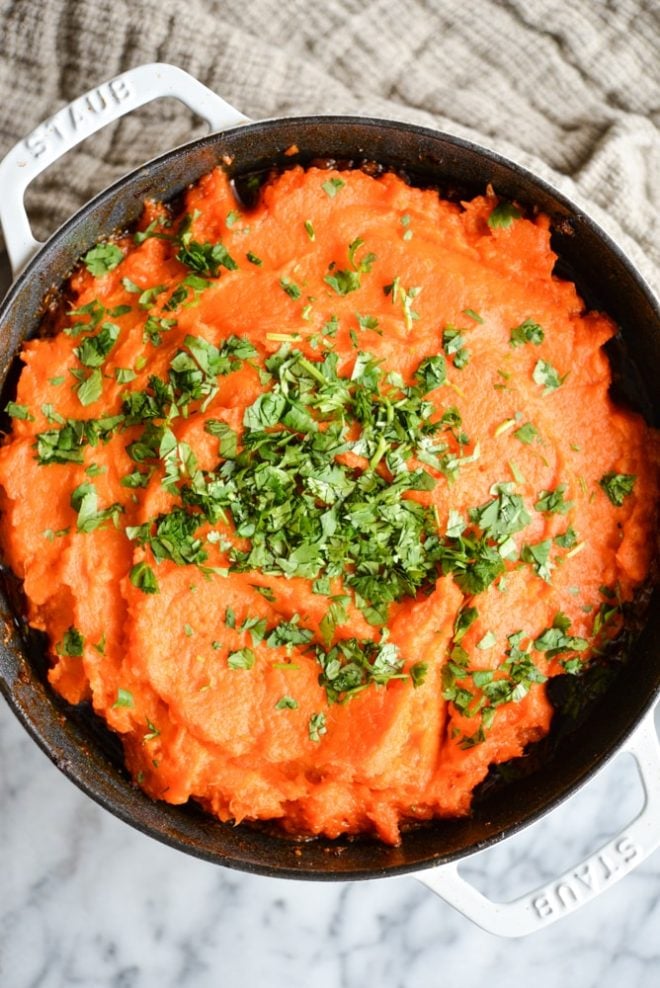 We're on the road again! This time we're headed back to San Angelo, TX (where my husband is from) to squeeze in a little Spring fun with Gray's cousins and some farm animals. We have a big trip coming up, so I'm happy to soak up a couple road trips to help us build our travel team muscles. Now a few trips in, I'm finding that travel with a 2.5 month old is actually easier than I thought! She's totally entertained by the passing cars, her reflection in the mirror, and Gus's tail swishing by as he paces. Baby Gray is currently exclusively breastfed, so feedings are a breeze in that we don't have to whip out any equipment (besides my equipment ;), bottles, or food stuffs. We just find a rest stop about halfway, Gus stretches his legs, and Miss Gray gets a snack!
The biggest travel adjustment has really been in Gus's arena. The sweet boy has a big area to lay down, but he's used to being able to sit with his head rested on the center (front seat) console. Now that he's restricted to the back, I think it hurts his feelings a bit. It breaks my heart! We're going to have to figure something out, but in the meantime, I think the setup is a good working draft.
Now, let's chat Mexican Cottage Pie. I LOVE THIS MEAL! My husband loves it, too. The process is simple and ends in a tasty, different (Mexican-style) spin on a cottage pie. I opted for a sweet potato mash for the top, which is where you'll want to start prepping. I like a baked sweet potato, but you could totally peel and boil them, too. You'll just want them cooked so that they're soft enough to mash. While the potatoes cook, get to making the filling! With part beef and part chorizo, this filling is loaded with delicious Mexican flavors and fun vegetables.
Note: Because I get the question a lot, my favorite chorizo is local to the San Antonio, TX area, but if I'm not at the local grocery store (HEB), I like to grab bulk chorizo from the Whole Foods meat counter.
Once the filling and topping are finished, assemble and bake together for a quick bit. BAM! A filling, delicious dinner is ready for the table OR ready for your freezer meal stash (it freezes really well).
I hope you enjoy!
This Mexican Cottage Pie is made with a creamy sweet potato top and flavorful chorizo + ground beefand pepper filling. It's an easy meal to whip up and makes great leftovers for the week!
Ingredients
For the Sweet Potato Topping:
3

pounds

sweet potatoes

about 3-5 medium sweet potatoes

3

tablespoons

butter or ghee

1 1/2

teaspoons

fine sea salt
For the Filling:
2

red bell peppers

deseeded and finely chopped

1

large poblano pepper

finely chopped

1

small onion

diced

3

cloves

garlic

minced

1

tablespoon

olive oil

1

pound

chorizo

2

pounds

ground beef

1

tablespoon

Mexican oregano

may substitute regular oregano if needed

2

tablespoons

chili powder

1

teaspoon

fine sea salt

6

ounces

tomato paste

fresh cilantro

for garnish
Instructions
Preheat oven to 375 F.

Place sweet potatoes on a rimmed baking sheet and bake for 45 minutes to 1 hour, until easily pierced with a fork.

Reduce oven heat to 350 F and let the potatoes cool, then peel away the skin and mash with butter and sea salt. Mix until smooth.

Brown the onion, peppers, and garlic in olive oil in a large pot over medium heat until wilted and slightly browned, then move to a bowl.

In the same pot over medium heat, add the chorizo and ground beef break up as it cooks. Keep cooking until the meat is browned, about 7-10 minutes.

Add the veggies back to the meat mixture along with seasoning and tomato paste. Mix until fully combined.

Add the meat mixture to a 9x13, or similar sized pan, and spread the sweet potato mixture on top. Bake at 350 for 30 minutes.

Remove from oven, let cool, garnish with cilantro, and serve!
Nutrition
Calories:
923
kcal
|
Carbohydrates:
58
g
|
Protein:
44
g
|
Fat:
57
g
|
Saturated Fat:
22
g
|
Polyunsaturated Fat:
2
g
|
Monounsaturated Fat:
17
g
|
Trans Fat:
2
g
|
Cholesterol:
170
mg
|
Sodium:
1512
mg
|
Potassium:
1676
mg
|
Fiber:
11
g
|
Sugar:
16
g
|
Vitamin A:
35174
IU
|
Vitamin C:
80
mg
|
Calcium:
142
mg
|
Iron:
8
mg