Every item on this page was chosen by The Fed & Fit team. The site may earn a commission on some products (read more here).
Today we're sharing everything you need to know about choosing a non-toxic rug for your home, from what to look for to the best companies to buy from!
This post is brought to you by Anne Garland from Grass Fed Salsa! Anne is a Nutritional Health Coach and incredibly knowledgable about all things detoxification – especially in the home.
The idea to choose a non-toxic rug did not enter my mind until I became pregnant with my first child. I had just started researching the best products to purchase for my baby's nursery when I stumbled upon information regarding the toxins that are common in conventional furniture, finishes, and decor.
In my search for information, I found area rugs to be a heavy hitter in the toxic burden of the average home. Finding a safer option became a big priority for me as I was about to have my daughter crawling, tummy-timing, and roughhousing on the floor for the next several years!
The good news is: it's not all doom and gloom! I've done all the legwork in analyzing and simplifying the information you need to choose a non-toxic rug that is both beautiful and affordable.
Are eco-friendly rugs the same as non-toxic rugs?
There are several considerations when it comes to identifying a non-toxic rug, but I first want to distinguish between eco-friendly rugs and non-toxic rugs. An eco-friendly rug includes properties and features that focus on protecting the future health of the planet as a whole, while a non-toxic rug is created using materials that are focused on the health of the humans that come into contact with it.
In your search for a non-toxic rug, you will likely come across marketing claims like "green", "sustainable", and "eco-friendly". While these features are good to consider for the environment, they don't necessarily mean they're safer for your health, so don't be misled into assuming as much.
What are the main toxic offenders in most rugs?
When it comes to choosing an area rug, there are a variety of materials and additives you want to take into consideration. Marketing techniques might lead you to believe a rug free from one toxic component can be deemed "non-toxic", but this just isn't the case.
I purchased a rug from West Elm made from wool with recycled cotton backing. It was Oeko-tex certified, flame-retardant-free, and stain repellent-free. Yet when I received it, the odor smelled so strongly of chemicals that everyone in the family got a headache from it. It took weeks for the odor to go away.
After researching what could have contributed to this chemical odor, I learned wool rugs require extra harsh dyes to color the fibers since wool is naturally stain resistant. Despite checking so many of the boxes for a safer solution, it had one factor that counteracted all of them, and it ended up contributing to the toxic burden of our home.
This is just one testament to share the importance of selecting a non-toxic rug with a holistic approach and to always look for reviews mentioning the smell or odor.
Here are a few things to be aware of when it comes to the main toxic offenders in most rugs:
Materials like polypropylene (also known as olefin or polyolefin), nylon, and polyester. These three are synthetic materials that are created through chemical processes. Synthetic materials aren't necessarily always harmful but can transfer chemicals to the skin depending on how it's produced.
Flame retardant chemicals are incredibly toxic, not very effective, and almost always applied to the synthetic materials listed above.
Natural materials like cotton and wool can also be an issue. These materials often are sprayed with pesticides and other chemicals when not properly sourced.
The synthetic rubber backing of rugs and rug pads can contain endocrine-disrupting ingredients.
Many rugs use toxic, high-impact dyes to color the fibers.
Formaldehyde, a probable carcinogen and ear, nose, and throat irritant, is found in adhesives used to make many building products and furniture including area rugs.
Stain and water repellent treatments are often made from perfluorinated compounds (PFCs). This chemical is known to get into the bloodstream and has been found in human breast milk.
Non-Toxic Rug Options
My undergraduate and graduate degree are both in Interior Design, so when I'm looking for healthy home furnishings and decor, I'm coming to it from a unique perspective: it not only needs to be safe, but it also needs to be beautiful. While there are some brands that offer safer solutions, they just don't fit the beautiful/trendy requirement and vice versa. These are several of my favorite rug options that meet both requirements.
FLOR is a brand that marries the convenience and durability of commercial carpet tile, with the colors and patterns you'd want in a residential area rug. FLOR comes in carpet tile, so you can make it whatever size you need. If you're looking for no-odor, eco-friendly, and incredibly durable, this brand is perfect for you.
It's also a good option for families and pet owners, since you can swap out 1 tile if you get a stain instead of replacing an entire rug. FLOR also eliminates the need for a carpet pad.
Don't let the carpet tile aspect scare you off – they have some fun and funky patterns like this palm print one! Pricing ranges from $8-32 per tile. For reference, an 8'x10' rug needs 30 tiles.
Safavieh is a brand sold by a lot of the big online retailers like Amazon, Overstock, and RugsUSA. When it comes to non-toxic options, it requires a bit more digging, as the majority of their options produced according to conventional methods. However, this brand has a good amount of beautiful and trendy options and is very well priced. I ended up purchasing 2 Safavieh rugs, neither of which had any odor upon arrival.
Here are my tips for finding a safer rug from Safavieh:
Use the "filter" tool to search for rugs with natural materials like cotton, wool, jute, and sisal. Silk is another natural material but is only recommended for bedrooms due to durability concerns.
Double-check the material content listed for the rug! Often times I'd find a polypropylene rug that somehow was filtered under my natural material search.
Once you find an option you like, contact Safavieh customer service (they have a live chat feature on their website) to see if they use stain repellents and fire retardants on the rug you're considering.
Keep in mind the dyes used for these rugs are likely not low impact, but I look at this brand with a "progress, not perfection" mindset.
That's it! I purchased this rug in 2 colors (it was confirmed free from all surface treatments) and I've been happy with the durability and look. This rug was only $245 for an 8'x10'. A steal!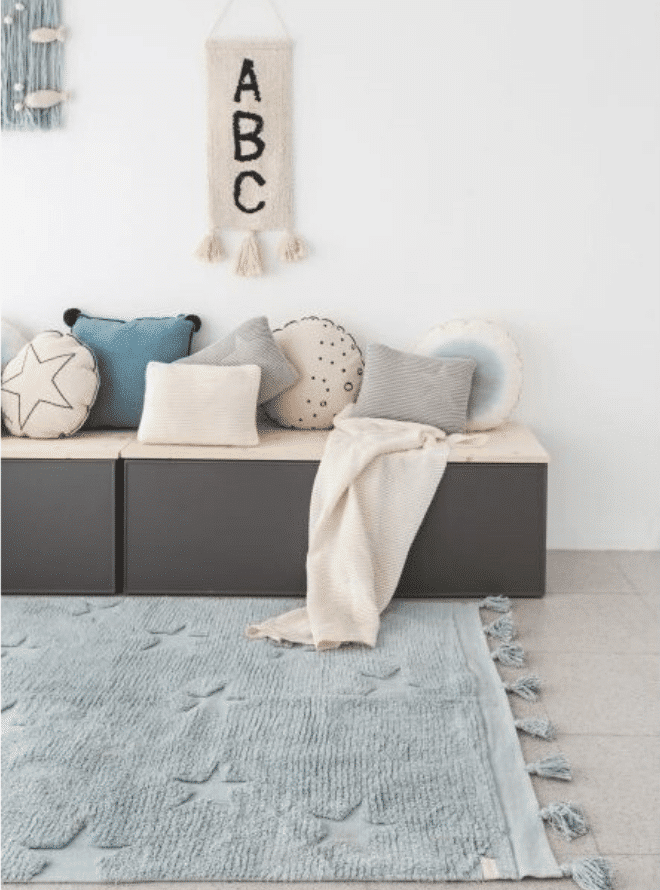 Lorena Canals has rugs designed for children that are absolutely adorable. The only downside is the size limitations. As a designer, one of my pet peeves is a rug too small for the space. What I suggest doing if you choose to purchase a smaller rug from Lorena Canals is to layer it on top of a larger neutral rug. You can see two examples of layered rugs here and here. This look works really well with using an inexpensive, large jute or sisal rug as the base, and a more colorful, patterned, smaller rug on top.
Here's a combo I considered for my daughter's room – one of Lorena Canal's fun rugs layered on top of a simple Hook & Loom rug (below).
Rugs are around $325 for 4'7" x 6'7".
Hook & Loom offers affordable rugs in basic colors and patterns. You can use these to add a tonal texture to your room or to layer with a smaller, more heavily patterned rug like I shared in the Lorena Canals description.
I love the undyed supple wool option in the Perth pattern. Pricing for this rug starts at $42 and goes up to $1075 for a 10' x 14'.
If you're wanting to really invest in a rug, ecoFiber Custom Rugs is a great option. These rugs are non-toxic, beautifully made, and designed to suit your aesthetic. The price per rug is going to be higher and will depend on size and complexity in pattern.
Practical Tips for your Non-Toxic Rug
In a perfect world, these toxin concerns would be non-existent, and there would be no need for additional research. Unfortunately, that's not the case. This means you may end up with a rug that has questionable materials, treatments, and odors.
Or, you might feel as though you've made a great choice in sourcing a non-toxic rug, and so you want your investment to last! Here are tips for times like these:
What can I do if my rug isn't completely non-toxic?
If you can't find a rug that is free from all of the main toxic offenders I mentioned above, I suggest allowing it to off-gas outside, in direct sun. The sun will help speed up the off-gassing process. Leave it outside in the sun for as long as possible before bringing it into your house.
How can I minimize chemical odors?
Absorb some of the smell you may encounter when purchasing a conventional area rug is to sprinkle it with baking soda, leave it on overnight, and vacuum it the following morning.
What's the best way to extend the life of my non-toxic rug?
If you've worked hard to source a non-toxic area rug you love, you'll want to take care of it to keep it looking new. Here are 3 ways to do just that:
Use a rug pad, but not just any rug pad (see the "toxic-offenders" section when I talk about backing). A rug pad helps protect the rug, keeps it from slipping, and is key to maintaining it. I like using felt or wool rug pads like this one, or a 100% natural latex rug pad like this one from Earth Weave.
Turn off the brush roll on your vacuum. When I was working as a professional interior designer, the number 1 thing every rug rep would tell us to maintain the look of their rugs is to never use the brush roll on them. It's stuck with me, and now unless the rug is seriously shedding, or my daughter tracked in a lot of dirt, I just use the "hardwood" setting when vacuuming my more delicate rugs.
Take shoes off at the door! This tip is two-fold: not only does it help keep your rugs looking new, but it also stops you from bringing environmental toxins, like pesticides, into your home. A good habit to get into is to remove your shoes in your entry or mudroom, and put on a pair of house shoes instead.
Now that you're equipped with the knowledge and options for non-toxic area rugs and safer options, I'd love to hear what you choose! Comment below to let me know your favorites.
Anne Marie Garland is an Interior Designer turned Health Coach with a passion for healthy homes. She founded the wellness website Grass Fed Salsa where she shares holistic wellness articles, and Whole30 and AIP friendly recipes. You can find her on Instagram at @grassfedsalsa.
More of our Favorite
Safer Home Articles