Old-Fashioned Gluten-Free Stuffing
jump to recipe
This Old-Fashioned Gluten-Free Stuffing is filled with buttery, garlicky homemade croutons, crumbled Italian sausage, and a whole lot of love. I hope it brings you some joy during the holidays!
If I had to pick one recipe, one single dish that would be an instant edible representation of Thanksgiving …it would not be a turkey. It would be stuffing! No, I'm not "stuffing" (verb) this mixture into a bird, so yes, you could call it "dressing." I grew up calling baked-separate from the bird "stuffing" (noun), so that's what we're going with today. Gosh I love this stuff. Growing up, our stuffing was a mixture of croutons, Italian sausage, celery, onion, garlic, a few spices, and broth. I'd watch admiringly as my mom whipped up the simple starchy casserole, popped it in the oven, and then I'd count down the minutes until I could make myself the perfect Thanksgiving fork: part stuffing, part turkey (dark meat, obviously), and part cranberry sauce. Goodness gracious, my mouth is watering just thinking about it.
Since I started pursuing a real food-based diet and truly going gluten-free (makes me feel SO much better than I did before), I haven't had old fashioned stuffing! It still shows up on a few of our gathered family tables during the holidays, but I'll opt out. While there *are* occasions for indulging in a few bites of conventionally-prepared foods (as a part of my own #perfectyouplan), I usually limit those to the dessert table.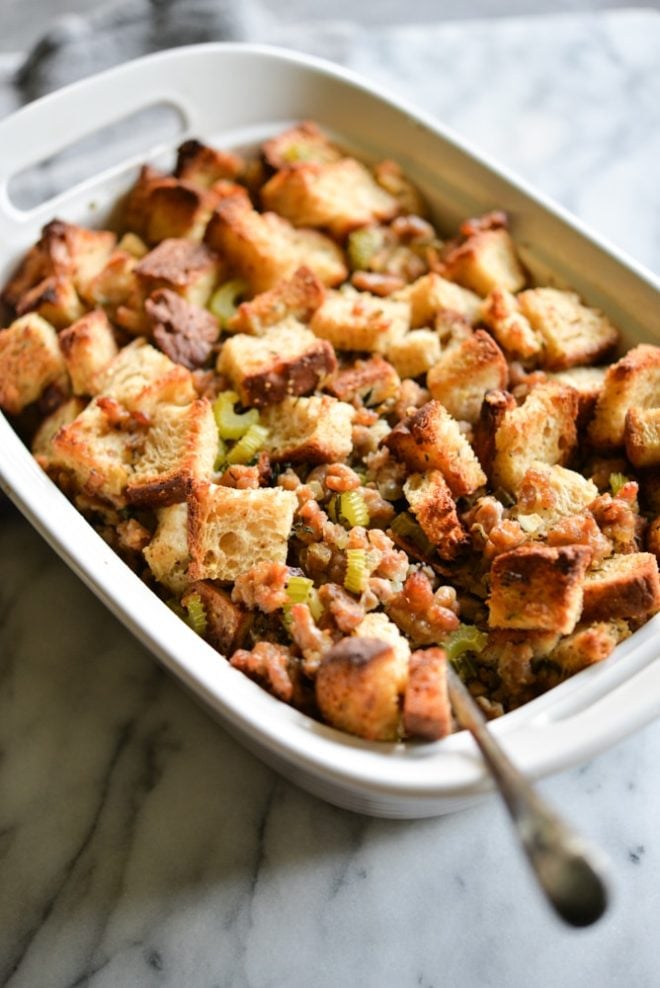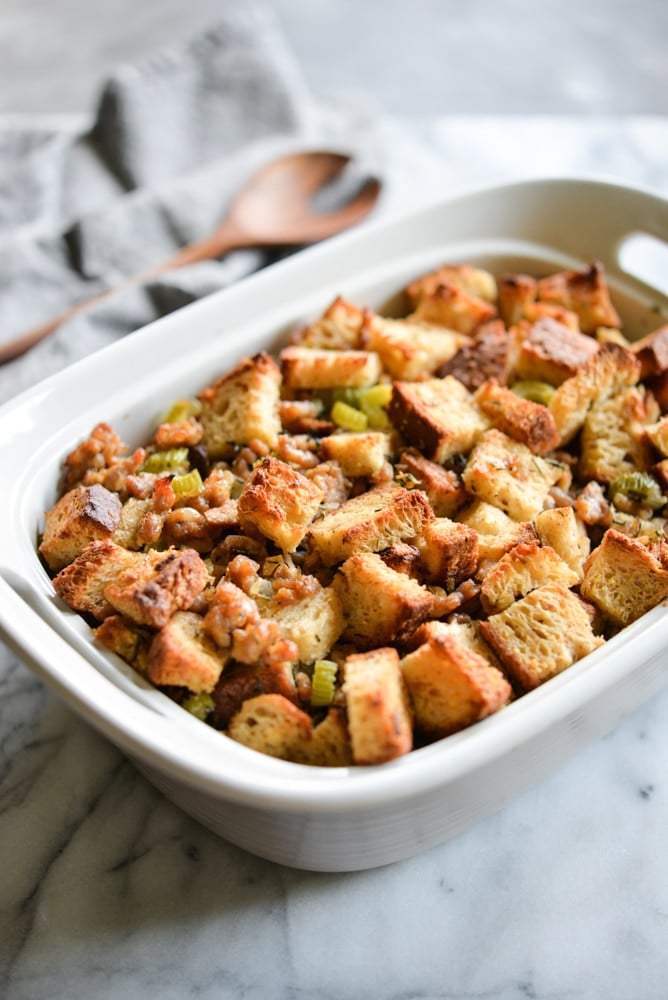 For the last couple years, since my immediate family members also realized how much better THEY feel since avoiding wheat gluten, we've concocted a gluten-free stuffing all of our own. It's made the old-fashioned way, too. We use a tasty bread, toss it in butter + garlic + salt, and toast to form our own homemade croutons. I wish you luck as you attempt to not eat ALL the buttery, garlicky croutons when they come out of the oven.
While the croutons bake, cook some Italian sausage until it's perfectly browned. Add in the celery and onion, cook until it smells like heaven, and then toss it all together in a large bowl. Sage and rosemary, fresh if you can, make this recipe instantly smell/taste like the holidays.
Pour the mixing into your favorite casserole dish and then add the broth over top. Bake, as you would any other stuffing, until the top is slightly browned! Let cool a bit and serve. This old-fashioned gluten-free stuffing is so good. It's made with love, delicious ingredients, and a nod to history.
I hope you enjoy and that this recipe brings you some joy this Holiday season!
Print
Old-Fashioned Gluten Free Stuffing
Author:
Prep Time:

30 minutes

Cook Time:

40 minutes

Total Time:

1 hour 10 minutes

Yield:

8-10
Ingredients
4 tablespoons

butter, melted

1/2 teaspoon

fine sea salt

2

cloves of garlic, minced

1

loaf of gluten free bread, cut into

1

-inch cubes

1

pound Italian sausage

4

stalks of celery, cut into thin slices

1

medium sweet yellow onion, diced

1 tablespoon

chopped fresh rosemary

2 teaspoons

chopped fresh sage

1 teaspoon

chopped fresh thyme

2 cups

chicken broth
Instructions
Preheat oven to 375 F.
Toss the bread cubes with the melted butter, garlic, and sea salt. Spread the seasoned bread onto a sheet pan and bake for 10 minutes at 375 F, or until the tops are starting to brown.
While the croutons are baking, crumble and cook the sausage in a medium-sized pan over medium heat until it's evenly browned. Add the celery and onion. Stir to combine and continue cooking until the celery and onion starts to wilt. Turn off heat and set aside.
Once croutons are finished baking, reduce oven heat to 350 F. In a large mixing bowl, combine the croutons with the with cooked Italian sausage crumbles, celery, onion, rosemary, sage, and thyme.
Pour the stuffing mixture into a 9″ x 13″ baking dish, pour bone broth over top, and bake for 30 minutes, or until the top is golden brown.
Let cool 5-10 minutes and serve!