Freeze! Before you make your last run to the grocery store for Thanksgiving, give this Paleo Green Bean Casserole a look.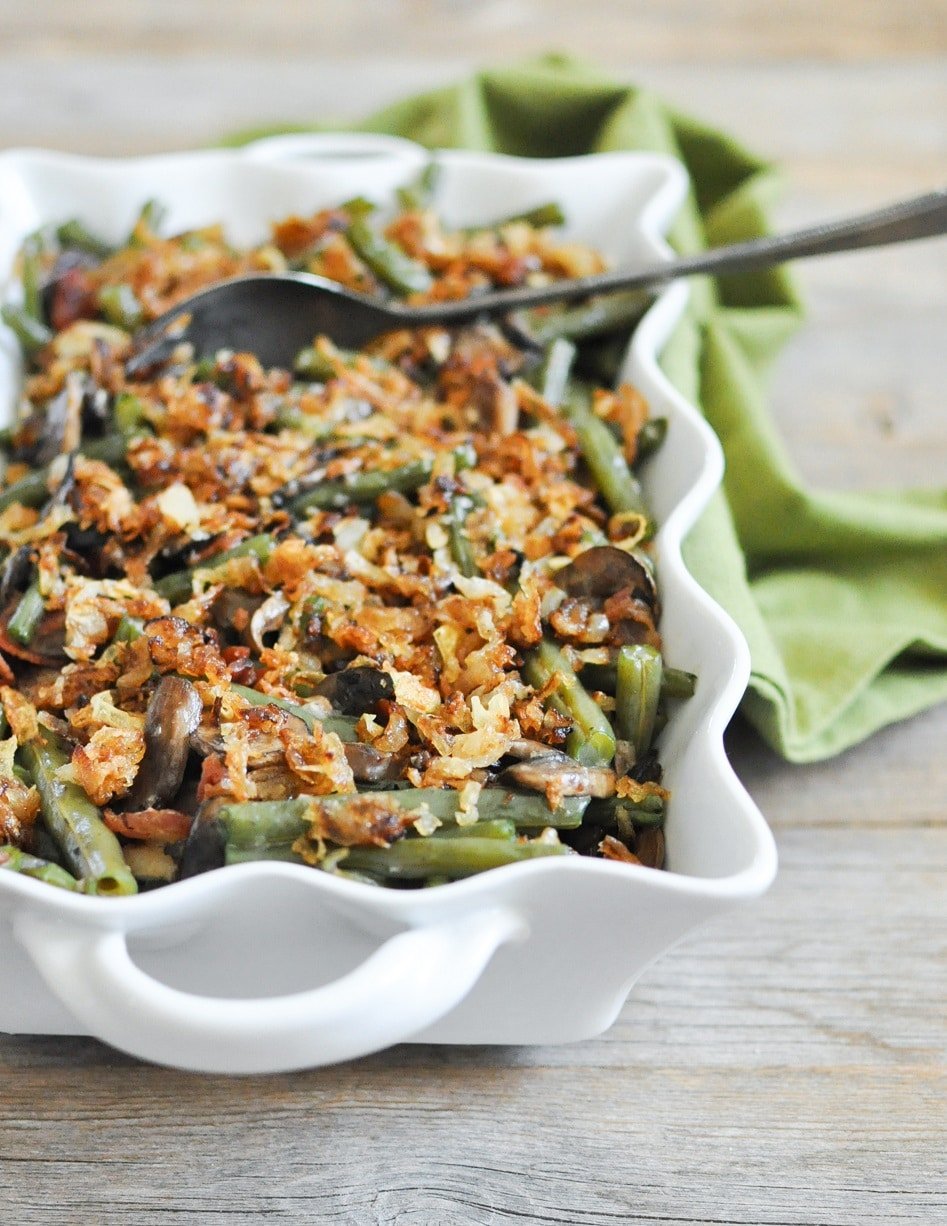 Healthy Green Bean Casserole (Paleo, Gluten Free, Dairy Free)
Are Green Beans Paleo?
Okay, the paleo purists will argue that green beans aren't paleo … I put them into the "okay" column of borderline vegetables. I'm especially okay with them because Green Bean Casserole is my all time favorite holiday dish. I was the weird little kid going back for 3rds … of veggies.
Green Bean Casserole Ingredients
What's involved in this paleo casserole? Glad you asked! We've got some homemade paleo French's fried onions (baked & probably the best part), fresh green beans (goodbye canned), bacon (duh), and an awesome paleo gravy.
The paleo gravy combined with the delicious sauté of shallots, bacon, garlic, and mushrooms subs for the typical can of mushroom soup used in the American classic green bean casserole.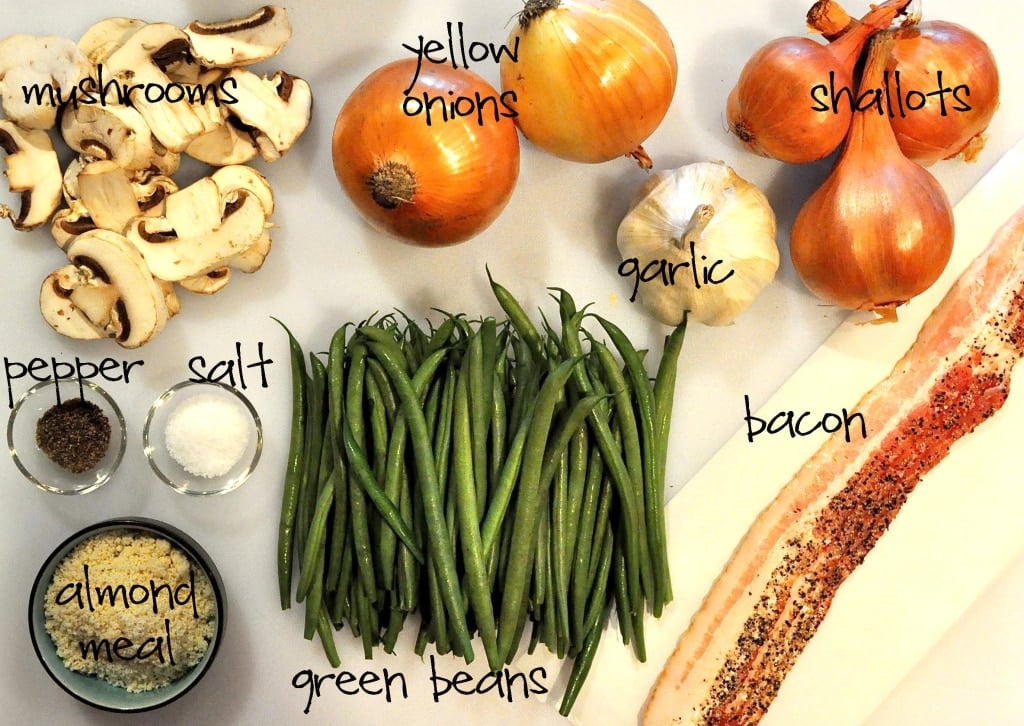 Can you make Green Bean Casserole ahead of time?
You can make this dish a day … or two … ahead or make and serve right away.
I get to spend this year's Thanksgiving with my boyfriend's family! I sure hope they think this looks tasty 😉
Gus and I are headed North/West equipped with this casserole and my Grandmother's Apple Pie (not paleo). After all, what's Thanksgiving without a little apple pie?
I wish you all a safe, blessed, and filling Thanksgiving Holiday!
Much love & many thanks,
Cassandra & Gus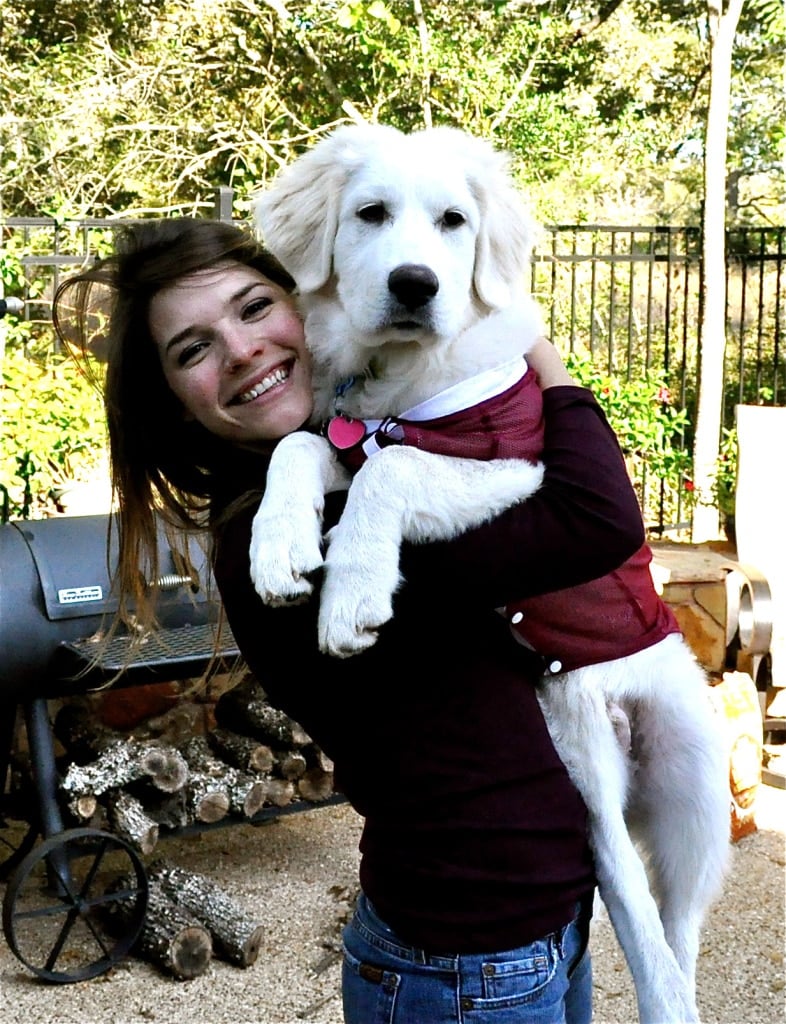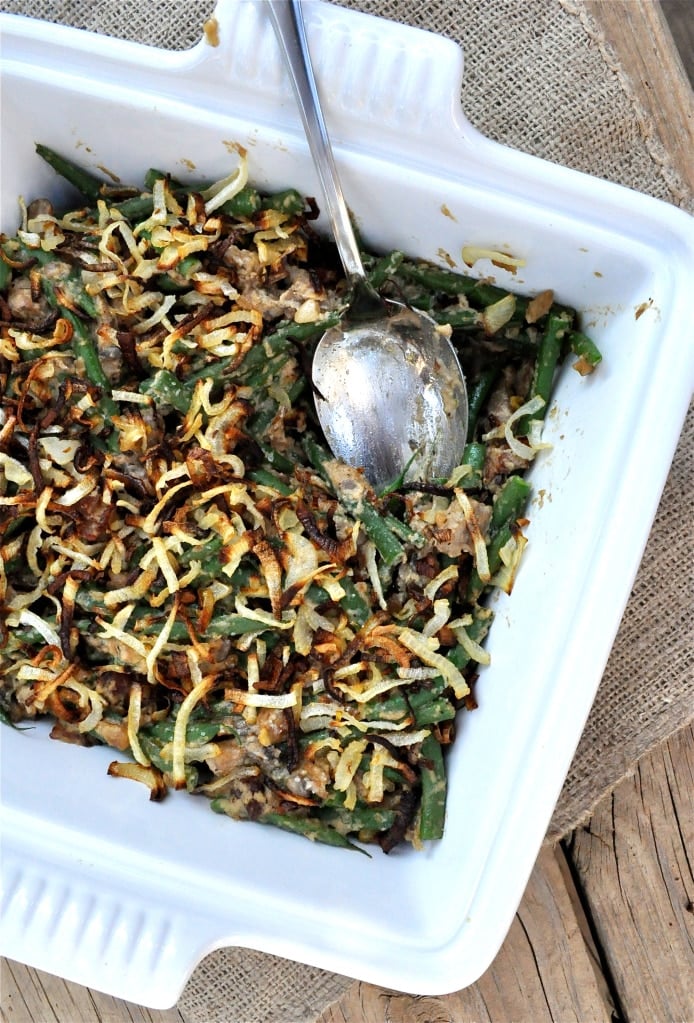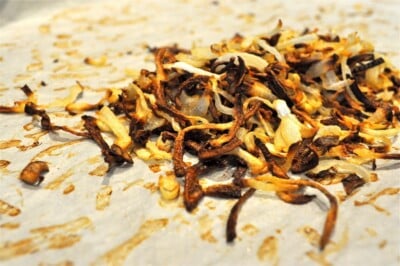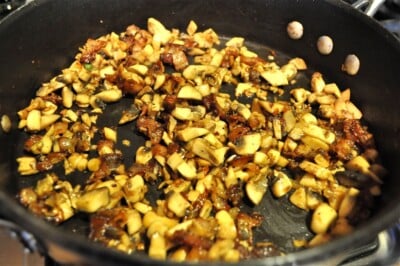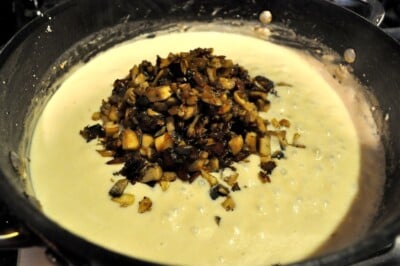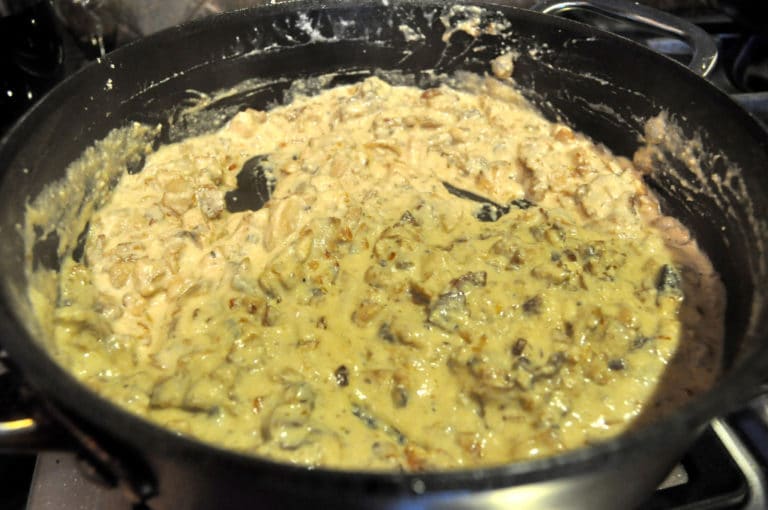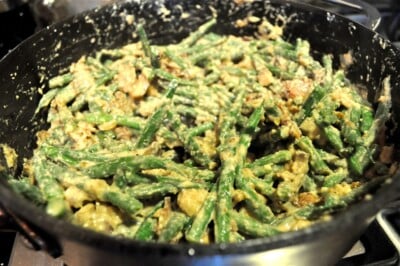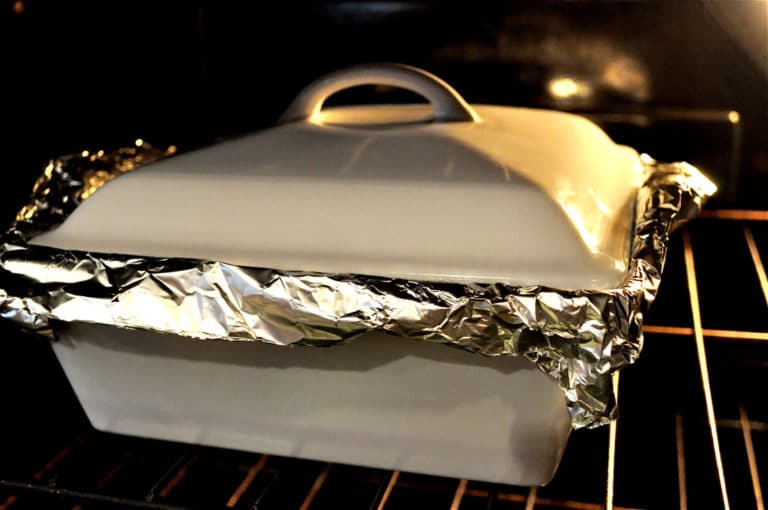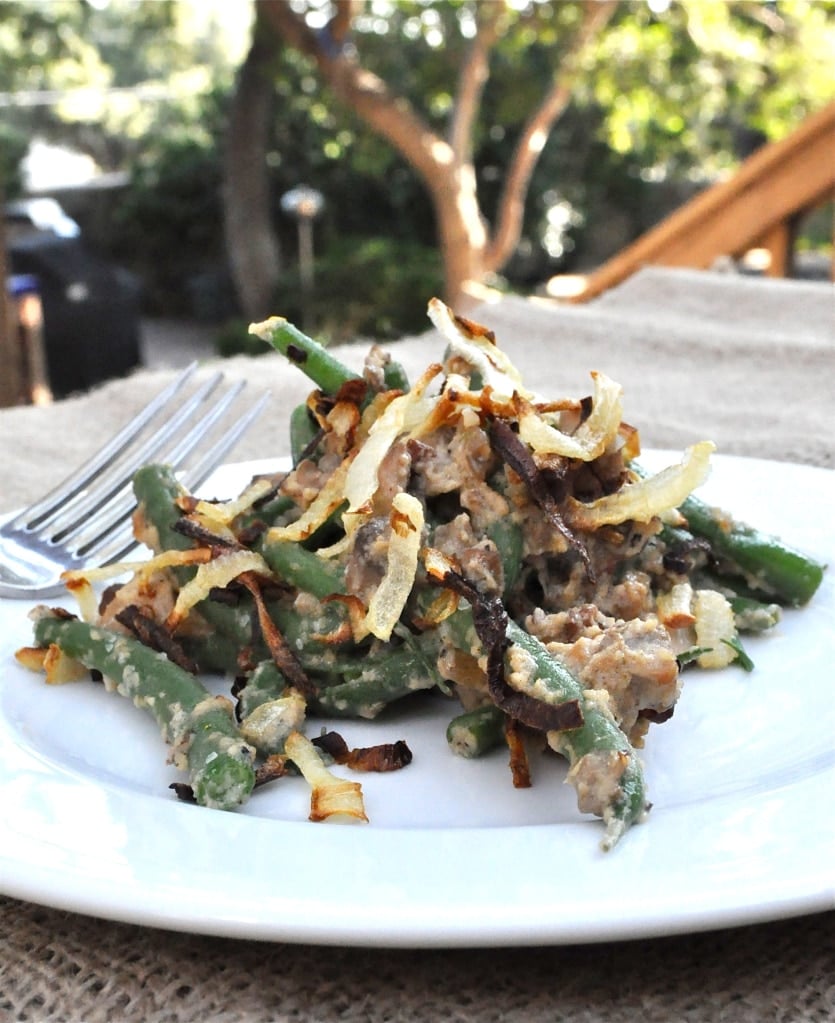 Just for You
Veggie Recipes
Want more recipes like this?
Paleo Green Bean Casserole Recipe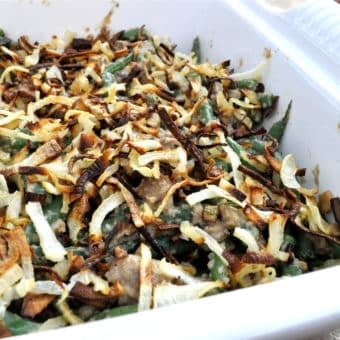 This Green Bean Casserole is a delicious paleo, gluten free version of the holiday classic!
Ingredients
Version 1:
1

lb

Fresh Green Beans

– I prefer Haricot Vert

8

oz

Roughly Chopped Mushrooms

4

oz

Bacon

about 5 large strips

1

cup

Thinly Sliced Yellow Onions

1/2

cup

Finely Chopped Shallots

3

Cloves

Garlic Minced

½

cup

Almond Meal

1.5

cups

Unsweetened Almond Milk

3

teaspoons

Sea Salt

2

teaspoons

Cracked Black Pepper

2

tablespoons

Extra Virgin Olive Oil

EVOO
Version 2:
1

medium yellow onion

cut into 1/4 inch discs

1

egg

beaten

1

cup

pork rinds

powdered

1 1/2

pounds

fresh green beans

cleaned and ends trimmed off

2

tablespoons

butter

ghee, or bacon fat

8

ounces

button mushrooms

sliced 1/4 inch thick

1

can

full-fat coconut milk

2

tablespoons

arrowroot powder

1/2

teaspoon

sea salt

1/4

teaspoon

ground black pepper

1

pound

bacon

crispy & roughly chopped
Instructions
Version 1:
Preheat oven to 350 F.

Line a baking sheet with parchment paper. Aluminum foil is an acceptable substitute.

Drizzle 1 Tbl EVOO on the thinly sliced yellow onions and sprinkle with 1 tsp sea salt. Massage the EVOO and salt evenly into the onions with your hands. Spread the onions out on the baking sheet evenly.

Bake for 30 minutes at 350F, removing from the oven and stirring/flipping every 10 minutes. You're looking for a brown/crispy texture. [Note: cook for an additional 5+ minutes if they aren't crispy enough].

Put a large pot of water and salt on high heat and bring to a boil.

Roughly chop the bacon and add to a sauté pan on high heat. Lightly crisp the bacon then add the chopped shallots. Once the shallots are slightly clear, add the minced garlic. After a few minutes, add the mushrooms and continue to stir on medium/high heat.

Cut the green beans into half and add to the water when it starts boiling. Boil for 5 minutes then remove from the water and place in a bowl. When the mushrooms have cooked down and have a golden color, remove the entire bacon/scallion/garlic/mushroom mixture and place aside in a separate bowl.

With the heat on medium/low, add 1 Tbl EVOO and 1 cup of the almond milk and stir with a metal whisk.

Add half of the almond meal and whisk until it dissolves. Carefully add the rest of the almond milk and almond meal, whisking the mixture together over a medium simmer.  Add 2 tsp sea salt and the 2 tsp pepper.  Whisk until the gravy thickens slightly to the texture of heavy cream. Reduce the heat and add the bacon/mushroom mixture then stir.

Add the green beans to the sauté pan and stir. Pour the entire mixture into a medium-sized casserole dish. Cover with aluminum foil & the lid (if you have one) and bake at 350F for 15 minutes.

Remove the foil/lid and sprinkle the dried onions evenly on top.

Place back in oven for 5 minutes at 350F uncovered. Enjoy!
Version 2:
Break apart the onion discs so that you have rings. Toss them in the beaten egg and then coat each onion in the powdered pork rinds. Lay them out on a parchment paper-lined baking sheet. Bake at 300 for 30 – 45 minutes (or until they start to brown and look crispy). Remove from the oven and set aside and roughly chop up when cooled.

Put the trimmed green beans in a large soup pot and cover with water. Set over medium heat and once it comes to a simmer, set the timer for 10 minutes. After 10 minutes, drain and dunk in some cold or ice water to stop the cooking process.

In a large sauté pan, melt the butter. Add the mushrooms and sauté until they're reduced in size and browning.

Add the coconut milk then whisk in the 2 tablespoons of arrowroot.

Stir in the salt and pepper and let simmer, stirring continuously, for about 5 minutes.

In a large bowl, toss the green beans with the mushroom gravy and chopped bacon.

Pour into a 9×13" casserole dish, cover with aluminum foil, and bake at 350 for 40 minutes.

Remove from oven, toss the chopped onions on top and return to the oven again (uncovered) at 350 for an additional 5 minutes.

Serve warm.
Nutrition
Calories:
609
kcal
|
Carbohydrates:
24
g
|
Protein:
20
g
|
Fat:
51
g
|
Saturated Fat:
22
g
|
Polyunsaturated Fat:
6
g
|
Monounsaturated Fat:
17
g
|
Trans Fat:
0.2
g
|
Cholesterol:
78
mg
|
Sodium:
1663
mg
|
Potassium:
844
mg
|
Fiber:
7
g
|
Sugar:
9
g
|
Vitamin A:
1128
IU
|
Vitamin C:
23
mg
|
Calcium:
161
mg
|
Iron:
4
mg