Today's post is brought to you in partnership with my friends at Northwest Cherry Growers! We're talking about how you can whip up this simple salmon with a homemade Sweet Northwest Cherry BBQ sauce AND we're sharing some tips for preserving the healthy powers of sweet cherries to enjoy year-round – the fresh sweet cherry season is just wrapping up, so stock up while you can!
Let's Talk Sweet Cherries!
Unlike some think, cherries are actually drupes, not berries! This means that they're one of the tiniest in the stone fruit family and, I argue, the one family member that packs the most nutritional value. If you're looking for an antioxidant, anti-inflammatory POWERHOUSE, the sweet cherry has your back. Sweet cherries are rich in an important flavonoid, anthocyanin. Anthocyanin has been known to have a pain-relieving impact on the body similar to that of ibuprofen (minus the gut damaging effect of an NSAID). In the rich cherry flesh, you can also find the antioxidant ellagic acid. Ellagic acid has been observed to slow the growth of cancer cells. These are incredible reasons to enjoy cherries!
Additionally, for fruit with this amount of natural sweet flavor, they actually rank pretty low on the glycemic index (meaning that the sugars release slowly). If you have a hankering for a sweet treat, the cherry is the perfect choice if you're not wanting to rev up a sugar addiction.
3 Tips for Storing This Season's Cherries for Later
The sweet cherry season is relatively short and peaks (here in the US) in August! So, NOW is the best time to stock up on these powerful, delicious, gorgeous little drupes! What do we do with all of these in-season (aka. superior in taste, quality, and price) cherries? Aside from what you enjoy right away, here are 3 ideas for preserving your cherries:
FREEZE: this is the easiest! Just wash, pit, and slice cherries in half! Then, spread them out on a plate or sheet pan so that they can freeze solid. From here, transfer to a large bag. Freezing them on a tray first helps keep the frozen fruit from sticking together. You can use these cherries for anything in the future! I like them in smoothies, in savory dishes (like today's BBQ sauce), and for the occasional decadent fruit salad!
DEHYDRATE: simply wash, pit, and slice those cherries in half! Then, spread them out on your dehydrator so that you can enjoy the dried cherries for months to come. I will keep mine in the freezer so that they stay really fresh (no need for preservatives this way). I will toss them in trail mix, cookies, and the occasional cherry-studded coffee cake.
CAN: my favorite way to make cherry preserves is really simple. I simply wash and pit the cherries then cook them down with a little lemon juice, a pinch of sea salt, and just a touch of honey. The resulting "jam" is incredibly delicious, and I find myself using it on everything! I've smeared it on my morning gluten-free toast, used it in pies, and slathered it over baked brie for an unforgettable party appetizer. I have another recipe coming for you this Fall/Winter that will make use of some classic cherry preserves!
Sweet Cherry BBQ Sauce
This Sweet Cherry BBQ Sauce is THE BOMB, my friends. Seriously, it's so good. It comes together quickly, too. All you need to do is scoop a couple cups of washed, pitted sweet cherries and place them in a small sauce pan. Let them cook down with a bit of molasses, apple cider vinegar, and a pinch of sea salt. Once a jam-like texture is achieved, add some tomato sauce and just a kick of cayenne pepper. Let the flavors cook together a bit longer then blend lightly with an immersion blender. I like mine with a bit of a lumpy texture (so you get bits of cherries), but you could also blend smoothly.
This sauce is great on ANYTHING, but I made mine on a big salmon filet! Just smear it over the salmon and bake at 350 F for about 14 minutes. I garnished with a few more fresh sweet cherries and the whole family was on cloud 9.
This sauce would also be great on chicken, a brisket (even in a slow cooker or pressure cooker!), and on pork. Have fun with it!
Salmon with Sweet Cherry BBQ Sauce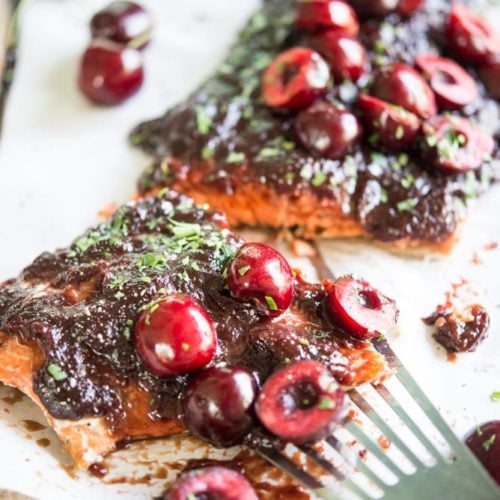 This Sweet Cherry BBQ Sauce is THE BOMB, my friends. Seriously, it's so good. It comes together quickly, too. 
Ingredients
For the Sweet Cherry BBQ Sauce:
For the salmon:
1

large salmon filet

deboned

1

cup

fresh pitted cherries

1/2

teaspoon

fine sea salt

1/4

teaspoon

ground black pepper

fresh parsley

finely chopped, for garnish
Instructions
For the Sweet Cherry BBQ Sauce:
Place the cherries, molasses, vinegar, and salt together in a small sauce pan. Cover and simmer for about 30 minutes on low, or until the cherries have popped or softened in texture.

Add the tomato sauce and simmer for an additional 10 minutes.

Using an immersion blender (or by pouring the sauce in a regular blender), blend the sauce until you reach a desired consistency.

Season with the cayenne pepper.

Note: if the sauce seems too thick, add a tablespoon of water until it reaches a consistency you're happy with.
For the salmon:
Pre-heat the oven to 350 F and line a rimmed baking sheet with parchment paper.

Season the salmon with the sea salt and pepper, then place on the baking sheet.

Spoon about half of the BBQ sauce over the salmon.

Bake at 350 F for 14 - 16 minutes. Garnish with the fresh cherries and parsley.

Serve and enjoy!
Recipe Notes
The leftover BBQ sauce will keep stored in your refrigerator for up to 2 weeks.
Nutrition
Calories:
271
kcal
|
Carbohydrates:
27
g
|
Protein:
24
g
|
Fat:
8
g
|
Saturated Fat:
1
g
|
Polyunsaturated Fat:
3
g
|
Monounsaturated Fat:
2
g
|
Cholesterol:
62
mg
|
Sodium:
759
mg
|
Potassium:
1110
mg
|
Fiber:
3
g
|
Sugar:
23
g
|
Vitamin A:
410
IU
|
Vitamin C:
11
mg
|
Calcium:
57
mg
|
Iron:
2
mg