Grilled chicken breasts have the potential to be really juicy and delicious — whether you're a grill-master or a newbie, this recipe is for you!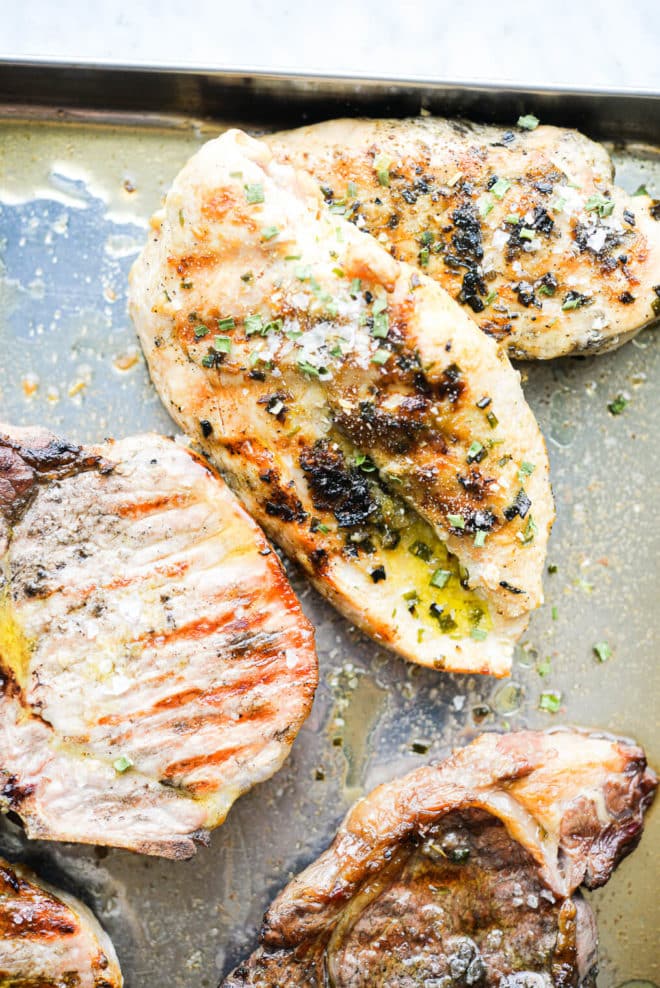 What makes this Grilled Chicken Breast recipe so good?
Chicken breast is such a humble protein! It's also one of those proteins that's considered super "healthy," and because of that, it can get a bad rap. While chicken breast can absolutely be dry and overcooked, it can also be really juicy and delicious. Cassy took to the grill to perfect this chicken recipe so that grill-masters and novices alike can enjoy a really delicious (read: not bland and dry!) chicken breast in less than 15 minutes.
Ingredients for Grilled Chicken Breast
When it comes to grilling, simple is best! Here's what you'll need to make perfect grilled chicken breasts:
Chicken Breast – to start, you'll need about 1 pound of boneless, skinless chicken breasts.
Extra-Virgin Olive Oil – 1 tablespoon of extra-virgin olive oil will keep the chicken from sticking to the grill while also providing some flavor. Adding some good, healthy fat to the outside of the chicken will also allow it to get a nice crispy char.
Your Favorite Spice Blend – you'll season the chicken breasts with a tablespoon of your favorite spice blend (Cassy used Super Garlic). Some of the seasoning will fall off while the chicken is grilling, so feel free to sprinkle a little bit more on just before serving, if you'd like.
Sea Salt – if your blend of choice doesn't include a lot of salt, go ahead and add about 1 teaspoon of sea salt. If you feel like your blend takes care of the salt, feel free to leave it off.
How to prepare for grilling chicken breast?
There isn't much to prepare here! You'll want to, of course, preheat the grill and season your chicken breasts, but other than that, the prep is pretty minimal.
How to season chicken breast?
Before seasoning the chicken breasts, you'll coat them in olive oil. This will really help your spice blend to stick to the chicken breasts (though some will still fall off, and that's okay!)
Seasoning vs. Grilled Chicken Breast Marinade?
Both of these options are great. We have a really delicious grilled chicken marinade coming to the website soon, but until then, these 5 chicken marinades are all really delicious options. When it comes to deciding whether to dry season or marinade, it mostly comes down to the amount of time you have — marinating isn't difficult at all, but it does require some ahead-of-time prep.
How to Grill Chicken Breast
Here's how you'll pull this recipe together:
Preheat the grill – to start, go ahead and preheat the grill to medium-high heat — about 450°F.
Oil and season the chicken – coat the chicken in olive oil, then season with the spice blend on both sides.
Grill the chicken – place the chicken directly on the grill grates, close the grill lid, then cook for 5-6 minutes per side, until a thermometer inserted into the thickest part of the chicken breast registers 165°F.
Let the chicken rest, then serve – let the chicken rest for at least 10 minutes, then slice and serve.
Tips for Grilled Chicken Breast Recipes
While I (Brandi) am no pro on the grill, Cassy is! Here are her best grilled chicken breast tips:
Try to not mess with the chicken once they're on the grill grates too much. If you constantly open the grill lid to peek and see if they have grill marks, you could cause uneven cooking – which will just add time to your cooking process and can result in some uneven textures. Best is to follow the timing method we have here and then if you want to adjust the process, make notes and do it differently the next time (vs. switching mid-grill).
Don't be afraid to season your chicken directly on the grill grate. I'll usually season one side, place that side face-down, and then season the top while it sits on the grate. This saves on mess and allows for less fall-off during transfer.
Make sure your chicken rests! If you've encountered dry chicken in the past, it could be that you didn't let it rest long enough. If when you cut into your chicken a lot of liquid seeps out onto your cutting board, you cut it too soon.
Do you grill chicken covered or uncovered?
While you will want to utilize the grill lid (keeping it closed after placing the chicken on the grill + after flipping), you won't need any extra sort of covering for the chicken.
How do you grill chicken without drying it out?
In short: don't overcook it. Sounds easier said than done, right?! Here are a few ways to help ensure perfectly cooked chicken:
Watch the heat – first, don't grill over too high of heat because the outside will burn before the inside is cooked.
Marinate ahead of time – if you're worried about overcooking your chicken breasts or you're new to the grill in general, try marinating the chicken a couple hours before cooking. This will help keep the chicken nice and juicy!
Use a thermometer – we can't stress this one enough — using a meat thermometer is the *most* effective safeguard against overcooked chicken. As soon as the chicken reads 165°F, pull it off the grill.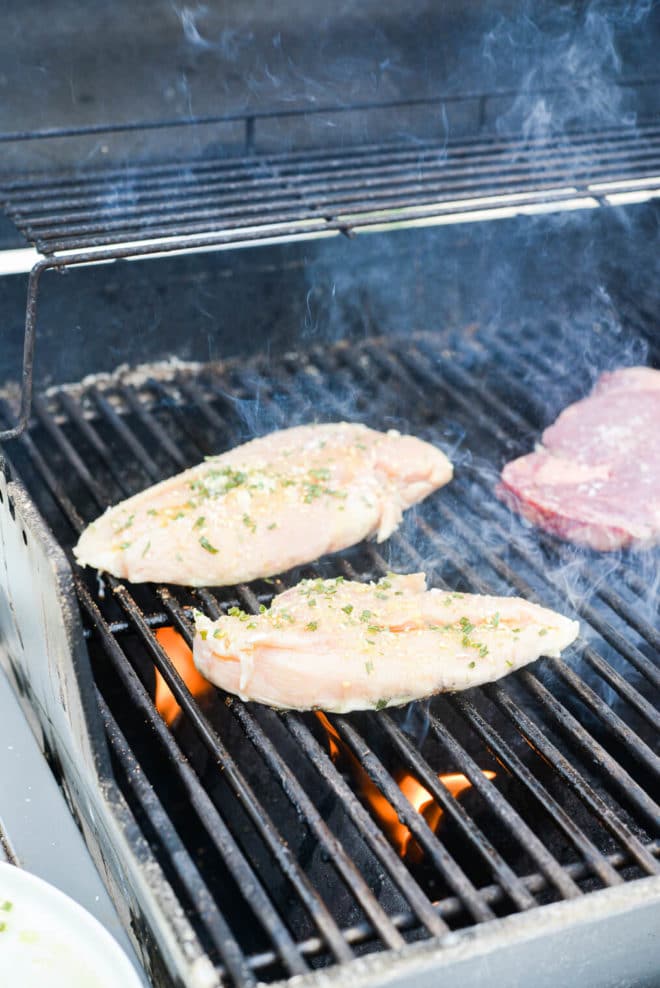 How to avoid the chicken sticking to the grill?
There are a few things you can do to keep your chicken from sticking to the grill grates: rub the chicken with oil before grilling, make sure not to flip your chicken too early, and be sure to clean the grill grates before putting the chicken on. The best time to clean your grill grates is actually after pulling your food off, white everything is still hot — this helps to get all of the junk off of the grates while also getting ahead on a clean grill for the next time.
Note that once the chicken has a good char/grill mark, it'll come off the grill grate more easily.
How long to grill chicken breast on the grill and at what temperature?
Grilling chicken breast shouldn't take longer than about 12 minutes total (5-6 minutes per side). You'll know for sure that your chicken is ready to come off of the grill once the internal temperature reaches 165°F, though.
What should the internal Grilled Chicken Breast temp be when done?
Be sure to use a meat thermometer to check the temperature of your chicken before pulling it off of the grill. The internal temperature of the thickest part of your chicken should be 165°F.
Can I freeze grilled chicken breast? For how long?
Sure! When freezing grilled chicken breast, I actually prefer to go ahead and chop it or slice it before freezing, and I always count on enjoying it in something once thawed (vs. as a standalone chicken breast). It's best to use your grilled, frozen chicken within 4 months of freezing.
How to reheat grilled chicken breast?
You can reheat refrigerated grilled chicken breasts in the microwave or in a skillet on the stovetop.
What to serve with grilled chicken breast?
Grilled chicken breast is great alongside any sides you love — one starchy side and one green veggie side is typically what I go for. Here are a few ideas:
Grilled Chicken Breast Recipe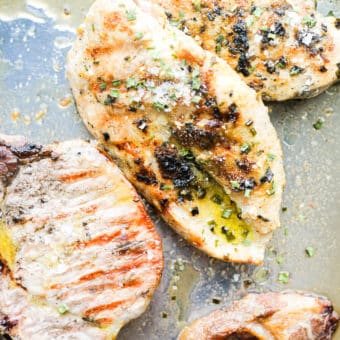 This fail-proof grilled chicken breast recipe results in the juiciest, most delicious grilled chicken every time!
Ingredients
1

pound

boneless, skinless chicken breast

1

tablespoon

extra-virgin olive oil

1

tablespoon

spice blend of choice

I used Super Garlic

1

teaspoon

sea salt

if needed
Instructions
Preheat the grill to medium-high heat, about 450°F.

Coat the chicken in olive oil, then season with the spice blend on both sides.

Place the chicken on the grill, then cook for 5-6 minutes per side, until a thermometer inserted into the thickest part of the chicken breast registers 165°F.

Let the chicken rest for at least 10 minutes, then slice and serve.
Nutrition
Calories:
166
kcal
|
Protein:
25.5
g
|
Fat:
6.5
g
|
Saturated Fat:
1.1
g
|
Cholesterol:
82.7
mg
|
Sodium:
632.4
mg