Every item on this page was chosen by The Fed & Fit team. The site may earn a commission on some products (read more here).
Made with healthy, real foods, this delicious Paleo Sweet Potato Pie is silky smooth and will become a staple on your family's holiday table!
Have you ever tried sweet potato pie? If you HAVE, then you already know that it's magical. If you haven't, then allow me to dispel a few of the thoughts likely running through your mind. Sweet potato pie is NOT a bunch of mashed up sweet potatoes that are then spread out in a pie crust. So, don't expect it to taste like a bunch of mashed up potatoes in a pie crust! Sweet potato pie is a delicate, decadent, silky smooth pie made with a few sweet potatoes, plenty of butter, some coconut sugar, vibrant spices, and one can of milk. I couldn't get over the filling and couldn't stop licking the spoon.
Many sweet potato pies call for sweet potatoes to be peeled and then boiled until soft. Those of you who know me well know that I like to simplify things as much as possible! As such, I chose to bake these sweet potatoes (no peeling = less work) until perfectly soft. After allowing them to cool enough to the point that I could handle them, the peel slipped right off and I got busy preparing the rest of the components.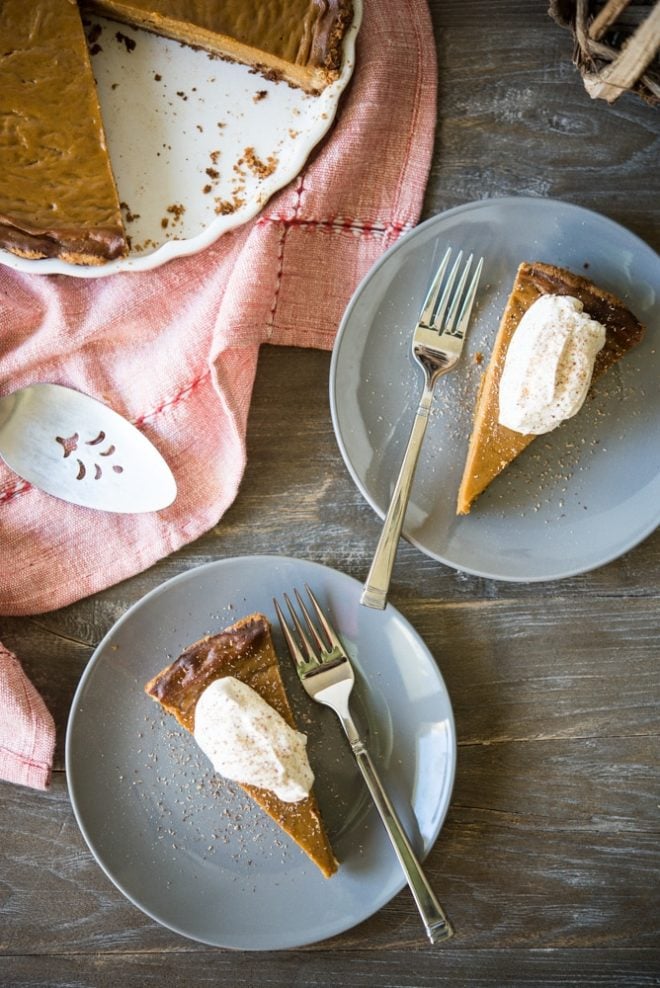 Though I have a KILLER old-fashioned "perfect pie crust" (that happens to be Paleo-friendly) in my Holiday Feast eBook, I crafted up a NEW recipe that uses the brand new "Paleo Baking Mix" by Bob's Red Mill for this pie! I saw this mix hit shelves a few weeks ago and couldn't wait to craft a recipe for it. While this baking mix crust is still delicious, the "perfect pie crust" in my eBook is still the best flaky pie crust I've ever enjoyed. Your call on which way you proceed! Use this recipe (simple and gets the job done!), a recipe you already love, or try that recipe in my eBook (you won't regret it).
Like most pie crusts, this one calls for a generous amount of chilled butter! I chose to use my food processor to help bring the dough together, making it a much quicker process. I also added a couple eggs, 2 tablespoons of coconut sugar (to help sweeten the crust), a touch of sea salt, and a touch of baking soda. One the crust comes together, roll it into a ball and then chill for 1 to 3 hours (this helps the butter stiffen and make the crust more "workable"). Once the crust is chilled, dust a surface (I like plastic wrap or wax paper) with a little arrowroot flour and then roll it out until it's large enough to fit into your pie pan. Carefully transfer the crust to your pie pan, press down so that it fills the gaps, trim the edges, repair any holes, and set aside.
The filling is made by melting 1 stick of butter (about 1/2 cup) in a medium-sized sauce pan with 3/4 cup coconut sugar, the sweet potatoes, the coconut milk (which does NOT add a coconut flavor) and the spices. Let this mixture melt and mix together as much as possible and then blend it until smooth. You can do this by using either an immersion blender (what I chose) or by pouring it into a blender or food processor. Set this hot mixture aside while you prepare the eggs. The three eggs are simply whisked together with some vanilla extract and then added into the slightly-cooled potato filling.
From here, you're ready to pour the filling in the crust! Bake the pie at 350 F for one hour, let cool COMPLETELY, and then enjoy with some fresh coconut (or real dairy) whipped cream garnished by a few gratings of nutmet. You can find a recipe for coconut whipped cream in my 'Fed & Fit' book and a recipe for real dairy whipped cream HERE.
I hope you love this pie as much as we do!
Ingredients
For the crust::
1 1/4

cup

"Paleo Baking Mix" by Bob's Red Mill

1/8

teaspoon

baking soda

1/4

teaspoon

fine sea salt

2

tablespoons

coconut sugar

10

tablespoons

1 stick plus 2 tablespoons chilled butter, cut into 1/2-inch cubes

2

eggs

arrowroot flour for dusting
For the filling::
3

medium-sized

about 1.5 pounds sweet potatoes

8

tablespoons

1 stick butter

3/4

cup

coconut sugar

1/2

teaspoon

ground nutmeg

additional for garnish

1/2

teaspoon

ground cinnamon

1/2

teaspoon

ground coriander

1/4

teaspoon

ground ginger

1/4

teaspoon

fine sea salt

1

can

13.5 ounces [url]full-fat coconut milk

3

large eggs

2

teaspoons

vanilla extract
Instructions
For the pie crust, place all the dry ingredients in a food processor and blend until smooth. Add the butter 4 to 6 pieces at a time and pulse until combined. Continue for the rest of the butter. Add the eggs and pulse until the mix forms a sticky ball. Spoon the ball onto a piece of plastic wrap or wax paper and chill for at least 1 hour. Once chilled, dust a surface (I recommend plastic wrap or wax paper to make transfer easier) with arrowroot flour. Roll out until the dough is approximately 1/4-inch thick and large enough to fit your pie pan. Transfer to your pie pan, press down to fill air gaps, trim, repair holes, and set aside to await filling.

For the sweet potatoes, place on a baking sheet and bake at 375 F for 45 minutes to 1 hour, or until they easily give with a slight pinch (wearing an oven mitt). Remove from oven and let cool enough to handle. Once cooled, remove skin and transfer to a medium-sized sauce pot over medium heat.

For the rest of the filling, add the butter, sugar, spices, and coconut milk to the pot with the sweet potatoes. Bring to a simmer, stir continuously, and then either using an immersion blender, standing blender, or food processor, blend the mixture until completely smooth. Set the filling aside to cool slightly. In a separate bowl, whisk the eggs with the vanilla extract and set aside. Once the filling is slightly cooled, whisk in the egg mixture until smooth and pour the filling into a pan.

Note: if you have any leftover crust and filling, this is a fun opportunity to make a mini pie! Find an oven-safe container (small casserole dish or even a large coffee mug) and make a mini pie to bake alongside the large one.

Bake at 350 F for one hour, or until the center stops jiggling. Let the pie cool on the counter and then transfer to the refrigerator to cool completely. Serve with whipped cream and a fresh grating of nutmeg!
Nutrition Information
Nutrition Facts
Paleo Sweet Potato Pie
Amount per Serving
% Daily Value*
* Percent Daily Values are based on a 2000 calorie diet.