This shredded carrot breakfast hash is a low-carb alternative to the traditional potato hash that delivers a super flavorful and nutritious start to your day!
What is breakfast hash?
Why is it called "hash" you ask? The name is derived from the French word: hacher, making "to chop." The breakfast hash originated as a way to use leftovers. This shredded carrot breakfast hash puts a spin on the traditional hash (typically consisting of a cooked meat, diced or shredded potato, chopped vegetables, and eggs) by using shredded carrots in place of the potato component resulting in a slightly sweeter, earthier hash loaded with essential vitamins and minerals!
Why eat carrots for breakfast?
Carrots are packed with beneficial antioxidants! They are a great source of vitamins and minerals, specifically beta-carotene (a compound that gets changed into vitamin A which supports your vision, immune system, and reproductive health!). Carrots also contain 5x the amount of vitamin K when compared to sweet potatoes and are a good source of potassium, fiber, and vitamin C. The fiber in carrots also help keep blood sugar levels under control, making them a great substitute for starchy potatoes.
How to Shred Carrots
If you've got a food processor with a shredding attachment, prepping this carrot breakfast hash is a BREEZE. I will regularly pre-shred and then freeze 5 pounds worth of carrots so that I can make hash at the drop of a hat. You can also use a simple box grater or press the super easy button and buy pre-shredded carrots. Once the shredding is done, this dish comes together in no time!
What is the difference between grated carrots and shredded carrots?
Both shredding and grating involve slicing or cutting the carrot. The difference will be the final shape. Shredded carrots tend to be longer, more even strips while grating carrots result in much smaller fragments of the carrot.
Breakfast Hash with Shredded Carrots Ingredients
Pork Breakfast Sausage – 1 pound of pork breakfast sausage makes up the main protein of this breakfast hash.
Carrots – you'll add 5 cups of finely shredded carrots (about 8 large carrots) to the sausage.
Cilantro –

1 cup of chopped cilantro adds a fresh, citrus flavor

Lime Juice – 2 tablespoons of lime juice (the juice of about 1 lime) adds a light, fresh flavor.
Onion Powder – to season your hash, you'll use 1 teaspoon of onion powder…
Garlic Powder – …along with 1 teaspoon of garlic powder…
Chili Powder – …a ½ teaspoon of chili powder…
Sea Salt – …a ½ teaspoon kosher or sea salt and…
Black Pepper – …a ½ teaspoon of ground black pepper.
Ingredient Modifications
This breakfast hash is super versatile and can be modified a lot of ways. Here are some ideas:
Use a different meat protein – swap the pork breakfast sausage for another protein (bacon, ham, or chicken sausage would be so good!) or omit the meat altogether if you want a meatless hash.
Substitute potatoes – although the purpose of this recipe is to use a non-starchy vegetable as the base of the dish, you can certainly substitute potatoes (russet or sweet potatoes) for the carrots if you prefer. You could even mix them together to incorporate both carrots and potatoes!
Add veggies – making breakfast hash is a great way to use up whatever veggies you have sitting in the fridge! Simply chop them up and add them to the skillet for extra flavor and nutrients!
Use eggs – to add additional protein and healthy fats, add a soft boiled or poached egg on top.
How to Make
Cook the sausage – in a cast iron or stainless steel skillet, brown the sausage. Remove from pan, drain, and set aside.
Cook the carrots – in the same pan, add the carrots and cook until wilted and starting to brown.
Add seasoning – add the seasoning, stir, and let cook through for 2-3 minutes.
Add sausage – add the sausage back to the pan and stir to combine.
Garnish – garnish with chopped cilantro and lime juice.
Serve and enjoy!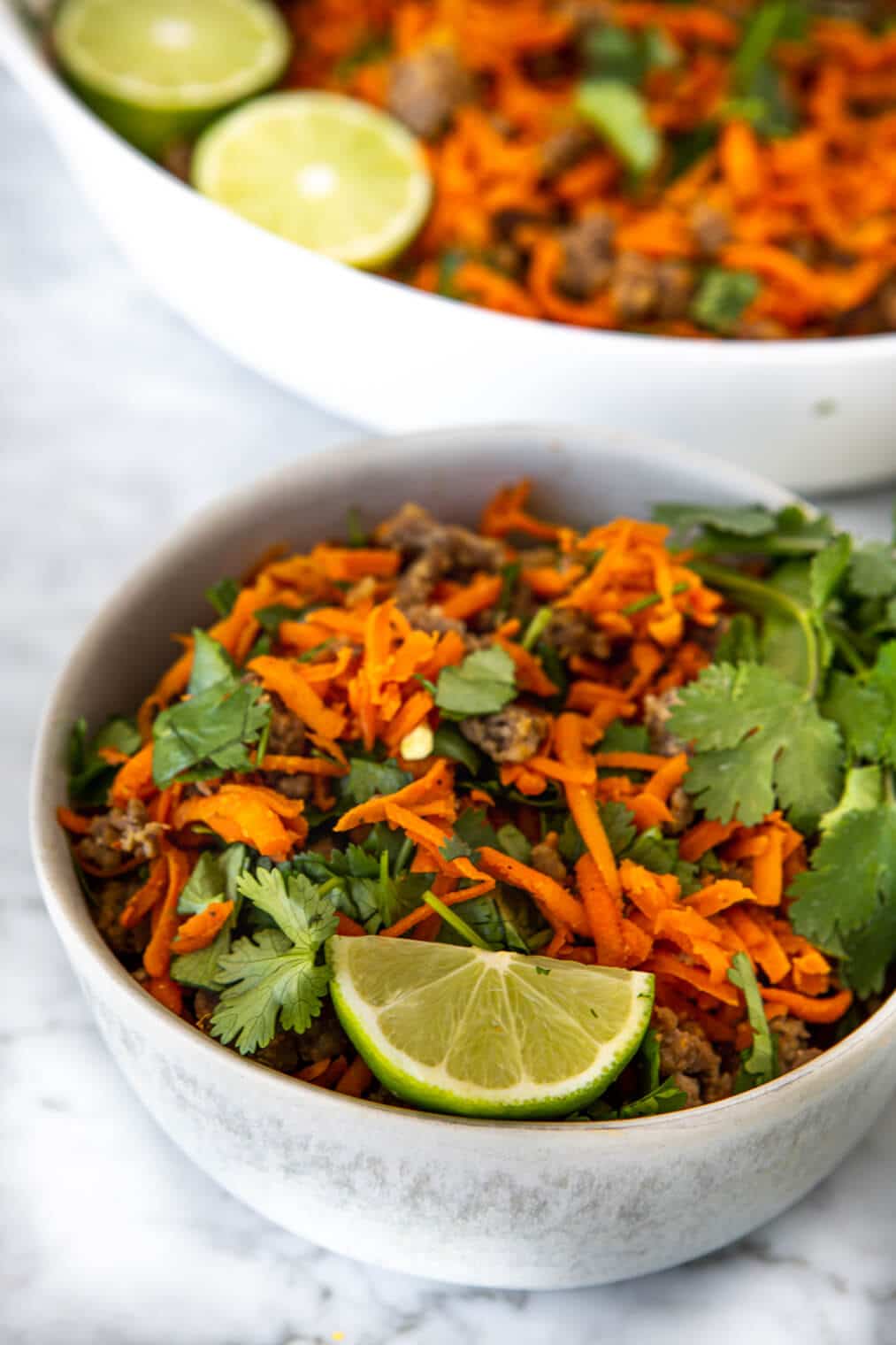 Can you freeze shredded carrots?
You can absolutely freeze shredded carrots! It is one of my favorite, time-saving hacks! To do so, shred your carrots in bulk, then portion the amount you want to freeze. For the best results, you'll want to blanch your carrots prior to freezing (this involves briefly immersing the shredded carrots into boiling water, then immediately shocking them in an ice water bath to stop the cooking process). Blanching helps preserve the quality, texture, color, and nutrition of the carrots. If you blanch, I recommend spreading the blanched carrots out on a lined baking sheet (after draining) and freezing for an hour or two before transferring them to a container or freezer bag. You can freeze carrots without blanching, but they may lose more of their texture and quality faster. Blanched carrots will keep in the freezer for up to a year. If you freeze without blanching, I would use within 2 months.
How to Store and Reheat this Carrot Breakfast
Cool and store your shredded carrot breakfast hash in a container in the fridge for up to 5 days. To reheat, you can microwave for one minute 30 seconds, or until heated through, or on the stovetop in a skillet (my preferred method to re-crisp the hash). Saute until warmed throughout and enjoy!
More Favorite Breakfast Recipes
Breakfast Hash with Shredded Carrots Recipe
This shredded carrot breakfast hash is a great lower-carb alternative to sweet potatoes!
Ingredients
1

pound

pork breakfast sausage

5

cups

carrots

about 8 large, finely shredded

1

cup

cilantro

chopped

2

tablespoons

lime juice

about 1 lime

1

teaspoon

onion powder

1

teaspoon

garlic powder

1/2

teaspoon

chili powder

1/2

teaspoon

kosher or sea salt

1/2

teaspoon

ground black pepper
Instructions
In a cast iron or stainless frying pan, brown the sausage. Remove from pan, drain, and set aside.

In the same pan, cook the carrots until wilted and starting to brown.

Add all the seasons and let it cook through for 2-3 minutes.

Add the sausage back in and stir to combine.

Garnish with cilantro and lime juice.

Serve and enjoy!
Nutrition
Calories:
419
kcal
|
Carbohydrates:
17
g
|
Protein:
19
g
|
Fat:
31
g
|
Saturated Fat:
10
g
|
Polyunsaturated Fat:
4
g
|
Monounsaturated Fat:
13
g
|
Trans Fat:
0.2
g
|
Cholesterol:
82
mg
|
Sodium:
1129
mg
|
Potassium:
845
mg
|
Fiber:
5
g
|
Sugar:
8
g
|
Vitamin A:
27164
IU
|
Vitamin C:
14
mg
|
Calcium:
71
mg
|
Iron:
2
mg