Every item on this page was chosen by The Fed & Fit team. The site may earn a commission on some products (read more here).
This Smoked Herring Mason Jar Salad offers up robust nutrition and a delicious make-ahead lunch option. These jars are a great way to mix up your weekly meals!
Y'all, BOTH the foodie *and* the nutritionist in me are REALLY excited about this recipe! Not only is this Smoked Herring Mason Jar Salad a delicious meal option, but it is through-the-roof nutritious. Most folks know that sardines (think: canned because they're readily available) are a nutrition powerhouse. Most folks are also really turned off by sardines. Smoked herring is slightly different in taste/texture from canned sardines, but very similar in health benefits. They're chocked FULL of healthy omega 3 fatty acids, Vitamin D, and Selenium! If you've been afraid to try sardines but are intrigued by the nutrition available, give smoked herring a shot. Note: if you aren't quite ready for herring, you can also make this with my Paleo Chicken Pesto Salad and omit the ranch dressing!
OKAY, now let's talk about this mason jar salad. I love mason jar salads because they're an easy meal to prep in advance. You can quickly assemble a few of these jars and enjoy them for lunch later!
These jars come together really quickly, but with a little strategy. So, let's start from the bottom.
First, we're going to pack a few handfuls of raw spinach in the bottom of a jar. I like to leave the spinach *undressed* because it helps extend the life of the mason jar salad. When fresh spinach (or other salad greens) are dressed for too long, they tend to wilt and become unappetizing.
Next, we're going to layer a big spoonful of boiled-then-chopped potatoes. I like to lightly salt these potatoes, but leave them relatively undressed as well. The potatoes help create a barrier between the spinach and what's coming next. The potatoes also offer up a wonderful healthy starch source so that this meal will really satisfy.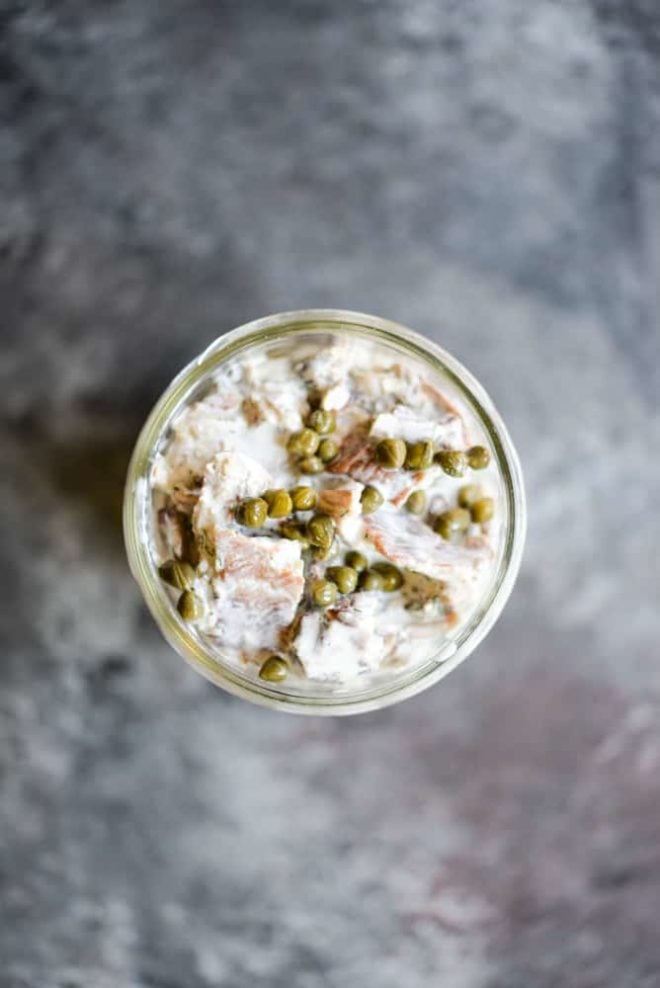 Lastly, the smoked herring! To help add appealing flavor to the smoked herring (important, if you're new to canned fish), I like to toss it in a liberal amount of homemade ranch dressing. The herrings will break up a bit as you toss them in the dressing, but I recommend making sure you break the fish into bite-sized pieces. Spoon the dressed fish over the potatoes. Lastly, because I really like a touch of brine to this salad, I like to add one final spoonful of capers to the top of the jar.
To enjoy, you can either slip your fork right into the jar, getting a bit of each layer, OR you can pour it out onto a plate or in a bowl. I prefer to pour the salad out because it allows me to mix everything together.
I hope you enjoy this Smoked Herring Mason Jar Salad and I hope that it helps you rotate some wonderfully healthy fish into your routine.
Ingredients
For the Herring Mason Jar Salads:
1 1/2

cups

fresh spinach

2

medium red potatoes

boiled, cooled then chopped into 2-inch chunks

1, 3.25

ounce

can smoked herring

chopped into bite-sized pieces

1

teaspoon

capers
For the Ranch Dressing:
1/2

cup

avocado oil mayo

1 1/2

tablespoons

lemon juice

1

teaspoon

dried dill

Pinch

sea salt
Instructions
Whisk together the ingredients for the ranch dressing in a medium bowl, then add the herring and toss to coat.

Layer the spinach in the bottom of a mason jar. Toss boiled and cooled potatoes with a pinch of sea salt and layer on top of the spinach.

Divide the herring mixture in half and spoon over the potatoes. Top with capers and serve or screw on the lid for later serving!
Nutrition Information
Nutrition Facts
Smoked Herring Mason Jar Salad
Amount per Serving
% Daily Value*
* Percent Daily Values are based on a 2000 calorie diet.
Recipe Notes
Spinach, potatoes, smoked herring, ranch, and salty capers are layered together for an easy, portable, and nutrient-dense lunch option!