Every item on this page was chosen by The Fed & Fit team. The site may earn a commission on some products (read more here).
Searching for a flavorful way to jazz up grilled chicken breasts? I've got you covered with these Smothered BBQ Chicken Breasts! They're full of flavor and a breeze to whip up.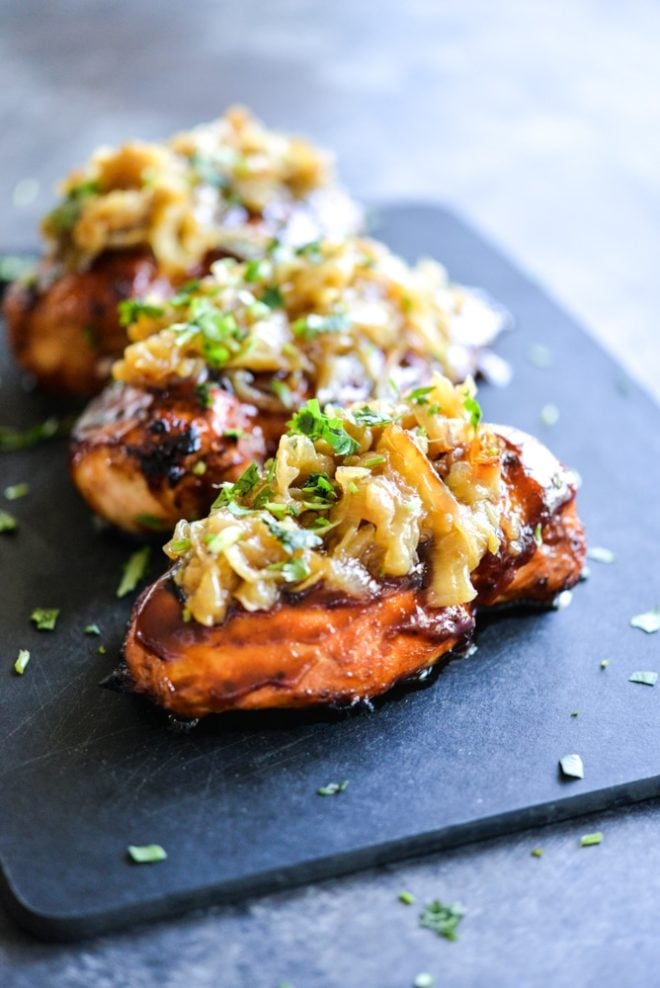 It's BBQ season! Let's bust out a cold can of something bubbly, nuzzle it in a koozie, and turn up the heat on the grill. Grilled foods are some of my favorite foods for two three reasons. First, dinner on the grill is just so darn easy. Turn up the heat, add protein + veggies that are too large to fall through the grates, and BOOM, dinner is done in about 30 minutes. Second, the grill has my heart because of its resulting signature flavor and texture. It's often difficult to re-create the classic grill char in the house without filling the house with some smoke, but the patio doesn't seem to mind. THIRD, you can feed an entire army of ravenous sunscreen-slathered kids + adults with very little cleanup.
This recipe is pretty simple, but with an unexpected flavorful twist. You see, I wanted to give you a simple grilled chicken breast recipe …BUT, chicken breasts have a tendency to be so thick that it's challenging to get good flavor all the way through. They often feel, to me at least, like just a hunk of protein on my plate rather than a delicious component of a made-with-love dinner. SO, we're calling two big players out to help: BBQ sauce and caramelized onions (my real pinch hitter). Every time I want to take a savory dish to the next level, I'll call on caramelized onions.
See my Fed & Fit book for the Caramelized Onion Bacon Bison Meatloaf (p. 244) and the Caramelized Onion Balsamic Beef Burgers (p. 244).
The neat thing about using caramelized onions to dress up these BBQ Chicken Breasts is that they're almost as low-maintenance as the grill itself. Chop up several onions, place in a heavy bottomed pot with a good amount of butter, season with salt, turn the heat on medium/low, and let them caramelize for about an hour. It's pretty hands-off but ends with BIG flavor and a happy crowd.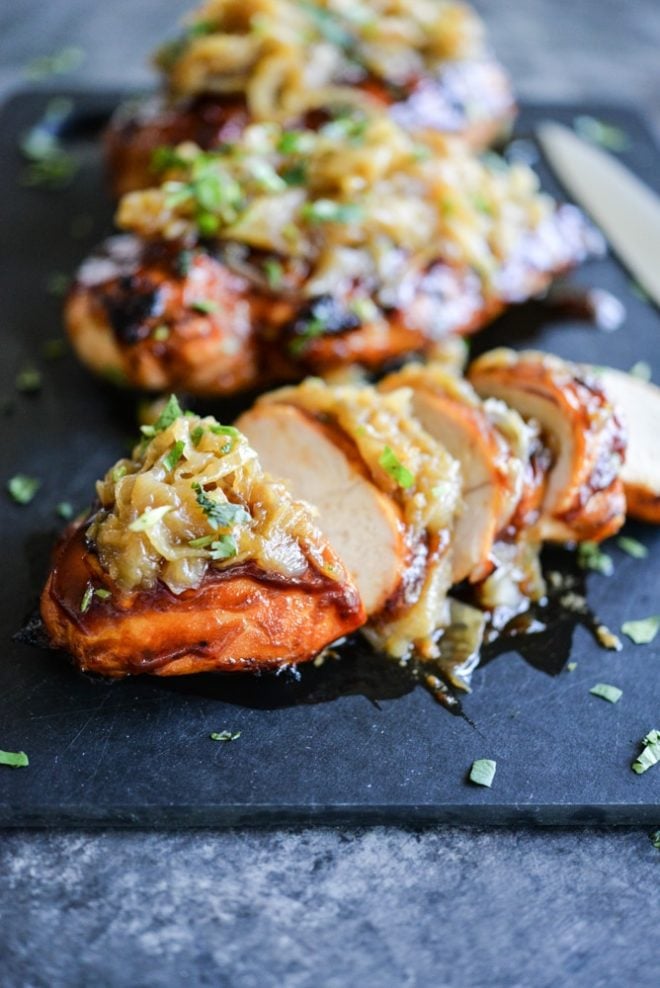 While the onions transform into their best selves on the stove, place the chicken in a bowl and cover in the BBQ sauce of your choice. If you're looking to buy your own, I recommend reading the labels. Try to avoid anything with soy or the dreaded "natural flavors" (a cloak for a number of not-great additives) category in the ingredient list. As with all store-bought items, I recommend the option with the fewest and most intelligible ingredients listed. If you're up for making your own, I have a customizable recipe HERE on the blog and a 2.0 version in my book!
The BBQ sauce will work its marinating magic on the chicken while the onions transform and then, when the onions are done, the chicken is ready for the grill. Grill those little guys until the juices run clear and they're cooked all the way through. To plate, serve up with an extra smear of BBQ sauce (if you like), a generous scoop of caramelized onions, and a sprinkle of fresh cilantro.
Note, for those of you who do not have a grill, I did include an oven-friendly method below. I hope you enjoy!
Ingredients
1 1/2

pounds

chicken breast

1/2

cup

BBQ sauce

2

pounds

yellow onion

peeled and thinly sliced

2

tablespoons

butter

1/2

teaspoon

fine sea salt

2

tablespoons

fresh chopped cilantro
Instructions
Melt the butter in a heavy bottomed pot and add the chopped onions and sea salt. Stir to combine, place a lid on top, turn the heat to medium/low, and let cook until caramelized for 45 minutes to 1 hour, stirring occasionally.

Place the chicken breasts in a large bowl and cover in the

BBQ sauce

. Toss to combine and set aside to marinate while the onions cook.

Grill Option: When the onions are caramelized, turn the grill on. Grill the chicken until cooked-through and then let rest for 5 minutes.

Oven Option: When the onions are caramelized, turn the oven to 400 F. Place the chicken breast on a parchment paper-lined rimmed baking sheet. Bake at 400 F for 15 to 20 minutes, or until cooked through.

To plate, spoon an equal amount of caramelized onions on top of each chicken breast and garnish with the fresh cilantro.
Nutrition Information
Nutrition Facts
Smothered BBQ Chicken Breasts
Amount per Serving
% Daily Value*
* Percent Daily Values are based on a 2000 calorie diet.