Every item on this page was chosen by The Fed & Fit team. The site may earn a commission on some products (read more here).
We're walking you through how to make perfect quinoa (every single time!) and giving you 3 tips to make it *seriously* delicious!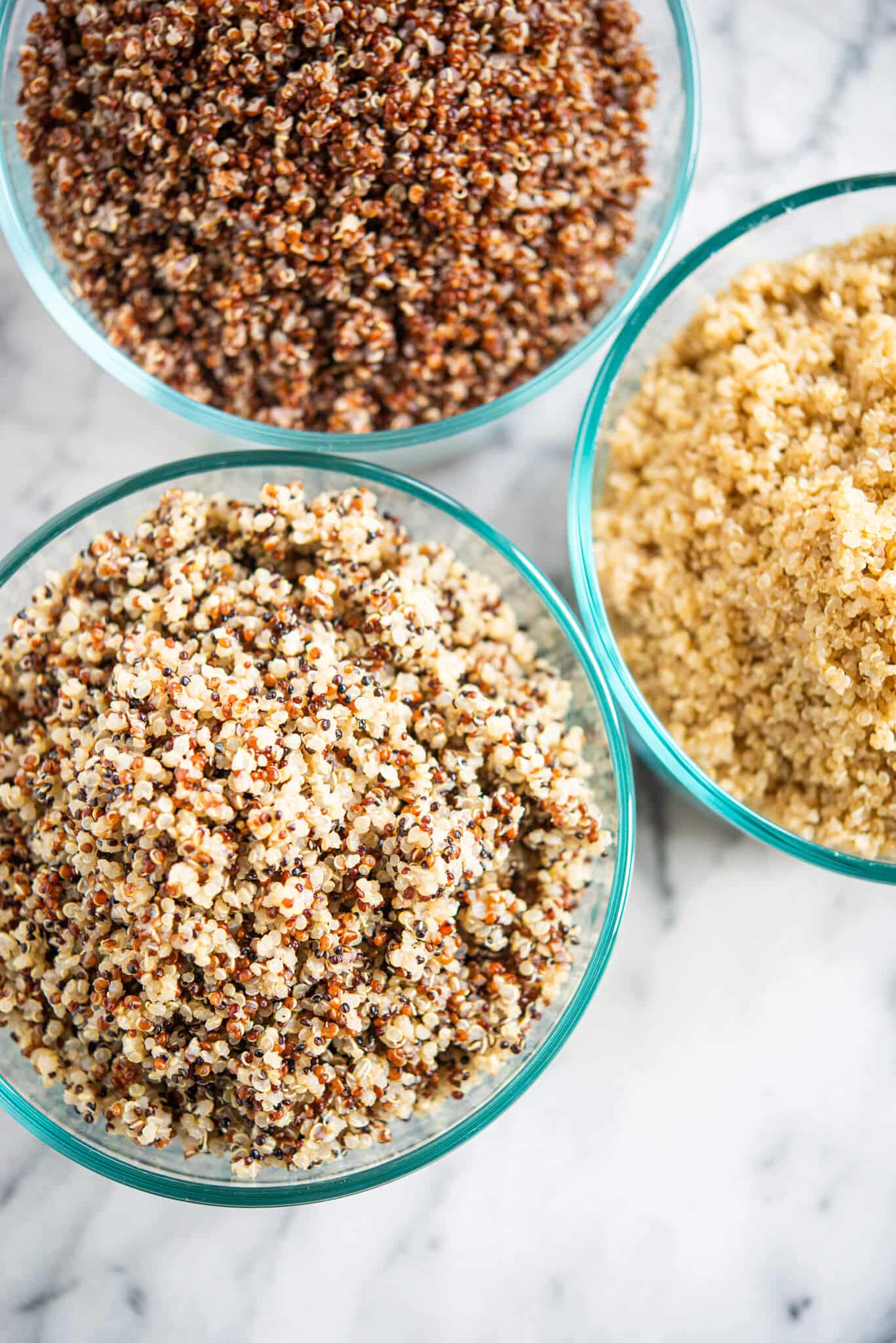 If you're anything like me, getting perfectly fluffy quinoa has been a real struggle. It seems like no matter what I do, my quinoa is either clumped together (ugh), soggy (ugh), or BOTH (double ugh!) I want SO badly to love this protein-packed seed, but I have a firm standard that I only eat things that taste good, and sadly, clumpy, soggy quinoa does not.
What is Quinoa?
Quinoa is actually a flowering plant with edible seeds (what you see here!) It's also a nutritional powerhouse: it is rich in protein, has all nine essential amino acids, plus fiber, B and E vitamins, magnesium, iron, and the list goes on and on. When cooked properly, it's also super tasty! Delicious + nutritious is where I like to hover on the food spectrum!
What does quinoa taste like?
Many people find that quinoa has a slightly bitter taste, but that's likely because they aren't soaking it beforehand! When cooked properly, quinoa is slightly sweet and nutty. It's really delicious!
How to Make Quinoa Taste Good
Soak it.

Because quinoa is a seed (still so strange to me!), it contains bitter-tasting saponins that keep birds from eating it. Because of their bitterness, the saponins need to be soaked + rinsed from the quinoa for optimal taste. Soak your quinoa for 2 minutes and then thoroughly rinse it before cooking.

Use broth instead of water.

To amp up the flavor, we recommend cooking your quinoa in broth (chicken or vegetable will do) instead of water.

Opt for white quinoa.

White quinoa has the mildest flavor profile of the 4 varieties (white, black, red, and tricolor), so if you aren't sure about the taste of quinoa, or you just don't want it to be the star of your meal, opt for white quinoa.
Quinoa To Water Ratio
Typically, the package instructions call for a ratio of 2 cups of water to 1 cup of quinoa, but we disagree! We say 1 ½ cups of liquid (water or broth) to 1 cup of quinoa. This is a GAME CHANGER in the world of fluffy quinoa. Soggy, mushy quinoa is almost always the result when using the 2:1 water to quinoa ratio, but perfect, fluffy quinoa is the consistent outcome when using the 1½:1 ratio.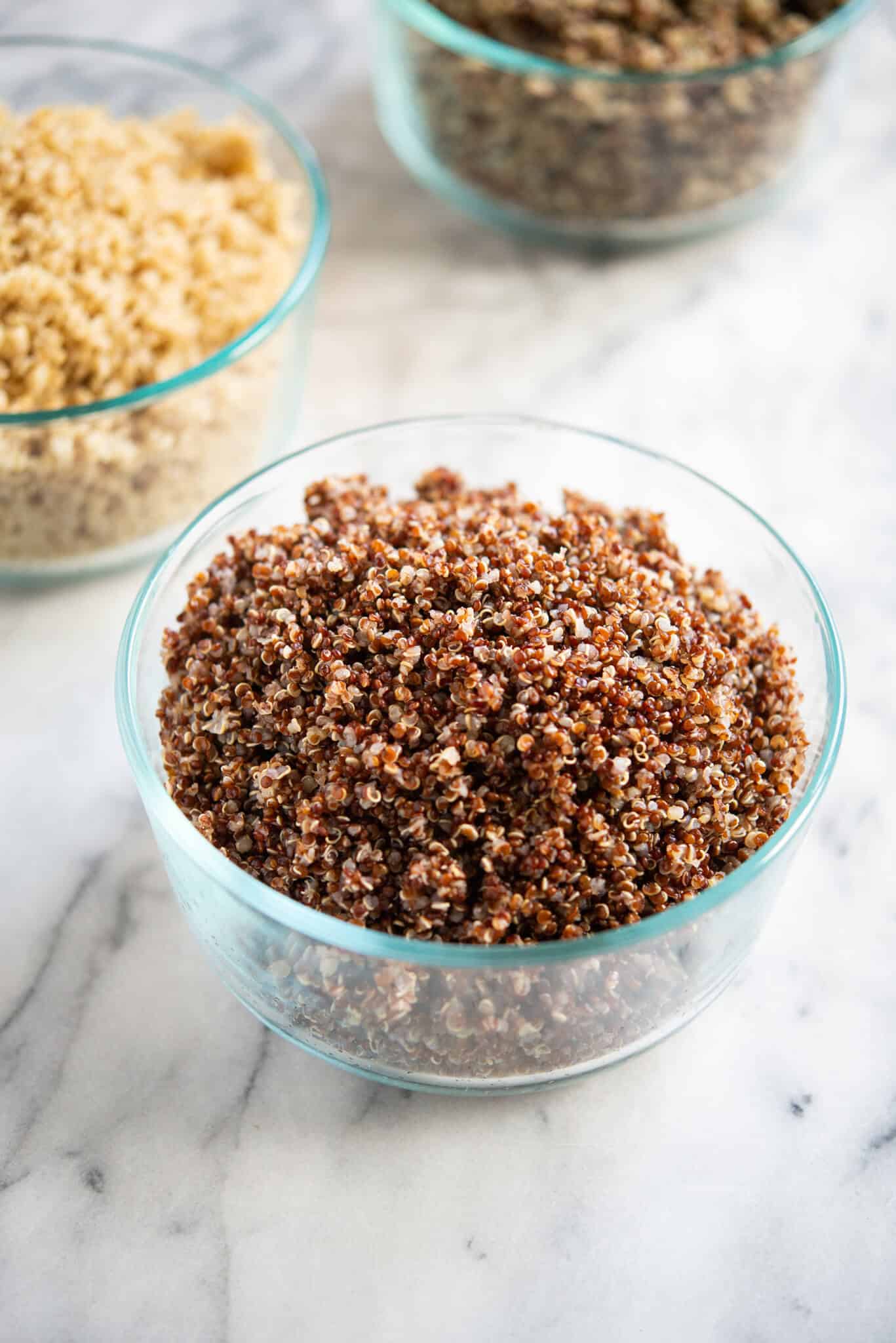 How long do you cook quinoa?
Perfect quinoa doesn't take long to cook – less than 20 minutes, actually! You'll need to soak the quinoa for two minutes first (don't skip this step!), and then let it cook in a pot on the stove for 15 minutes. To keep things efficient, get your pot ready and the water boiling while you're soaking + rinsing the quinoa.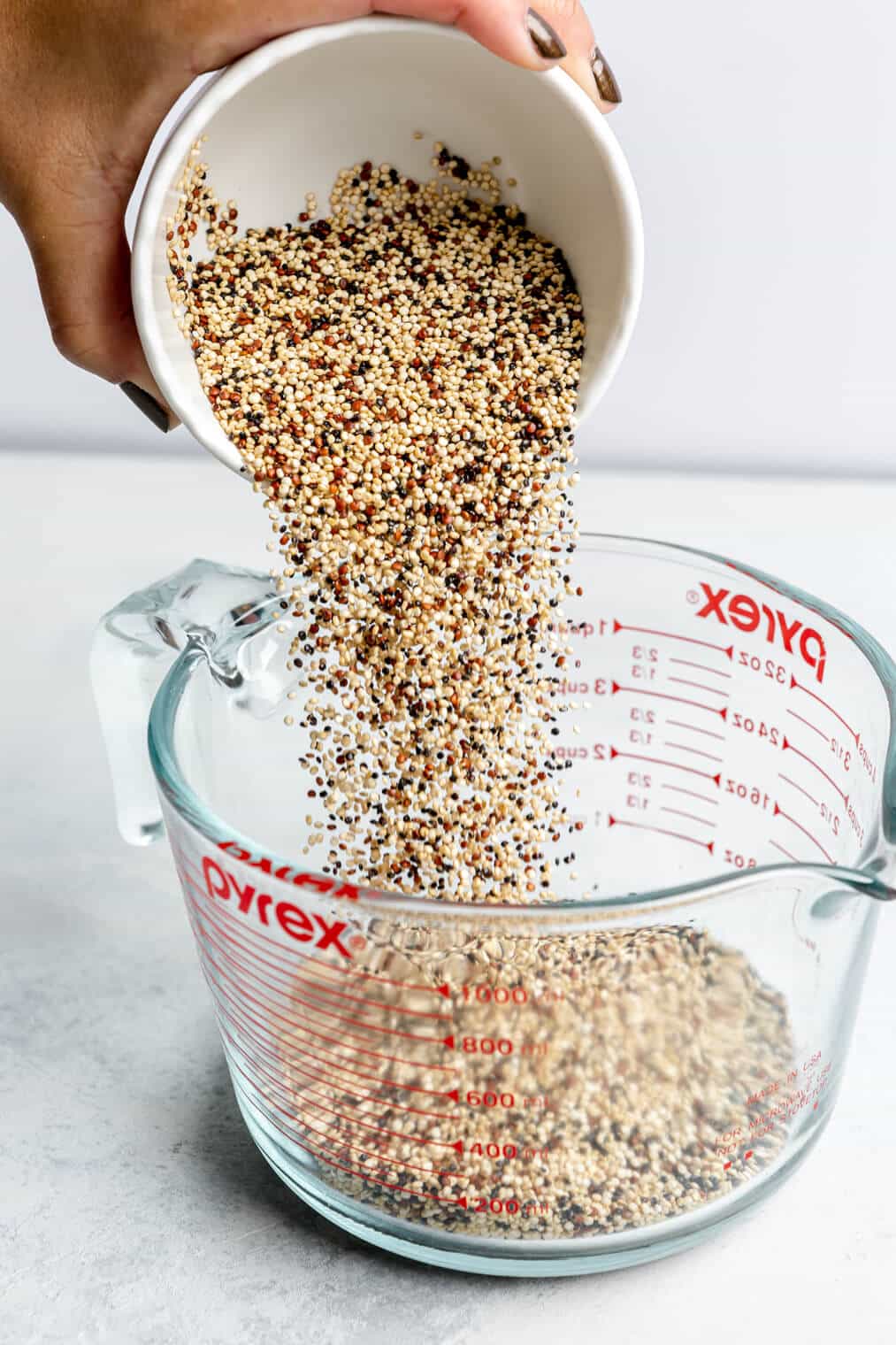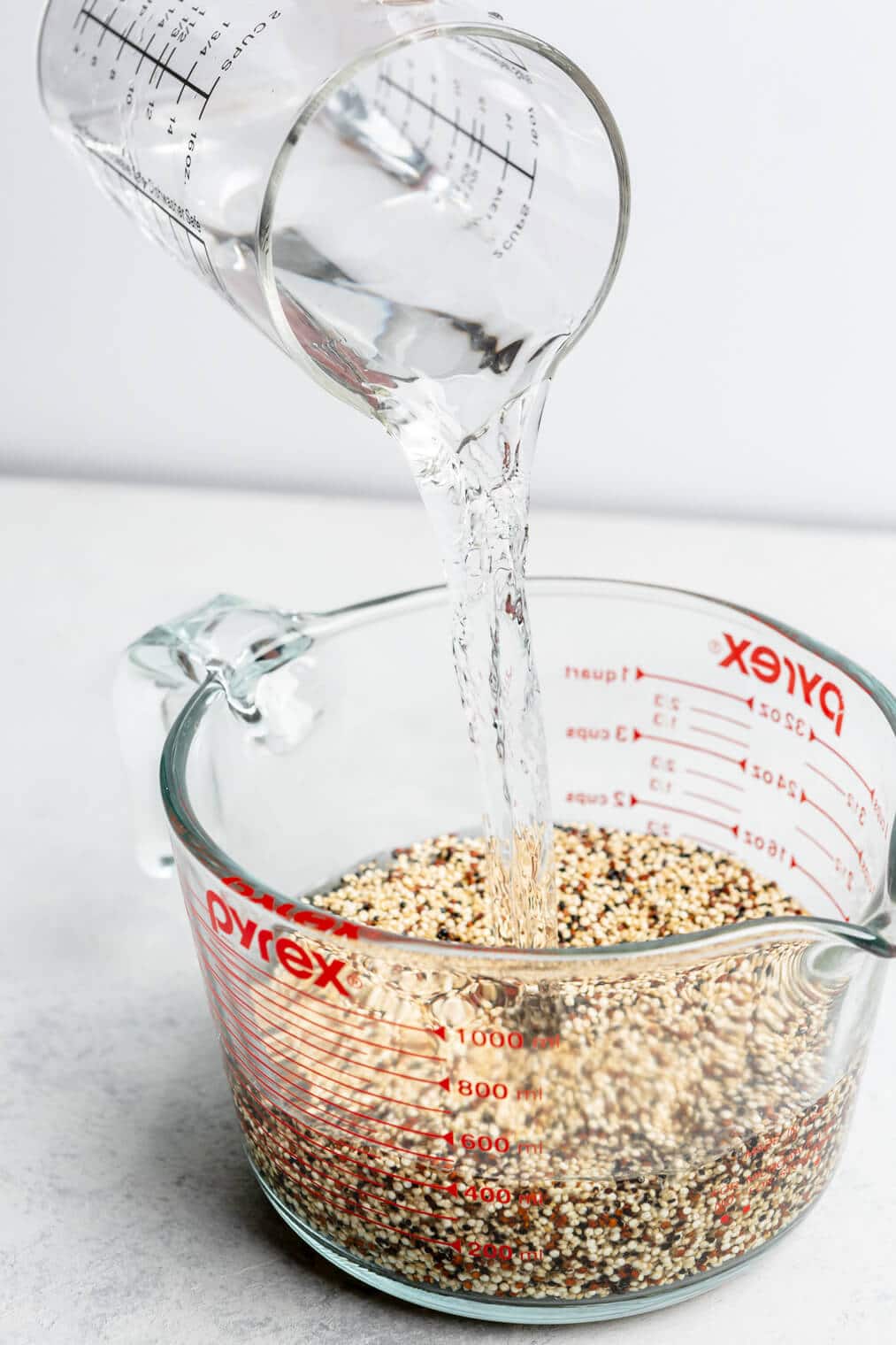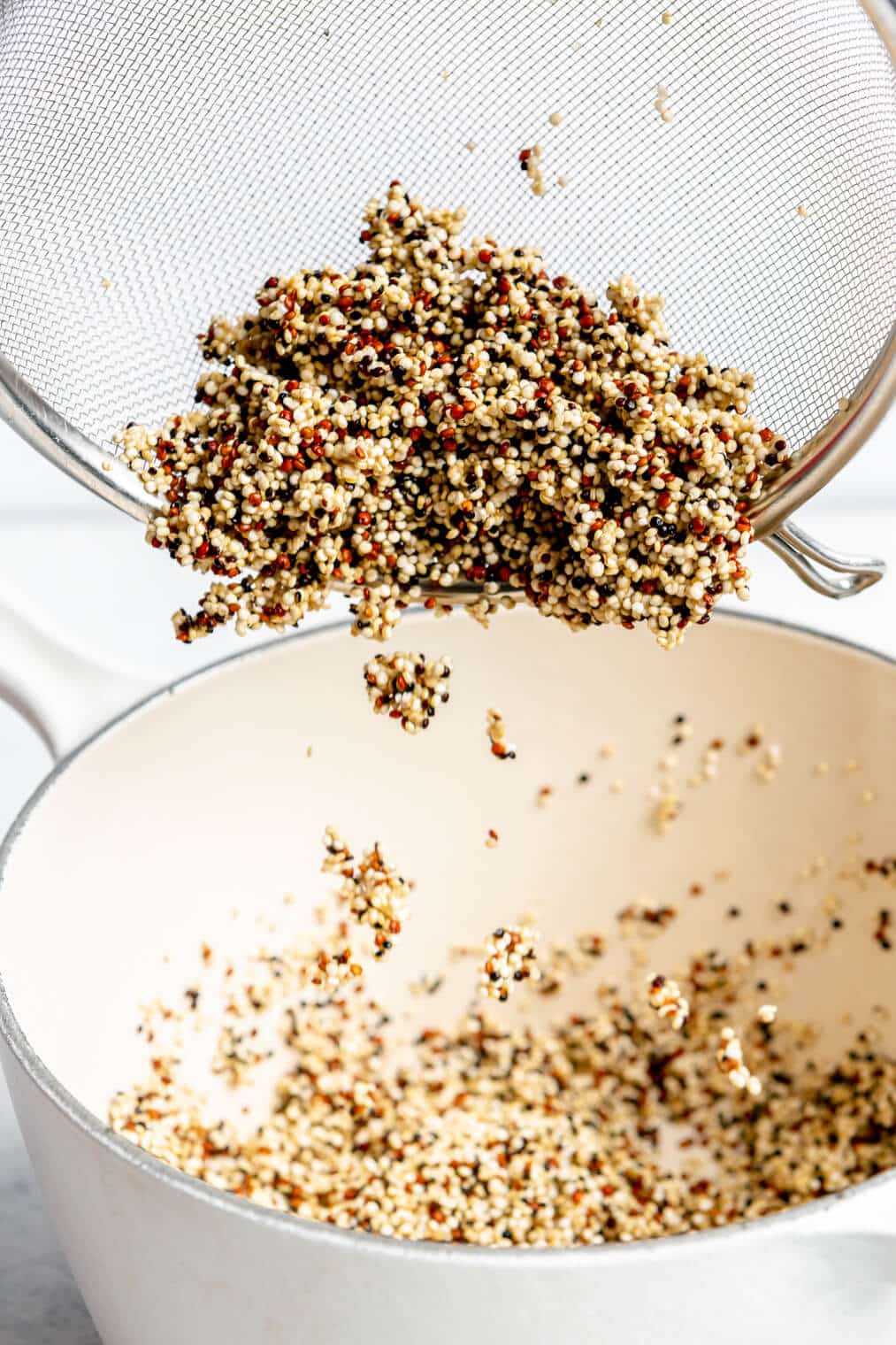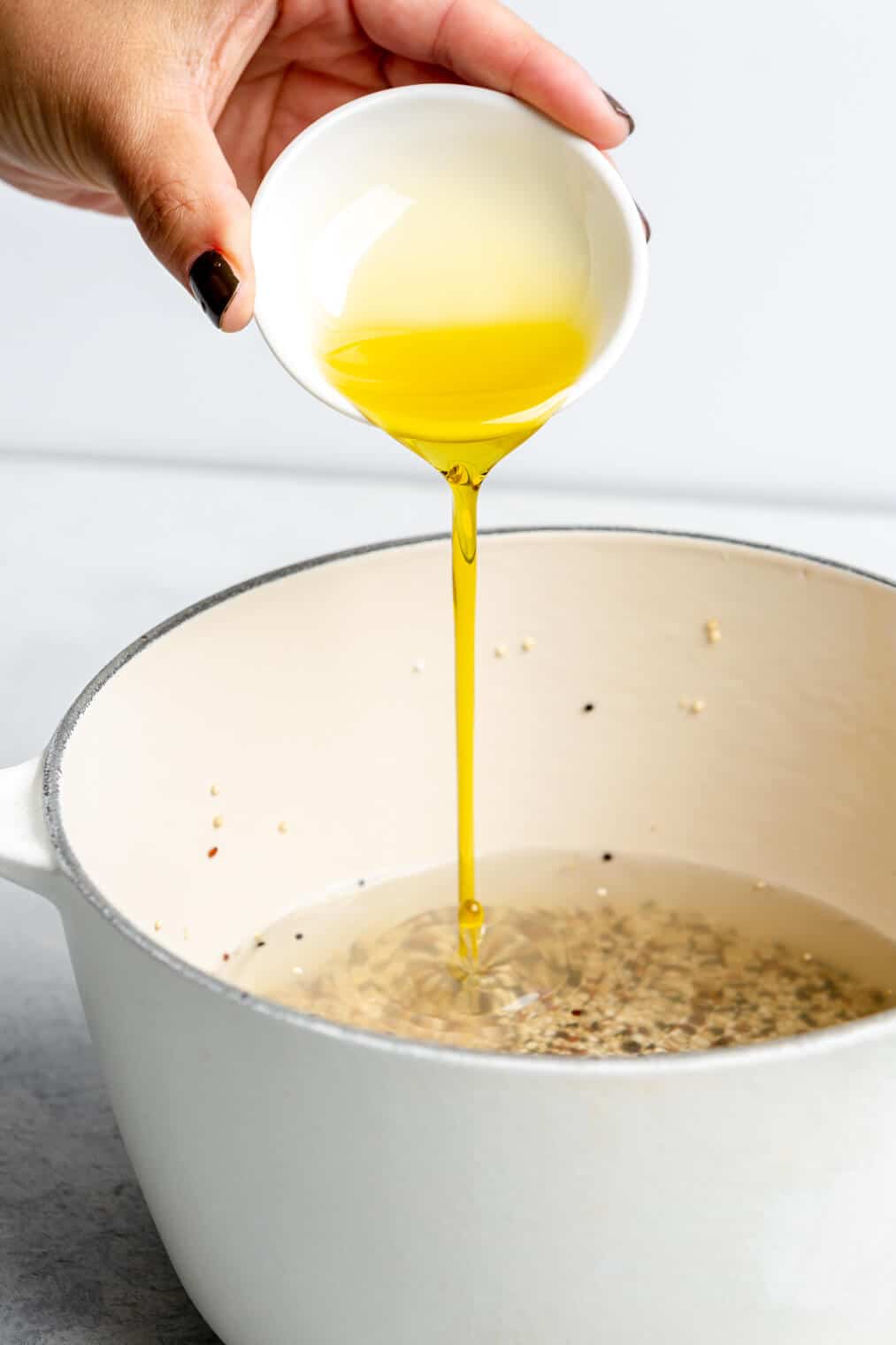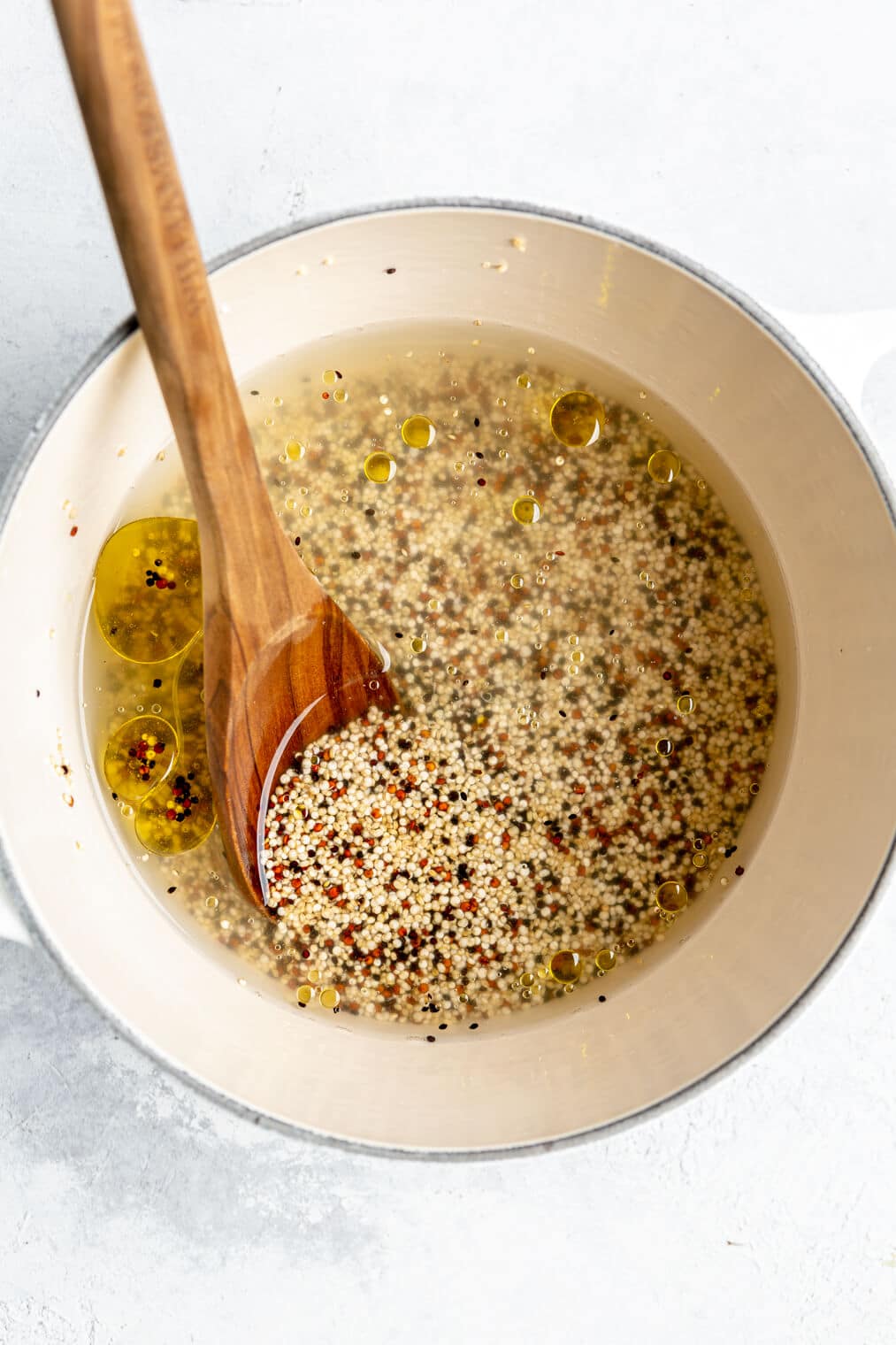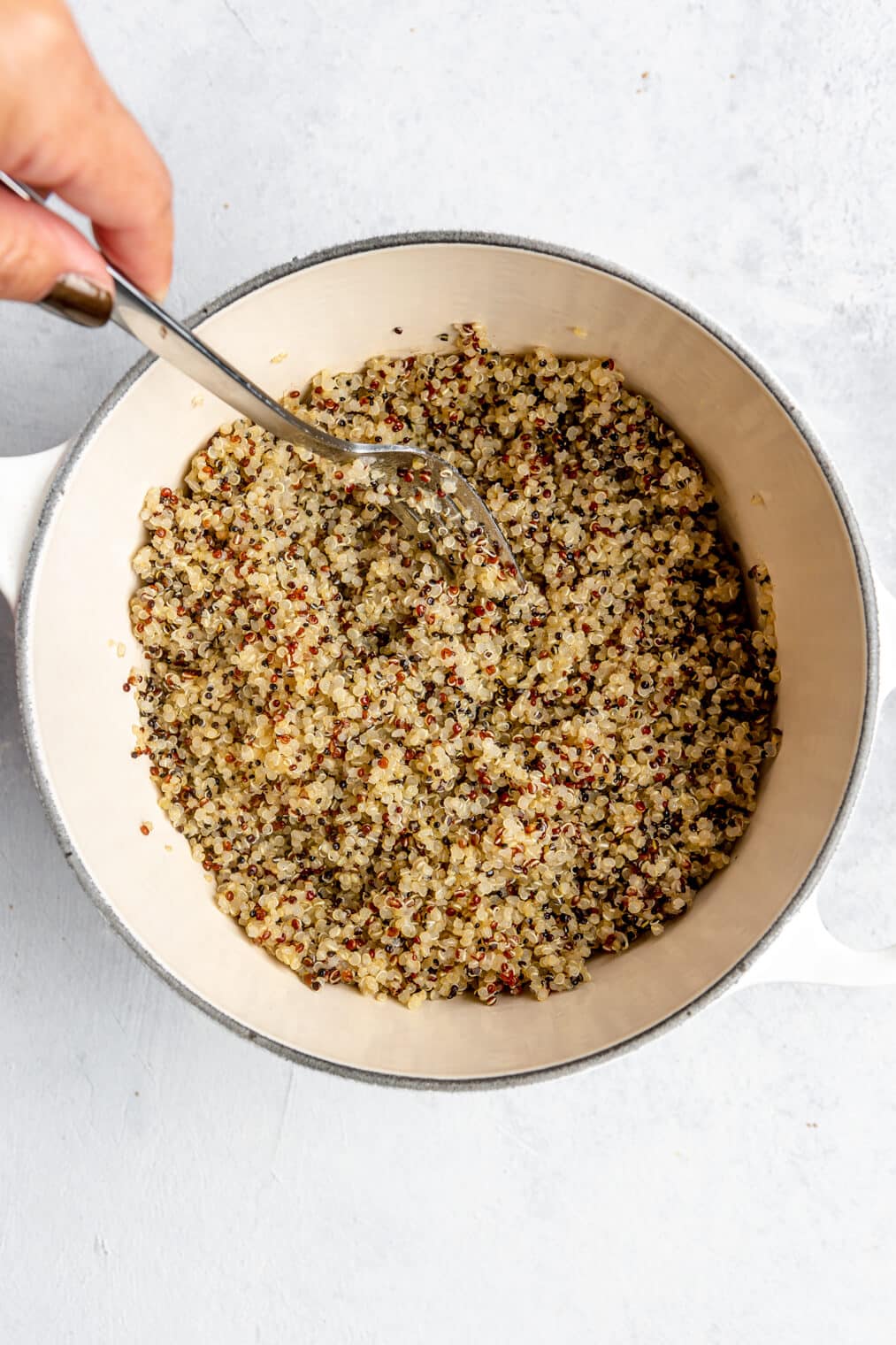 How Much Quinoa to Make
Quinoa increases in volume by about 3 times when cooked. So, if you cook 1 cup of dry quinoa, you'll end up with 3 cups of cooked quinoa. A serving of quinoa is ½ cup cooked, but it's pretty rare that you'll cook ONLY that amount. In one serving of quinoa, you'll find about 21 grams of carbs (making it a great option for those following a moderately lower-carb lifestyle), about 4.5 grams of protein (I told ya, it packs a punch!), and almost 3 grams of fiber (we could all use a little bit more fiber in our diet!)
If you've got leftover quinoa, and you aren't sure what to do with it, these Harvest Quinoa Bowls make for a ridiculously delicious lunch or dinner!
More of our Favorite
Side Dish Recipes
Flavor Variations
If you're having quinoa often, it can get boring quickly if you're sticking to eating it plain. Here are a few ways to spice up your quinoa!
Cilantro Lime – Add 1/4 cup chopped fresh cilantro, 2 tablespoons of lime juice, and 1/2 teaspoon cumin to 3 cups of cooked quinoa.
Lemon Dill – Add 2 tablespoons of lemon juice and 1 tablespoon of fresh chopped dill to 3 cups of cooked quinoa.
Curried – Add 1 teaspoon of curry powder and 1 tablespoon of lemon juice to 3 cups of cooked quinoa.
Garlic Herb – add 2 tablespoons of fresh chopped herbs like parsley, basil, thyme, and rosemary and 2 cloves of crushed garlic to 3 cups of cooked quinoa.
Nobody should have to suffer through mushy, soggy, clumpy anything, so we hope this post guides you in how to make perfect quinoa! Cheers to fluffy, delicious, protein-packed quinoa every single time!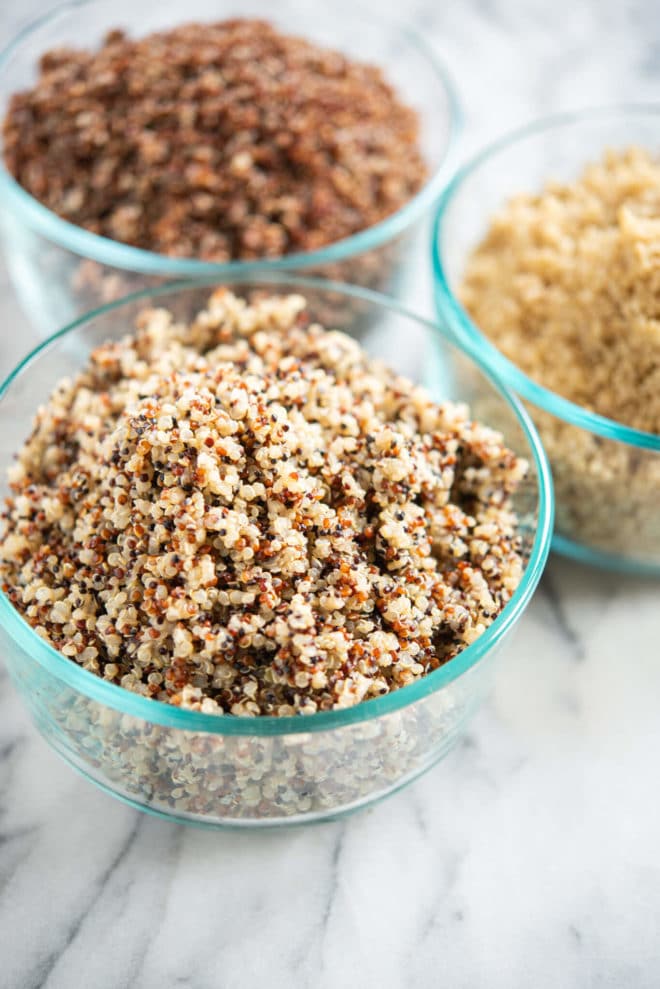 Just for You
Side Dishes
Want more recipes and side dish ideas like this?
Quinoa Frequently Asked Questions
Q
What can you eat quinoa with?
Q
Can you freeze cooked quinoa?
A
Surprisingly, yes! Quinoa freezes really well and having it on hand is a major time-saver when you're in a pinch. To freeze, simply let your cooked quinoa cool to handling temperature, and then scoop it in a freezer bag or airtight container, squeeze as much air out as you can (if you're going the bag route), and then freeze! Thaw overnight in the fridge and give it a quick heat in the microwave when you're ready to eat it!  
Q
How much quinoa per person?
A
While an actual serving of quinoa is a 1/2 cup cooked, we think that most people really eat a little bit more than that. We think that planning for closer to 3/4 to 1 cup of cooked quinoa is a safe bet.
Ingredients
1

cup

white

red, or tri-color quinoa

1 1/2

cups

chicken or vegetable broth or water

1/2

teaspoon

coarse sea salt

1

tablespoon

extra-virgin olive oil
Instructions
Soak the quinoa for 2 minutes, then rinse it thoroughly and add to a pot with the broth, 1/2 teaspoon salt, and 1 tablespoon oil.

Bring to a boil over high heat, then reduce the heat to low, cover the pot, and cook for 15 minutes.

Remove from heat, then fluff with a fork and serve!
Nutrition Information
Nutrition Facts
How to Make Perfect Quinoa (Every Time!)
Amount per Serving
% Daily Value*
* Percent Daily Values are based on a 2000 calorie diet.