Spicy, just a little bit sweet, and really delicious, this Thai-inspired salad dressing is easy to make and BIG on flavor.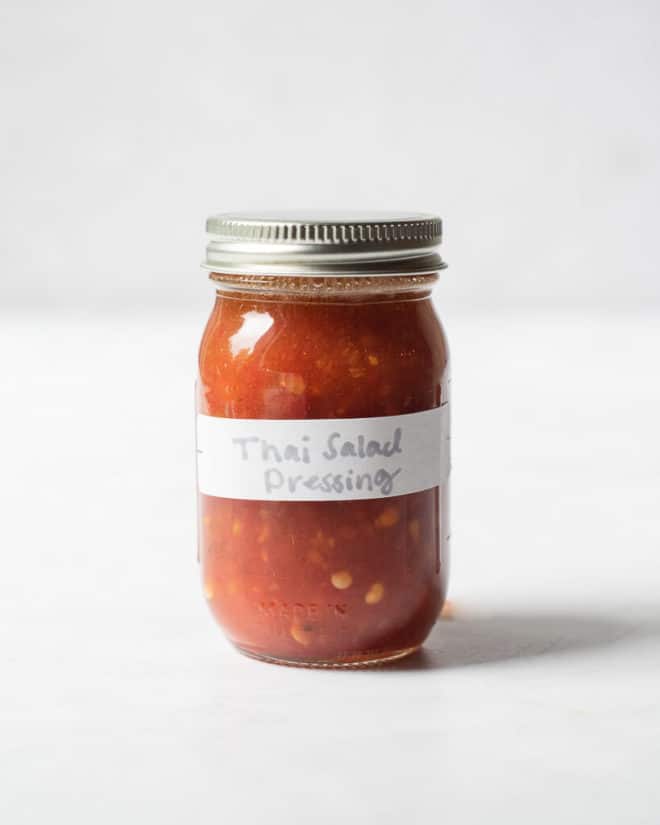 This Thai-inspired salad dressing is so delicious. It's slightly sweet, nice and spicy (though the spice level can be easily adjusted), and just has a really yummy, unique depth of flavor. I love this dressing on salads, of course, but it also makes for a fun chicken or shrimp marinade. Get creative with this one!
Made with lime juice, chili garlic sauce, sesame oil, honey, and fish sauce, this dressing is bursting with flavor. It's spicy with a touch of sweetness, and the fresh lime juice really adds a punch of fresh acidity to brighten everything up.
Recipe Ingredients
The ingredients list is fairly short here and every single thing on it contributes to the really delicious end product. Here's what you'll need: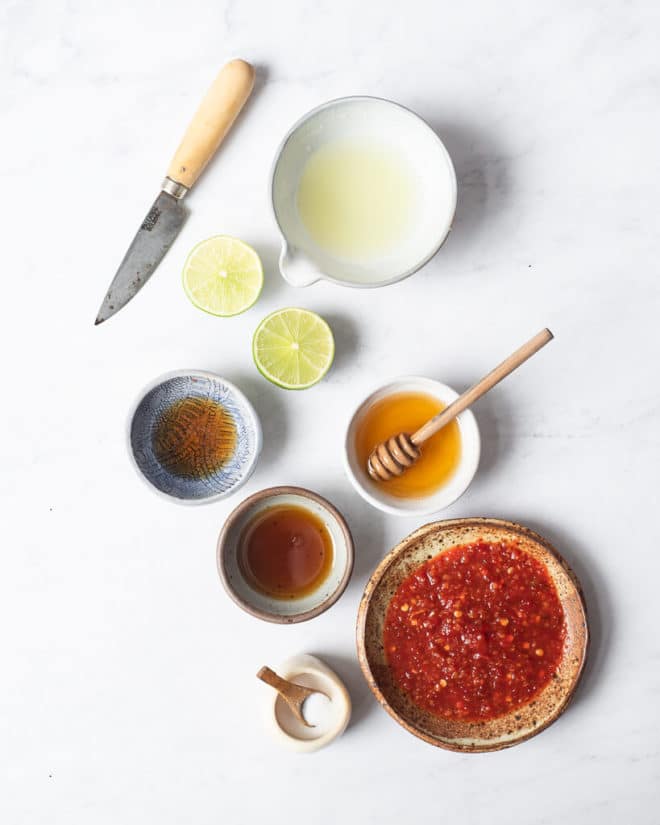 Lime Juice – to start, you'll need a ¼ cup of fresh lime juice — the juice from 2 really juicy limes.
Chili Garlic Sauce – in addition to the lime juice, you'll also need 1-2 tablespoons of chili garlic sauce. The exact amount you use here (anywhere between 1 and 2 tablespoons) will depend on your spice preference.
Sesame Oil – 1 tablespoon of sesame oil adds a really rich flavor to the dressing.
Honey – to give it a touch of sweetness and really counter the spice, you'll need 1 tablespoon of honey.
Fish Sauce – if you've never used fish sauce before, don't be intimidated! A little goes a long way, but the depth of flavor that it adds is really incredible. You'll need a ¼ teaspoon here.
Sea Salt – a ¼ teaspoon of sea salt will finish everything off beautifully!
How to Make Thai-Inspired Salad Dressing
The process is incredibly simple (as dressing recipes tend to be) — you'll simply add all of the ingredients to a bowl or jar and whisk until totally combined. That's it!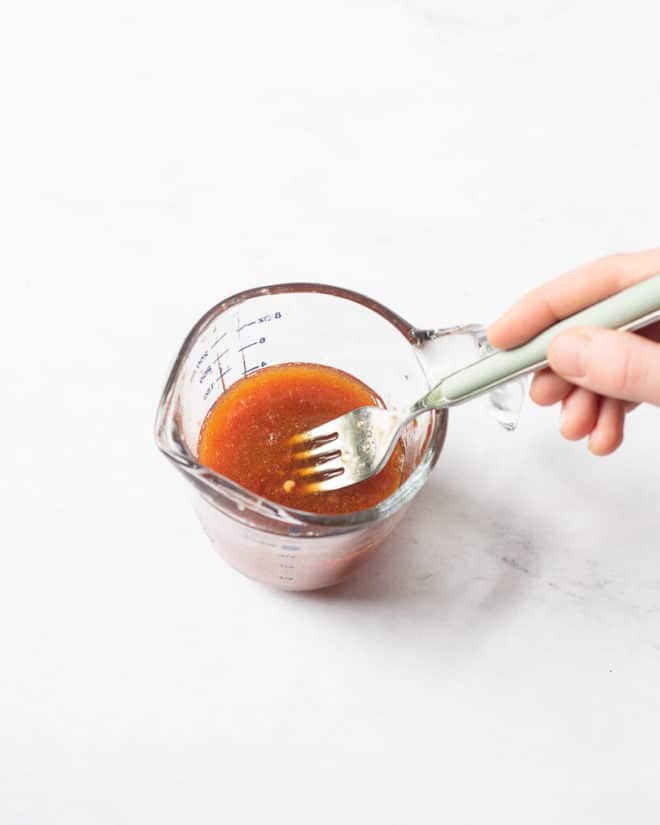 Frequently Asked Questions
How long does it take to make Thai-Inspired Chili Lime Dressing?
Considering the fact that all you'll need to do is measure out a few ingredients and whisk, the process shouldn't take you any longer than about 10 minutes. That's one of the beautiful things about homemade dressings, y'all — they're incredibly easy and always, ALWAYS taste better than their store-bought counterparts.
What else can Thai-Inspired Lime Dressing go with?
While this dressing is, of course, really delicious on salads (this Thai-inspired pork salad, specifically), it can also be used as a marinade (chicken thighs marinated in this stuff would be magical!) or as a spicy dipping sauce for already cooked proteins.
How do you store Thai-Inspired Salad Dressing?
As with most homemade dressings, this Thai-inspired salad dressing is best stored in an airtight container (a mason jar is ideal) in the refrigerator.
How long does Thai-Inspired Dressing last?
Stored correctly (in an airtight jar or container in the fridge), this homemade dressing will last for up to 2 weeks.
Does this Thai-Inspired Salad Dressing have peanuts?
It doesn't! While I do love a Thai-style peanut dressing, this recipe is more of a tangy, spicy dressing option.
Can this recipe be made into a Spicy Thai Salad Dressing?
I'd actually say that "Spicy Thai Salad Dressing" describes this recipe perfectly. The chili garlic paste really brings the heat (though you can play with how much or how little you use, depending on your spice preferences), so if you want an ultra-spicy option, amp up the chili garlic paste until your desired spice level is reached!
More Favorite Dressing Recipes
Thai-Inspired Salad Dressing Recipe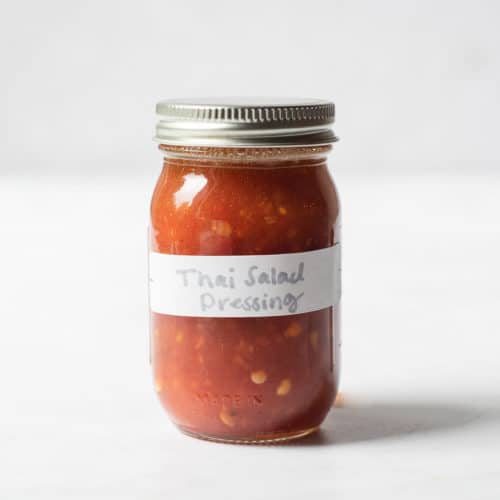 This spicy, bold dressing is delicious on salads and as a marinade!
Ingredients
1/4

cup

lime juice

1-2

tablespoons

chili garlic sauce

depending on spice preference

1

tablespoon

sesame oil

1

tablespoon

honey

1/4

teaspoon

fish sauce

1/4

teaspoon

sea salt
Instructions
Whisk all ingredients together in a small bowl until fully combined. Store in the refrigerator for up to two weeks.
Recipe Notes
1 serving = 2 tablespoons
Nutrition
Calories:
50
kcal
|
Carbohydrates:
5.6
g
|
Protein:
0.1
g
|
Fat:
3.4
g
|
Saturated Fat:
0.5
g
|
Sodium:
340.2
mg
|
Fiber:
0.1
g
|
Sugar:
6.1
g