We're giving you 10 simple ways to stay healthy (both physically and mentally) while working from home to help you conquer this challenging season!
With the current work-from-home life that many are experiencing, it's really easy to get in a rut, lose social connection, and just feel "blah" (really, that's the best word I can think of to describe it) at the end of the day (not to mention the end of the week!). I understand…I've been there.
Putting a few fail-safes in place really makes a huge difference in productivity, mood, and general outlook on current circumstances, though, so we're discussing the things that we've done that have really made a difference for us, and hope that they go a long way in making you feel your healthiest self (both physically and mentally) during this trying time!
#1: Spend More Time Standing
Standing while you work is a BEAUTIFUL thing, folks! While researching the benefits of standing for our standing desks article, I was honestly shocked at all that the simple task of standing has to offer. Here's a quick recap:
Standing burns calories.

Standing can lower the risk of heart disease and diabetes.

Standing can reduce chronic back pain.

Standing can improve your mood.

Standing can boost productivity.
Pretty amazing, right?! I know, you're likely playing several different full-time roles all at the same time right now: mom or dad, husband or wife, professional, household chef, and the list goes on and on, and taking a seat feels like a TREAT, but we challenge you to spend just a little bit more time standing during your workday (think: start with 20 minutes more a day, and go up from there!) and see how you feel after a week or so!
#2: Hydrate!
This is a BIG ONE! Just because you're at home with constant access to drinking water doesn't mean that you're actually staying hydrated! For me, staying hydrated is something that I CONSTANTLY have to think about – if I'm not making a conscious effort to stay hydrated, there's a good chance that I'll go a full day having consumed just one glass of water. NOT GOOD.
Hydrating helps to prevent headaches, promote healthy skin, aid in digestion, maintain kidney health, and increase energy (among *so* much more) – all of which make you feel GOOD! Here are our favorite ways to ensure that we're staying hydrated: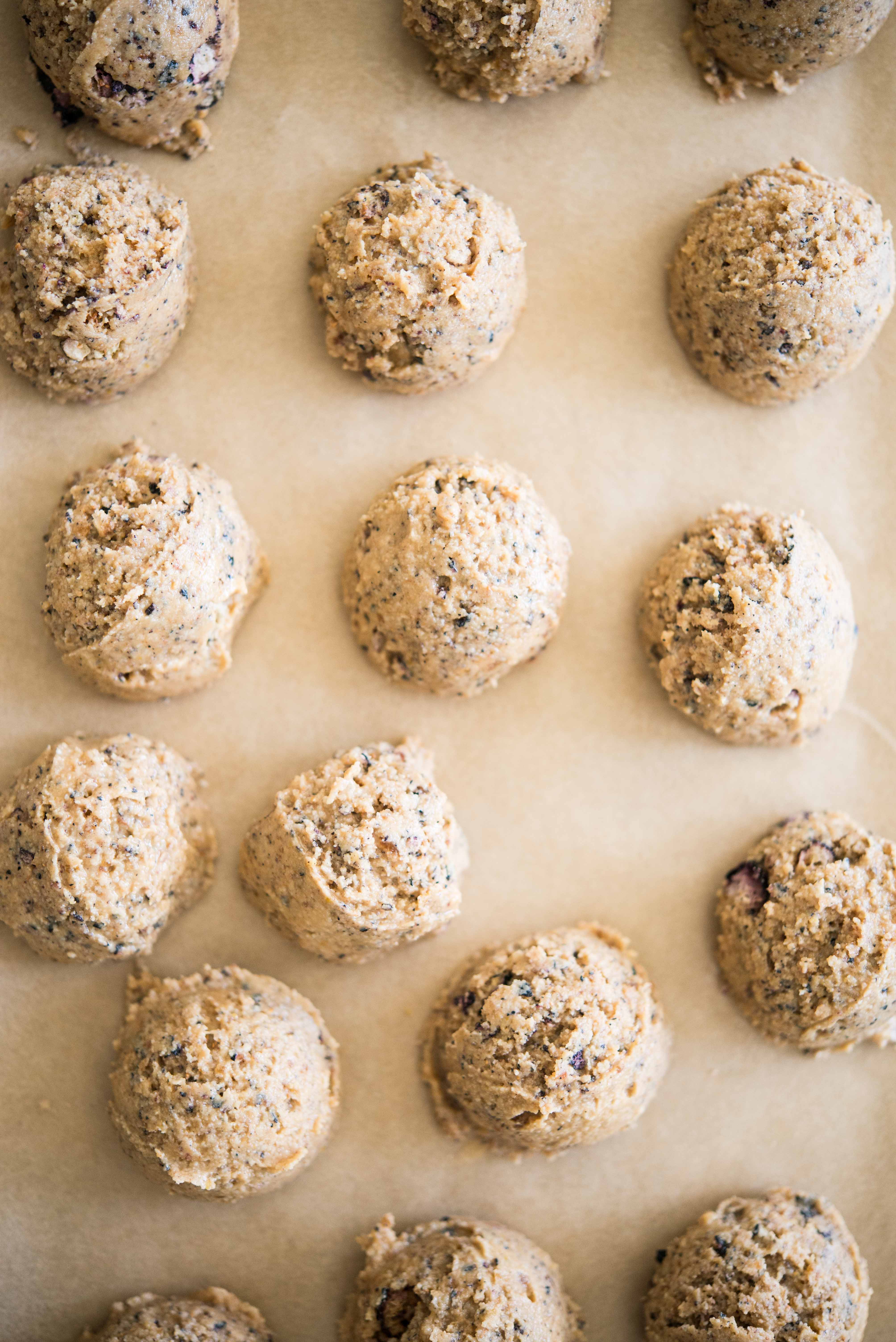 #3: Keep Healthy Snacks on Hand
Though it's easy to shovel in the snacks ALL day while you're just steps away from the pantry, fueling your body with the *good* stuff is really important and has such a huge effect on mood and productivity. These snacks (both homemade and store-bought) are satisfying, filling, energy-boosting, and will hold you over until your next meal.
Homemade
Pesto Hummus

– this hummus is smooth, creamy, and SO flavorful. It's the perfect thing to prep over the weekend and enjoy with crunchy raw veggies or plantain chips all week!

Blueberry Muffin Energy Balls

– these no-bake energy balls are chock-full of good-for-you ingredients and taste exactly like a blueberry muffin…SCORE!

Trail Mix Cookies

– all of the good things about trail mix made into cookie form! Delicious, filling, and great to meal prep for the week!
Store-Bought
RX Bars

– these bars are as simple as they come! RX bars are also truly well-balanced (they've got protein, carbohydrates, and healthy fats), so you won't feel the need to mindlessly snack throughout the rest of your day!

Nut Butter Packs

– these nut butter packs are the perfect companion to fresh fruit!

Grass-Fed Beef Sticks

– these high-quality beef sticks are protein-packed to keep you full and energized.
#4: Create Boundaries + Stick to Them
One of my biggest struggles at the beginning of this work-from-home season was feeling like I needed to work during every single waking moment to make up for the small, inevitable chunks of time throughout the day that I spent nursing my 6-month-old or making lunch for myself and husband. While I *hate* leaving work unfinished, waking up super early and going to bed super late was definitely taking a toll on my mental health.
Here's my suggestion: adjust your work hours (if you're able) so that your workday rests in the most focused spots of your day, and give yourself grace when home-life inevitably intersects with work-life. My personal solution looks like this: wake up and work for an hour and a half (rather than 3) before my 6-month-old, Emmie, wakes up, nurse her when she wakes and then have breakfast with my husband, really hone-in on work during Emmie's 3 collective hours of naptime throughout the day, ask for help (from my hubby if he's home from work, or my mom if he's not) throughout the rest of the day while continuing to take the time to nurse baby girl (and soak in the snuggles that come with that), and then, for the most part, put away my work and relax with my hubby each evening (still working on this one!). When I have a more balanced schedule like this, I'm *more* productive and healthier mentally!
#5: Designate a Work Space
Sitting on the couch with your laptop in your lap is likely not allowing you to get into the mental 'work' headspace and probably makes it pretty tempting to scrap work altogether and give in to your current Netflix series. If you've got an office at home, use it! Otherwise, try finding a quiet spot in your house, and if that's not possible, at least find a table to sit at. I chose my kitchen table because it's in an area with lots of natural light and has plenty of room for my water bottle, snacks, planner, notebook, and anything else I may need!
#6: Get Ready for the Day
I have to admit, for the first week or so of quarantine, I didn't get ready. I stayed in my jammies, and my mood and disposition totally reflected that. I never quite felt "awake," and I was generally just grumpy and groggy. Now, getting ready for the day does not have to mean getting dressed in your business casual work clothes with styled hair and a full face of makeup – washing your face, running a brush through your hair, and throwing on yoga pants totally counts! The act of getting out of your PJs (no matter how comfy they may be!) does wonders for your mental health!
#7: Work Some Movement into Your Day
Movement does amazing things for you both physically and mentally! Whether it's going for a short walk around the neighborhood, doing an online Tabata workout, squeezing in an energizing yoga session, or even just taking the time to complete a mobility/flexibility workout, getting your body moving goes a long way in making you feel your very best. Check out our Fitness from Home article for all of our favorite ways to sneak in some movement at home!
#8: Protect Your Eyes with Blue Light Blocking Glasses
Because so much of our day-to-day consists of staring at the computer, phone, and other electronic screens, protecting your eyes is more important now than ever! Blue light blocking glasses actually reflect and filter damaging blue light that is emitted by digital screens and is known to induce headaches and migraines, suppress melatonin production (making restful sleep hard to come by), induce eye fatigue, and cause potential retina damage. Blue light blocking glasses can be found at most retailers now, but these are our favorites:
Warby Parker Blue-Light Lenses

– I love Warby Parker for lots of reasons! First of all, for every pair of glasses sold, a pair of glasses is given to someone in need…amazing! Warby Parker also does free home try-ons so that you can try on as many pairs of glasses as you need until you find the ones you love most! You can add blue-light filtering lenses to any frame (prescription or not).

Glasses USA

– Glasses USA also sells blue-light filtering glasses. They have tons of designer frames for really great prices!
Stay Connected
One of the biggest hardships of working from home is feeling completely disconnected from the outside world, especially our colleagues. For many, the social aspect of working with others is food for the soul, and going from daily social interaction to being stuck at home is tough. Though these aren't the same as face-to-face interaction (nothing can replace that!), apps like Voxer (this is what Team Fed and Fit uses!) and Slack allow you to send quick audio and video messages (among many other features) so that you can stay connected to your colleagues and friends in a more personal way than email.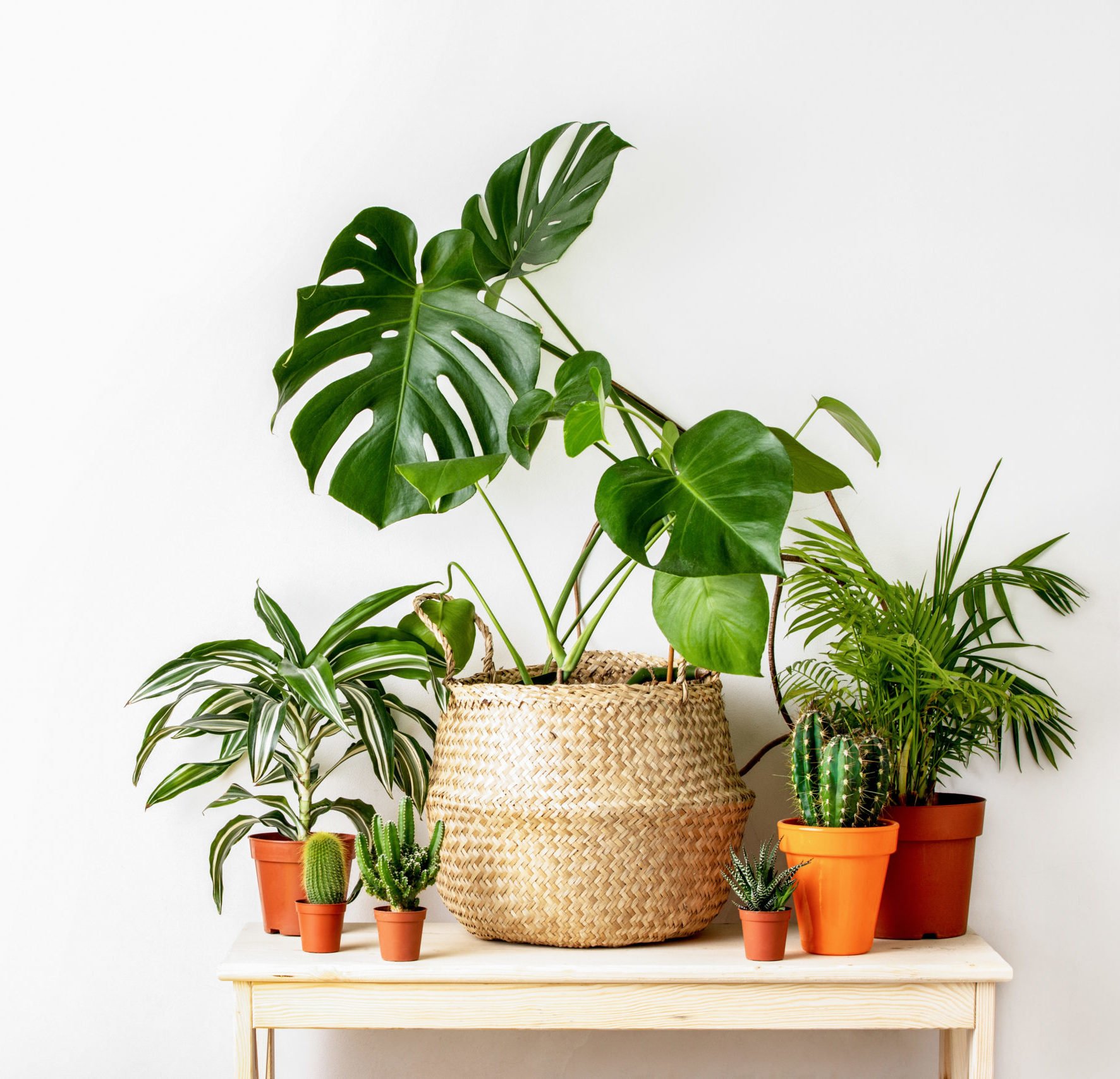 Get a House Plant
You guys! House plants are incredible…I had no idea! They've got tons of benefits that include purifying and improving air quality, alleviating stress, helping with focus, increasing productivity and creativity, and improving relationships – amazing, right?! Read our full house plant article to learn more about the benefits of house plants and to see which one would be best for you. Best part? No green thumb needed to maintain a successful, stress-relieving, thriving house plant! 
We're all in this together, and we hope that these 10 ways to stay healthy while working from home provide you with a mood boost and the confidence in knowing that YOU'VE GOT THIS!