7 Layer Dip
If you told me I could either enjoy a piece of salted caramel buttercream-frosted gluten-free chocolate cake (one of the two cakes served at our wedding) and this 7 layer dip with some spiced seed chips, I'd have an IMPOSSIBLE time choosing.  There is something about 7 layer dip that just takes me right back to family parties, summer, and getting full off of chips and dip before we even got to the main course!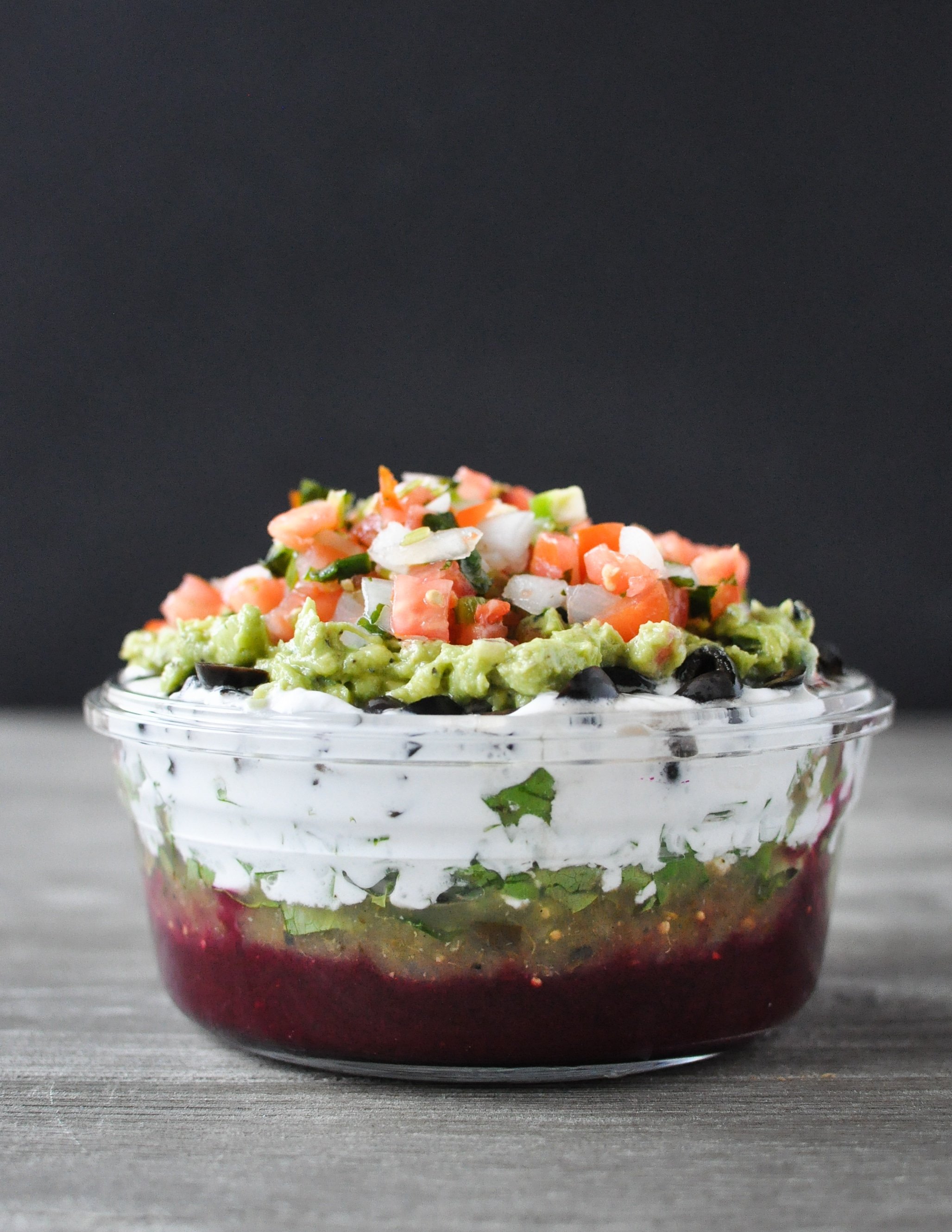 I'm pretty sure that I have such fond memories of several family gatherings from my youth BECAUSE someone brought a 7 layer dip. If food is my love language, 7 layer dip is my Heathcliff, my Romeo, my …Tommy Pickles (I always thought he was such a catch).
This recipe is probably one of the more complex that I've ever posted here, but it's delicious, satisfying, and can help you enjoy that family-favorite dip you may have missed since going Paleo.  Don't let the steps or ingredient list intimidate you, it's worth every second of extra effort because this dip is the perfect amount of creamy, zesty, and crunchy!
The trick to this recipe is to try and keep water content at a minimum AND to make sure you prepare it in a large bowl. If you're able to prep the sour cream in advance (so that it firms up), and drain excess fluid off the salsas and lettuce, you'll be in GREAT shape!
This dish keeps really well, so feel free to make it a day before your party or family gathering. Note that the beets may color the sour cream, but the flavors are all still wonderful.
I recommend serving it alongside some spiced seed chips, your favorite grain-free crackers, or sliced cucumbers, bell peppers, or carrots.
Enjoy, my lovelies!
Print
7 Layer Dip
Author:
Prep Time: 30 minutes
Total Time: 30 minutes
Yield: 1 large dip
Ingredients
Layer 1: Zesty Beet Puree:
1 large (or 2 medium-sized) roasted beets*
1/4 cup fresh salsa
1 tablespoon lemon juice
1/2 teaspoon ground cumin
1/2 teaspoon chili powder
1/4 teaspoon sea salt
Layer 2: Salsa Verde:
3/4 cup pre-made sugar-free salsa verde
Layer 3: Seasoned Lettuce:
1 cup finely shredded romaine lettuce
1 teaspoon extra virgin olive oil
1 teaspoon lemon juice
1/4 teaspoon sea salt
Layer 4: Coconut Milk Sour Cream:
solids from 2 cans of unshaken chilled full-fat coconut milk
3 tablespoons coconut water (from the cans)
3 tablespoons lemon juice
1/4 teaspoon sea salt
Layer 5: Black Olives:
4.5 oz sliced black olives, drained
Layer 6: Guacamole:
3/4 cup Fed+Fit Semi-Homemade Guacamole
Layer 7: Pico de Gallo:
2 medium-sized tomatoes, de-seeded and diced
1/4 small red onion, diced
1/2 small jalapeno, de-seeded and finely diced
1/4 cup fresh cilantro, chopped
1/4 teaspoon sea salt
2 tablespoons lime juice
Note: may substitute with 1 cup of fresh store-bought Pico de Gallo
Instructions
Layer 1: Zesty Beet Puree
* For perfectly roasted beets, wash, cut off ends, and wrap in aluminum foil. Bake at 350 F for 1 hour to 1 hour 30 minutes, or until they give with a pinch. Let them cool completely before using.
Combine all the ingredients in a food processor and blend until smooth.
Spread the seasoned beet puree evenly into the bottom of a cake pan or glass bowl.
Layer 2: Salsa Verde
Without disturbing the beet puree below, carefully spoon the salsa verde as the 2nd layer in the dish.
Layer 3: Seasoned Lettuce
Massage the oil, salt, and lemon juice into the shredded lettuce.
Carefully lay this in an even layer over the salsa verde.
Layer 4: Coconut Milk Sour Cream
Using either a food processor, hand mixer, or whisk, incorporate the chilled coconut milk solids, water, lemon juice, and salt together until an even consistency forms.
Carefully layer it over the lettuce in one even layer.
Note: the coconut milk sour cream will thicken the longer it sets in the refrigerator. I especially recommend you make this step one day in advance.
Layer 5: Black Olives
After the olives are thoroughly drained, sprinkle them over the coconut milk sour cream.
Layer 6: Guacamole
Carefully spread the guacamole over the black olives.
Layer 7: Pico de Gallo
Stir all the ingredients together, drain, then spoon over the very top of the dip.
Notes
Tips: Either enjoy right away or store covered in the refrigerator for up to 4 days.
Program Compliance: Fed+Fit, 21-Day Sugar Detox, Whole30, GAPS
Related Posts
4 Responses to "7 Layer Dip"
Leave a Comment