Baked Mustard Chicken
jump to recipe
Nothing like saying "I'm back!" with a brand new recipe like this baked mustard chicken that will just plain and simple knock your socks right off!  It ticks all the boxes on my easy recipe requirements – minimal ingredients, maximum flavor, and ease of preparation.  There's not a thing missing from this fantastic protein option.
Did you miss me? I missed you!! I've been a traveling fool for the past month. I'm so sorry I've been away for so long, but I have some great travel stories and awesome restaurant accounts to tell you all about once I can get my suitcase unpacked, and everything all settled.  So be on the lookout for a quick travel recap coming your way!
But first, I need to share my first home-cooked meal back. I wanted something easy, healthy, and summery. And a baked mustard chicken was first on my list. Well, after the awesome vegetable I made to go with it (will reveal later this week).
I had a few excited helpers in the kitchen! My mobile vacuums, Jake and Max, missed my messy cooking habits.  These two little guys are my shadows on kitchen days, and the perfect little sous chefs.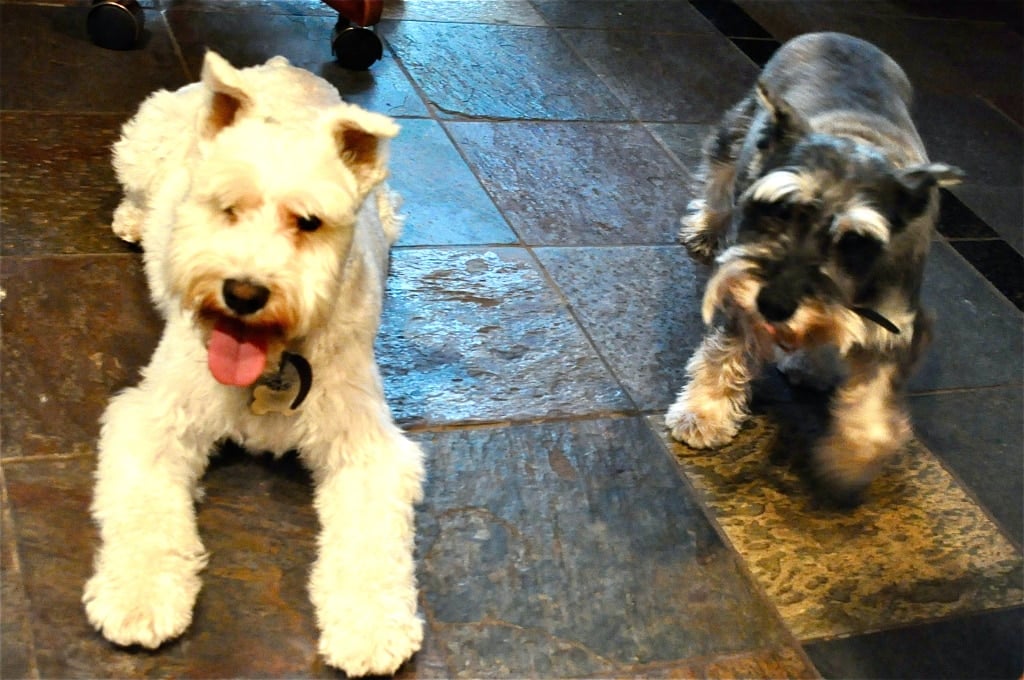 This recipe is extremely easy and extremely delicious. Feel free to use any mustard you like. I prefer the horseradish whole-grain mustard. It's a little spicy, but I haven't gotten any complaints.  I've heard fantastic results with a honey mustard topping that I think sounds lovely!  All in all this baked mustard chicken comes out with a delightful light "crust" from the mustard that leaves you with extra texture and flavor.
I have listed below that ½ a breast is a serving size – this is true for me but feel free to increase the serving size if you need more. I hope you love this baked mustard chicken as much as I do!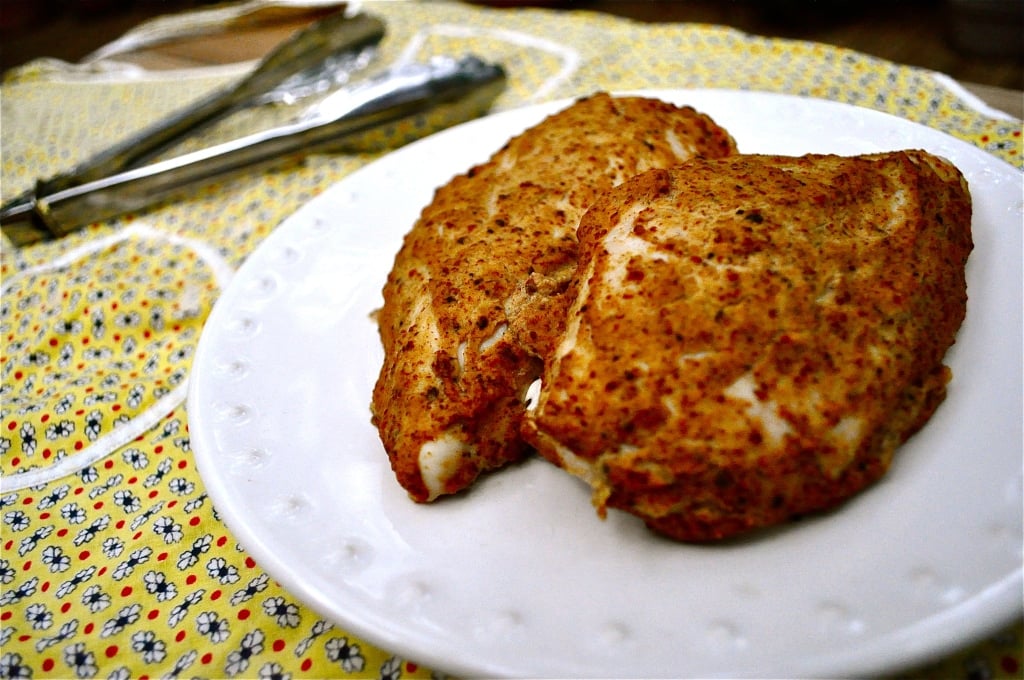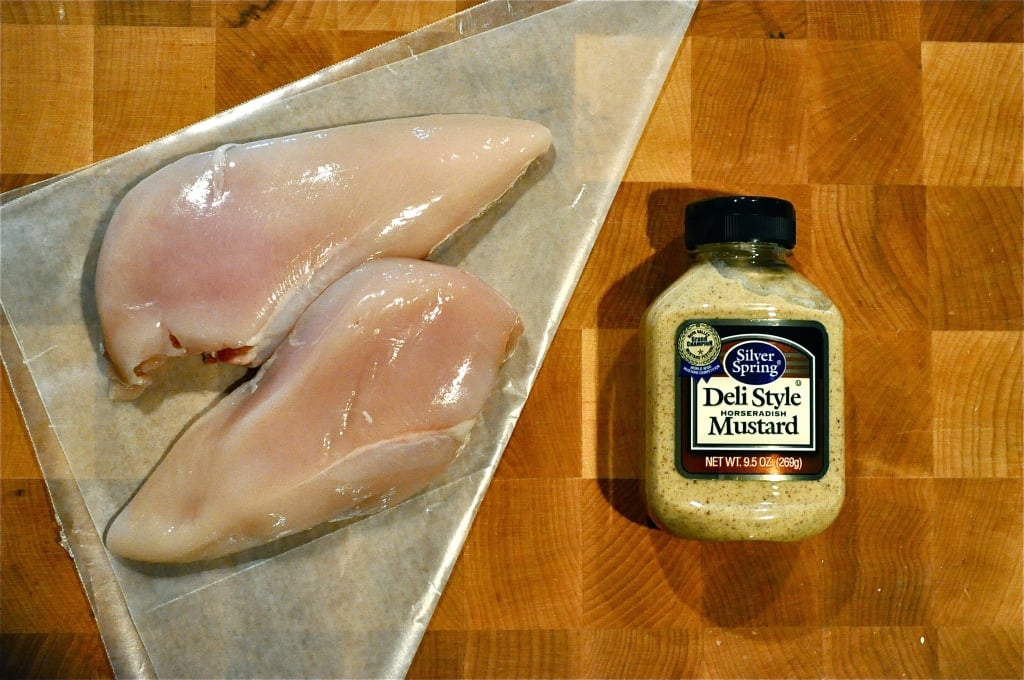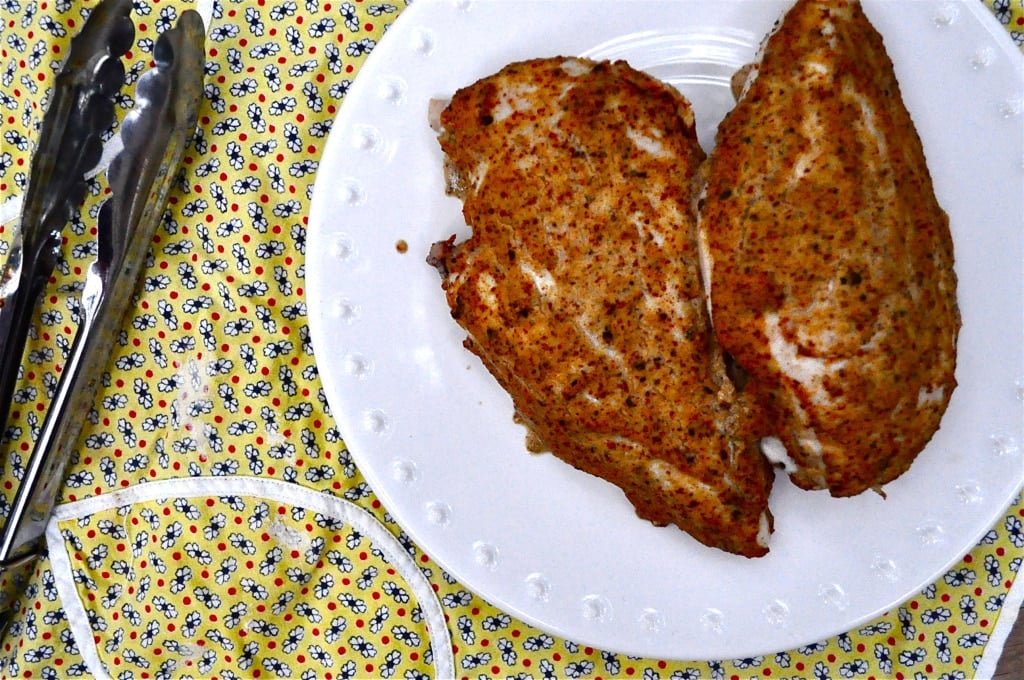 Print
Baked Mustard Chicken
Author:
Total Time:

25 minutes
2

fresh chicken breasts (about

8oz

each uncooked)

4

Tbl horseradish grainy mustard
sea salt & cracked pepper for taste
Instructions
Preheat your oven to 350.
Line a baking sheet with aluminum foil.
Rinse your chicken breasts and then pat dry.
Sprinkle with the sea salt and cracked pepper on both sides.
Apply 1 Tbl of the horseradish mustard to each side of each chicken breast. Smooth over the chicken with the back of a spoon. Be sure to cover the entire breast.
Bake at 350 for approximately 18 minutes.
Let cool for a few minutes before cutting and serving.
Enjoy!
Nutrition
Calories:

155

Sugar:

0 g

Fat:

3 g

Protein:

27 g