I LOVE these chocolate chili pecan clusters! They contain the perfect amount of fat, sugar, crunch, spice, and salt to cure any craving.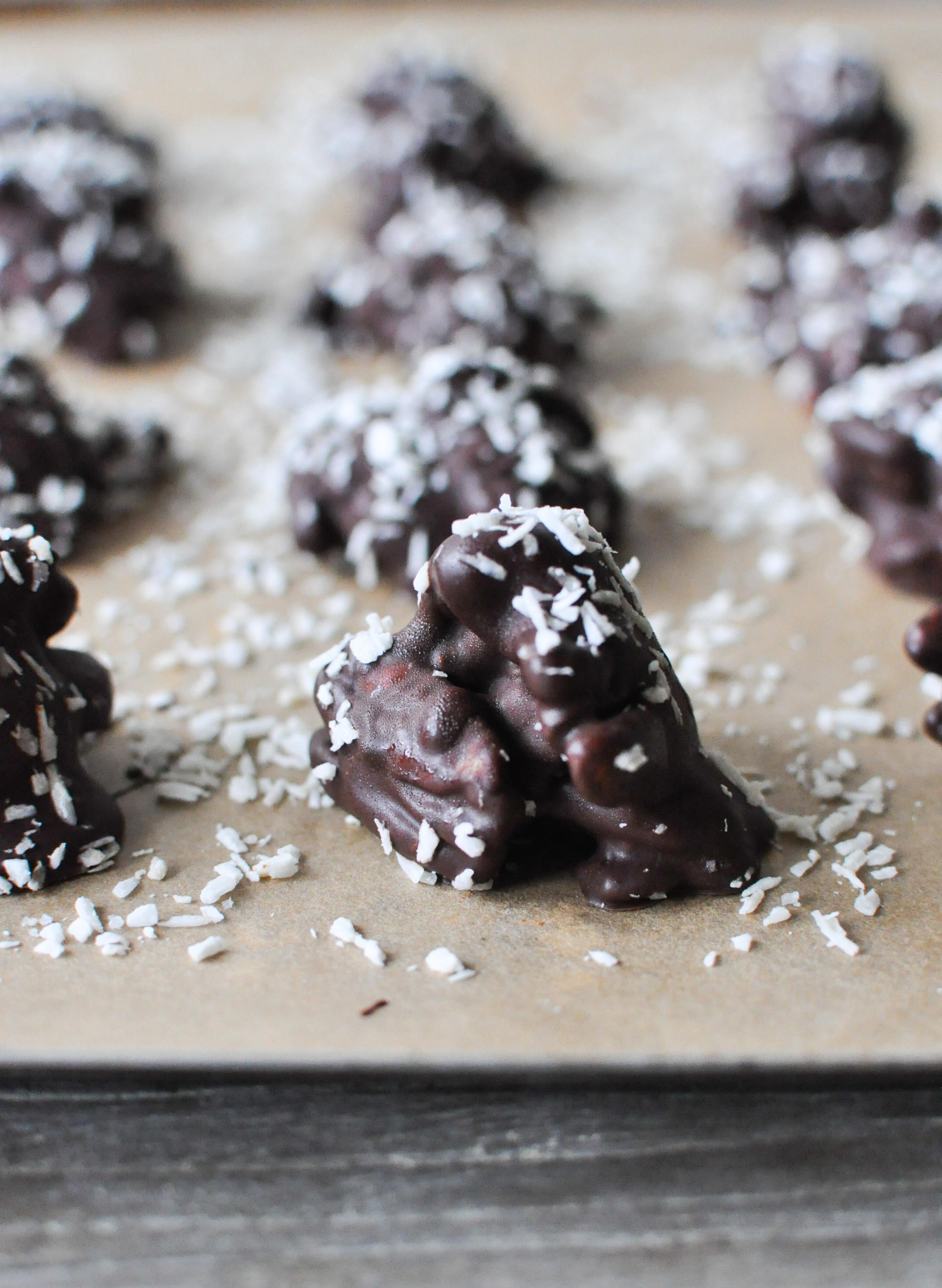 If you really boil it down, I'm in the business of creating and then sharing my secrets/tricks.
I'm over here like, "You want tricks? I got tricks! Have my tricks! All of them! They're yours and you can claim them as your own."
What's my secret behind such strong nails and hair? I eat a LOT of gelatin, usually in the form of gummies.
What trick do I employ that allows me to work 80+ hours a week while still finding time for family, relaxation, home-cooked meals, and regular fitness activities? I schedule everything and prepare ahead as much as possible. *Ahem* …I'm looking at you, meal prep.
What's my secret to taking recipe photos for this blog? I only shoot in the daytime, avoid direct sunlight, turn off all artificial indoor lights (no flash, either), use this camera, mostly this lens or this lens, and try a LOT of different angels (though, overhead shots are usually a sure-bet). I'll sometimes take 200 photos of a dish and only wind up publishing about 3. Safety in numbers!
What trick do I use to satisfy my voracious appetite for reading? I listen to audio books (from Audible) while I drive, cook, clean, fold laundry, and take Gus for walks. I average ~2 books a month this way.
What's my secret for wearing gorgeous designer dresses for photo shoots that I (otherwise) wouldn't purchase on my own? I rent them from Rent The Runway! All the dresses I wore for our engagement photos came from RTR.
What's my trick to 5+ years of a successful, healthy, happy, still-indulgent, grain-free lifestyle? I've worked my tail off to summarize the concept into a month-long self-study, known as The Fed+Fit Project.
What's my secret for keeping healthy desserts on-hand for a quick nibble that doesn't require weekly grain-free goodie baking? I make these Chocolate Chili Pecan Clusters about once every couple months and store them in the FREEZER for easy/long-term access.
I almost named these little goodies "Freezer Chocolate Chili Pecan Clusters" …but, similar to my learned habit of taking off ONE piece of jewelry before I walk out the door, I decided a 4-word title would be more chic.
I LOVE these little bites! They are perfect for conquering any craving without spoiling your goals. I actually made this batch as a little present for our wedding photographer, Jana Williams. If you follow me on Instagram, you know that Austin (my fiance) and I flew to meet her in LA for our engagement photos! We had a BLAST and as soon as I get more proofs, I promise to share them.
The addition of chili, shredded coconut, and sea salt are all optional – so play around with what YOU like! This is a good template for creating a better-alternative sweet treat that's great for sharing or keeping on hand for whenever you want a bite of chocolate.
Enjoy!
Chocolate Chili Pecan Clusters
I almost named these little goodies "Freezer Chocolate Chili Pecan Clusters" …but, similar to my learned habit of taking off ONE piece of jewelry before I walk out the door, I decided a 4-word title would be more chic.
Ingredients
2

cups

pecan halves

room temperature

1 1/4

cups

chocolate chips

1

teaspoon

chili powder

2

tablespoons

unsweetened shredded coconut

optional

1/2

teaspoon

sea salt

optional
Instructions
Option A -- Melt chocolate with a double-boiler: Choose a glass bowl fitted so that it can rest on top of a small/medium-sized sauce pot without falling in. Bring about 2 inches of water to a boil in the sauce pot. Reduce the temperature to a simmer, pour the chocolate chips in the glass bowl, and place the bowl on top of the simmering pot. Using a rubber spatula, stir the chocolate continuously until it melts completely.

Option B -- Melt chocolate in the microwave: Pour the chocolate chips in a glass bowl and microwave for 30 seconds. Remove from microwave, stir the entire mixture over using a rubber spatula - allowing time for the chocolate to continue to melt itself, and then return to the microwave for another 30 seconds. It should take a grand total of about 3-4 rounds of 30 seconds in the microwave and 30 seconds out. Don't be tempted to just microwave for 2 whole minutes because the chocolate can easily burn.

When the chocolate is melted completely, add the chili powder and stir to combine. Pour the pecans into the bowl and stir until they're completely covered. Using a large spoon, spoon about 1 tablespoon-sized clumps onto the parchment paper. When all the clusters are on the sheet, dust with the optional shredded coconut and sea salt. Transfer the clusters to the freezer or refrigerator to set for 1 hour or overnight.

Store in an airtight container on the counter for one week or freeze for up to 3 months.
Nutrition
Calories:
173
kcal
|
Carbohydrates:
12
g
|
Protein:
1
g
|
Fat:
14
g
|
Saturated Fat:
4
g
|
Polyunsaturated Fat:
3
g
|
Monounsaturated Fat:
5
g
|
Sodium:
80
mg
|
Potassium:
105
mg
|
Fiber:
1
g
|
Sugar:
9
g
|
Vitamin A:
47
IU
|
Vitamin C:
0.2
mg
|
Calcium:
21
mg
|
Iron:
0.4
mg
PS. You may have noticed that these Chocolate Chili Pecan Clusters are actually a recipe I dusted off/updated from February of 2012! Feel free to check out that post if you want to get a feel for how my take on nutrition and photography has evolved 🙂