This Chile Relleno Breakfast Casserole packs a nutritious, flavorful punch! This dish is especially great for meal prepping breakfasts.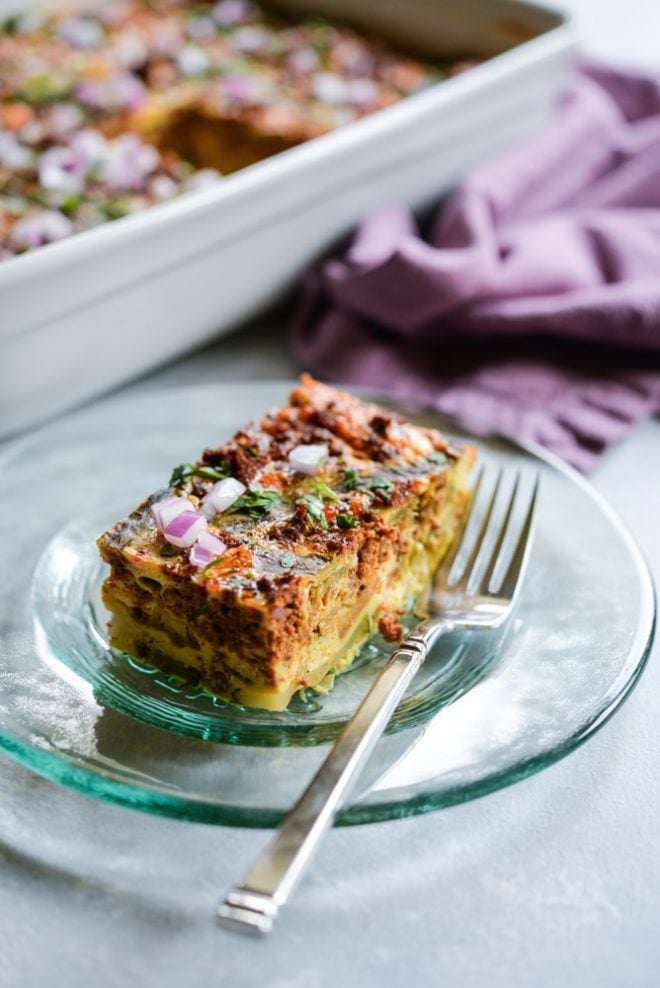 I really want to commission a new club. I want to dub it the "BIG & Tasty Breakfast Club!" It's a friendly meeting place for those of us who prefer a larger breakfast, one that really sticks with us until lunch. We like lots of great flavor and balanced nutrition. Members accidentally exude honest confusion (often in a head tilt and furrowed brow) when someone tells us that they skip or regularly forget about breakfast.
Where my members at?! I know you're out there.
As a loud and proud member of the BIG & Tasty Breakfast Club, I am excited to offer up another club-worthy breakfast recipe. This one is a great big casserole chock FULL of fabulous and flavorful nutrients. The star of this breakfast casserole is the equally loud and proud Hatch Chile. Hatch Chiles are from Hatch, New Mexico and start to show up in nearby grocery stores in mid-to-late August. A slightly more mild cousin to the poblano pepper, Hatch Chiles are something special. If you don't have Hatch (or other poblano-type peppers) available near you, this website allows you to order them online. Note: I have not personally received peppers from this company, so I can't speak to the customer experience.
These peppers (same for poblano peppers) are best prepared by charring the outside skin first, peeling the layer away, and scraping out the seeds. You'll then be left with the tender, flavorful meat of the pepper to enjoy in your dishes.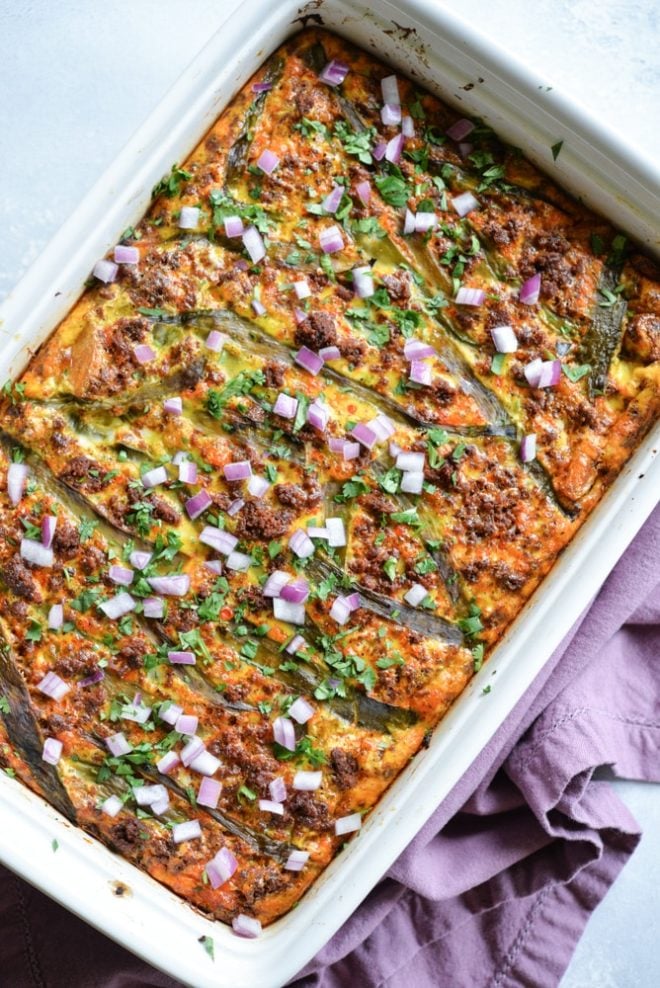 While a traditional chile relleno is a stuffed pepper that's dipped in egg and then topped with cheese (see my book for a version of one!), I'm adapting the name for this easy breakfast casserole. We're going to essentially mix all the ingredients for a healthy, Paleo-friendly chile relleno in with some eggs. The whole mixture is then baked to perfection, sliced into servings, and enjoyed!
The players in this BIG & Tasty Breakfast Club-worthy breakfast casserole are: roasted potatoes, prepared chiles, chorizo, roasted calabaza squash, and egg. It's then garnished with purple onion and fresh cilantro! Easy-peasy and wonderfully filling. If you love a good breakfast casserole as much as we do, be sure to check out our Clean Start Breakfast Casserole too!
Note that this casserole makes a lot of servings. Unless you're feeding a crowd, you'll probably have leftovers! My favorite way to store leftovers of a breakfast casserole are to let it cool *completely* before you wrap in plastic (or wax paper). Place each wrapped piece of casserole in a large plastic bag, label with the name + date, seal, and freeze! To enjoy later, either bake at 350 F until hot or microwave for 2 to 3 minutes, or until you like it.
This Chile Relleno Breakfast Casserole packs a nutritious, flavorful punch! This dish is especially great for meal prepping breakfasts.
Ingredients
1

pound

of potatoes

1

pound

of calabacita squash

1

teaspoon

olive oil

2

pounds

of chorizo

6

large roasted hatch chiles*

1/2

teaspoon

sea salt

1/4

teaspoon

pepper

18

eggs
Instructions
Preheat the oven to 375 degrees.

Slice the potatoes and calabacita squash into thin triangles. Combine with olive oil on a baking sheet and bake for 45 minutes.

Heat a pan over medium heat and add the chorizo, removed from its casing, to create sausage crumbles.

Rinse the hatch chile peppers under running water to remove the outside paper-like skin and the seeds. Dry the chiles with paper towels then slice into one inch strips.

After the vegetables are done roasting, layer them in the bottom of a large 9x13 inch pan.

Reduce the oven temperature to 350 degrees.

Add half of the chorizo on top of the vegetables, and then add half of the hatch chile pepper strips on top of the chorizo.

Next, whisk the eggs with salt and pepper and pour over the dish.

Add remaining chorizo and chiles on top of the egg mixture.

Bake the casserole for 25-30 minutes or until the center is firm (give it a shake and if it jiggles, it needs more time).

Let cool for at least 5 minutes then slice and serve.
Recipe Notes
If you can't find pre-roasted hatch chiles, follow these instructions to roast them:
Set your oven to broil. Line a baking sheet with aluminum foil.
Place the poblano peppers on the foil and place under broiler until blistered and slightly blackened. This will take approximately 10 minutes – turn them over every 3 minutes to be sure they are evenly charred.
Once they peppers are evenly blistered and charred, remove from oven and let cool.
Once the peppers are cool to the touch, remove their skin and seeds under running water or in a bowl of water.
Nutrition
Calories:
433
kcal
|
Carbohydrates:
14
g
|
Protein:
26
g
|
Fat:
29
g
|
Saturated Fat:
11
g
|
Polyunsaturated Fat:
2
g
|
Monounsaturated Fat:
3
g
|
Trans Fat:
0.03
g
|
Cholesterol:
351
mg
|
Sodium:
235
mg
|
Potassium:
472
mg
|
Fiber:
2
g
|
Sugar:
2
g
|
Vitamin A:
5608
IU
|
Vitamin C:
20
mg
|
Calcium:
72
mg
|
Iron:
4
mg