Dazzle Dry vs. Olive and June …how do they compare? Read on for my honest, unabridged review of these two safer polish options!
Though I really do love every aspect of my job, I consider assignments like "review and compare safer nail polish systems" to be pretty high up there in terms of "fun!" In this article, we're comparing two of the most loved safer nail polish systems: Dazzle Dry and Olive and June. Read on to find out how they stack up!
Overview
First off, let's dive into a little bit about each brand and how I first learned about them.
Dazzle Dry
It was in my constant state of hot pursuit for the BEST at-home, safer nail polish system that I came across Dazzle Dry. Dazzle Dry is formulated with safer ingredients, goes on just like regular polish, dries really quickly, and rivals salon gel polish in longevity and wear. My first experience with DD (at the Ojai Valley Resort Spa) was nothing short of magical: my nails were shiny and very dry in 5 minutes and my manicure ended up lasting (completely chip-free) 10 full days. I still use this system non-stop and am, in a word, obsessed.
Olive and June
Because of my love for Dazzle Dry (read above!), I have to admit, I was pretty skeptical about Olive and June. I had a friend who put Olive and June on her birthday wishlist on the recommendation from several of her friends. Once I heard that REAL people loved the system (and it wasn't just paid ad fluff on social media), I knew I had to give it a fair shot. Overall, I really loved the experience – Olive and June's customer experience is SUPERB, and their polish is both incredibly easy to apply and super affordable.
Dazzle Dry Pros + Cons
The Pros
An effective system. This system is unbeatable, y'all. Yes, you *have* to use the entire system in order to achieve quick-drying, long-lasting results, but it's so worth it.
Virtually no dry-time. The dry-time here (5 minutes) is almost non-existent. It makes painting my nails in the margins of my day really doable.
Long-lasting. I can easily get 10-14 days of chip-free wear from my Dazzle Dry manicures.
Incredibly easy to apply. Because the system works so seamlessly, I actually find myself changing my polish more often than I really need to. It's that easy and fuss-free!
Tons of options. The Dazzle Dry website has a huge selection of polish color choices. Many of their product pages include videos of the polish actually being painted on a person's nail so that you can see the color in real-time (vs. just on a photo).
The Cons
Slightly pricier. Dazzle Dry polishes ($18) definitely come in at a higher price point than Olive and June polishes ($8), and the entire system is $55, which you'll definitely need to purchase if you're a first-time Dazzle Dry customer.
The polish tends to "shrink" on the nail. Once applied, I've noticed that if I don't make an obvious effort to enclose my nail tips with polish, the polish will "shrink" (I'm not sure how else to explain it) just slightly during the drying process, leaving a very fine line of the top of my nail without polish.
Color swatches on the website can be deceiving. Though the color selection is vast, I typically stick to colors that offer a video of the actual polish being painted on a nail (vs. photos only) on the product page – I've found that sticking to these colors (and seeing the polish in real-time) helps with any surprises/disappointments that may come with inaccurate photo depictions of polish colors.
For more on Dazzle Dry, read my full Dazzle Dry review.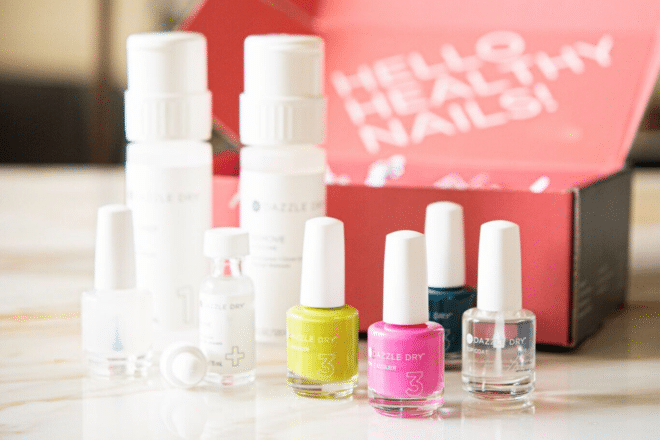 Olive and June Pros + Cons
The Pros
Unbeatable customer experience. From the branding, the website, the packaging, the helpful instruction, and their hands-on customer service, I haven't seen anything like it.
A complete system. There's comfort in knowing that when you buy their system, you're getting everything you need to pull off a quality home manicure.
Polish is a beautiful formula. It's not too thick, not too thin, and goes on without streaking.
Beautiful polish colors to choose from, each of which have high quality color saturation (meaning, you won't wind up painting 4 layers to get the color you expect).
Decent wear (I got 5 days).
Easy to take off with non-acetone (or I imagine, also acetone) remover.
Competitive price. At $8 a bottle for each new color, Olive and June comes in less than many conventional polishes.
A safer (7-free) formula. For as well as it performs when compared to their conventional polish counterparts, it's impressive that it's also formulated with safer in mind.
The Cons
It's not like gel. While there were some rumors circulating early in the Olive and June days that it wore like gel, I'm here to debunk the myth.
While I did put 5-day wear under the pro list, I could also argue that it's a con when comparing it against systems (like gel) that last much longer.
Slow drying time. While the dry drops helped prevent light markings on the top of the polish right away, the polish (for me) didn't totally set until a full 2 hours had passed.
For more on Olive and June, read my full Olive and June review.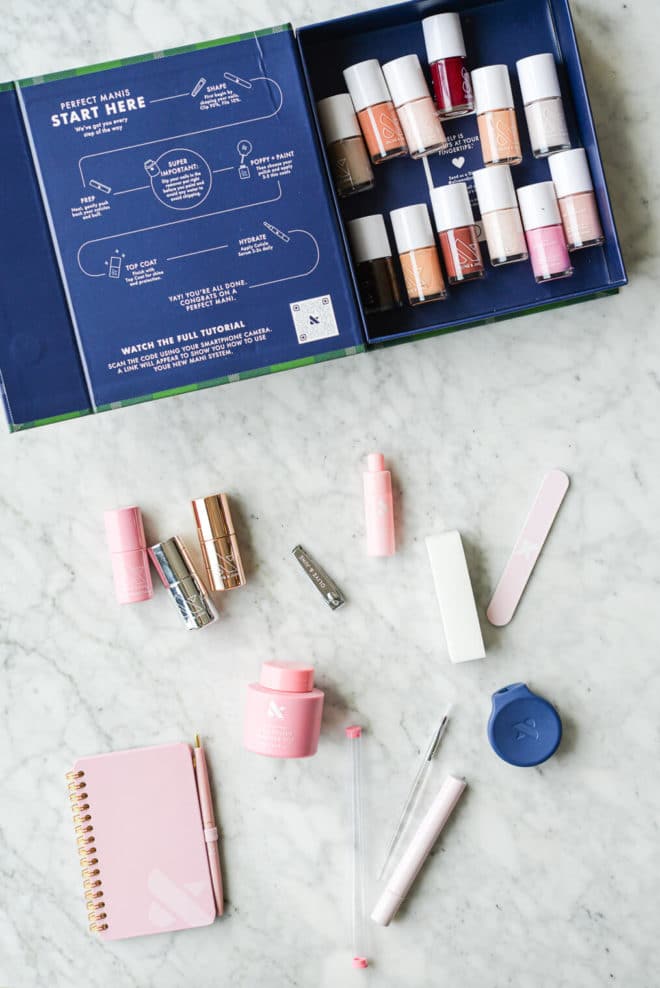 Frequently Asked Questions
Which system lasts longer?
Dazzle Dry, without question. My at-home Dazzle Dry manicures last (chip-free) for 10-14 days every single time. In fact, I typically end up changing my polish out because of obvious nail growth (or an urge for a color swap) rather than out of necessity. My Olive and June manicures last chip-free for about 5 days.
Which system is easier to work with?
This is an interesting question, because I actually think BOTH systems win in this category for very different reasons.

Dazzle Dry is such an easy system to work with because it dries SO FAST, meaning that I can move on from my manicure and get busy doing other things in 10 minutes or less.

I really love how the Olive and June polish applies (it's a little bit thinner than Dazzle Dry), and because of the easy-to-apply formula, I actually find that the act of PAINTING my nails is easiest with Olive and June.
Which system offers the best polish colors?
This one's a tie! They both offer TONS of color options. One thing that I love about Dazzle Dry, though, (and this is going to sound really silly, I know!) is the fact that all of their colors have an actual name. I think it makes the process more fun, and I actually love how creative their nail polish names are. A lot of Olive and June nail polish colors are named with number/letter codes (ex. "AW") vs. witty, fun names (ex. "Lotion, Please!").
Which system is more like gel-style polish?
Dazzle Dry, hands down. Dazzle Dry polish goes on more like a gel polish (thicker than regular polish), dries like gel polish (REALLY quickly), and has the wear and longevity of gel polish.
So …who wins?
In my opinion, Dazzle Dry takes first prize here. The fact that it dries so quickly is truly just unbeatable — painting my nails has literally gone from an hours-at-the-salon experience to less than 20 minutes from start to a totally-dry finish.