These gluten free overnight waffles are what brunch dreams are made of! A simple yeasted waffle batter rises overnight to give you crisp but fluffy waffles that are done in just a few minutes, making them perfect for Christmas morning and family breakfasts.
Y'all. These waffles are the REAL DEAL. We've really worked hard to bring you some classic holiday favorites in the past, like these sugar cookies and this cornbread stuffing, but this is truly one of our favorite gluten free re-makes ever. A good gluten free Belgian-style waffle isn't easy come by. Typically, you wind up getting thin, somewhat soggy waffles that fall apart under syrup and butter, more reminiscent of a bad frozen waffle than anything else.
But these gluten free overnight waffles? They're light and airy, they're crisp on the outside, and they hold up to whatever you want to top them with. Personally, I think they're even better than the gluten-filled waffles I used to eat. At this point, you're probably ready to hop on the waffle train but you may be wondering what exactly an "overnight" waffle entails, so let's walk through it!
These gluten free overnight waffles start out with a pretty basic pancake/waffle batter, but get a boost from yeast. You'll mix together all of the ingredients (minus the eggs) and then cover the batter and allow it to rise. This is what is going to give the waffles their fluffy texture, and a yeasty flavor similar to a donut or freshly baked bread.
Here's a few tips that are key to these gluten free overnight waffles:
Make sure you check the expiration date on your yeast! Older yeast won't activate properly.
Make sure your eggs are room temperature and your water and milk are around 100-110 degrees (it should feel warm, but tolerable when you touch it). Liquids that are too cold won't activate the yeast while liquids that are too hot will kill it.
In the first step, you'll mix together water, maple syrup, and yeast, then let it sit while you mix the rest of your ingredients. By the time you're ready to add this mixture to the rest of your batter, the yeast should be foamy. If it isn't we recommend tossing it out and starting again, and testing to make sure your water temperature is right.
Use a BIG bowl – the batter will double to triple in size as it rises.
We recommend leaving this out in a cool space overnight (think 65-75 degrees tops). If that worries you, you can refrigerate them, but they won't rise the same way and it will change the texture.
For topping, we love the classic combination of pure maple syrup and grass-fed butter, but whipped cream and berries are equally welcome additions. We hope you enjoy these waffles as much as we did!
Gluten Free Overnight Yeast Waffles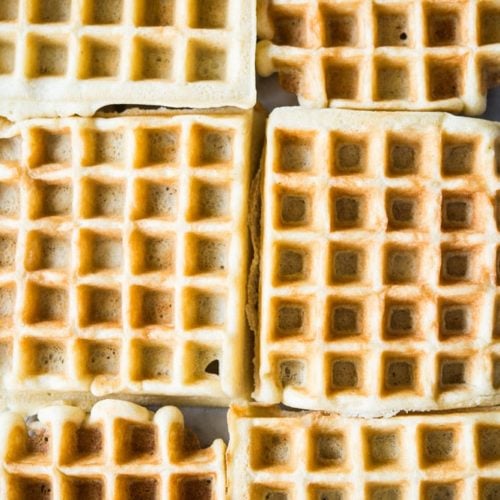 Made with a simple yeasted batter that rises overnight, these waffles come out perfectly light, fluffy, and crisp!
Ingredients
For Making the Batter the Night Before:
To Make the Waffles Day-Of:
2

eggs*

Butter or other oil of choice

for greasing the waffle iron and for topping

Maple syrup

for topping
Instructions
Dissolve the maple syrup and water in a small bowl, then sprinkle the yeast over top. Let sit until foamy.

In a large bowl, whisk together the flour, baking soda, baking powder, and sea salt. Then, whisk in the warmed milk, vanilla, and melted butter. Once fully combined, stir in the yeast mixture. Cover with plastic wrap and set on the countertop in a cool place overnight.

Preheat your waffle iron.

Overnight your batter should have doubled to tripled in side. Stir the eggs into the batter, then pour in enough batter to cover each waffle grate (about 1/2 to 3/4 cup for each waffle, depending on size) and cook for 3-5 minutes, until waffles are browned and crisp.

Top with butter and maple syrup and serve!
Recipe Notes
Modifications:

For Dairy-Free: If making these waffles dairy-free, we recommend using almond or coconut milk beverage in place of the milk, along with two tablespoons sugar to make up for the sugar that is present in whole milk. You can also substitute coconut or avocado oil in place of the butter. Note that this substitution will change the texture and the waffles will be slightly less crisp.
For egg-free: These waffles will still work if you omit the eggs, but will be slightly less crisp and won't hold together as well.

We recommend leaving the batter out overnight. If you'd prefer, you can refrigerate the batter, just know it won't rise as much which will result in a change in texture.
You can easily double or triple this recipe, and freeze waffles for later! Just make sure you are using a large enough bowl for the batter to rise in.
Nutrition
Calories:
236
kcal
|
Carbohydrates:
28
g
|
Protein:
6
g
|
Fat:
12
g
|
Saturated Fat:
7
g
|
Polyunsaturated Fat:
1
g
|
Monounsaturated Fat:
3
g
|
Trans Fat:
0.3
g
|
Cholesterol:
69
mg
|
Sodium:
308
mg
|
Potassium:
107
mg
|
Fiber:
3
g
|
Sugar:
6
g
|
Vitamin A:
396
IU
|
Vitamin C:
0.003
mg
|
Calcium:
106
mg
|
Iron:
1
mg