Just because we're staying inside right now doesn't mean that you can't have a perfect, relaxing spa day at home! In this article, we'll walk you through how to pamper yourself at home from creating the right atmosphere to getting a lasting mani/pedi.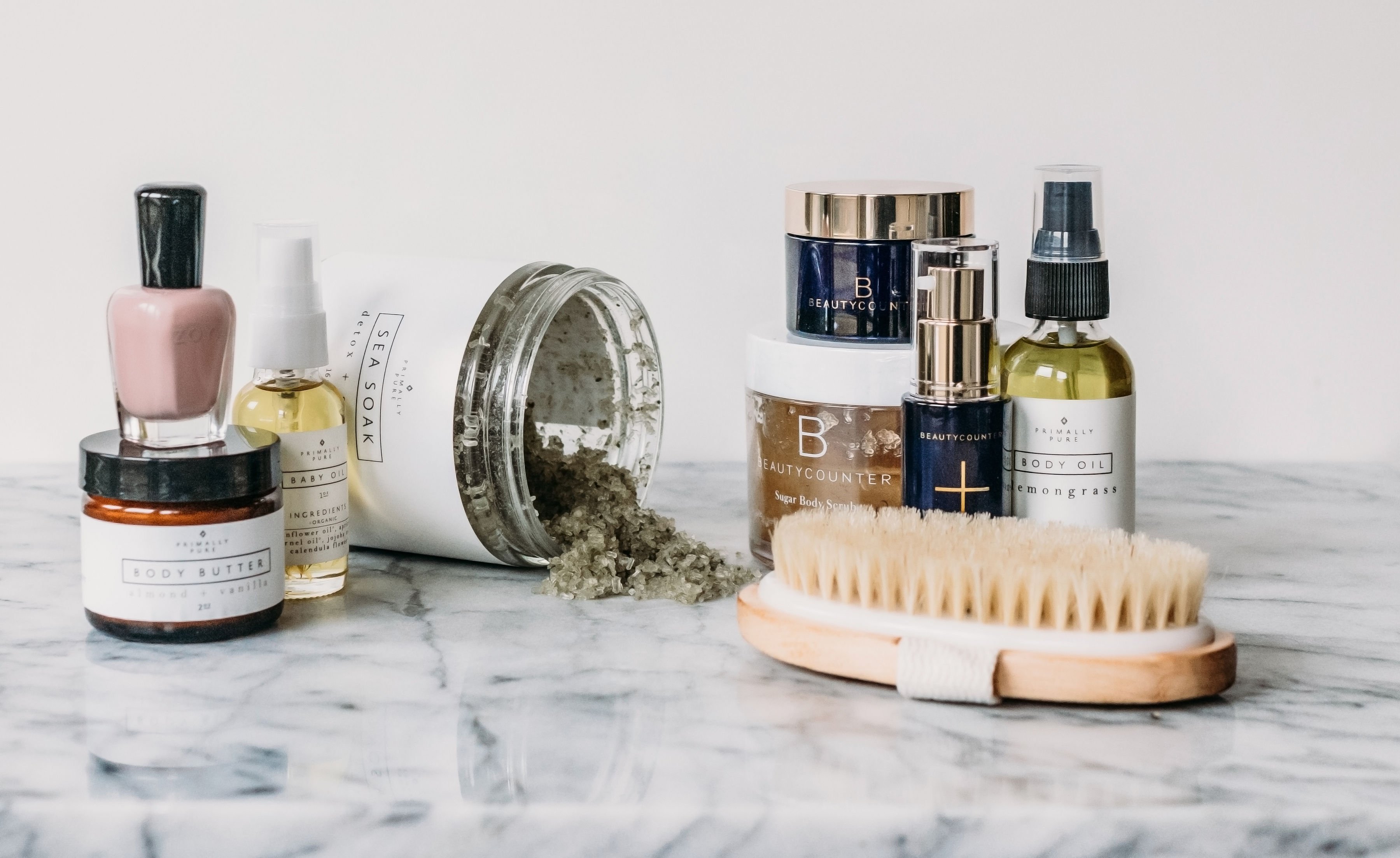 In light of our current social distancing requirement due to COVID-19, a quick trip to the nail salon to feel refreshed and put together is not a luxury most of us have right now. Even though it feels AMAZING to be pampered at a spa with a pedicure or a facial, this unique time requires us to get creative with other ways we can pamper ourselves. Even though life right now looks different and might be stressful or overwhelming, it is important to create time and space for self-care so that we can be refreshed and rejuvenated for ourselves and those we love. Below, we have put together ways to create the perfect at-home spa day and a list of our favorite safer beauty products to help you do just that!
Step 1: Create a Spa Atmosphere
Even though the actual manicure or facial is extremely enjoyable, the environment that a spa creates tends to be the most relaxing part of the experience. One of the first things you can do when creating an at-home spa day (or evening) is to recreate that same atmosphere that we all know and love: dimmed lights, relaxing music, and something that smells good.
If you are around your family all day, complete silence in a bathtub might be the most relaxing and beneficial option for you! If music is your jam, consider choosing something that takes you back to a fond memory you have. The feeling of nostalgia can be extremely relaxing and comforting. Picking a scent to enhance the atmosphere might just be my favorite part! We recommend a beeswax candle or an essential oil diffuser. If you don't have either of those, don't stress! Use whatever you have on-hand to help you unwind and relax.
It's also important to make sure that you can't be interrupted during your spa time, so make sure to tell your family not to disturb you for a few hours, or plan to do it after the kids go to bed!
Spa Atmosphere Essentials:
Step 2: Choose Your Beverage
The next addition to the perfect at-home spa day or evening is your favorite beverage. Getting to the grocery store might be a challenge right now, so pick whatever you have on-hand! Tea, wine, a mocktail, sparkling water, or even a decaf coffee are all great options. Now that you have your atmosphere and a beverage, you are ready for the perfect, relaxing spa experience!
Step 3: Dry Brush
Once you've created the atmosphere and grabbed your favorite drink, you're all set to start your spa experience. We recommend starting with dry brushing because it has so many benefits and can be incredibly relaxing and soothing. Dry brushing is said to help with many things, including exfoliation of dry, dull skin cells, promoting detoxification by aiding blood and lymph flow, stimulating your nervous system, and so much more. To dry brush, just use long upward strokes starting at the feet and working your way up.
Get your Dry Brush HERE.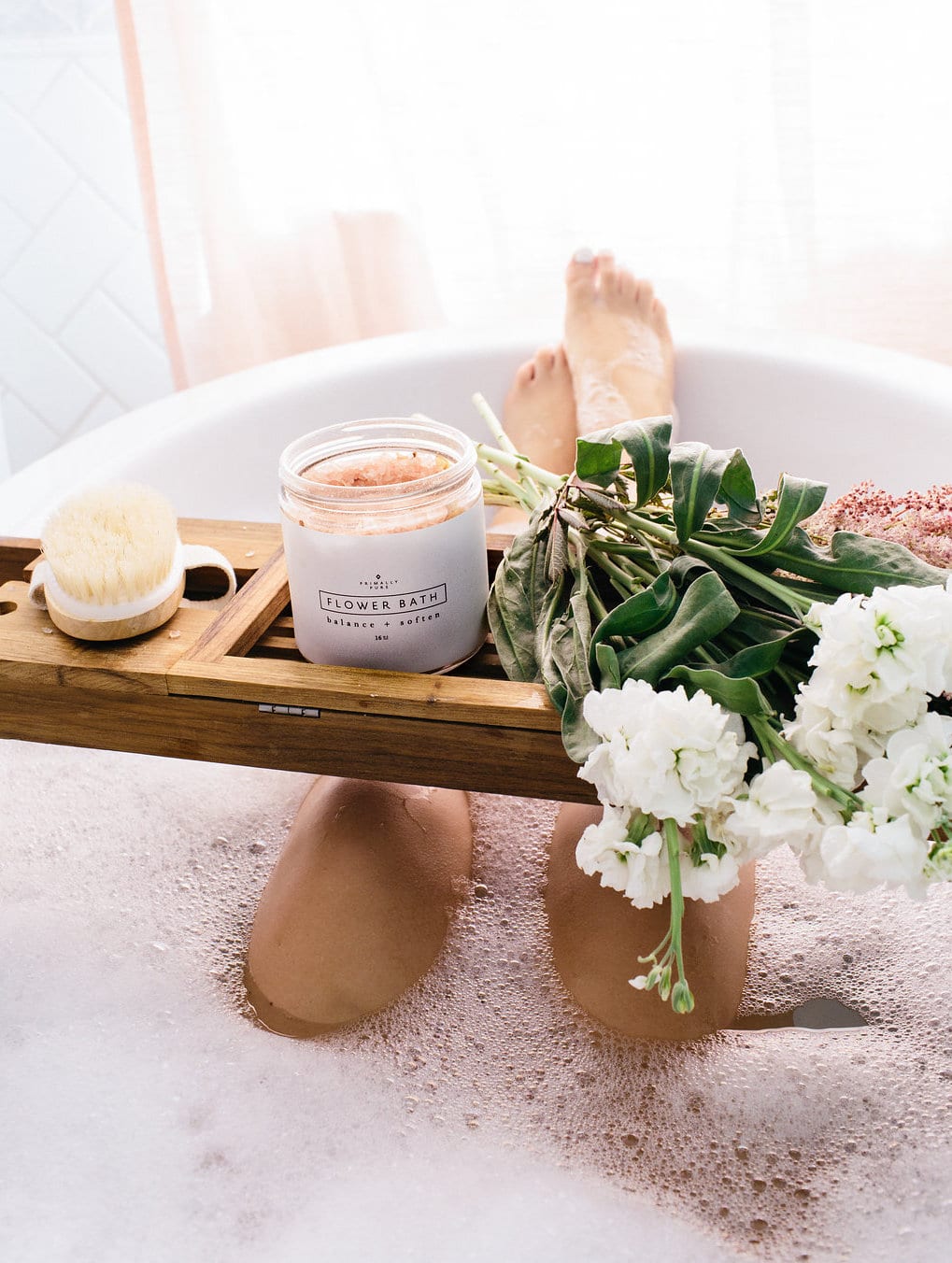 Step 4: Soak
Post dry brushing, make your way to the water! This detoxifying clay, salt, and seaweed soak is one of our favorite products because it gets your skin feeling so incredibly soft after just a short soak. It comes in a beautifully packaged glass container, lasts for a long time (you just need a few shakes in a bath to reap the benefits), and is delicately infused with a strategic blend of organic essential oils. Bonus for being responsibly sourced and part of a women-led company that we just adore!
We recommend bringing a good book into the bath with you, or putting on your favorite music to relax and enjoy some quiet time.
Get our favorite bath soak HERE.
Step 5: Exfoliate
Right before you emerge from the tub, or heck even in the shower while you're rushing to get out, do yourself a favor and get to scrubbing with this decadent body scrub that smells incredible. No at-home spa day is complete without a token scrub to slough off dry, dull skin cells, and leave you feeling soft and moisturized. This body scrub is chock full of hydrating oils like almond and primrose, and boosted with citrus and lemongrass oils for an incredible aroma that stays with you long after your bath is over!
Get our favorite body scrub (with a lovely lemongrass scent) HERE.
Step 6: Moisturize
Now that you've soaked and exfoliated, it's time to lock in all of that effort with a heavy-duty moisturizer. We love body oils because of their ability to hydrate with just a small amount of product, their effectiveness, and their incredible scent. Blue Tansy has anti-inflammatory properties, which makes it very calming for irritated, dry skin. We find it works best when we apply it right after getting out of the shower or tub to slightly damp skin. If you'd like to try different scents, both the lemongrass and lavender scents are lovely as well!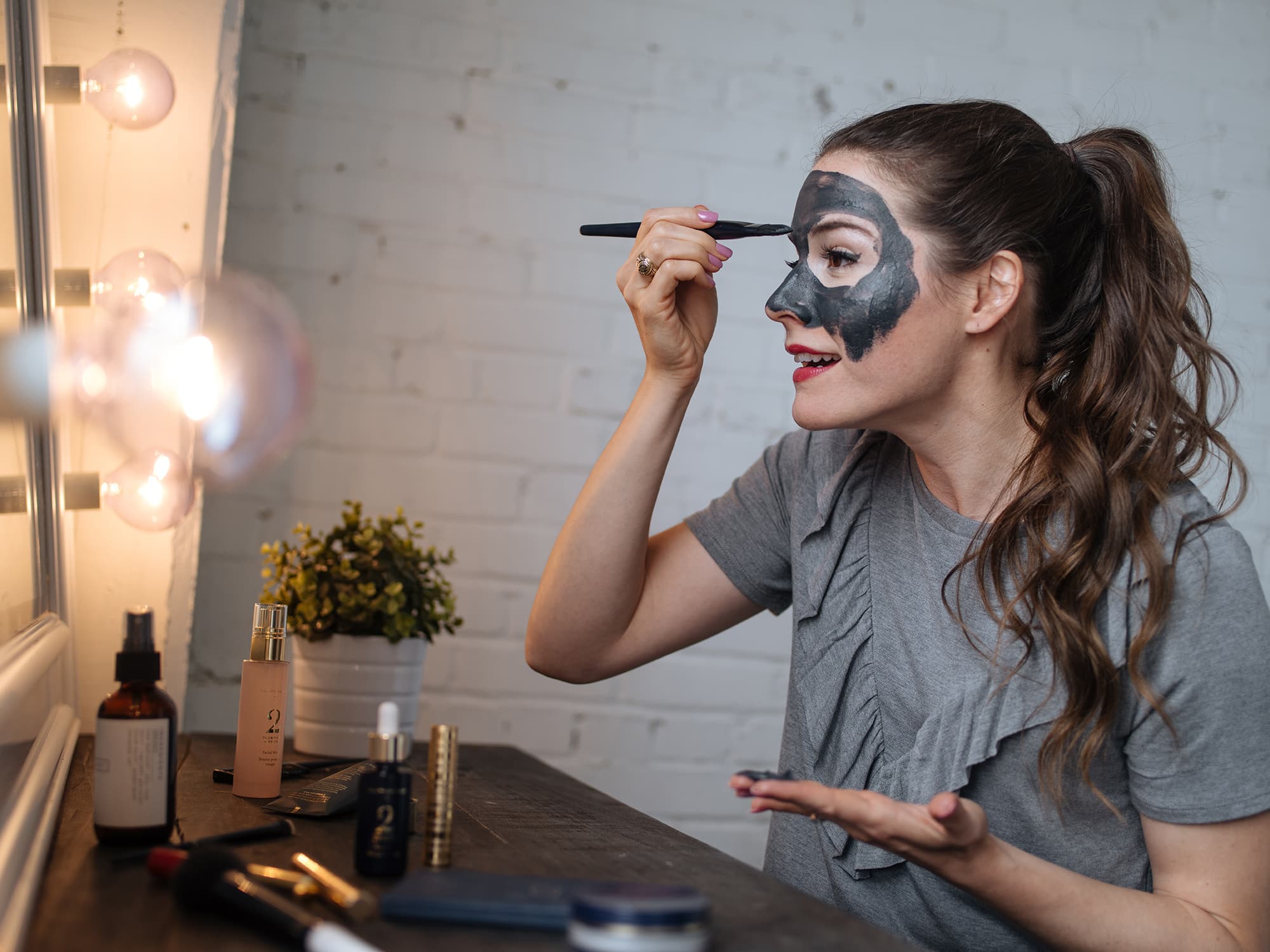 Step 7: Face Mask
Of course, no spa day is complete without giving your face a little TLC! Below are a few of our favorite safer mask options:
Detoxifying Mask
This charcoal mask is great for oily or acne-prone skin! With activated charcoal and vitamin C, this mask is the ultimate detox experience that helps remove oil and dirt. It will also leave your face glowing and help reduce the size of pores. You can get the mask HERE.
Soothing Mask
After being outside or wearing makeup all day, this mask is the perfect solution to soothe and heal your skin. With natural ingredients like Spirulina and Oatmeal, your skin will be left feeling soft and refreshed. If you tend to have sensitive skin, this healing mask is a great option for you! It will help soothe red and irritated skin. Check out the mask HERE.
Plumping Mask
This mask gives your face the gift of time! With its botanical ingredients like Bakuchiol, which actually fights inflammation and wrinkles, you will want to use this mask on a regular basis if your skin is maturing, tired, or just needs refreshing. The mask also includes Hibiscus Powder, which firms the skin, and Rosehip Seed Oil, which contributes to the brightening of your complexion. We think this mask will be one of your all-time favorites. Get it HERE.
Overnight Resurfacing Peel
This powerful peel is a great option for replacing that incredible spa facial you're used to! It has 15 botanically-derived acids, PLUS the hydrating addition of hyaluronic acid to exfoliate the top layer of your skin overnight while also leaving you moisturized. It significantly reduces redness, pores, texture, and everything in between. If there's ONE product you need for your at-home spa day, this is it!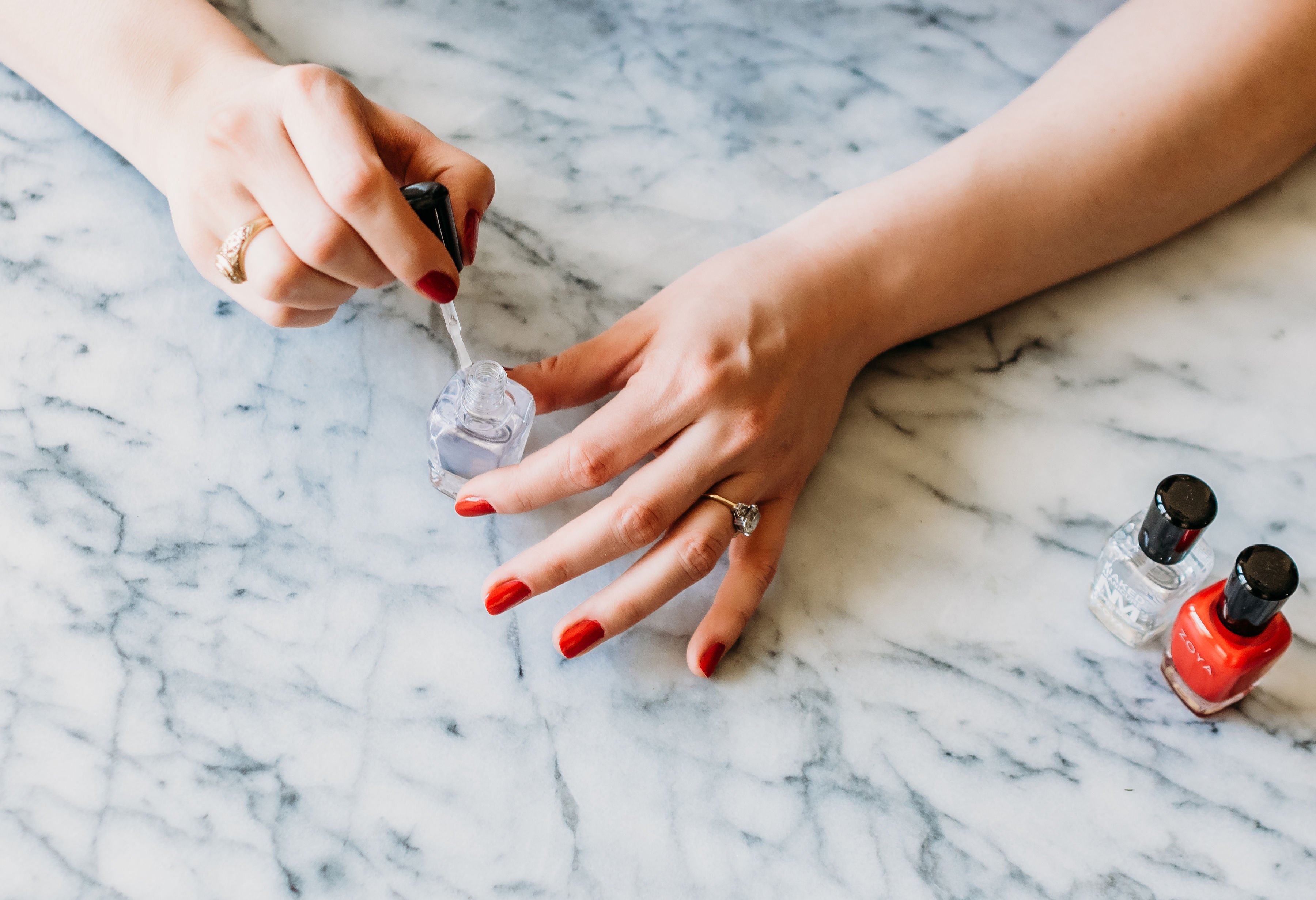 Step 8: Mani/Pedi
Safer Nail Polish
We can't stop talking about the Dazzle Dry manicure system. This company is our all-time favorite when it comes to safer, at-home manicures. The Dazzle Dry "system," which is comparable in price to one trip to the nail salon, comes with a nail prep, base coat, topcoat, and a bottle of "revive" to keep your mani/pedi looking great over time. Even better, it dries in just 5 minutes, making it a fantastic option when you're short on time!
This company keeps their products as clean as possible by keeping out some of the most toxic chemicals that are often present in other polishes, such as formaldehyde, camphor, and TPHP. What sets Dazzle Dry apart in the safer manicure realm though, is that it LASTS! Can we get a hallelujah?! This system lasts 1 to 3 weeks and is more like a gel polish than a regular nail lacquer. Their color selection is endless and their lacquers dry in only 5 minutes. Grab your kit HERE.
Not quite ready to go all-in on the Dazzle Dry system? We get it! Our 2nd favorite safer nail polish is Aila, and you can find our full safer nail polish review right here.
Mani/Pedi Tools
While a great looking mani/pedi is one benefit to getting your nails done at the salon, the real benefit is walking away with soft, moisturized hands and perfectly trimmed cuticles. But, you can do it at home! Here's how to do it at home:
Soak your nails. Soak your fingers in warm, soapy water for a few minutes to soften the skin.
Trim your cuticles. Use a tool like this one to push back your cuticles, trim them, and scrape any dirt from under your nails.
File your nails. Whether you prefer to use an

emery board

or metal nail file, this step is super important for evening out the edges of your nails and shaping them.
Buff your nails. Buffing smooths the ridges of your nails and brings out the nails natural oils to create a shiny surface. It both makes nails look great without any polish, and extends the life of your manicure! All you need is a 4-sided buffer like this one.
Paint your nails. Now that you're done prepping, it's time to paint – find our favorite polishes above.
Moisturize. To keep your hands soft and looking great, make sure to use an ultra-moisturizing hand cream like this one once your nails are dry!
Our hope is that you will find that self-care can be attainable right now, even in the midst of having to stay home. It doesn't have to involve fancy memberships, a spa trip, or high priced facials to count as treating yourself. Bonus points for having safer body, face, and nail options that not only perform really well, but don't run the risk of having potentially harmful ingredients along for the ride. We hope these at-home spa tips and products are the start of a beautiful new routine focused on loving yourself and the skin you're in, even when you have to do it at home! Who knows, this routine may stick around as a part of your new normal!
Click here for more out-of-the-box at-home activities!