These harvest quinoa bowls make for a great healthy lunch or dinner that is full of fall flavor!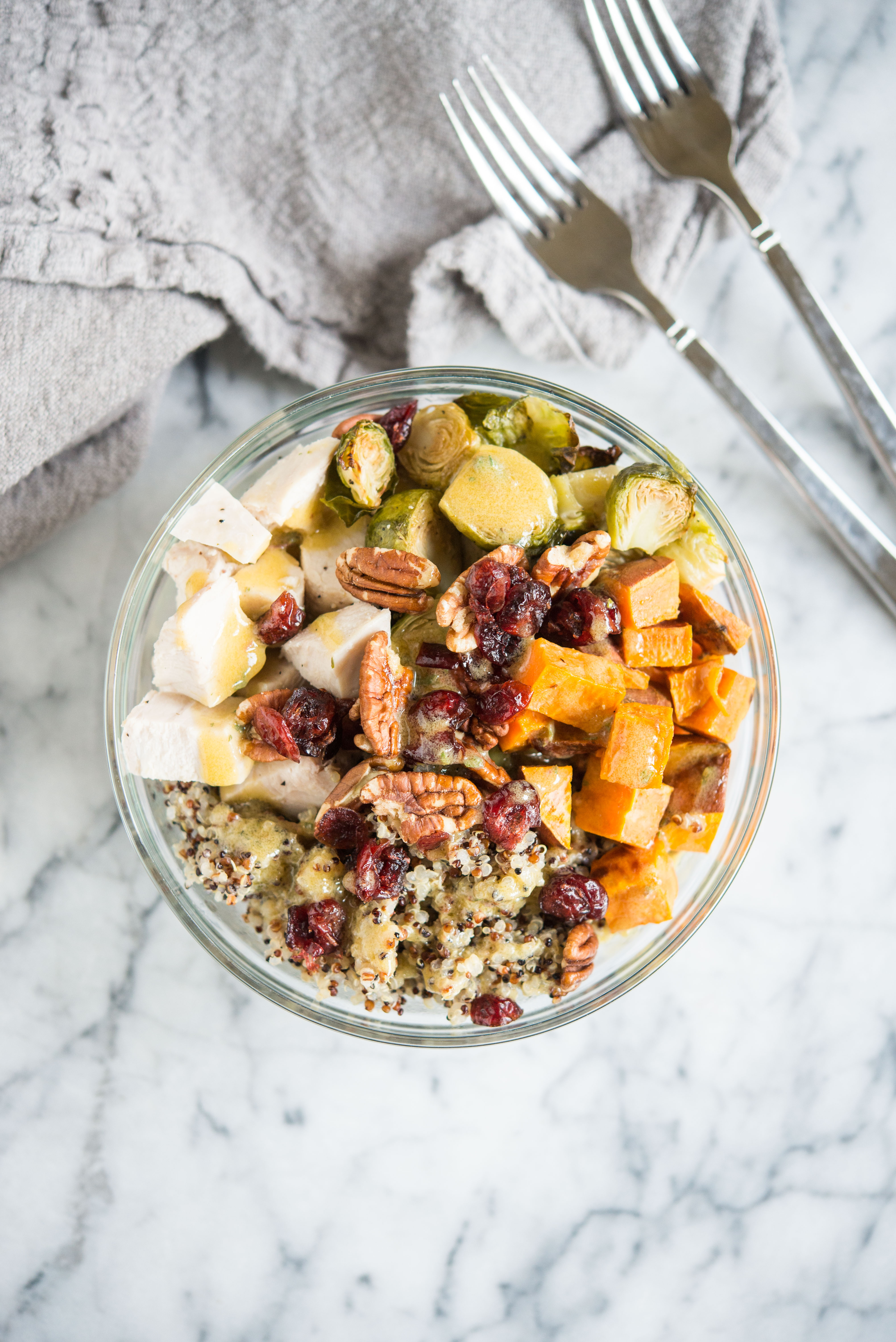 These harvest quinoa bowls make for a fantastic hearty-but-healthy lunch or dinner. Each bowl has fluffy quinoa, chicken breast, roasted sweet potatoes and brussels sprouts, dried cranberries, pecans, and a delicious creamy dijon sauce that pulls everything together and provides so much flavor. Even better, these bowls come together quicker than you'd think thanks to our cooking method. Instead of cooking all of the components separately on the stove, we make it sheet pan style and cook the quinoa on the stove at the same time. These quinoa bowls are great for a weeknight dinner, or you can meal prep them in advance and take them for lunch all week!
How to Make the Best Quinoa
The first few times I made quinoa, I found it bitter and mushy and wondered what all the fuss was about. After a few experiments though, I finally figured out how to get fluffy, flavorful quinoa without the bitter taste. Here are our tips for great quinoa:
Soak and rinse it. Quinoa is often used as a substitute for rice and other grains, but did you know it is actually a seed? Because it's a seed, it contains saponins that deter birds from eating it. These saponins cause the bitter flavor in quinoa, and will also cause the water to look soapy or bubbly when you rinse it. Luckily, they're easy to get rid of! Soaking your quinoa for about 2 minutes, then thoroughly rinsing it before cooking will go a long way to reducing that bitter flavor.
Use less liquid. The instructions on the bag and many recipes call for a ratio of 2 cups of water to 1 cup of quinoa – but this resulted in mushy quinoa for me every time. Instead, we recommend using 1 1/2 cups of water for every cup of quinoa. This results in light, fluffy quinoa.
Use broth instead of water. If you want to add a bit more flavor to your quinoa, we highly recommend cooking it in chicken or vegetable broth instead of just water.
Add a bit of fat. About 1 tablespoon of extra-virgin olive oil, or your other favorite fat of choice, helps add flavor to the quinoa and keeps it from sticking together so much.
What type of quinoa is best to use?
You'll typically find quinoa in 4 varieties – white, black, red, and tricolor, which is a mix of all three. Here, we used tricolor quinoa, but you can use whichever you prefer in this recipe. White quinoa is the most common type of quinoa and has a milder flavor, and cooks up slightly more fluffy than the other two varieties. Red quinoa has a slightly thicker shell, so tastes a bit nuttier and provides a slight crunch. Finally, black quinoa has the thickest shell of the varieties and can be more crunchy. Because of this, black quinoa often takes about 5 minutes longer to cook as well.
How to Troubleshoot Mushy Quinoa
While you shouldn't have this problem if you follow the steps above, if you do wind up with mushy quinoa, simply remove the lid from the pot that you're cooking it in, and allow it to cook for an additional 5 minutes. This will allow the excess water to evaporate and give the quinoa a chance to firm back up.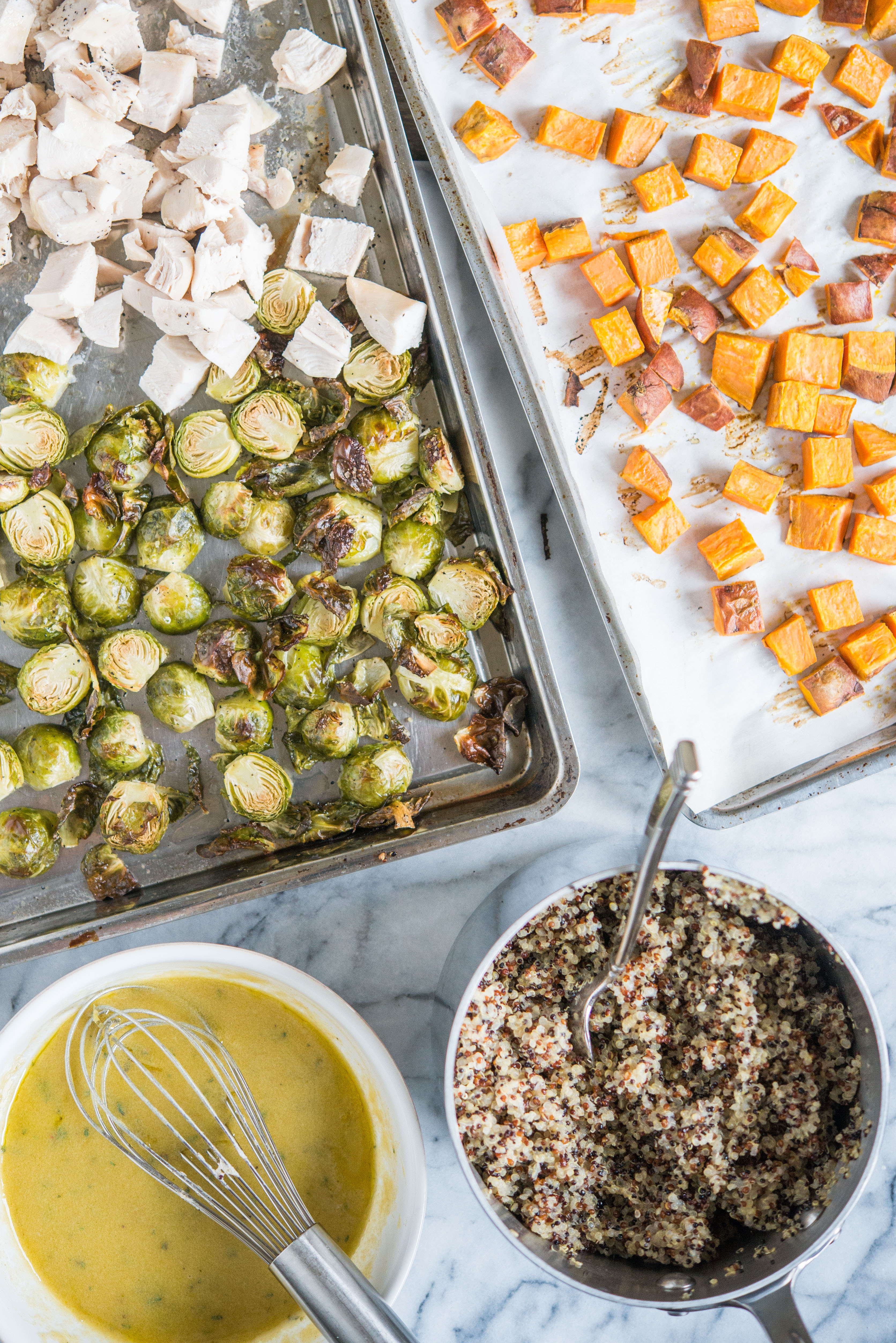 How to Make Harvest Quinoa Bowls
As mentioned earlier, instead of cooking all of our components separately for these bowls, we are going to follow the sheet pan dinner method instead! This will save you time and allow you to make these meals in bulk if you need to. Here's how you'll make these bowls:
Roast the sweet potatoes. The sweet potatoes will take the longest to cook, so we are going to get them started first. Chop the sweet potatoes into 1-inch cubes, then toss them with olive oil, salt, and pepper and spread them out onto a parchment paper-lined baking sheet. Make sure you don't overcrowd the pan so that they can get crispy! Then, you'll bake them at 400 F for 15 minutes. After 15 minutes, transfer them to the lower oven rack.
Bake the chicken and brussels sprouts. Next, you'll place the chicken breast on one half of a rimmed baking sheet and season with salt and pepper. On the other half of the baking sheet, you'll toss the brussels sprouts with olive oil, salt, and pepper then spread them out. Place the pan on the upper rack of your oven and bake for 25 minutes, until the chicken has reached a temperature of 165 F.
Make the quinoa. While everything is in the oven, make the quinoa.
Make the sauce. This sauce is optional, but really adds a ton of flavor to the dish! The easiest way to make the sauce is to add all of the ingredients to a mason jar and shake it to combine.
Assemble the bowls. Finally, it is time to assemble your bowls! Chop the chicken into bite-sized pieces, then spoon the quinoa into a bowl and top with the chicken, sweet potatoes, brussels sprouts, dried cranberries, and pecans. Drizzle the sauce over the bowl and enjoy!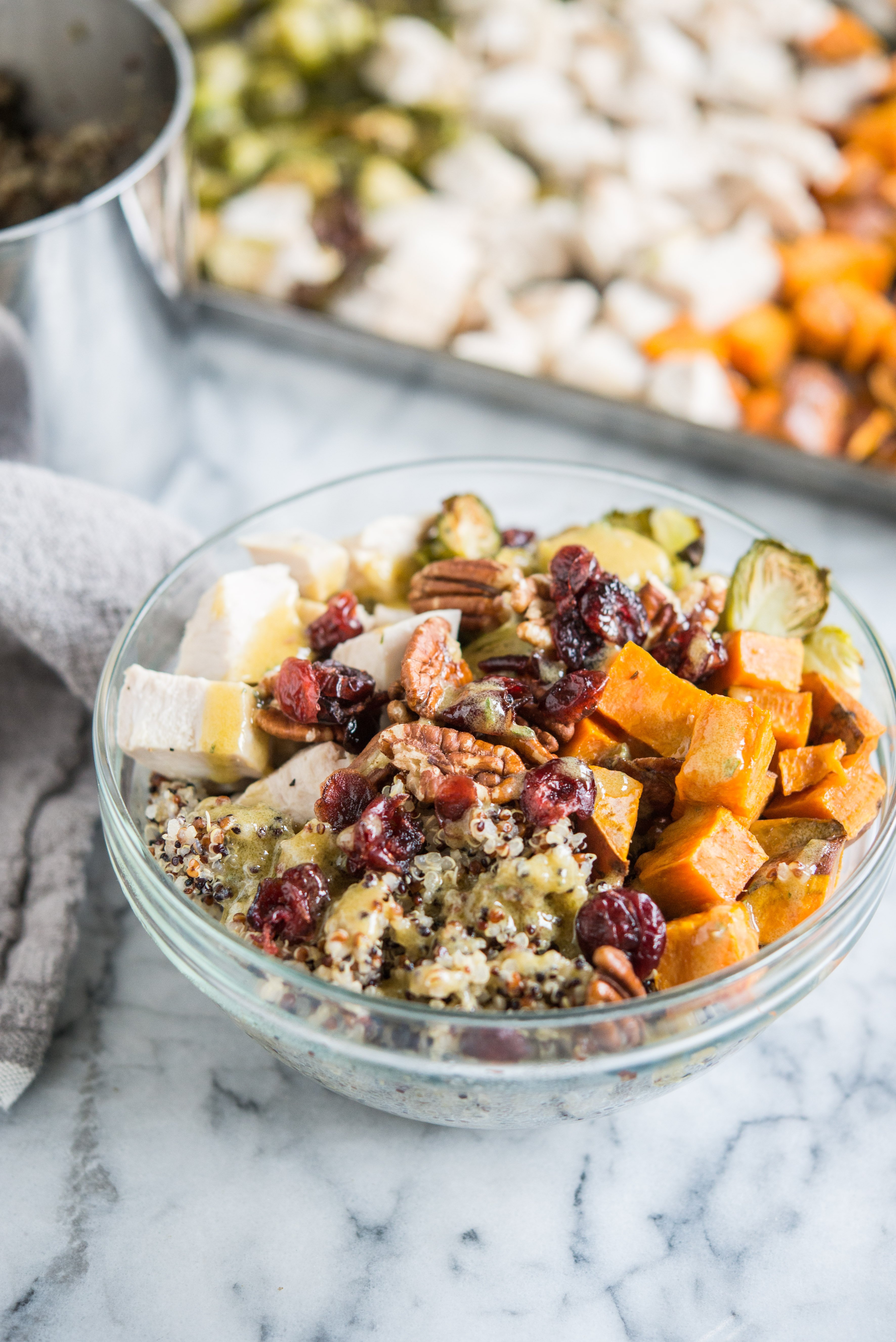 How to Store
While these bowls make for a great weeknight dinner, they also lend themselves really well to meal prepping for lunch or dinner throughout the week. If you want to go this route, we recommend assembling the bowls but keeping the pecans, cranberries, and sauce on the side, as these components don't heat well. To reheat, just microwave the bowls for 1 minute 30 seconds, or place in a 350 F oven for about 15 minutes, until everything is warmed through. Then add the cranberries, sauce, and pecans and enjoy!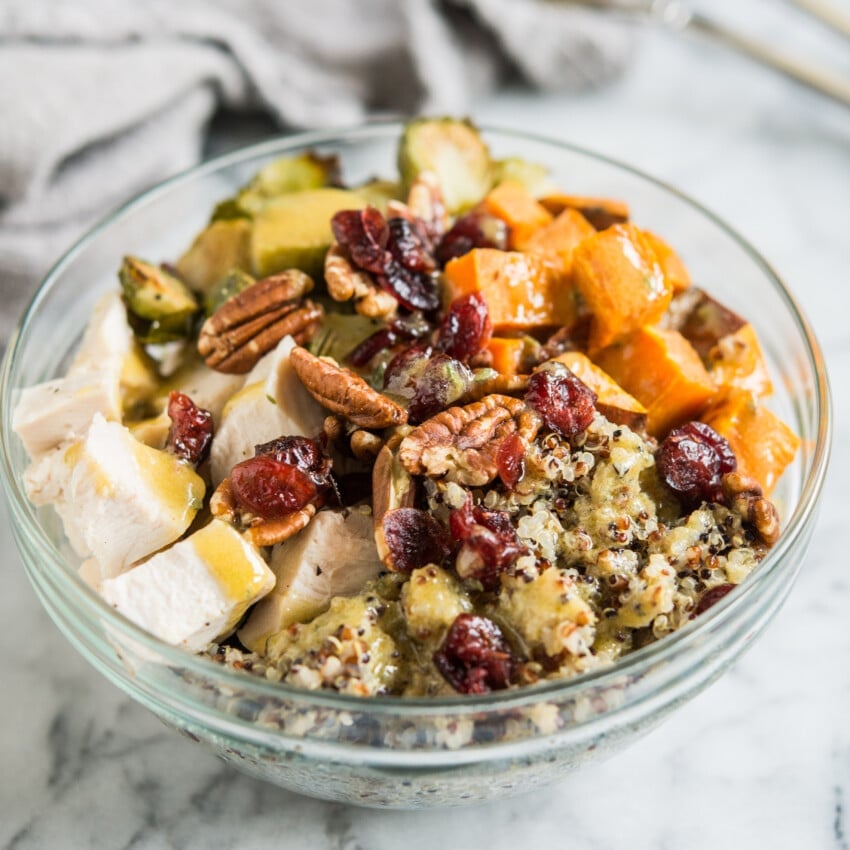 With chicken, sweet potatoes, brussels sprouts, and cranberries, these quinoa bowls are full of fall flavor!
Instructions
Preheat the oven to 400 F and line a rimmed baking sheet with parchment paper.

Toss the sweet potatoes with one tablespoon extra-virgin olive oil, 1/2 teaspoon sea salt, and 1/4 teaspoon ground black pepper, then spread onto the baking sheet. Bake for 15 minutes, then transfer to the lower oven rack.

Toss the brussels sprouts with 1/2 tablespoon extra-virgin olive oil, and 1/2 teaspoon sea salt, then spread onto half of a rimmed baking sheet.

Lay the chicken breast on the same pan with the brussels sprouts, then brush on both sides with olive oil and season with 1/2 teaspoon salt and remaining pepper. Bake for 25 minutes, until the chicken has reached an internal temperature of 165 F and the sweet potatoes and brussels sprouts are browned, then remove from oven.

While the chicken and veggies cook, make the quinoa. Soak the quinoa for 2 minutes, then rinse it thoroughly and add to a pot with the broth, 1/2 teaspoon salt, and 1 tablespoon oil. Bring to a boil over high heat, then reduce the heat to low, cover the pot, and cook for 15 minutes.

To make the sauce: whisk together the dijon, lemon juice, thyme, and maple syrup, then slowly drizzle in the olive oil, whisking constantly.

Chop the chicken into bite-sized pieces, then assemble the bowls with quinoa, Brussels sprouts, sweet potatoes, chicken, pecans, cranberries and sauce. Enjoy!
Nutrition
Calories:
230
kcal
|
Carbohydrates:
28.3
g
|
Protein:
6
g
|
Fat:
9.8
g
|
Saturated Fat:
1.4
g
|
Cholesterol:
1.5
mg
|
Sodium:
1094.4
mg
|
Fiber:
6.7
g
|
Sugar:
10.3
g