After using it for a few months, we are sharing our full Instant Pot Duo Crisp review. We'll talk about the new model's different functions, how it compares to an air fryer, and whether it is worth the price!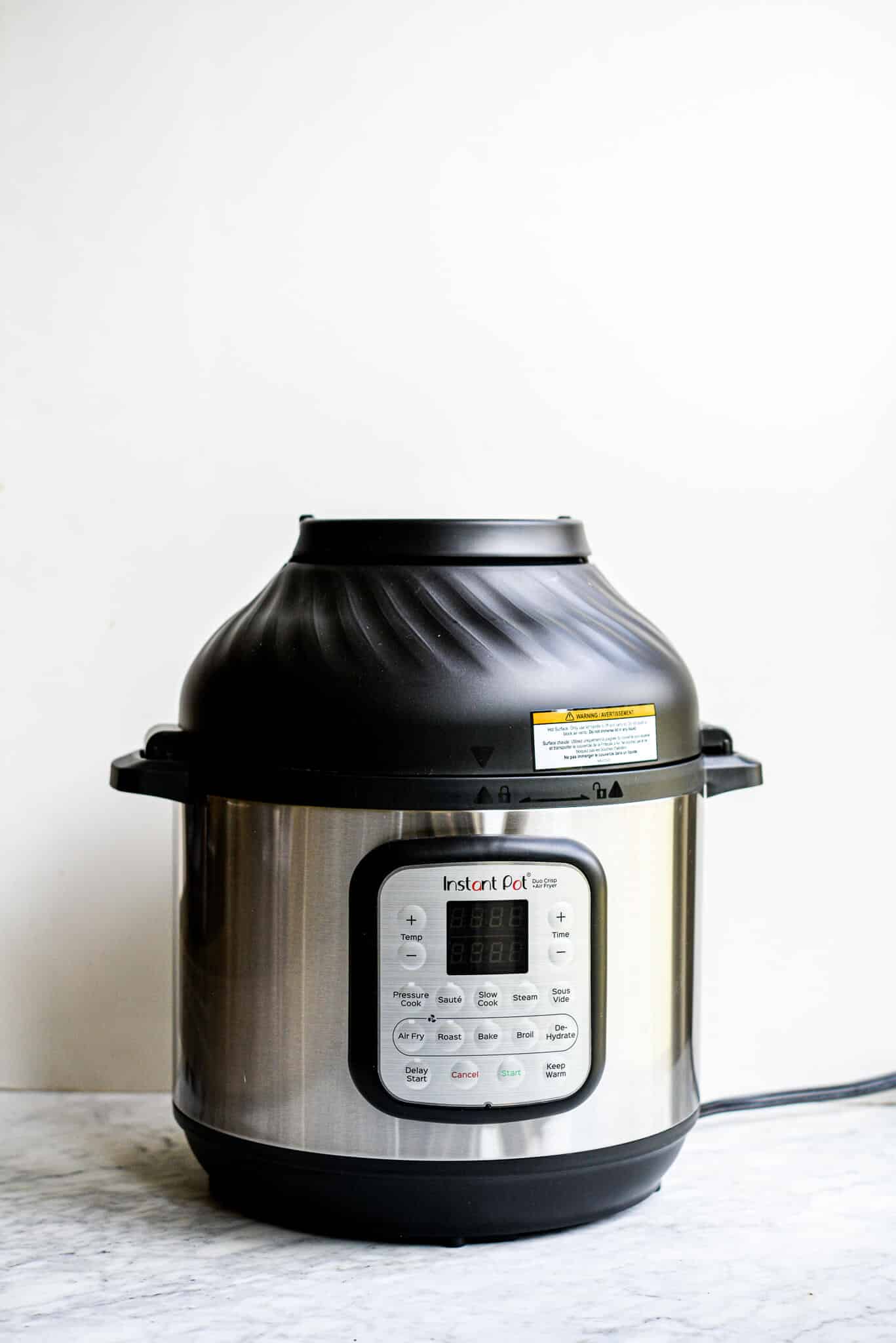 We have been loving the Instant Pot for years here at Fed and Fit. I mean, what's not to love about an appliance that is easy-to-use and can help you get dinner on the table quicker than ever without sacrificing flavor? Over the years, we've used the Instant Pot to make everything from Instant Pot creamy chicken tortilla soup to Instant Pot balsamic beef roast to Instant Pot honey mustard chicken and potatoes. However, after a few years of using the standard 6-quart Instant Pot Duo, it was time for an upgrade. After looking through the different models, I settled on the Duo Crisp because I liked the larger size, increased functionality, and of course, the ability to air fry! Below I'll talk about my experience with the Duo Crisp, plus whether or not I think it's worth the investment.
What is the Instant Pot Duo Crisp?
The Instant Pot Duo Crisp is an 11-in-1 multicooker that can do everything the original Instant Pot can, but is also able to air fry thanks to its swappable lid! This means that you can use it as an air fryer, or, even better, you can pressure cook then use the air fryer lid to crisp your meal (think: Instant Pot carnitas tacos, chicken wings, whole roasted chicken, etc). The Duo Crisp can also slow cook, saute, steam, sous vide, broil, and even dehydrate!
Instant Pot Duo Crisp vs. Instant Pot Air Fryer Lid
If you don't want to buy a completely new Instant Pot, you can now buy a separate air fryer lid and gain the same capabilities that the Duo Crisp comes with! The Instant Pot Air Fryer lid comes with the capability to air fry, broil, bake, roast, reheat, and dehydrate, and it comes with the same air fryer basket and broiling tray as the Duo Crisp. If you're trying to decide between the lid and the Duo Crisp, read on for our complete review and recommendation.
What models does the Instant Pot Air Fryer Lid fit?
The air fryer lid fits all 6-quart Instant Pot models, except for the Smart WiFi 60, Smart Bluetooth, Duo Evo Plus, Duo SV, and Max 60.
Instant Pot Duo Crisp Specs
Size
The Instant Pot Duo Crisp is an 8-quart pressure cooker with an air fryer lid. It is much larger than the 6-quart Instant Pot Duo that I replaced it with. Since the Duo Crisp is an 8-quart pot, the base of the machine is much larger, plus the air fryer lid itself is large enough to count as a second appliance. For reference, the 6-quart Instant Pot Duo weighs 11 pounds, and the Duo Crisp weighs 22 – which is pretty hefty!
Functions
The Duo is a 7-in-1 multicooker while the Duo Crisp is an 11-in-1 multicooker. They can both pressure cook, saute, slow cook, and steam, but only the Duo Crisp can sous vide, air fry, roast, bake, broil and dehydrate.
One function that the Duo has that isn't present in the Duo Crisp is that it can also function as a yogurt maker. Unfortunately, you won't find this function in the Duo Crisp.
Smart Programs
Another difference you'll notice right off the bat is that the Duo Crisp doesn't have the smart programs available on the regular Duo, which features 14 programs such as 'soup/broth,' 'rice,' 'steam,' 'meat/stew,' 'yogurt,' and more. These are pre-programmed functions that take the guesswork out of cooking with your Instant Pot.
What's Included
Since it has more functions, the Duo Crisp will also include more accessories! Here's what you'll get:
8-Quart Instant Pot Base

Pressure Cooker Lid

Air Fryer Lid

Stainless Steel Pot

Air Fryer Basket

Broiling Tray
Price
The Instant Pot Duo Crisp retail at $179.99, though you can often find it on sale at retailers like Kohl's and Target!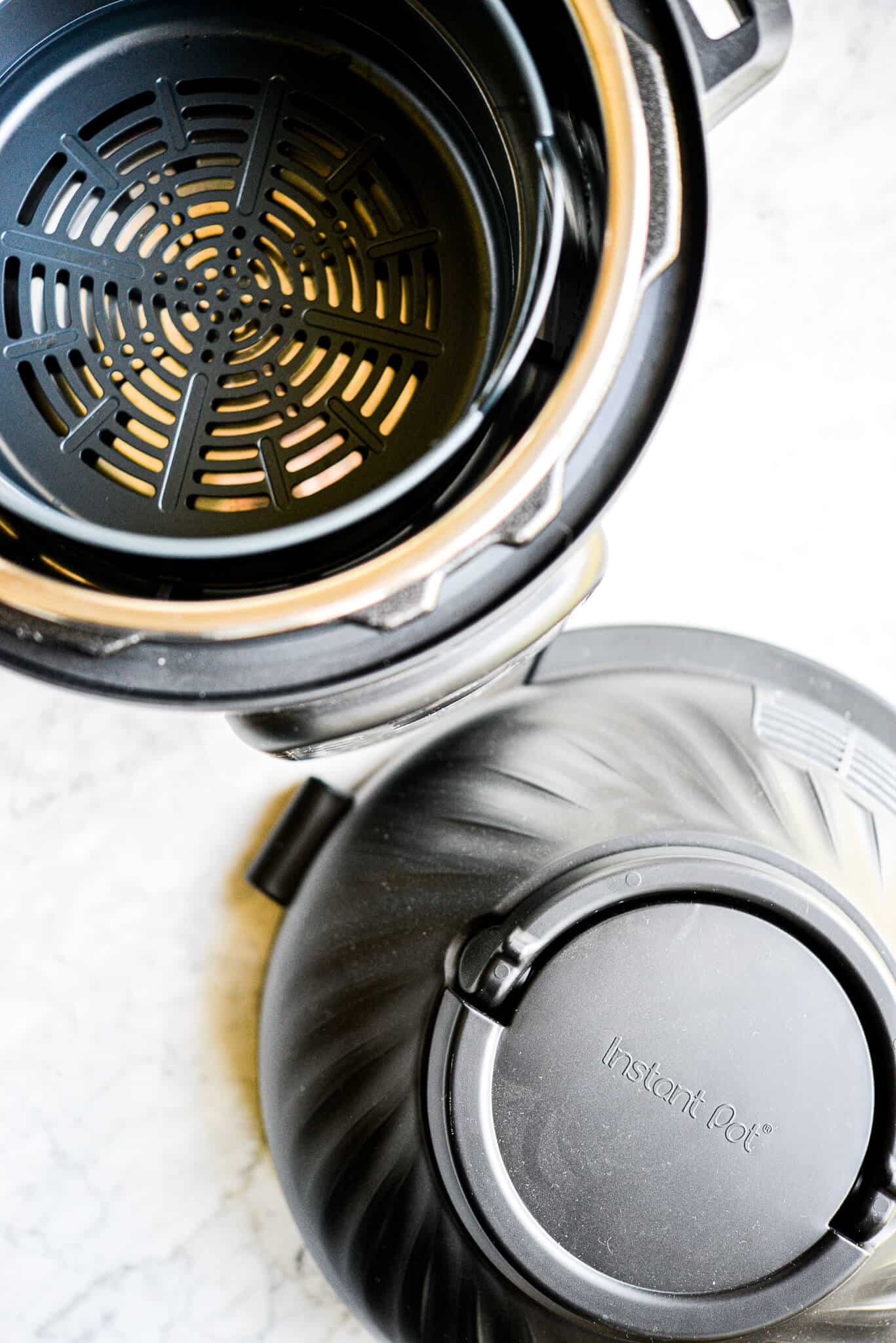 What I Like About the Instant Pot Duo Crisp
Overall, I really like my Duo Crisp and am glad I bought it! Here is where it wins for me:
Multiple Appliances In One
This was the biggest sell for me, as I live in an apartment and don't have a huge amount of storage space. I'm a bit of a kitchen appliance junkie, so I've had my eye on an air fryer for a long time but couldn't justify the space it would take up, especially since I already own a toaster oven that can produce pretty similar results. The fact that the Duo Crisp combines multiple appliances into one is a huge plus for me!
Ability to Pressure Cook, Then Brown
For me, one of the downsides of the Instant Pot is that food can come out a little mushy at the end. I am loving the ability to pressure cook something, like chicken thighs or carnitas, then switch to broil or air fry mode to crisp. I made some of the best chicken wings of my life a few weeks ago combining the pressure cook + air fry functions!
The Air Fryer Function
I was a little worried that the Instant Pot wouldn't be able to circulate air as well as a traditional air fryer, but was pleasantly surprised by the result! So far I've used it to make air fryer french fries, chicken wings, crispy chicken thighs, home fries, chicken nuggets, and carnitas with great success. I also like that it is built to tell you when to flip your food for even cooking.
One word of caution with the air fryer function – I find it to be a little bit less powerful than a traditional air fryer, so when I'm following air fryer recipes I typically add on another 5 or so minutes to achieve the perfect crisp!
The Sous Vide Function
The sous vide function has been another big win for me! I've wanted a sous vide for a long time, but wasn't sure I'd use it enough to justify the cost. Essentially, a sous vide allows you to cook a protein to a precise temperature throughout. You know how the end of a large steak is always more done than the center? The sous vide takes care of that problem.
You simply vacuum seal your food (I use these bags instead of investing in a large vacuum sealer), place it in the pot, and let it cook for a few hours. The result? Perfectly-cooked protein that is tender, and the same temperature throughout. You can then give your protein a quick sear to give it a crispy, caramelized crust. I love that searing only takes a minute or two because it prevents me from smoking up my apartment.
A few versions of the Instant Pot have the sous vide function, but instead of circulating water like a traditional sous vide, the Instant Pot simply keeps the water bath at a constant temperature – no circulation involved. I'd read negative reviews on the function because of this, so I wasn't sure how well it would work. I'm happy to say I've been pleasantly surprised! The sous vide function has absolutely changed my steak and pork cooking game, and I'm excited to give it a try with delicate proteins like fish as well.
The Upgrades
I also really like the upgrades to the pot! Here are a few things I've noticed:
Searing Capability – I'm not sure if this function was upgraded or if it is due to the larger size, but I feel like this pot sears faster than my previous Duo. I also love that the larger size allows me to sear more at once so I don't have to work in multiple batches.
Better Sealing – I have an easier time getting the Duo Crisp to seal than I did with my old model, which also allows it to come up to pressure faster! I think this may have been due to wear and tear on my old pot.
Easier and Safer Pressure Release – The pressure release valve has been updated so that instead of twisting the pressure release valve, you simply press a button that triggers the valve. This takes some of the fear out of the manual pressure release!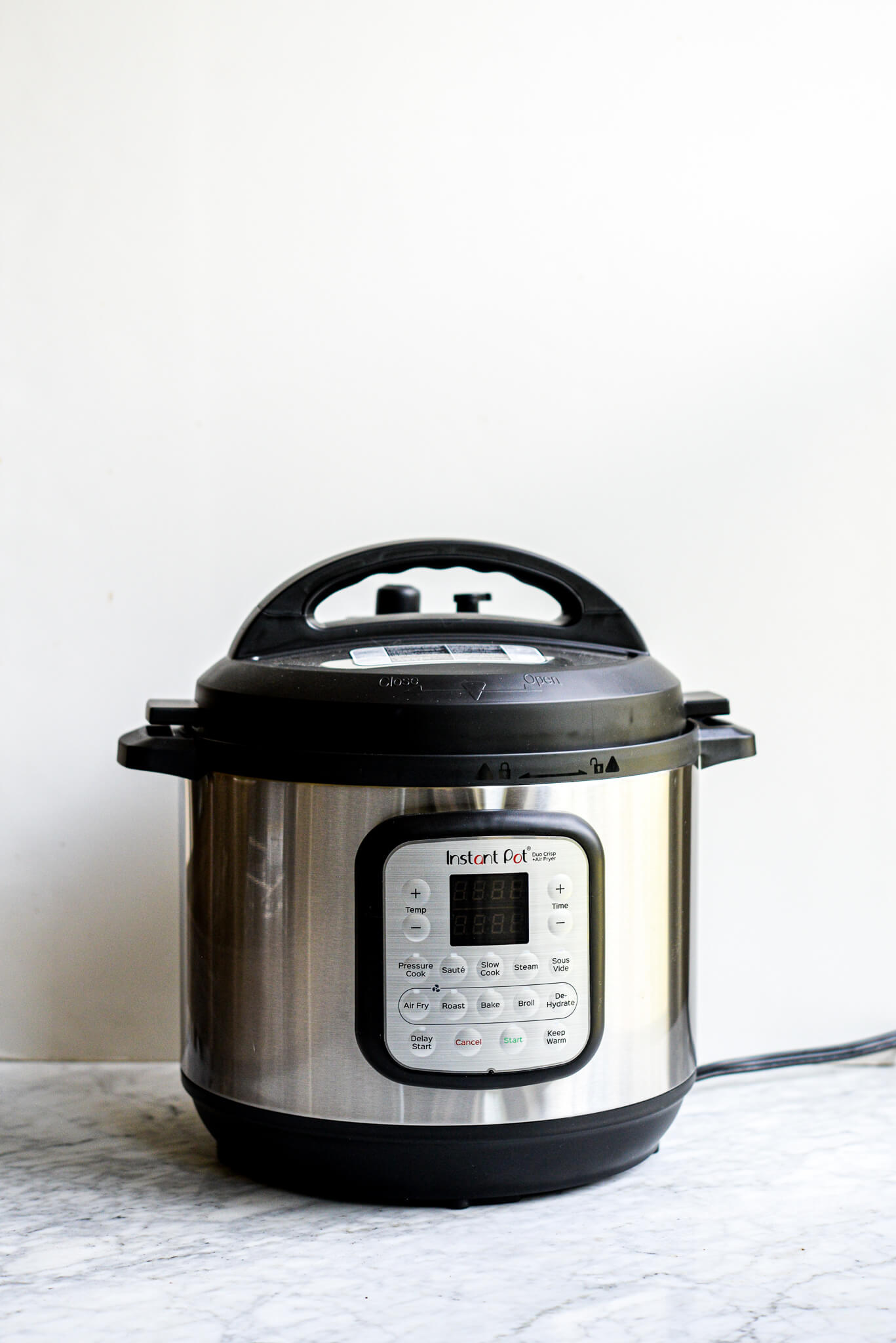 What Could Use Improvement
As much as I've been enjoying my Duo Crisp, there are definitely a few things I don't love that I'll cover here.
You Can't Fit Much in the Air Fryer Basket
To be fair, this is my complaint with most air fryers, but there are some air fryers and toaster ovens with air fry capabilities that can fit larger amounts. We are a family of 2, so it works ok for us for most applications, but if you are a family of 4 or more, or enjoy making large portions for leftovers, you'll have to cook your food in multiple batches – which is a pain really defeats the purpose of air frying!
It Is a BIG Appliance
Overall, I'm saving space by having the Instant Pot, air fryer, and sous vide wrapped into one appliance, but it is worth noting that this is a large machine. It isn't one to sit on your countertop, so definitely make sure you have enough storage space before purchasing!
The Air Fryer Basket Wore Out Quickly
After a few uses, I started having trouble with the air fryer basket that is included with the pot. The non-stick coating started to wear down quickly, leaving me with fries and chicken that were sticking to the bottom. To work around this, I purchased some perforated parchment paper inserts, and they've made ALL the difference!
It Cooks Quicker Than an Oven, But Not as Fast as an Air Fryer
I've found that when cooking air fryer recipes in the Duo Crisp, you'll need to add a few minutes to the cook time. For example, the average air fryer recipe calls for cooking fries at 380°F for about 15 minutes, but I find that in the Instant Pot they need about 20 minutes. However, they still produce a crispier and faster result than the oven, which takes about 40 minutes!
It Won't Replace Your Slow Cooker
Like past models, the new Instant Pot is still not a good replacement for a traditional slow cooker due to the way it heats. So don't buy if you are anticipating being able to use it as a substitute!
Lack of Instruction and Smart Programs
While I used the manual function on my old Instant Pot more often than the smart programs, they can be really helpful if you are new to Instant Pot cooking. It is also worth noting that the pot didn't come with a ton of documentation about using the air fryer function, which left me a bit confused since there aren't many recipes online yet, either! Luckily, I found that, for the most part, following traditional air fryer recipes and adding more time as needed works just fine!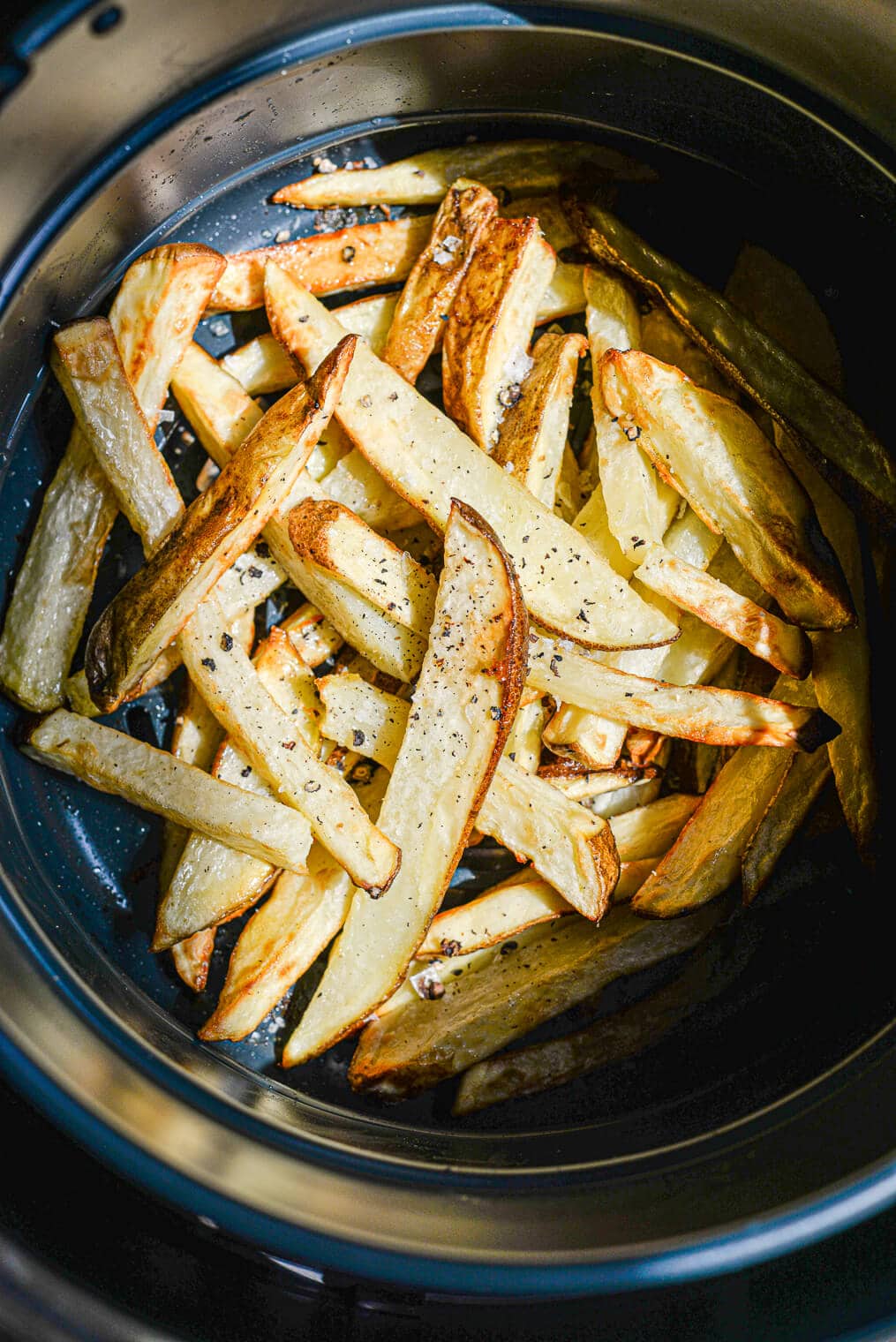 Real Talk: Is the Instant Pot Duo Crisp Worth it?
My answer? Yes! I am honestly very happy with this purchase and use it multiple times per week. But, here are a few things to consider first.
Buy it if…
You don't mind cooking smaller batches of food in the air fryer.
You like the idea of having multiple appliances in one.
You already know that you love the Instant Pot, but are looking to upgrade.
You have a decent amount of storage space for it.
Don't buy it if…
You're only interested in the air fryer function. If that's the case, I'd recommend just going for an air fryer!
You haven't used an Instant Pot before. It's definitely worth making sure you like the Instant Pot in the first place before investing in this larger model, especially since it isn't as straightforward as simpler models.
You typically cook smaller pressure cooked meals. If you're only cooking for 1-2 on a regular basis, the larger size of the pressure cooker (8 quarts vs. 6 quarts) may be a drawback for you.
Should I buy the Instant Pot Air Fryer Lid or the Duo Crisp?
If you already have an Instant Pot that you love, or don't want to upgrade to the 8-quart, you can also purchase a separate air fryer lid to pair with it! The air fryer lid comes with its own controls and functions, and is able to air fry, broil, and dehydrate. The Instant Pot air fryer lid works just as well as the one that comes with the Duo Crisp (even though the design looks a bit different), but the big drawback is that by using it with a 6-quart pot you'll have even less space in your air fryer.
If you mainly want the lid so that you can brown food and make smaller batch sides like fries or crispy brussels sprouts, the lid is a great option! But, if you're looking to air fry entire meals like chicken wings, we'd recommend upgrading to the 8-quart, or just know that you'll need to work in multiple batches!
Is the Mealthy Crisplid a Good Alternative?
I recommend the Instant Pot air fryer lid over the Mealthy Crisp lid, mainly because the lid serves more as a broiler than an air fryer because it doesn't circulate air a well as the Instant Pot lid. This means your food will take a little longer to cook. Plus, I feel it's best to stick with appliances made by the same manufacturer. However, the Mealthy Crisp Lid does fit 8-quart Instant Pots, so this is a great choice if you have a pot you already love and want to upgrade!
Where to Buy the Instant Pot Duo Crisp
If you're ready to buy, here are a few places to get yours!
More Instant Pot Models
Not sold on the Duo Crisp yet? Check out our full review of the best Instant Pot models to see how it stacks up!
Best Instant Pot Accessories
Want to do even more with your new Instant Pot? Check out our full list of the best Instant Pot accessories with everything from a better silicone strainer to a steam release diverter to help direct steam away from your cabinets.