Full of bursting cherry tomatoes, fresh, bright lemon, garlic, and sage, this baked cod dish is as delicious, easy, and healthy as dinner gets!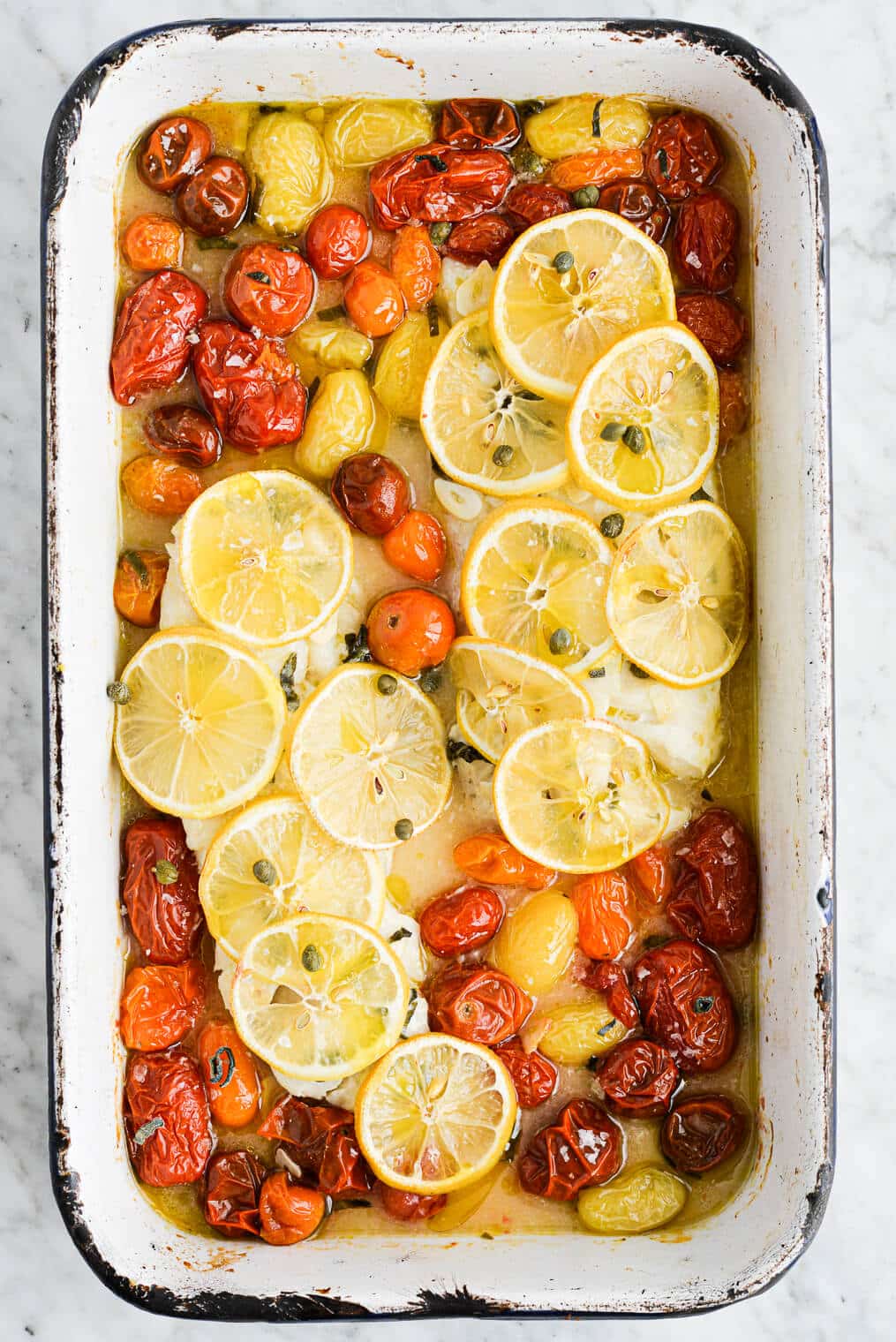 "Nourish (verb): provide with the food or other substances necessary for growth, health, and good condition." You know the kind of dinner that you can actually *feel* the nourishment from? Like, as soon as the meal is over, you feel more nourished than ever? Not just the feeling of being full or satisfied, but the feeling of actually walking away from the dinner table feeling healthier than when you sat down. That is how I feel after I eat this baked cod. Do I feel full? Yes. Satisfied? Absolutely. But mostly, I feel truly nourished.
For being such a simple, let-the-oven-do-the-work dish, this Lemon Garlic Baked Cod is FULL of flavor. It's an excellent menu choice when you need something that's equal parts comforting and healthy, and is delicious enough to make for a special, date-night in (if you're into that kind of thing!).
Is cod healthy?
Yes, cod is definitely a healthy addition to your diet! It's loaded with lean protein, vitamins, and minerals, and it's lower in mercury than other common, easily accessible fish (think: tuna). Because it's a leaner fish, it is lower in omega-3 fatty acids than fattier fish (think: salmon), but still an excellent protein to keep in the rotation.
What is the difference between wild-caught seafood and farmed seafood?
Just as it sounds, wild seafood is caught in its natural environment, most of the ocean and farmed seafood is raised on farms. We opt for wild-caught seafood for a few reasons:
Because wild fish consume a more diverse diet than farm-raised fish, they're often the richer flavored option.

Because wild-caught fish get to swim and move as they were intended to, they're often much leaner than farmed-raised fish and tend to have a better nutritional profile too.

Farmed fish are also more likely to contain contaminants than wild-caught fish. For all of these reasons, we opt for wild-caught seafood whenever possible.

Depending on how the seafood is farmed, wastewater runoff from farms can contaminate freshwater nearby.
What is sustainable fishing?
Just because seafood is wild-caught doesn't necessarily mean it is sustainable! The aim of sustainable fishing is to prevent overfishing, respect natural habitats, and ensure that there will be populations of ocean and freshwater wildlife available in the future.
Where We Buy Our Cod
We've partnered with Pride of Bristol Bay in the past to promote their incredible salmon, and even interviewed their CEO, Matt Luck, about seafood fraud. We were so impressed by their sustainable fishing practices, and were thrilled to find that they also supply our long-time partners, ButcherBox, with their cod and salmon!
We love ButcherBox for a few reasons: first, it's SO CONVENIENT (seriously, high-quality meat delivered straight to your doorstep is convenience at its finest), secondly, the protein that they deliver is as quality as it gets (think: grass-fed, grass-finished beef, heritage-breed pork, free-range organic chicken, and wild-caught seafood). It doesn't get much better than that!
If you are looking for a way to access high-quality meat (and specifically wild-caught cod for this recipe), look no further than ButcherBox! Plus, right now, through November 15, 2020, new ButcherBox members will receive a free 10-14 pound turkey in their first box! Game plan? Wild-caught cod for this recipe, grass-fed and finished ground beef for Cheeseburger Casserole, a grass-fed and finished chuck roast for Shredded Beef and Bean Chili, and then a turkey for your Perfect Oven-Roasted Thanksgiving Turkey!
Click HERE to become a ButcherBox member and get high-quality meat and seafood delivered to your doorstep!
How to Make Lemon Garlic Baked Cod
With virtually no prep time needed, this dish could not be simpler to make! Here's how you'll throw this delicious, healthy dish together (with just a few simple ingredients) in no time flat!
Preheat the Oven to 325°F.
Place the Cod + Tomatoes in a Baking Dish – add the cod fillet(s) to a 9×13 inch baking dish and spread the tomatoes around it, then drizzle the 2 tbsp of olive oil over both the fish fillets and the tomatoes.
Add Sea Salt, Garlic, Sage, and Lemons – sprinkle the teaspoon of sea salt, sliced garlic, and tablespoon of fresh, chopped sage over the cod and tomatoes and rub it into the cod, then top the garlic and sage rubbed cod with the sliced lemons.
Bake – bake the cod for 45 minutes, until the cod flakes apart easily with a fork.
Enjoy + Serve!
Why slow roast cod?
We chose to slow roast the cod here because we've found that not only does it produce the most tender, flaky fish, but it also really helps to build the flavor of the cod, allowing the olive oil, garlic, sage, and lemon juice to really infuse the cod filets! Seriously, slow roasting here reaches a whole new level of seafood perfection!
Baked Cod Variations
While we are sure that this recipe is top-notch, we also understand that you may want to switch things up according to your specific tastes and preferences! Here are a few variations to try:
Leave Out the Tomatoes – if you don't have (or don't like!) tomatoes, feel free to leave them out of the recipe!
Swap the Tomatoes – if you want to leave out the tomatoes, but still want a veggie-loaded dish, add another sturdy veggie instead! Brussels sprouts, asparagus, chopped carrots, cubed butternut squash, diced sweet potatoes, or baby potatoes would all work great here.
Change Up the Seasonings – leave out the sage and use your favorite seasoning instead! You really can't go wrong here.
What to Serve With Cod
We LOVE this cod served alongside (or on top of) our Lemony Garlic Parmesan Pasta. We actually designed the pasta specifically for this baked cod dish (though it would be delicious with so much more than just cod!), and they really are a match made in foodie heaven! If you'd like to throw a simple green veggie side in also, these simple sauteed green beans are a great choice, as is this green salad!
We hope you enjoy this really delicious, super simple, exceptionally nourishing baked cod recipe!
More Favorite Seafood Recipes
Lemon Garlic Baked Cod with Cherry Tomatoes
This lemon garlic baked cod is packed with flavor thanks to the slow roasting technique!
Ingredients
1 1/2

pounds

cod

2

pints

cherry tomatoes

2

tablespoons

extra-virgin olive oil

1

teaspoon

sea salt

3

garlic cloves

thinly sliced

1

tablespoon

fresh chopped sage

2

lemons

thinly sliced

2

tablespoons

capers

for garnish
Instructions
Preheat the oven to 325 F.

Place the cod in a 9×13 inch baking dish and spread the tomatoes around it, then drizzle the olive oil over both the cod and the tomatoes.

Sprinkle the sea salt, sliced garlic, and sage over the cod and tomatoes and rub it into the cod, then top the cod with the sliced lemons.

Bake for 45 minutes, until the cod flakes apart easily with a fork, then garnish with capers and serve.
Nutrition
Calories:
213
kcal
|
Carbohydrates:
13
g
|
Protein:
27
g
|
Fat:
7
g
|
Saturated Fat:
1
g
|
Polyunsaturated Fat:
1
g
|
Monounsaturated Fat:
4
g
|
Cholesterol:
59
mg
|
Sodium:
649
mg
|
Potassium:
1048
mg
|
Fiber:
3
g
|
Sugar:
6
g
|
Vitamin A:
994
IU
|
Vitamin C:
68
mg
|
Calcium:
67
mg
|
Iron:
2
mg