Whether you're looking for a healthy, robust dish to serve up at a gameday party or you're simply looking for an easy weeknight dinner, this Paleo Bison Chili is guaranteed to please the whole crowd.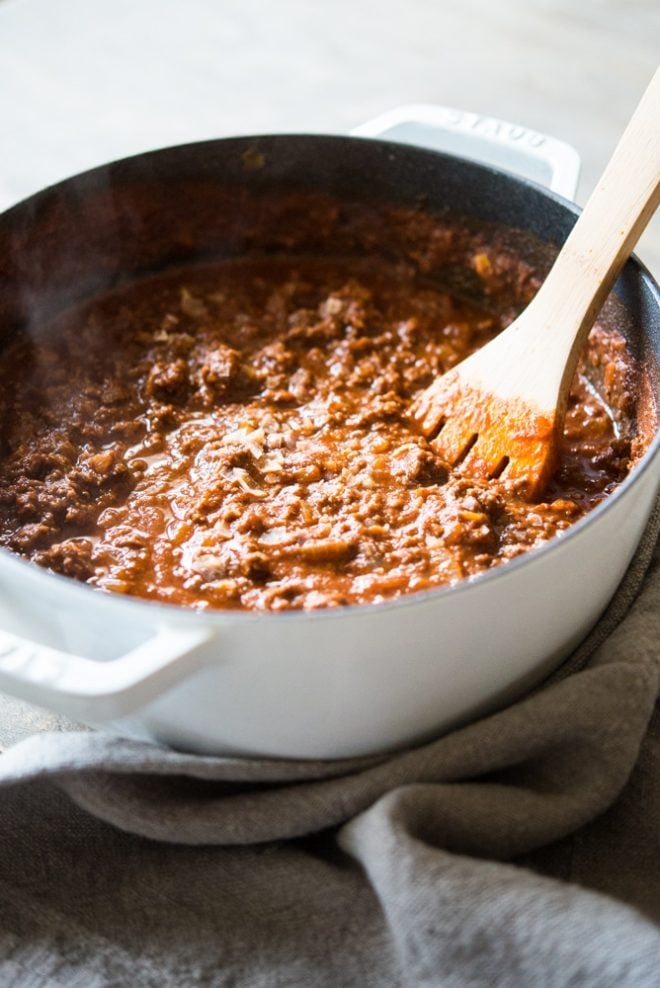 Chili can be a polarizing topic. Do you like yours with beans? How about with chunks of tomatoes? Must yours be served with a dollop of sour cream, sprinkle of cheese, or pickled jalapenos? Do you insist on your chili served over rice or over nothing? Do you prefer yours with more heat than spice or more spice than heat? Chunk steak or ground meat? So many options. So many beautiful, wonderful, a-recipe-developer's-dream options.
I've come to understand that every family unit has their own signature chili habits. My own little family got into a habit of cooking down almost 1 whole pound of fresh chopped kale into our chunky tomato-rich chili! I call it my Weeknight Leafy Green & Beef Chili and you can find the cherished recipe in my printed 'Fed & Fit' book. That chili recipe came to be when I had an entire bag of chopped curly kale nearing its last leg. Desperate to put *something* on the table, leafy green beef chili was born. To my absolute surprise, my husband LOVED the dish. Loved! He asks for it so often, I had to save a copy of the new-memory-rich dish in my printed book.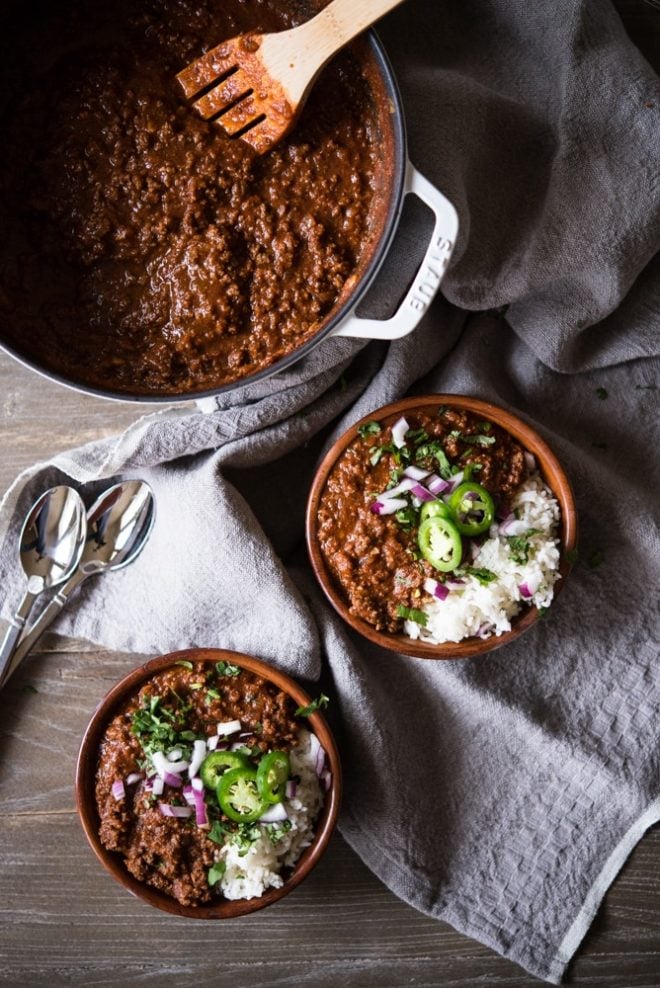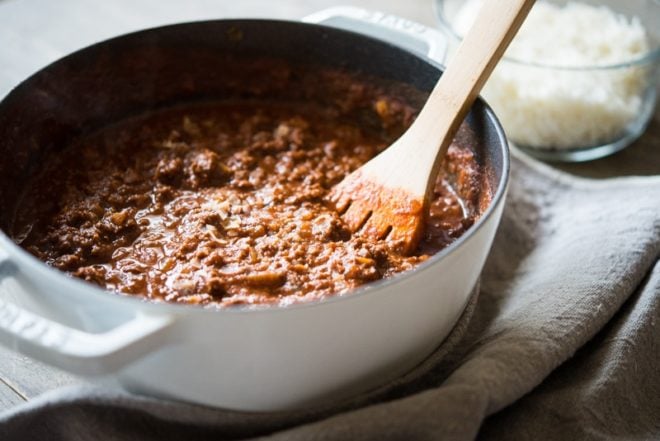 Today's recipe is inspired by a different family unit's signature — my parents. While I do love our leafy green chili, my mom's chili brings about a different kind of comfort. Its the kind of comfort that only comes from home. I grew up on this style chili and to tell you the honest-to-goodness truth, I've spent the last 15-somthing years of my cooking career intentionally NOT learning the recipe. You see, I loved the childish mystery of my mom's chili! I loved (and still love) our nights at their house where she whips up her signature chili and we all exclaim, "how do you do it?!" She grins, tells me the secret (which I purposefully uncommitted to memory), and then she feels all the warm fuzzies while watching her family enjoy spoon after spoon, bowl after bowl of the simple, nourishing meal.
I'm now happy to report TWO things:
I finally learned the recipe. I finally took notes, praised her for her years of simple genius, and made a batch (for you) from home.
My mom's chili still holds the same awe-inspiring power over me. Turns out, the magic in this chili had nothing to do with my knowing HOW she made it …it has everything to do with the love, patience, and intention that goes into the dish. If anything, it's even more special to me now.
Can ground beef be substituted for ground bison in this recipe?
So, there you have it, friends! While I made this version with ground bison, you can absolutely make it with ground beef. It's simple, from the heart, and a signature of my childhood.
How to Serve
Serve it over whatever makes you happiest (white rice, cauliflower rice, mashed potatoes, a baked potato, or even some cooked vegetables).
Toppings for Paleo Bison Chili
Garnish with your favorite toppings. I prefer mine with a touch of purple onion, some fresh jalapeno, and fresh cilantro. The Paleo Sour Cream from my 'Fed & Fit' book (or just plane old sour cream) would make for a tasty topping, too!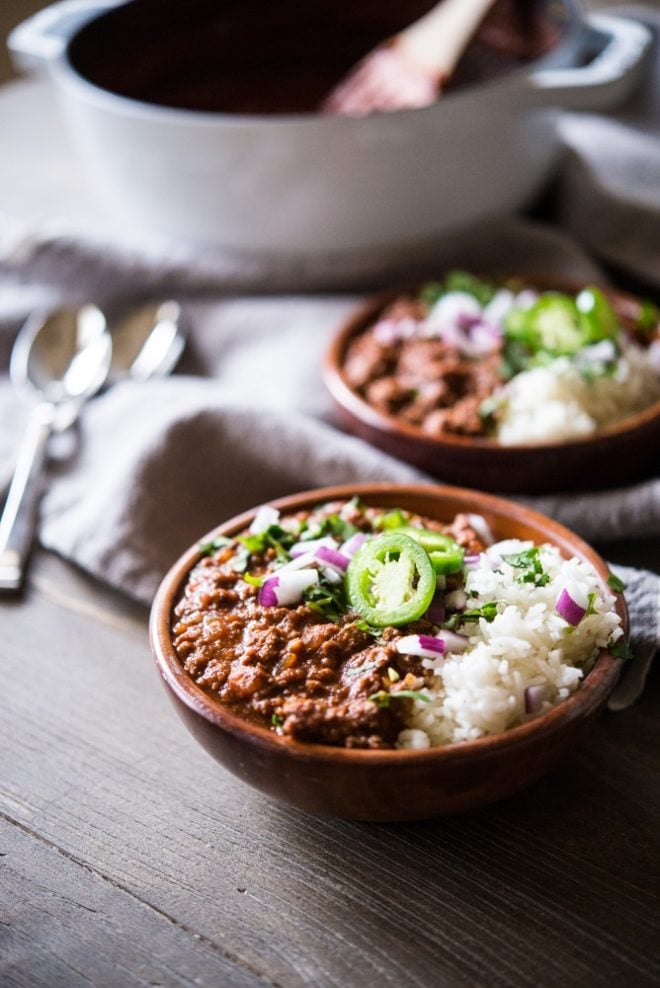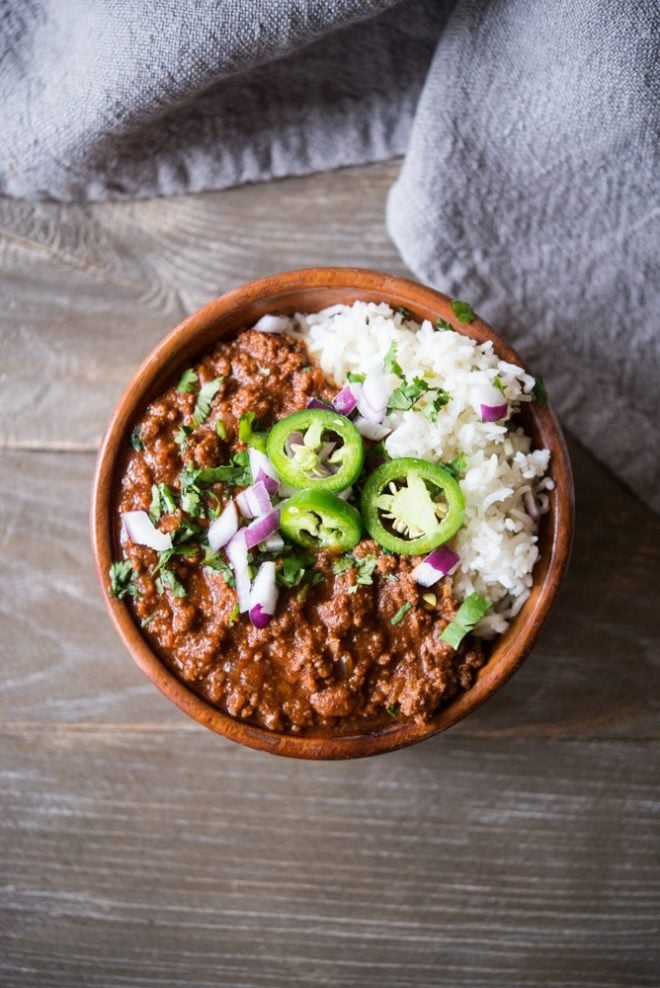 More Favorite Chili Recipes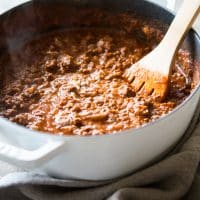 Whether you're looking for a healthy, robust dish to serve up at a gameday party or you're simply looking for an easy weeknight dinner, this Paleo Bison Chili is guaranteed to please the whole crowd.
Ingredients
2

pounds

ground bison

may use ground beef

1

tablespoon

grass-fed butter

ghee, or your favorite cooking fat

1

small yellow onion

finely chopped

3

large cloves garlic

minced

3

tablespoons

chili powder

3

tablespoons

ground cumin

1

teaspoon

fine sea salt

24

ounces

tomato puree

or tomato sauce

1.5

cups

or 12 ounces water

tip from my mom: just fill the tomato puree jar halfway up

fresh cilantro

for garnish

fresh jalapenos

for garnish

chopped purple onion

for garnish
Instructions
Place a large heavy-bottomed pot (like

enameled cast iron

) or simply large pot over medium/high heat. Add the ground bison, break it up with a spoon, and stir until it's completely browned. This may take about 10 minutes. Using a slotted spoon, transfer the ground meat to a separate bowl, leaving the drippings behind in the pan.

Add the butter to the pan and then the chopped onion. Saute until the onions are translucent and then add the garlic. Keep cooking until the onions start to develop a slightly brown color.

Return the ground meat to the pan, stir to combine, and then add the seasonings. Cook for an additional 5 minutes, or until the spices darken in color slightly.

Add the tomato puree and water, stir to combine, and let simmer over medium heat for 10 minutes, or until some of the water has evaporated off.

Serve over the base of your choosing and garnish as you like!
Nutrition
Calories:
429
kcal
|
Carbohydrates:
16
g
|
Protein:
31
g
|
Fat:
27
g
|
Saturated Fat:
12
g
|
Polyunsaturated Fat:
2
g
|
Monounsaturated Fat:
10
g
|
Trans Fat:
0.1
g
|
Cholesterol:
111
mg
|
Sodium:
609
mg
|
Potassium:
1127
mg
|
Fiber:
4
g
|
Sugar:
7
g
|
Vitamin A:
1861
IU
|
Vitamin C:
14
mg
|
Calcium:
88
mg
|
Iron:
9
mg