Every item on this page was chosen by The Fed & Fit team. The site may earn a commission on some products (read more here).
This easy slow cooker chili is made with shredded beef and beans and a medley of spices for a comforting, super easy meal that the whole family will love!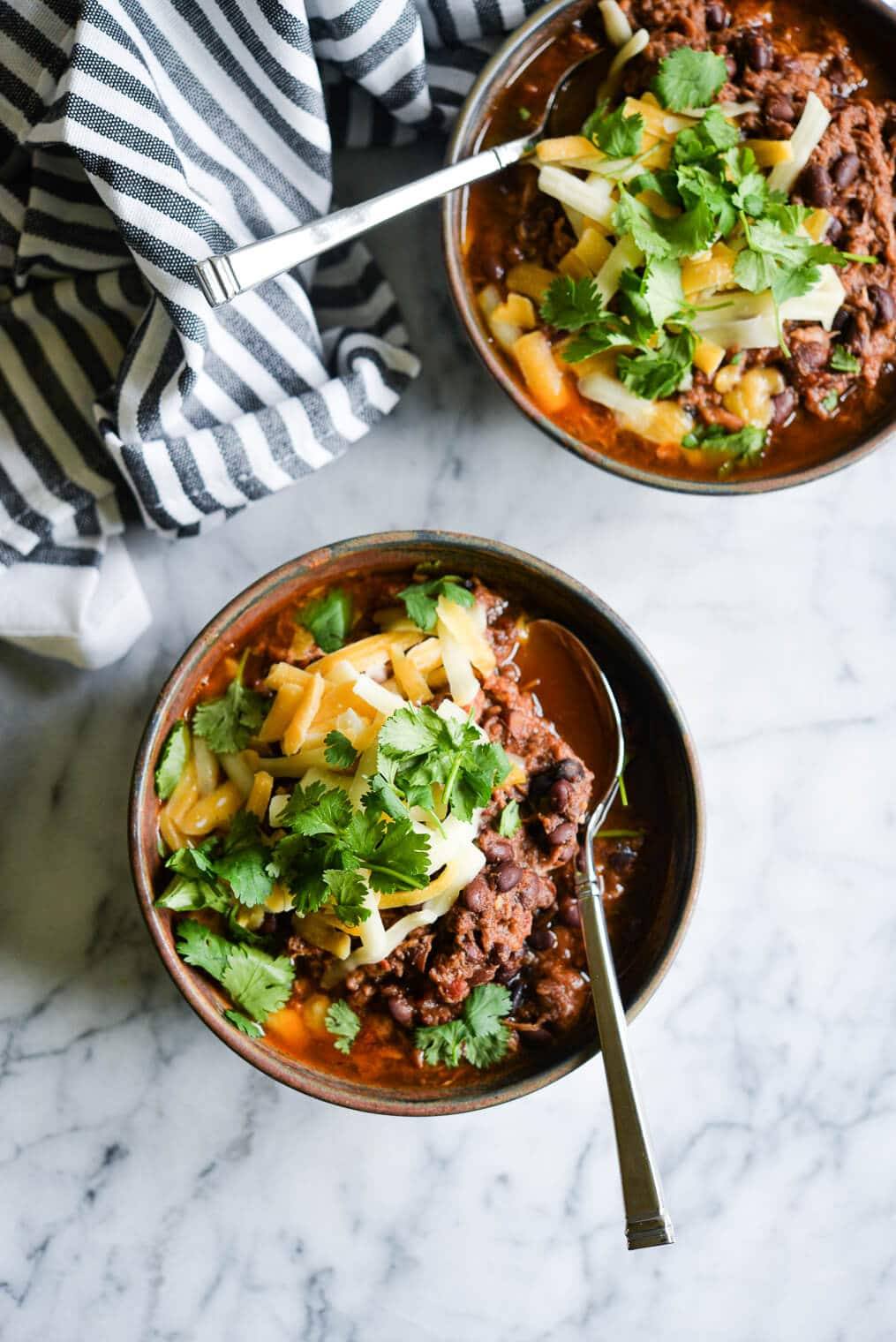 Best Slow Cooker Chili
While I love a good ground beef chili recipe, I decided to change things up with this variation and using a chuck roast instead, and the result just may be the best chili I've ever had. When I'm looking for a super easy, no-fuss meal, chili is almost always what I go for – it has everything it needs, and nothing it doesn't, and no one is ever sad to hear, "We're having chili for dinner!" This meal takes me right back to my parents' house growing up…chili was on our dinner rotation and the whole family always looked forward to chili night (my mom because it required little effort in the kitchen, and everyone else because, well, it's chili!).
Though that version was a traditional Texas chili without beans, we're adding pinto beans to this shredded beef chili to switch things up from the old classic! Did you know that chili with beans is actually a pretty hot topic?! I'm serious! Apparently, when it comes to chili, there are three kinds of (very passionate) people: those for beanless chili, those that are pro beans in chili, and then people who just want to eat things that taste good, beans or not. We rest pretty firmly in that third group! While we love a good classic beanless chili, we just can't say no to this really tasty beef and bean version!
What makes this the best slow cooker chili ever?
Everyone has their own best chili recipe, and there are thousands available on the internet, so what makes this one the best? Up until I made this version, I really thought my classic ground beef chili was the best ever – but now, this one has stolen my heart! Swapping the ground beef out for chuck roast takes this chili to the next level and makes it so rich, while the starchy beans provide a creamy texture. The simple spices lend the perfect amount of flavor without overshadowing the main ingredients.
Best of all, it is EASY. Seriously, other than the (optional) browning step, all you need to do to make this chili is toss everything in the Crockpot and let it cook all day. It's virtually impossible to mess up, and simple enough for anyone to make. It also doesn't hurt that your house will smell like absolute heaven all day!
Chili Crockpot Ingredients
Here's what you'll need to grab from the store! The list is short, and almost everything on it is a pretty standard pantry item!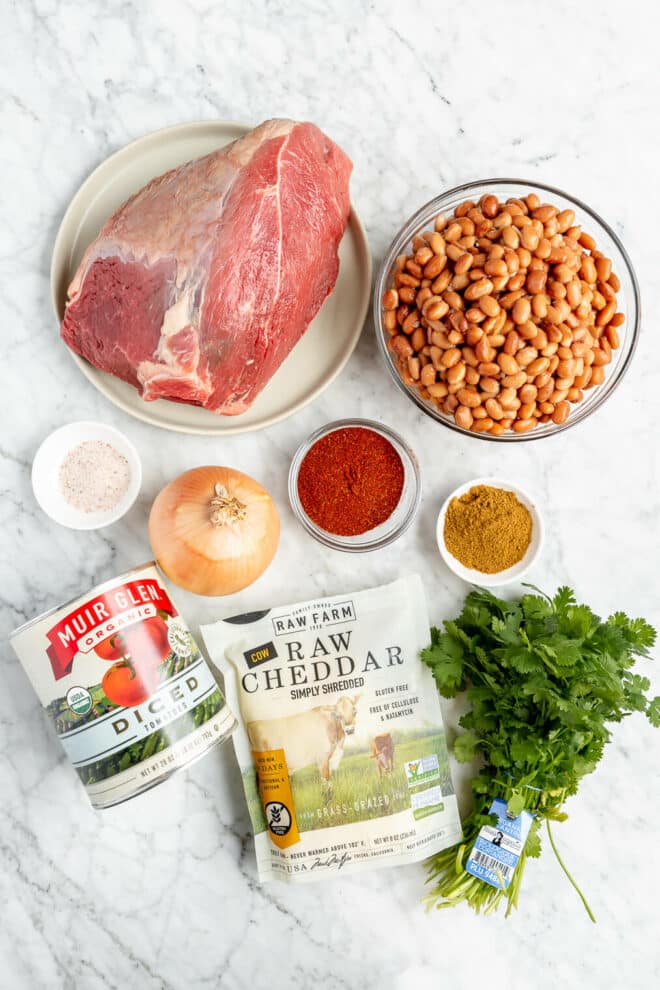 Beef Chuck Roast – we'll use a 3-5 pound beef chuck roast for the chili. The shredded beef really sets this chili apart from the classic ground beef variation! You can also use stew meat here if you prefer. One big benefit of using shredded beef over ground is that browning the beef ahead of time is optional. Just dump it all into the Crockpot!
Canned Tomatoes – grab a 28-ounce can of tomatoes. We're not picky – choose diced tomatoes, tomato sauce, or any variety of crushed, pureed, or whole tomatoes…whatever you can find (or already have hiding in the pantry) will work just fine! Because of the long and slow cooking time, the tomatoes will ultimately break down into the sauce.
Onion – Chili just isn't chili without a good dose of onion! You'll add one chopped onion (OR 2 teaspoons of onion powder) into the slow cooker.
Pinto Beans – whether you're pro bean chili or not, this recipe calls for 3-4 cans of pinto beans. You can also use kidney beans, black beans, or pinto beans if you'd like! We've included instructions for both canned and dried beans as well!
Salt, Cumin, and Mild Chili Powder – Every time we publish a chili recipe, we inevitably get asked if the spice measurements are correct – they are! Upping the amount of these quintessential chili spices really makes for a robust, flavorful result.
Cilantro, Red Onion, and Other Toppers – we topped our chili with cilantro (like, a LOT of cilantro) and red onion. Feel free to use whatever toppers you love!
More of our Favorite
Slow Cooker Recipes
How to Make Chili Slow Cooker Style
Mostly hands-off, this will be the easiest dinner you cook all week! Here's what you'll need to do: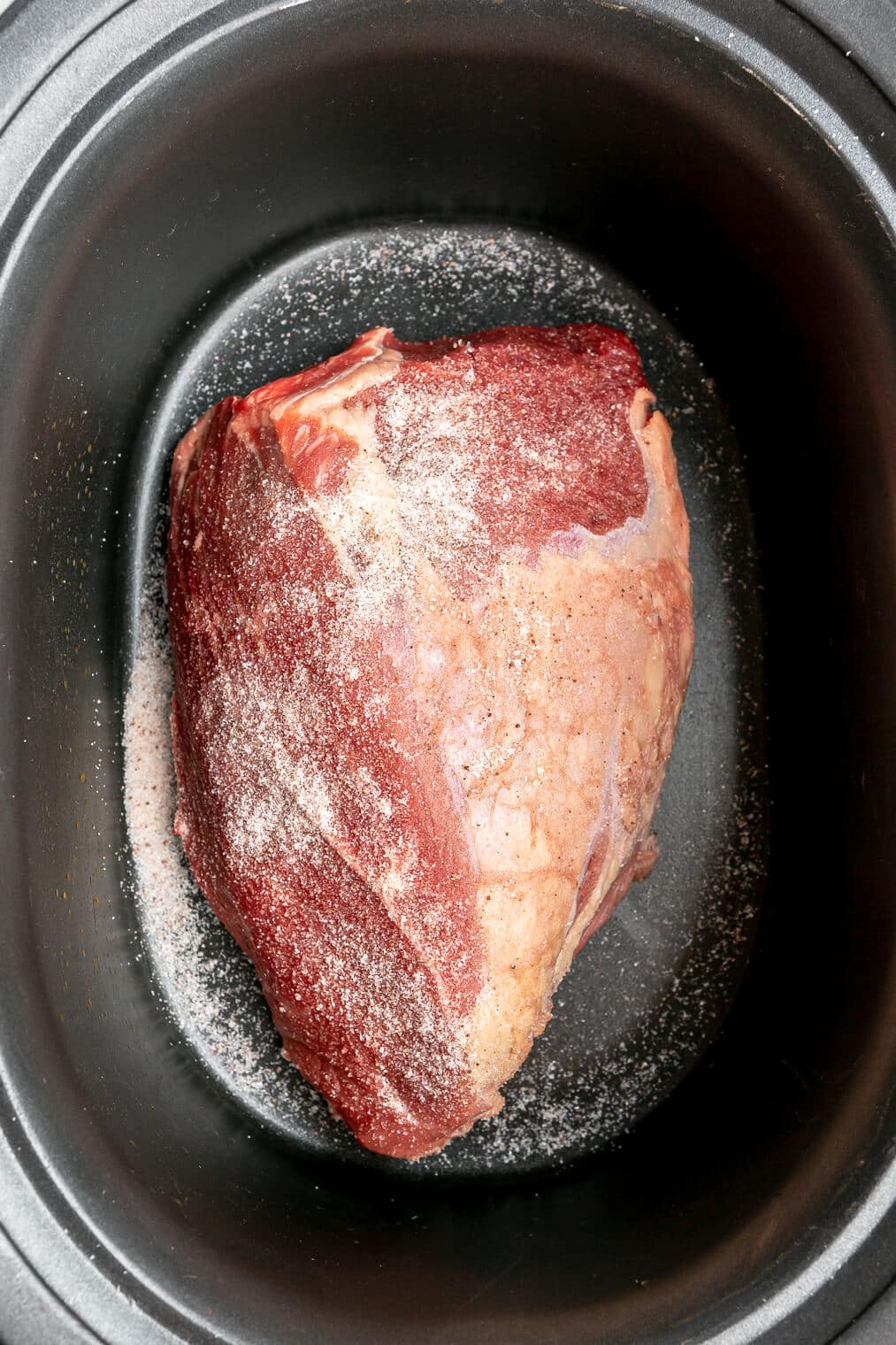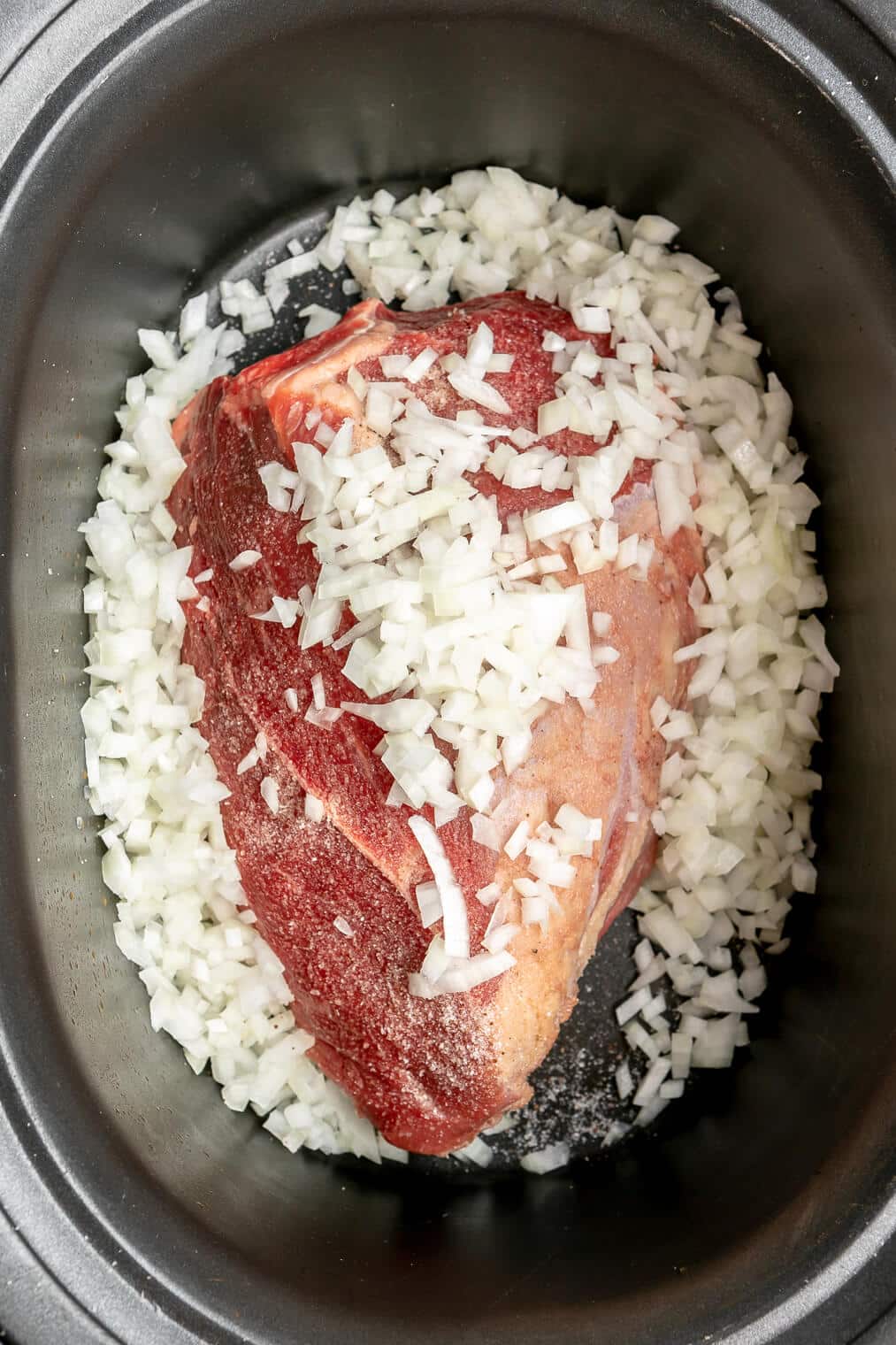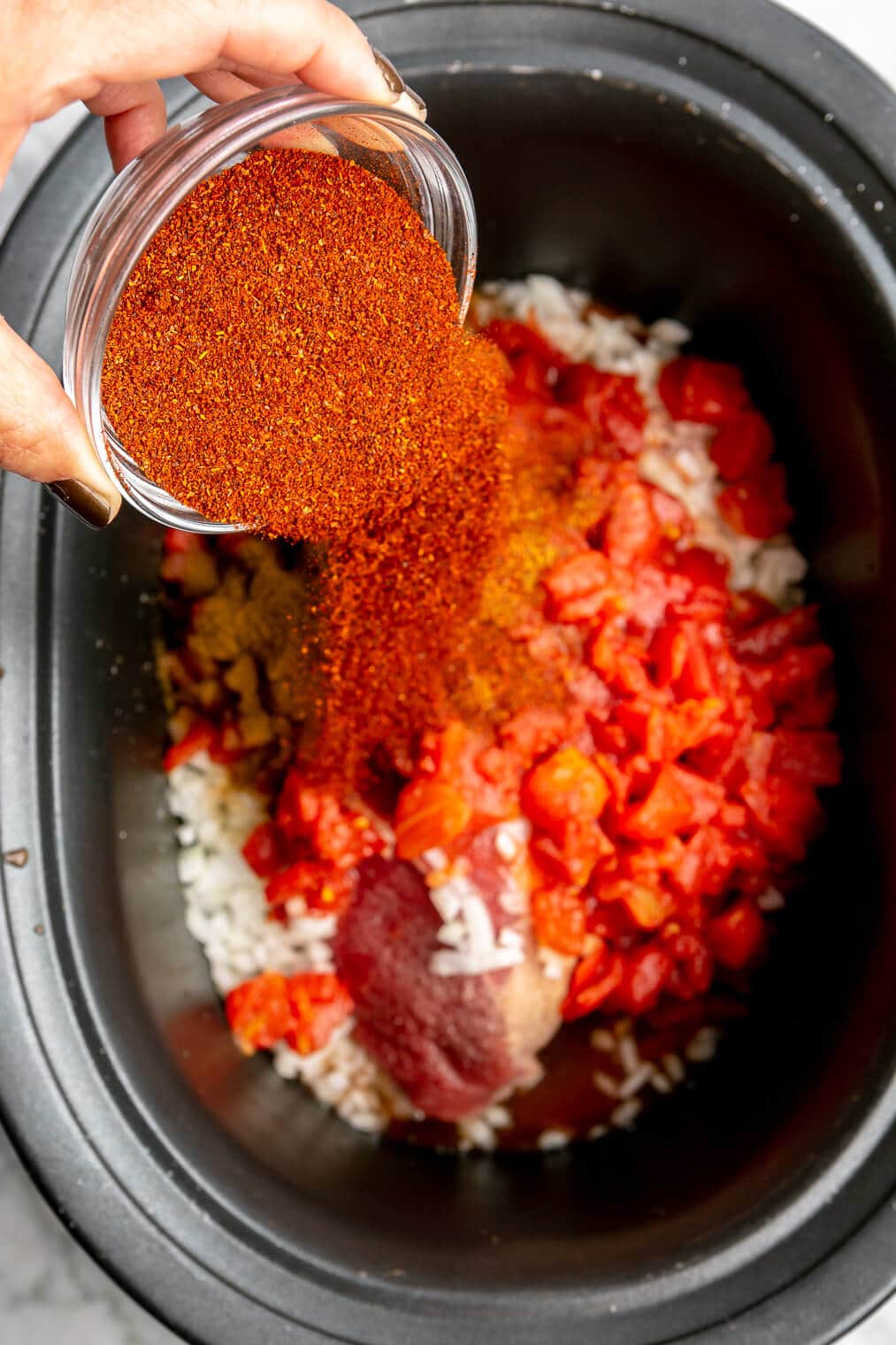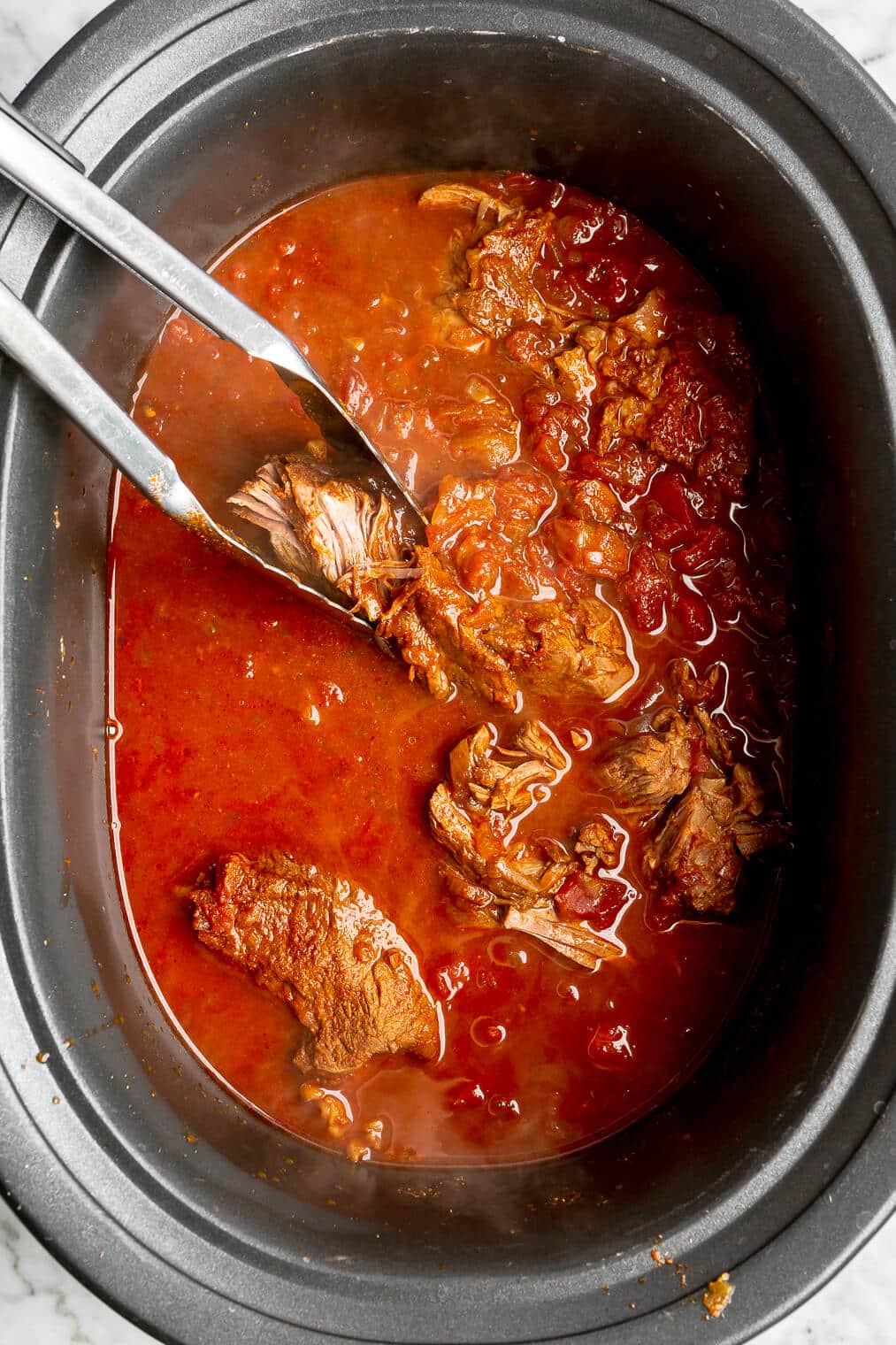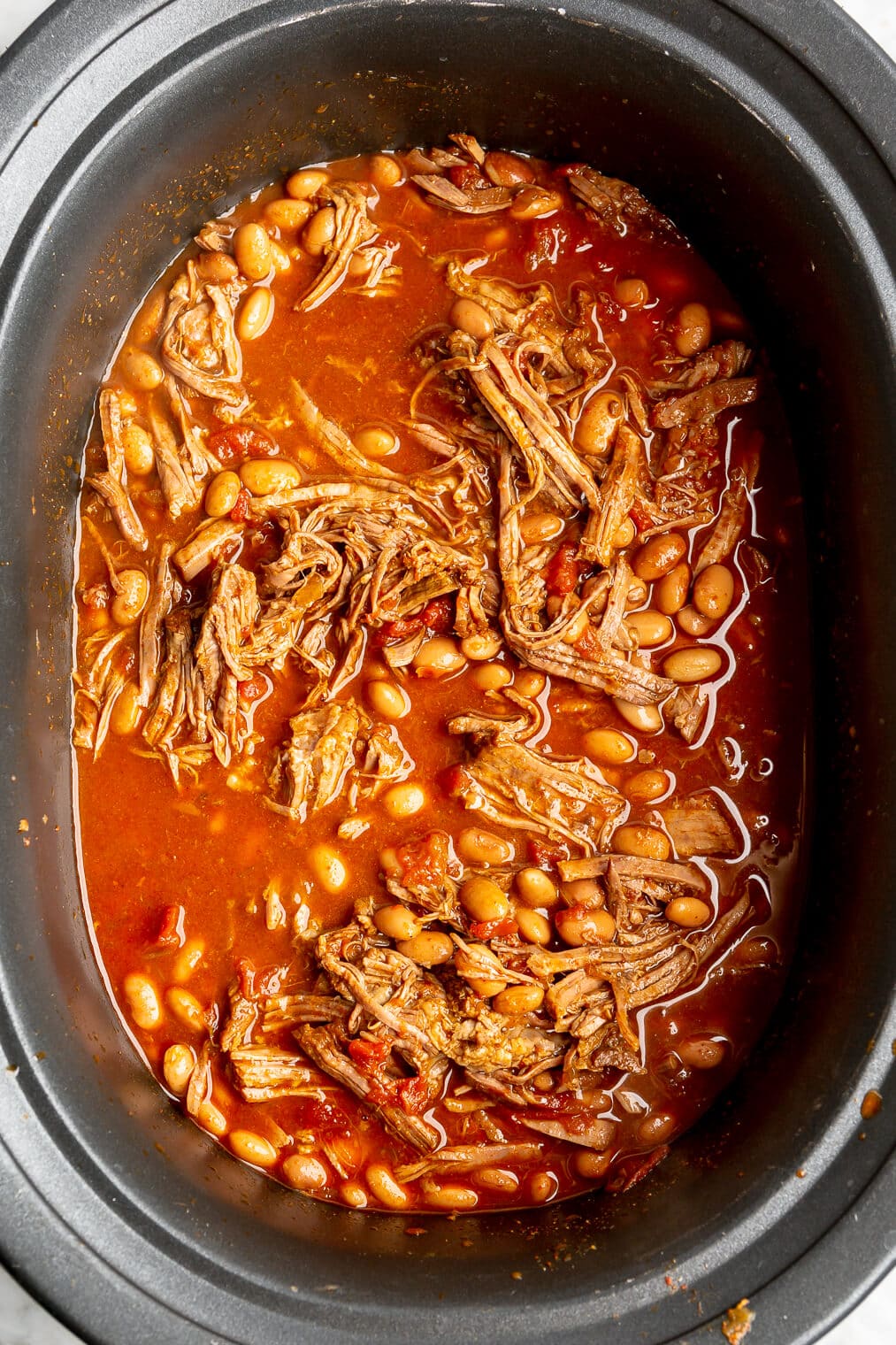 Sear the beef. This step is optional, but worth the extra few minutes if you can spare them! Sear the beef in butter on the stovetop (either with a stovetop-friendly slow cooker insert OR in a pan). Pat the roast dry and sprinkle one side with sea salt. Put the salted side down to sear in butter (or olive oil) over high heat for 3-4 minutes, then flip the roast and turn off the heat. Once the butter stops sizzling, transfer the insert (or the beef roast if using a pan) to the slow cooker.
Add the onion, tomatoes, and spices. Add the chopped onion (or onion powder), canned tomatoes, and ground cumin, chili powder, and salt to the slow cooker with the beef roast.
Set to cook. Set the slow cooker on low for 8 hours, and set a separate timer for 6 hours (we just used a timer on our phone!)
Shred the roast + add the beans. At the 6 hour mark, break/shred the roast up with two forks and stir it into the chili. Then, add the pinto beans, stir, and cover to continue cooking for an additional 2 hours.
Give it one last stir + enjoy! Once the timer goes off, shred any beef that wasn't previously shredded, and give the chili a good stir. Spoon into bowls, top with cilantro, red onion, and any other desired toppings, and enjoy!
Topping Ideas
Whatever toppings you love on your classic chili work great here too! I topped mine with cilantro and shredded cheddar cheese. Some other ideas are: sour cream, fresh or pickled jalapenos, sliced green onion, shredded cheese, diced avocado, sliced olives, crushed tortilla chips, and even a few scoops of salsa if you're looking to add some extra spice to your bowl (my husband LOVES this!) Really, the SKY IS THE LIMIT with chili toppings!
What to Serve with Crockpot Chili with Stew Meat
Because of the addition of beans, this chili is a pretty well-rounded meal all on its own, but you can certainly serve it overtop a bed of white rice or alongside a skillet of gluten-free cornbread. If you're looking to add some fresh veggies to the spread, this simple, do-it-all arugula salad would be a great choice! Our fresh lime and jalapeno margaritas are easy-peasy and will certainly please all of the adults sharing in this meal together.
This slow cooker chili recipe has quickly become a staple in our household because it is so versatile, easy, and comforting. We hope it makes it into your regular rotation, too!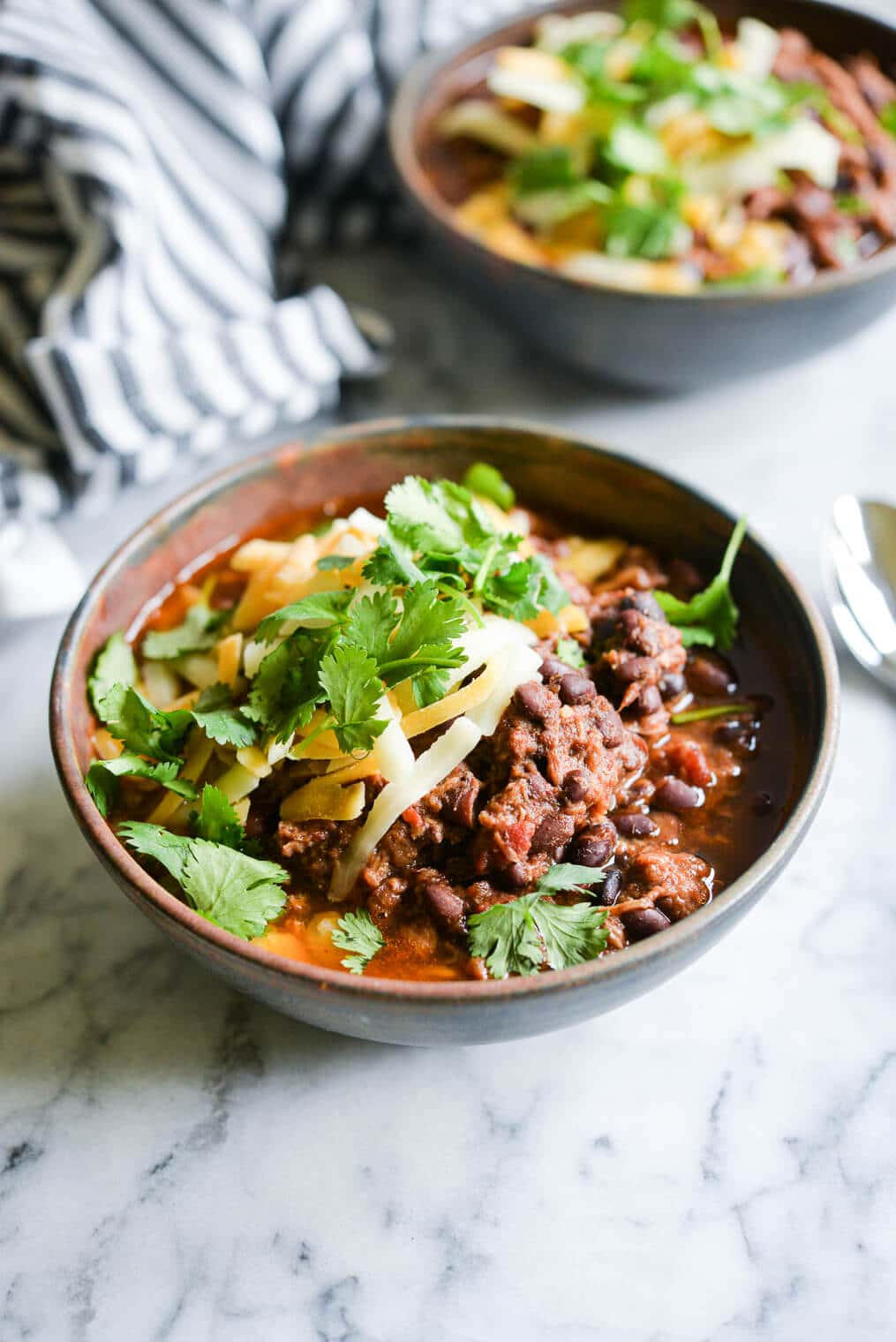 Our Favorite Slow Cooker
Our favorite slow cooker is this stainless steel cooker from All-Clad! Not only does it look gorgeous, it also has a removable cast iron insert so that you can brown food on the stove, then place the insert back in the slow cooker. It makes clean up SO much easier!
Slow Cooker Beef Chili FAQ
Q
What is the best chili powder to use for making chili?
A
When you're looking for chili powder, you want to use a blend like this one. Did you know that most chili powder is actually a combination of spices like chili, garlic, cumin, paprika, oregano, and salt? This makes it more mild and, of course, perfect for chili! When you're at the store, check for a bottle that simply says 'chili powder' on it and read the label to see if other spices are included. Avoid chili powders that are pure chili – these will say 'ancho chili powder' or 'chipotle chili powder' and list chilis as their only ingredient. If you use those, your chili will be VERY spicy.
Q
How can I make it spicier?
A
If you prefer spicier chili, you can add a bit of cayenne pepper! We recommend adding this at the end about 1/4 teaspoon at a time until you reach your desired heat level because you can always add more spice, but you can't take it away!
Q
Can I use ground beef instead of chuck roast?
A
While we think that the shredded beef is what really sets this recipe apart, if you prefer ground beef, go for it! Just brown the ground beef over medium heat on the stove for 5-7 minutes before adding it to the slow cooker. The cooking time will be the same!
Q
What veggies can I add?
A
Though tomatoes do count as a vegetable, to really round out this Crockpot chili you can also add in some veggies if you prefer! Chili is the PERFECT vehicle for sneaking in leafy greens. Chopped kale or spinach make great additions, and you could also add 1-2 chopped bell peppers for extra flavor!
Q
How to Use Leftover Shredded Beef Chili
A
Most often, we just eat leftover chili as-is! But, if you want to get creative, you can also use it to make this beef chili casserole, Frito pie, make chili-stuffed baked potatoes, or use it as a topping for hot dogs.
A
YES! Chili is actually one of my very favorite things to freeze. If done correctly, it has no funky, this-has-been-frozen-and-thawed taste! I typically make a double batch any time I make chili for dinner…we eat one the night of (with leftovers to spare!), and freeze one for later. It is a real lifesaver on busy days! The best way to store your chili and protect it from freezer burn is in an airtight container (we like these glass containers). To reheat, either let it thaw in the fridge overnight, scoop into bowls, and microwave, OR pop the still-frozen chili in a pot on the stove for a thaw + reheat.
Q
Can you make this in the Instant Pot?
A
You can! To make this shredded beef + bean chili in the Instant Pot, you'll add the beef, canned tomatoes, chopped onion (or onion powder), and spices + seasonings to the pot and cook at high pressure for 60 minutes. Allow the pressure to release naturally for 10 minutes, and then release the rest manually. Shred the beef with two forks (you may need to transfer it to a cutting board for this, and then add it back to the pot once shredded.) Then, set the Instant Pot to 'saute,' add the rinsed pinto beans in, and let simmer until the beans are warmed through! Top with your favorite chili garnishes and enjoy!  Be sure to cut your chuck roast into 4-5 equal (just eyeball it!) pieces to ensure that the end product is easily shreddable!
NOTE: If you get a "burn" notice on your Instant Pot when you're trying to bring it to pressure, add about 1/2 cup water to the pot. Give it a stir and it should stop.
Q
Can I make this chili on the stovetop?
A
Yes! If you want to make this chili on the stovetop, you'll need to cook it low and slow. If you go this route, cut the chuck roast into 1 1/2-inch cubes (or use stew meat) and cook, covered, over medium-low heat for 1 1/2 to 2 hours, until the beef shreds easily. Then, add in the beans and cook for an additional 30 minutes.
Just for You
Beef Recipes
Want more recipes like this?
Ingredients
1, 3-5

pound

beef chuck roast

28

ounces

canned tomatoes

crushed, puree, diced, or whole

1

onion

chopped OR 2 teaspoons onion powder

1-2

teaspoons

sea salt

to taste

2

tablespoons

cumin

4

tablespoons

chili powder

3, 15-

ounce

cans pinto beans

drained and rinsed

Cilantro

for garnish

Shredded cheddar cheese

for garnish
Instructions
(Optional step): If using a slow cooker with a stovetop friendly insert, sear the beef in butter. First, pat the roast dry and sprinkle one side with sea salt. Put the salted side down to sear in butter (or olive oil) over high heat for 3-4 minutes. Flip the roast and turn off the heat. Once the butter stops sizzling, transfer the insert to the slow cooker.

Add the chopped onion (or onion powder), canned tomatoes, and spices to the slow cooker with the beef roast. Set the slow cooker on low for 8 hours, and set a separate timer for 6 hours.

At the 6 hour mark, break the roast up with a spoon/fork and leave in slow cooker. To the slow cooker, add the pinto beans, and then stir and cover to continue cooking.

Once the timer goes off, shred any beef that wasn't previously shredded, and give the chili a good stir. Spoon into bowls, top with cilantro and cheese, and enjoy!
Recipe Notes
To Use Dried Beans:
If you'd like to use dried beans in this recipe, you can use 2.5 cups dried black, pinto, or kidney beans. You'll need to add an additional 28 ounces of water, 1 teaspoon of salt, and cook the chili for at least 16 hours to 24 hours total. Alternatively, you can fully cook your beans on the stovetop to your liking, then add them into the chili at the 6 hour mark.
To Make in the Instant Pot:
Cut the chuck roast into 3 equally-sized pieces, then sear in the Instant Pot on 'saute' mode for 3-5 minutes on 2 sides, until browned. Then, add in the tomatoes, onion, salt, cumin, and chili powder. Seal the Instant Pot and cook on high pressure for 60 minutes, then manually release the pressure, pull out the beef, and shred with two forks. Transfer the beef back to the pot and stir along with the beans. Set the pot to 'saute' mode and add the beans, then cook for about 10 minutes, until the beans are warmed through.