Every item on this page was chosen by The Fed & Fit team. The site may earn a commission on some products (read more here).
This Paleo-friendly, meal prep-friendly, totally balanced meal, bison and plantain breakfast bowl is going to knock your socks off.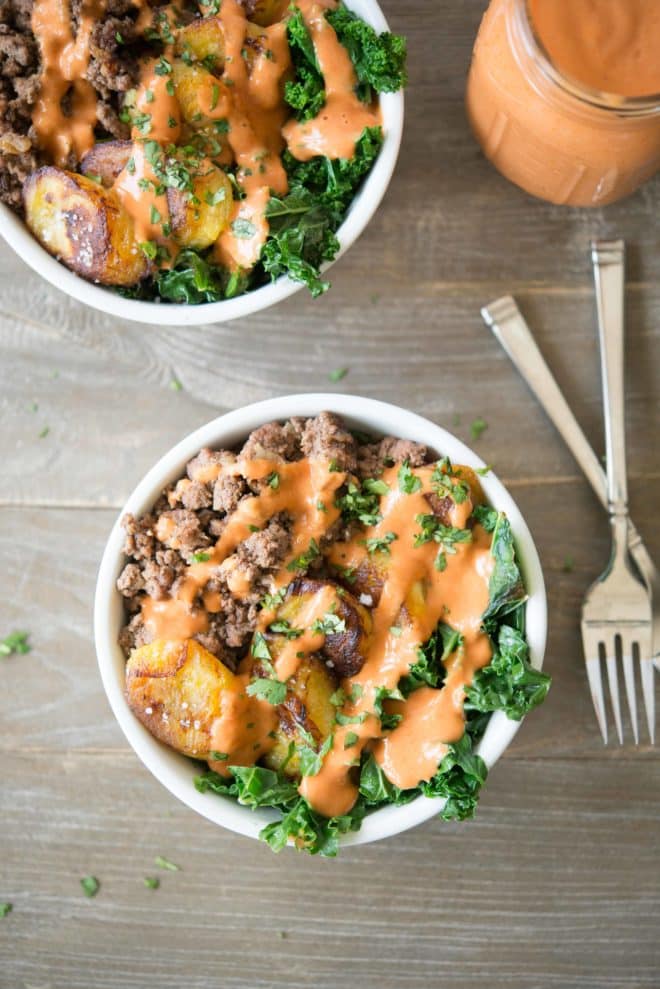 I've lost count of the number of requests that have come through for Paleo egg-free breakfast options, so I thought it was high-time to put my ideas into print and photo. Ask and you shall receive, my friend!
This post is the first of THREE egg-free breakfast bowls that I'm rolling out. Each bowl will have the following:
a healthy protein
a healthy, Paleo-friendly starch
a cooked vegetable
a dang tasty sauce (ties it all together)
Sound good? Wait, it gets better. One added bonus of an egg-free breakfast is that they're freezer friendly. YUP! That means, you can batch cook these recipes, portion out bowls in freezer-safe containers, and have healthy breakfasts ready in no time at all! Just let them defrost in the refrigerator over night then saute the whole thing together in a frying pan for a quick re-heat. Microwaves and ovens are also acceptable for reheating! Use whatever method you're most comfortable with.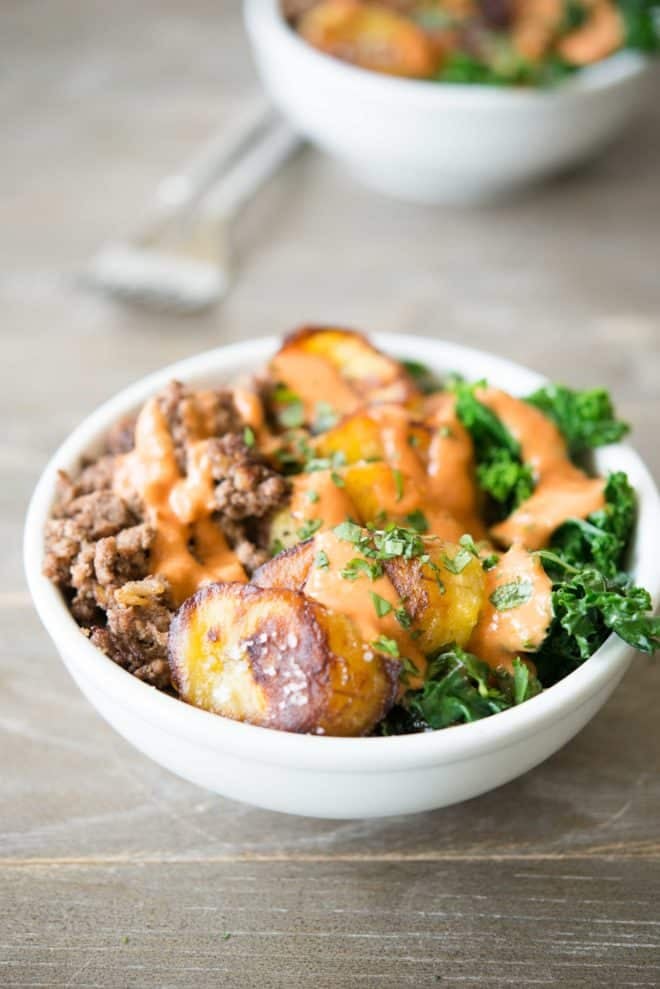 This bison and plantain bowl is SO GOOD. The 4 components come together easily and the results will blow you away. The seasoned ground bison, fried ripe plantains, and sauteed greens are all delicious, but the roasted tomato sauce really makes this dish sing. This recipe makes about 5 servings, but feel free to double the recipe if you're batch-cooking with the intention of freezing for future meals! I like to consider recipes like this a good template. Feel free to work within them to make YOUR perfect meal! If you want more leafy greens, add more! If you want more starch, add 1 or 2 more plantains! Note that I'll usually add a little more protein and starch to my husband's serving than my own. Make it your own!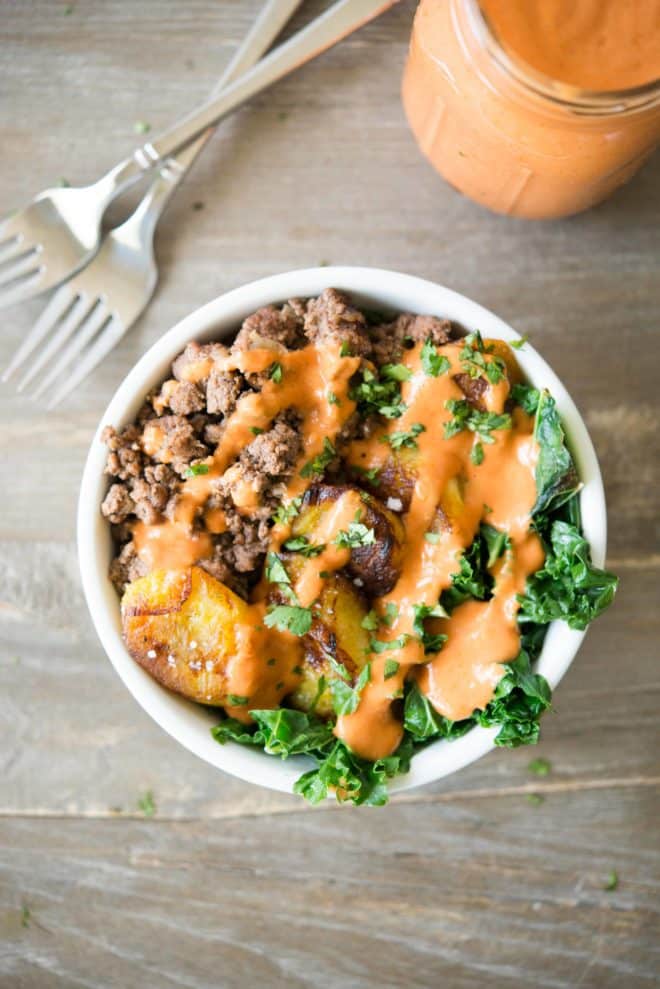 More Plantain Recipes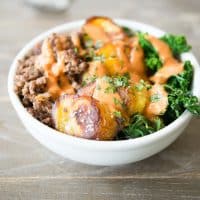 Ingredients
For the roasted tomato sauce::
1

pound

cherry tomatoes

1

tablespoon

olive oil

1/2

teaspoon

sea salt

divided

1/8

teaspoon

black pepper

3/4

cup

full-fat coconut milk

3

tablespoons

fresh lime juice

about 1 1/2 limes

2

cloves

garlic

peeled
For the seasoned bison::
1

tablespoon

grass-fed butter or ghee

1/2

yellow onion

peeled and finely chopped

2

pounds

ground bison

1/2

teaspoon

fine sea salt

1/4

teaspoon

ground black pepper

1/2

teaspoon

chili powder
For the fried plantains::
1/2

cup

coconut oil

2

ripe plantains

1/4

teaspoon

fine sea salt
For the sauteed kale::
5

packed cups chopped curly kale

1

tablespoon

grass-fed butter or ghee

2

tablespoons

fresh lemon juice

about 1 lemon

1/4

teaspoon

fine sea salt
For garnish::
1/4

cup

chopped cilantro

for garnish
Instructions
For the roasted tomato sauce:
Preheat the oven to 400 F. Toss the tomatoes with the olive oil and spread them out onto a rimmed baking sheet. Sprinkle with half of the sea salt and bake for 30 minutes, or until the tops are starting to brown and burst.

Blend the roasted tomatoes with the rest of the ingredients, taste and adjust with additional seasoning, and set aside.

Note: if you have leftover sauce, it will keep for up to one week in a sealed mason jar or other container in the refrigerator. You can also freeze this sauce in ice cube trays so that you have a quick flavor-boosting sauce to add to meals in the future!
For the seasoned bison:
Melt the butter in a large frying pan. Add the onions and cook for 15 to 20 minutes, or until they start to brown.

Add the bison and the rest of the seasoning. Breaking it up with a spoon as it cooks, keep the pan over medium-high heat for about 15 minutes, or until the meat is browned through.
For the fried plantains:
Melt the coconut oil in a large saute pan over medium heat.

Peel and slice the plantains on an angle into about 1/2-inch thick pieces. Carefully place the plantains in the hot oil. Cook the plantains for 5 to 6 minutes on each side, or until they start to brown (but not burn). Flip them over to cook on the other side and then transfer the finished pieces to a paper towel-lined plate. Season immediately with the salt.
For the sauteed kale:
Melt the butter in a large frying pan or pot with fitting lid. Add the kale, toss with the melted butter, and cover to steam for 5 minutes, or until the kale is wilted and reduced in volume.

Toss with the lemon juice and salt (add more to your taste).

To assemble, plate with an even amount of the kale, bison, and plantains. Drizzle a generous amount of the sauce over top and garnish with fresh cilantro. Enjoy warm, refrigerate for up to 5 days, or freeze in individually-portioned containers for up to 5 months.
Nutrition Information
Nutrition Facts
Bison Plantain Breakfast Bowl
Amount per Serving
% Daily Value*
* Percent Daily Values are based on a 2000 calorie diet.