This creamy pumpkin soup combines canned pumpkin, coconut milk, herbs, and bacon to create a rich, flavorful meal that comes together in minutes in the Instant Pot.
This Instant Pot pumpkin soup is the perfect way to welcome in Fall. It's warm, creamy, comforting, and so satisfying – just what you'd want on a chilly day.
Pumpkin Soup Ingredients
How do you make Pumpkin Soup in Instant Pot?
Making this soup is a total breeze, just follow the steps below:
Cook the bacon. First, you'll use the 'saute' function on your Instant Pot to cook 8 ounces of bacon. Once it is crisp, remove it from the pot and set aside.
Cook the soup. Once you've removed the bacon, add the pumpkin, coconut milk, chicken broth, and spices and whisk to combine. Place the lid on the Instant Pot, make sure it is sealed and set it to cook for 7 minutes.
Release the pressure and stir in the lemon juice. Once the soup is done cooking, you can either let the pressure release naturally or release it manually. Then, you'll stir in the lemon juice, taste for seasoning, and serve the soup topped with bacon and fresh cracked black pepper.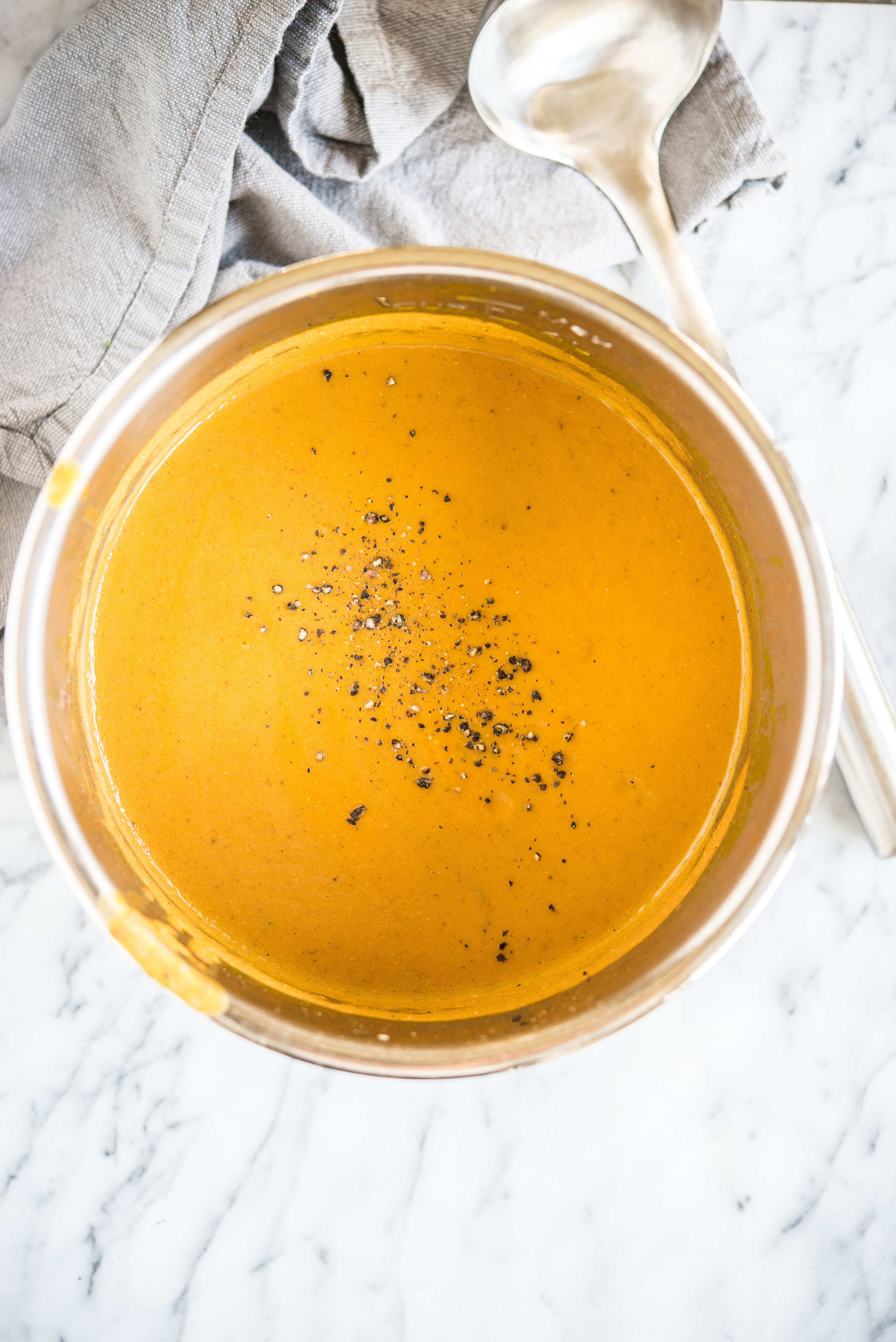 Tips for Making Creamy and Flavorful Pumpkin Soup from Puree
If you've made pumpkin soup before, you may have found it bland and watery. If that's the case, don't worry! We've got you covered with this recipe.
Make sure you're using a thick pumpkin puree. Our top tip for making sure your pumpkin soup is creamy and thick starts with the pumpkin puree itself. While we opted for canned pumpkin puree because it is easiest to use, you can also use homemade pumpkin puree. Whichever route you choose, the key is to make sure your puree isn't too watery. If you're starting with a homemade pumpkin puree or you feel that your canned puree is a little bit on the watery side, we recommend reducing the amount of broth in this recipe by one half cup, then increasing at the end as needed to get to your desired thickness.
Add full-fat coconut milk. Canned, full-fat coconut milk is key to giving this pumpkin soup its thick and creamy consistency. Don't skimp for light or boxed coconut milk!
Don't be afraid to season. When you're cooking soup on the stove, the liquid evaporates throughout the cooking process and concentrates the flavor of the dish. In the Instant Pot, this doesn't happen – meaning you need to season more. For this reason, we also recommend tasting the soup for seasoning after you've cooked the soup and adding more salt, etc if needed.
Use bacon. There aren't many dishes that bacon doesn't improve, and this creamy pumpkin soup is no exception! The bacon grease helps give the soup richness and a slight smokiness, and the added bacon on top serves as another source of texture and flavor.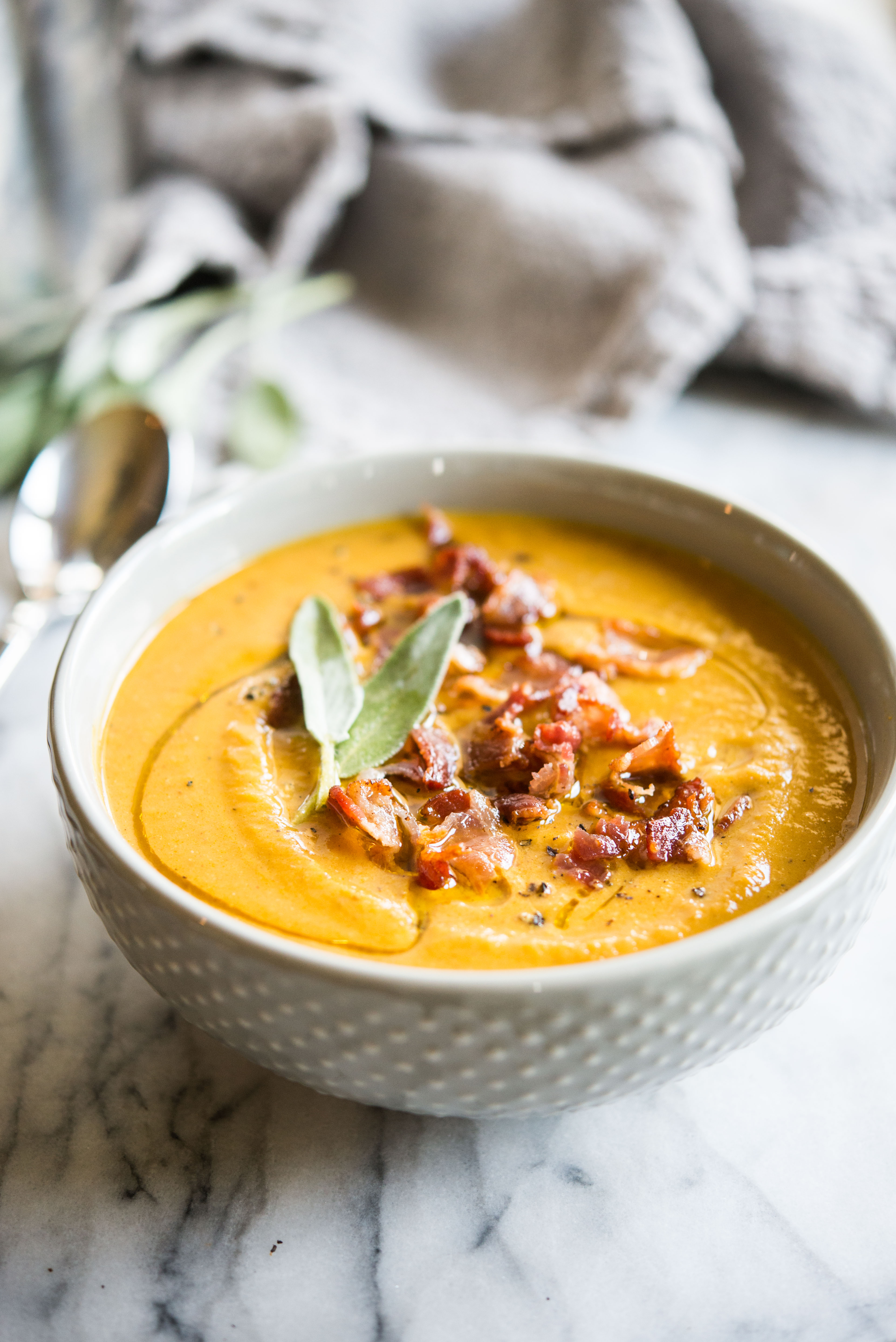 What to serve with Easy Pumpkin Soup?
Pumpkin soup can be a filling meal on its own, but it is also great alongside a winter vegetable slaw, with grilled cheese or crusty french bread, or, if you prefer a more protein-heavy meal, it makes a great side dish for roast chicken or pork loin. Whichever way you serve it, we hope you love this soup!
Instant Pot Pumpkin Soup FAQs
Just for You
Soup & Stew Recipes
Want more recipe ideas like this?
This pumpkin soup comes together with just a few ingredients to make the perfect cozy fall meal!
Instructions
Set your Instant Pot to 'saute' mode, then add the bacon to the pot and cook until crisp. Remove the bacon from the pot and set aside, then drain the bacon grease from the pot.

Add the chicken broth to the pot and whisk to scrape up the browned bits from the bacon, then add the pumpkin, coconut milk, 1 teaspoon salt, sage, ginger, and pepper and whisk to combine.

Place the lid on the Instant Pot and make sure it is sealed, then set to cook for 7 minutes. Once the timer goes off, you can either release the pressure manually or let it release naturally.

Stir the lemon juice into the soup and taste for seasoning, then add more salt and pepper, if needed. Serve with crumbled bacon and fresh chopped sage, if desired.
Recipe Notes
If using homemade pumpkin puree, reduce the amount of broth by 1/2 cup.
To make on the stovetop: make the bacon in a pot on the stove, then remove it from the pan. Add all ingredients other than lemon juice to the pot, then cover and let cook for 15-20 minutes. Stir in the lemon juice and taste for seasoning, then serve with bacon and fresh sage.
Nutrition
Calories:
355
kcal
|
Carbohydrates:
12
g
|
Protein:
7
g
|
Fat:
33
g
|
Saturated Fat:
23
g
|
Polyunsaturated Fat:
2
g
|
Monounsaturated Fat:
6
g
|
Trans Fat:
0.04
g
|
Cholesterol:
20
mg
|
Sodium:
569
mg
|
Potassium:
511
mg
|
Fiber:
3
g
|
Sugar:
4
g
|
Vitamin A:
16558
IU
|
Vitamin C:
7
mg
|
Calcium:
50
mg
|
Iron:
5
mg